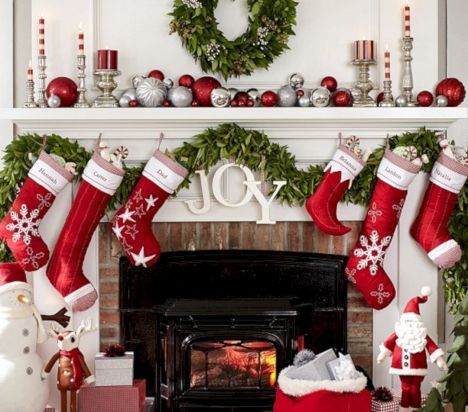 5 Easy Ways to Deck the Halls for the Holidays
It's the most wonderful time of the year and I honestly can't believe I haven't decorated the tree or the house yet!  Maybe this weekend amongst the birthday parties, kids' activities, dinners and other things we've got going on!  I love decorating for the holidays but anyone else feel like it's just so hard to squeeze it all in?
It's funny because I came across a service today where home stylists would come into your house and decorate for the holidays for you.  At first I thought, wow that's genius!  But then I actually started thinking it just wouldn't be the holidays for us if we didn't trim the tree as a family or decorate together, with our hot chocolate and our Christmas carols and such.  So while it's a great idea, not so great for us!  Decorating the house for the holidays is actually not that difficult! Here are some of my easy tips on how to decorate for the holidays and squeeze in some decking of the halls!  And yes I did say it can be easy and I'm adding simple to do! No holiday overwhelm here people – we're keeping it stress-free!
Make a Festive First impression
First impressions count so start off with decorating the front of your house and front entrance first.  You want to make sure you set a festive tone for visitors and guests not only when they drive up to your home but also when they walk in too.  Do this early on in the season before it gets too cold out there too.  Hang lights to the outside of your house and to any bushes and trees.  Also pay attention to your front entrance and add a bit of festive with holiday planters, a new Christmas doormat, and a wreath.  If it works for your space add a garland and some ornaments and bows to any bushes or trees.  Another little update is to add some large lanterns to your entrance.  Fill them with colourful ornaments and fairy lights and they'll add a sparkly feel as you greet your guests.
Don't forget to continue with the festive touch for when guests enter your home too.  It's really simple, just add a few things to your hallway like a wreath, a banner or garland, a tabletop Christmas tree and a bowl filled with ornaments adds a super easy finishing touch!  Do what works for you and is easy for your space!  I also like to add some twinkly fairy lights to the entrance – look for the battery operated ones that can work anywhere!  And of course don't forget to hang the mistletoe!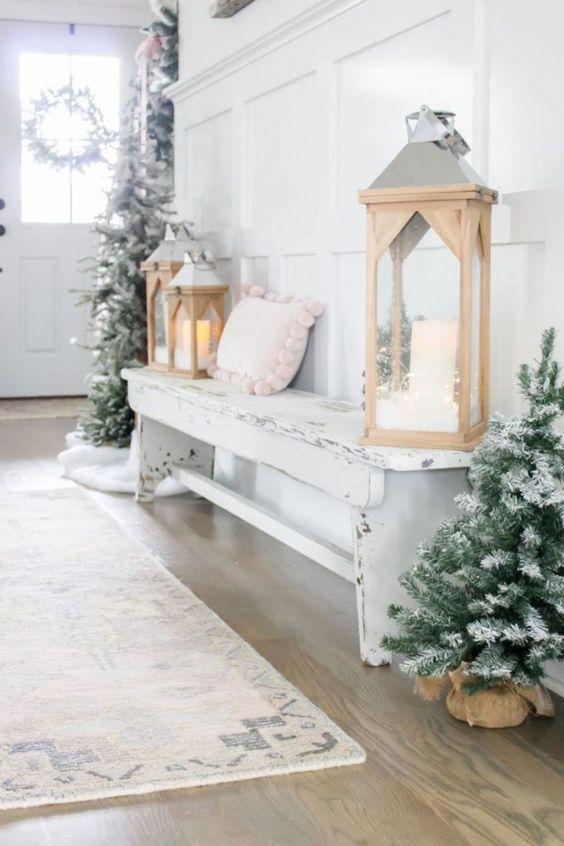 Style the Tree!
Christmas decorating is all about the tree!  We usually have two in our house because that's just home much I love the holidays and I've been threatening to make it three this year!  And they all usually have their own theme or style too – that's just how I roll!  So getting back to the one tree and decorating it – well it really is all about your own personal style.  Some tips to have it come together are:
Pick a theme or style. It can be anything your heart desires – this is where it's all about what you like.  Whether it's snowflakes, nutcrackers, ballerinas, vintage or glam, whatever you choose try to stick to it for a pulled together and coordinated look!
Pick a color scheme. Pick a few colors that you love that also play well with your theme for a coordinated look.  Consider non-traditional colours too like navy, or purple or even pinks.  The key here is to pick a few and repeat!
Add lots and lots of lights. Then add some more!  Typically they say to add 100 lights per foot of tree.  I've used that as my guideline and it always does the trick!  If you have a pre-lit tree don't stress – just add some more of your own!
Make it truly your own! Add your own personal touches.  For example if you love hockey, go for it and you can make it a fun theme!
Last tip on the tree – ornaments do not have to be expensive to look good! You can actually find some really pretty ornaments even at the dollar store and when you mix them in with your other decorations no one can tell where they're from!  I also found some really great ones this year on Amazon, Target, Macy's and Canadian Tire.
Hang a wreath or two!
While traditionally a wreath is for your front door, I think hanging wreaths throughout the house adds a festive touch everywhere!  You can hang them just about anywhere – on doors through the house, in the kitchen, washroom, over a mirror or the fireplace mantle, the list goes on!  I just counted and we've hung 6 wreaths in our home this year!  I know, I'm a little obsessed with them and the Holidays!  And I say have fun with them – all wreaths don't have to look the same!  You can change up the colours, the style, what they're made of and even go a little playful and glam like the feather wreath we have in our dining area!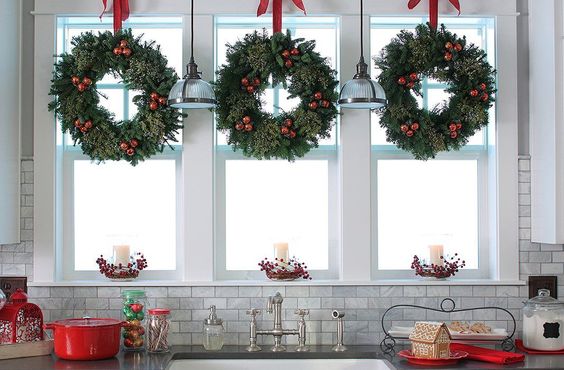 Decorate your staircase and mantle
There are so many ways to decorate your staircase and it doesn't have to be just the traditional hanging a garland on it.  I always enjoy mixing it up every year with ours.  You can hang ornaments or an ornament garland like we did last year, or have a lot of fun like we did a couple years ago by hanging a feather wreath and big snowball feather ornaments on it.  This year I'm thinking we might stick to a traditional cedar and evergreen garland but who knows eucalyptus and magnolia may find their way in there too!)  Check out my other post on How to Hang a Garland on your Stairs in 5 Easy Steps for some tips with your staircase.
Don't forget to decorate the fireplace mantle if you have one!  Aside from the Christmas stockings that you'll hang with care for Santa, you can add garlands, and lights to your mantle.  Some years I've gone for a simple look by just adding some twinkle fairy lights and ornaments to the top of my mantle.  It literally takes 5 minutes and looks so pretty!  This year I may just go with the magnolia – I don't know I'm really liking it!
Add some Festive Fa-la-la-la-la to the rest of the house
Spread a little holiday cheer by placing Christmas ornaments and decor throughout the house. And again you can find these for a great price especially if you wait until Black Friday!  Add little Christmas trees and nutcrackers of all sizes and ornaments made of fun materials like feathers and glitter.  One trick I've found is that it doesn't have to be expensive to look good. It all comes down to how it looks together.  If you stick to a theme or a colour scheme it will all just look coordinated and cohesive and festive too of course!  And no one will know whether you bought that cute ornament at the Dollar Store or a fancy department store!
Don't forget to add a little fa-la-la-la-la to your kitchen or even your bathroom too.  Think about adding some easy festive elements like a little Christmas tree on the counter, piling up a cookie platter with sparkly ornaments and hanging a pretty banner over the window for all to see!  You can also add bows or wreaths to your cabinets and windows and how about setting aside an area of your kitchen for a Hot Chocolate Bar!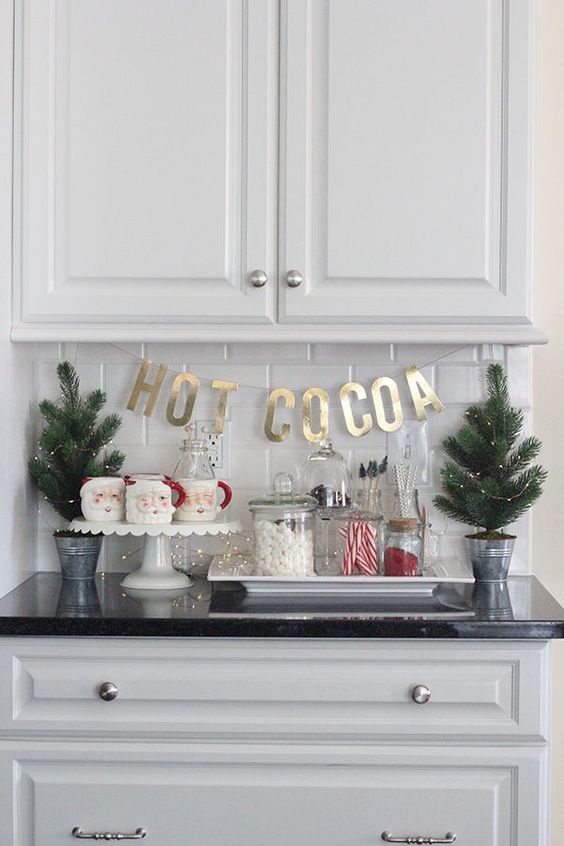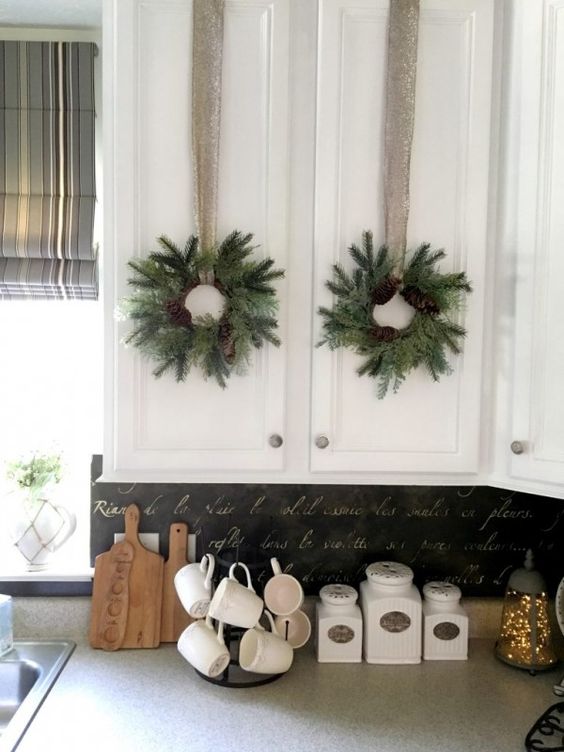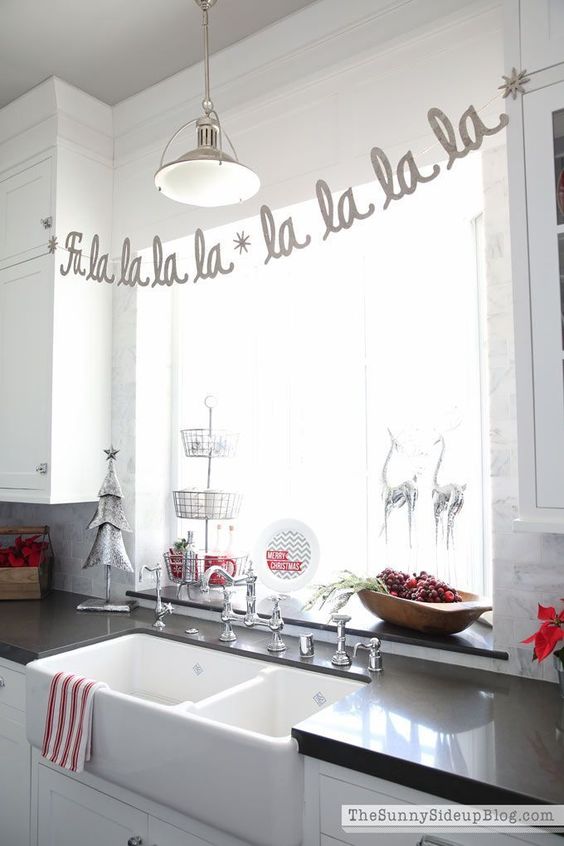 And how about turning all those Christmas cards into a pretty display?  Make and hang a banner with all of the Christmas cards you receive.  I simply hang some bakers twine and attach the cards to it with wooden clothespins.  It's honestly as simple as that!  It keeps them organized and also allows you to display all of those cards without the clutter.
That's it, decorating the house for the holidays is actually pretty simple and easy, don't you think?  And you don't need to be an expert or a stylist to do it.  Plus doing it together as a family gets it done quickly, it's fun and don't forget all those memories you're making!  I'd love to hear what you tried out and if you've got any tips you can share too!  See you next time – I think I need to get started on some Christmas decorating over here!
Disclaimer: This post contains affiliate links.  If you make a purchase after clicking one of these links I may receive a small commission.