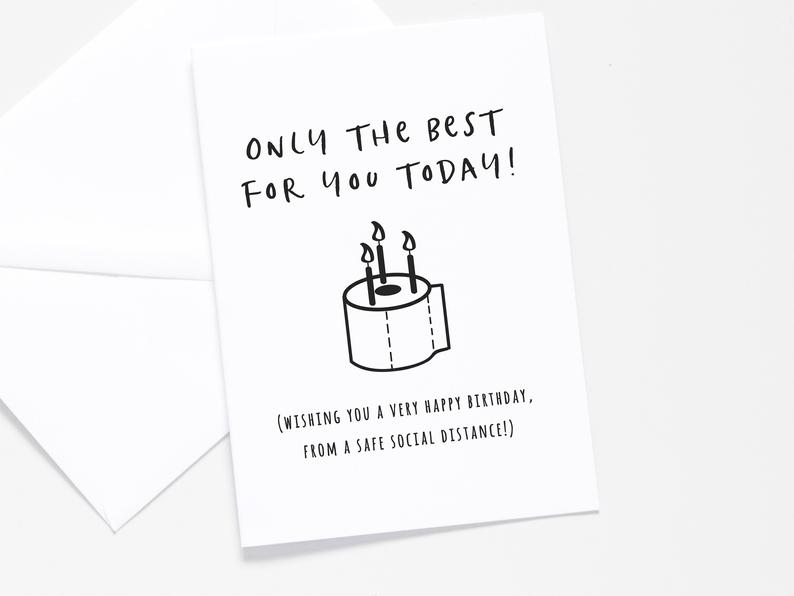 How to Celebrate a Birthday While Social Distancing
Hi everyone!  I hope you are all safe and keeping well.  I know I've been a little MIA and haven't posted on here lately.  You would think I should have all the time in the world to post now – what else am I doing anyways?  The truth is with all this getting used to social distancing, trying to work from home with the kids around and also feeling like we're constantly cooking, buy essentials online and trying to do a bit of home schooling there actually hasn't been a lot of time!  Throw into the equation Easter and my son's birthday and you've got one busy momma.  I'm sure many of you can relate!
Who else is struggling with how to celebrate a kid's birthday during social distancing?  It was actually my son's birthday on the weekend and I was intent on making sure it was a special day for him despite everything that is going on.  In our house my kids are used to having a big party with family and friends and I knew this year would be very different.  Plus the kids are going through so much already – they're scared, confused and they're missing their family and friends – so I wanted to make his day as special as possible.
Well if you are still looking for some ideas, I've got some for you!  My daughter and I came up with a list of virtual party ideas to help celebrate from afar this year!  Actually we came up with 20 ways you can celebrate a birthday while social distancing!  And while we were coming up with kids virtual party ideas, they can be used for adults just as easily!  To be honest I think she was also planning ahead just in case this lasts until her birthday.  Yup, she is a mini party planner, just like her mom!  Here's the list we came up with to help you make it a special birthday even while in quarantine!
Birthday parade
Invite friends and family to do a drive-by your house to wish them a happy birthday.  They can decorate their cars, bring signs, anything really to make it special!
Decorate the house
You can still order party supplies from Amazon and I discovered you can ever order from some grocery stores, drug stores and Walmart too!
Decorate your lawn
Order party supplies or enlist the help of the family and make some great decorations or signs with items you have around the house.
Decorate their bedroom door
Hang balloons and streamers from their door for an extra special wake up cvall on their birthday!
Virtual Birthday Song
You can arrange a Zoom call with family and friends, use FaceTime, do a Facebook live stream or even use an app like Houseparty to get people together to sing Happy Birthday!
Virtual Movie Party
Use Zoom to organize a movie watching party.  You can use a streaming service like Netflix or Disney Plus so everyone is watching at the same time or you can share via Zoom.
Virtual Dance Party
This one can be a lot of fun!  Again, organize a zoom meeting and all you need is some music and let the kids dance!
Birthday Video messages
Ask friends to send a birthday video message via email or text.
Create a Birthday Video
You can create a great birthday video for the birthday girl or boy using a video creation app like iMovie.  I'm sure there's many more like it out there!  You can add pictures and text and also add videos that others send to you too!
Sidewalk/Driveway card
Ask friends and family to come by with their sidewalk chalk to leave a birthday message on your sidewalk or driveway.
Create a Birthday Collage Card
Ask friends and family to text or email you with birthday messages.  You can print these out and paste them all together in a neat collage.
Make their Favourite Meal
Pretty self-explanatory!  Surprise them with their favourite meal.  And if it is take-out, see if you can order in!
Bake a cake or cupcakes
Bake a special cake or cupcakes.  And if you have a baker on your hands as the birthday child, include them in making it!
Order gifts online
You can order gifts online from Amazon or even order online gift cards!
Create a Theme Party
Depending on what your kids are into, you can pick a them for the day!  It could be Star Wars, Disney Princess, whatever makes them happy really.  Dress up for the day, watch movies or shows that fit the theme and maybe even make food that fits in.  Just because they can't have a party with their friends doesn't mean they still can't have that party at home with the family!
Create an at home experience
Create an experience your kids will love right at home.  It could be a day at the spa, a baking championship challenge, a day at the beach or camping.  Pick an experience they would enjoy and make it come to life at home!
Backyard Scavenger Hunt
Create a scavenger hunt in your backyard with clues. Maybe even hide their gifts for them to find!  There are some great scavenger hunt ideas on Pinterest!
Online Video Game Party
For the older kids and teens maybe the perfect party includes a video game party with their friends.  You can still set up a zoom meeting for them so they can see each other and interact while they are playing their favourite video game together!
Game Night Party
While this has been on repeat with a lot more family game nights than ever before, a fun family game night could be just what your kids want to do to celebrate their birthday.  It could be just the family at home or virtually with Zoom or the Houseparty app!
Head outdoors
Now that the weather is slowly getting better too, why not head outdoors to celebrate (while practicing social distancing of course!).  Go on a hike or a little outdoor family adventure
Ok so some of you are probably wondering what we landed on for this year's social distancing quarantine birthday party!  For my son this year we actually incorporated a few of these ideas to give him the best day ever!  We started the day with him waking up to a decorated house, having his favourite breakfast and opening his gifts we got online!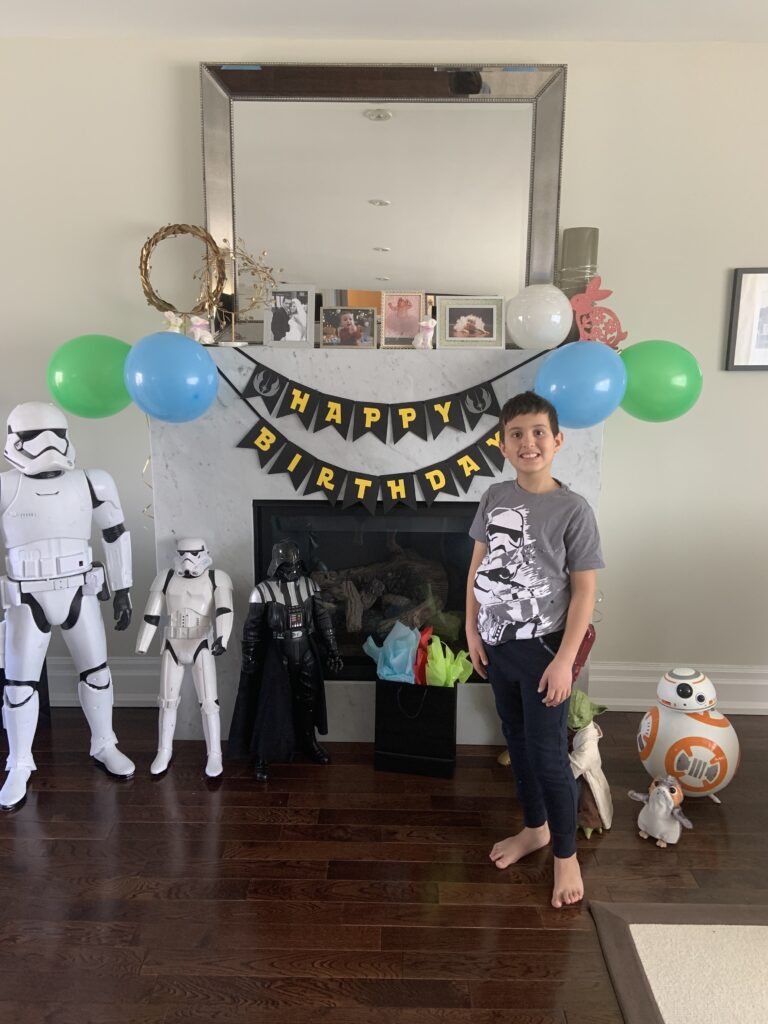 We then surprised him with the ultimate galactic Star Wars birthday parade.  When he came outside we had decorated the front of the house and started playing the Star Wars theme song as his friends drove by honking and waving with their signs and balloons!
We topped the day off with a Zoom Movie party where we invited family and friends to sing Happy Birthday to him followed by us watching his favourite movie all together – Return of the Jedi of course!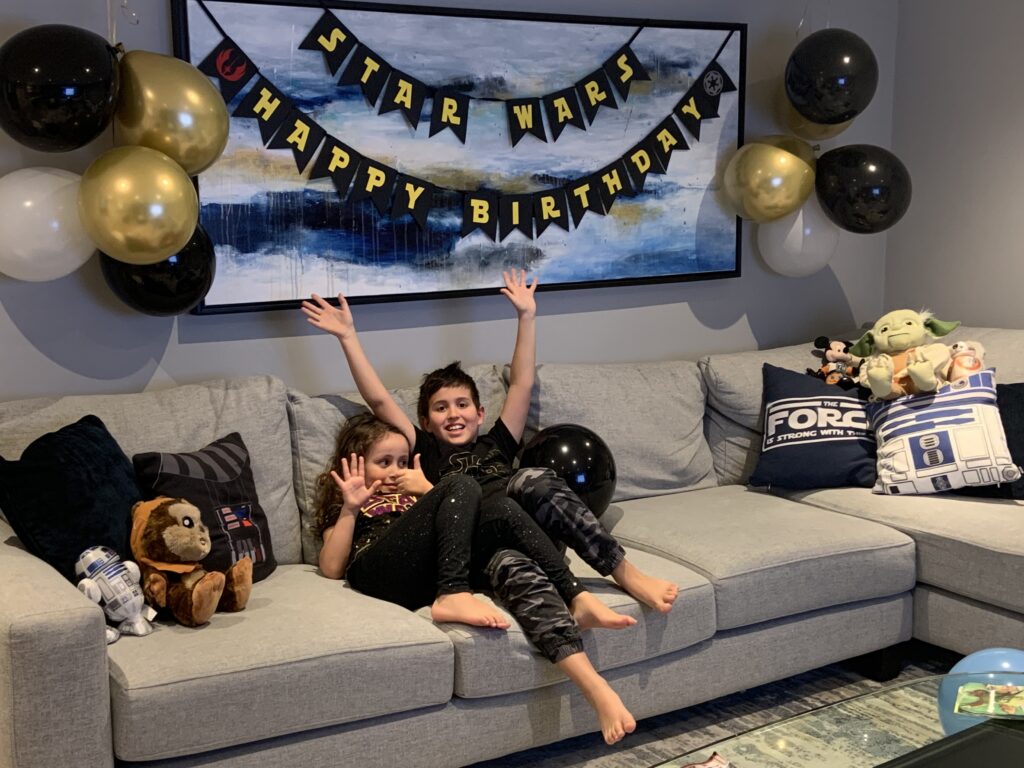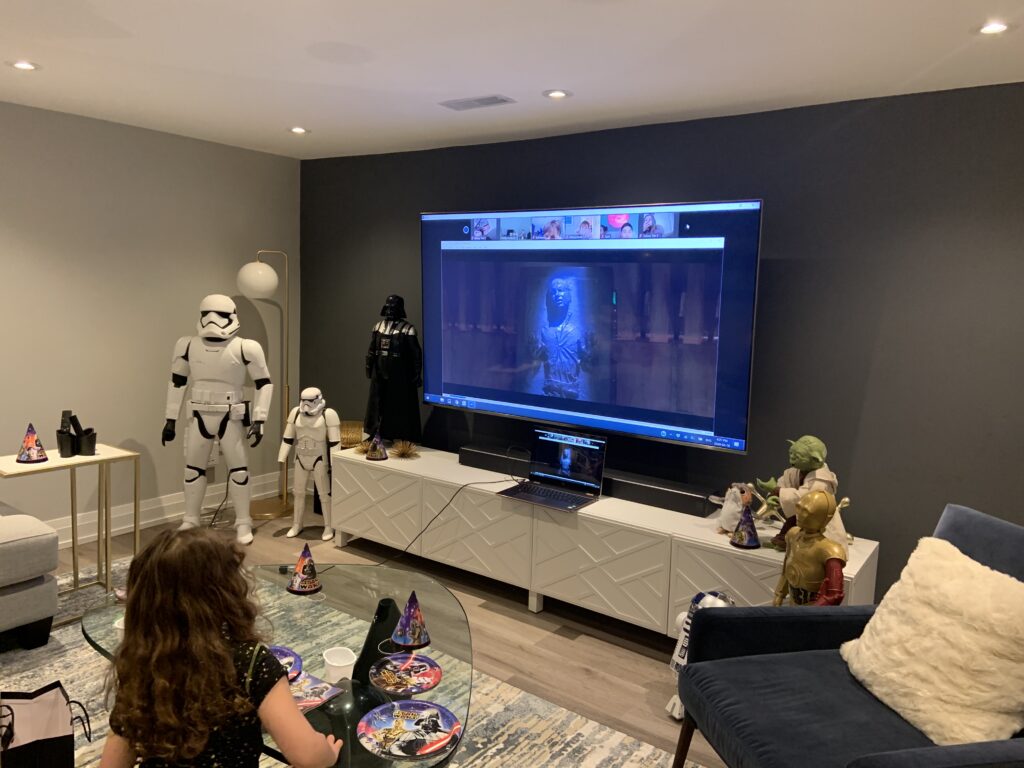 We were also lucky enough that his aunt spoonful_of_sou is an amazing baker and made him the ultimate Star Wars cake (curbside pick-up of course)!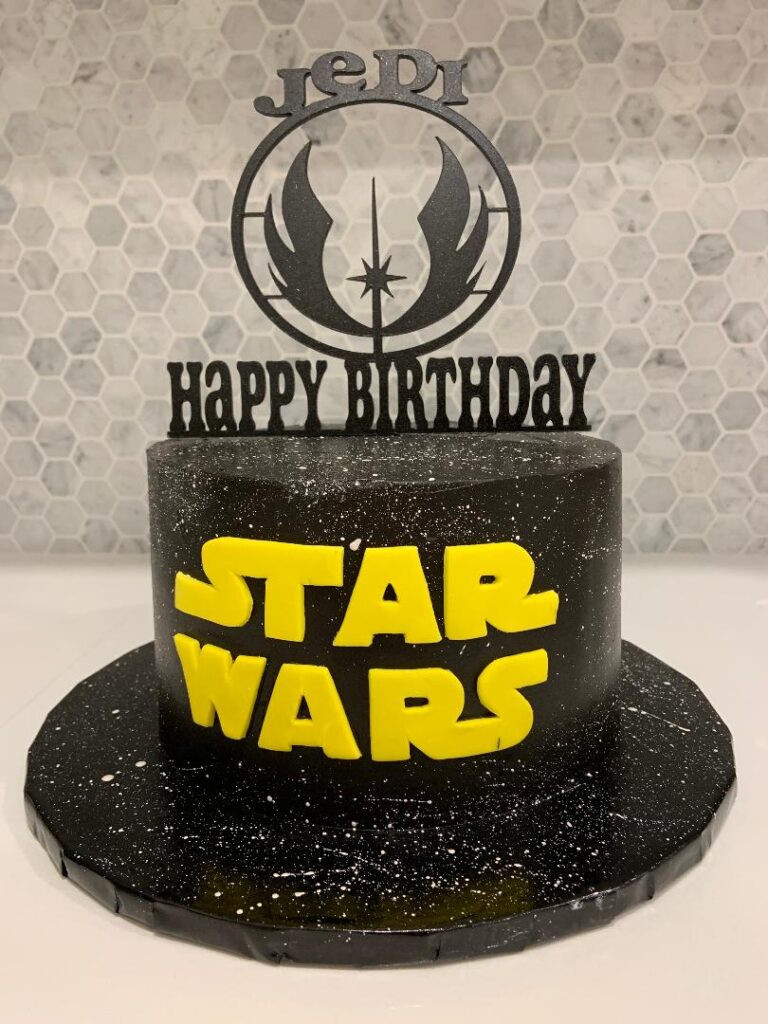 All in all it was a great day and he said it was the best birthday he's ever had!  Yes, even after all those years of heroic mom party planning for him and epic parties.   I'll take is as a Mom win!
For those of you stressing about kids birthdays this year as we deal with social distancing, please don't worry!  Take it from me who loves a good party and making my kids happy – it can be done, and the quarantine birthday can be great after all!  Although these ideas we came up with were for a kid's birthday, I bet they would be just as great for adults too!  Happy quarantine party planning – you've got this!  Stay safe and be healthy!