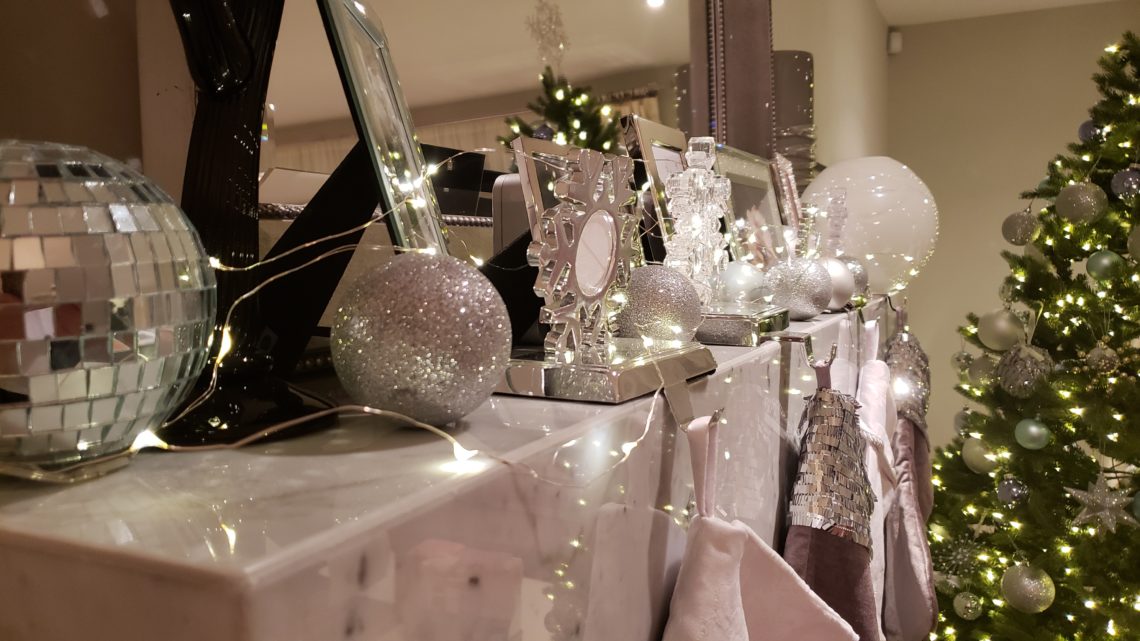 10 Easy Ways to Deck the Halls this Christmas
It's beginning to look a lot like Christmas in our home!  Holiday season is in full swing and we've been busy decking the halls and decorating every last inch of our home!  And it's actually pretty easy to do!  Here are my top 10 tips on how to decorate for the holidays and I promise it's super easy and festive!
Start with outside
First impressions really do count so we usually start off with setting the festive tone with the front of our house.  In addition to hanging lights outside, to add more of that festive touch you can easily add some holiday planters, a Christmas doormat, a garland and wreath, and add some sparkly touches like an ornament filled lantern or hang some ornaments on trees and bushes.  These are really easy things that you can do to add a lot of holiday to your outside.  Check out my post on How to Make an Easy Holiday Planter to get started!
O Christmas Tree!
Let's be honest the focal point of every home during the Holidays is the Christmas tree!  We have two in our house because that's just home much I love the holidays!  But let's get back to how to get it really right with one tree!  How you decorate your tree is a very personal thing.  Some tips to make it your own include:
Pick a theme. Whether it's snowflakes, nutcrackers, ballerinas, vintage or glam, whatever you choose try to stick to it for a pulled together look!
Pick a color scheme. Pick a few colors that you love that also play well with your theme for a cohesive look.  And think about colors that may be different and not so traditional too.  One year I did a pink and white ballerina themed tree that was different but so pretty!
Let your tree twinkle with lights. The key here is not to get too stingy with the lights.  Rule of thumb is about 100 lights per foot – this always seems to work for me!  And if your pre-lit tree doesn't have enough just add more!
Make it truly your own! Add your own personal touches.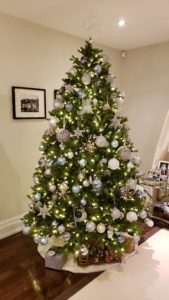 Hang a wreath or two!
While traditionally a wreath is for your front door, I think hanging wreaths throughout the house adds a festive touch everywhere!  You can hang them just about anywhere – on doors through the house, in the kitchen, washroom, over a mirror or the fireplace mantle, the list goes on!  I just counted and we've hung 6 wreaths in our home this year!  I know, I'm a little obsessed with them Holidays!  And I say have fun with them – all wreaths don't have to look the same!  You can change up the colors, the style, what they're made of and even go a little playful and glam like the feather wreath we have in our dining area!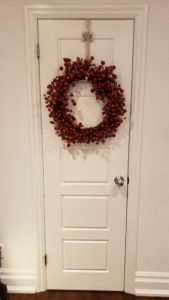 Add a little festive to the washroom!
It's funny but most people don't think to decorate for the holidays in the washroom but it's such an easy way to add a little festive to that space.  Add some holiday candles, a little tabletop Christmas tree, and Christmas themed washroom accessories like a soap dispenser or hand towels.  Another great idea is to fill apothecary jars with fake snow, Christmas ornaments or pine cones.  If you want to do just a little more you could hang a wreath in the washroom or even hang some Christmas ornaments to your shower curtain!
Decorate your staircase and mantle
There are so many ways to decorate your staircase and it doesn't have to be just the traditional hanging a garland on it.  We've had fun with the stairs every year.  You can hang ornaments or an ornament garland like we did last year, or have a lot of fun like we did a couple years ago by hanging a feather wreath and big snowball feather ornaments on it.  This year we decided to go back to a traditional garland (it's been a while since we did that).  Check out my other post on How to Hang a Garland on your Stairs in 5 Easy Steps!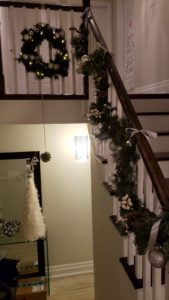 Don't forget to decorate the fireplace mantle if you have one!  Aside from the Christmas stockings that you'll hang with care for Santa, you can add garlands, and lights to your mantle.  This year I opted for a simple look by just adding some twinkle lights and ornaments to the top of my mantle.  It literally takes 5 minutes!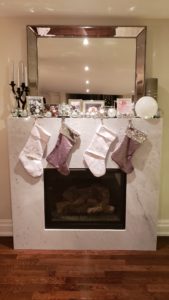 Christmas ornaments…everywhere!
A very easy way to create a holiday centerpiece is to fill a large vase or bowl with pretty ornaments and lights. It's not only super easy but not expensive at all.  Use a vase that you have in your home, or get one for a great price at your local dollar store.  Same with the ornaments – you don't have to break the bank on them!  When you put them together no one can tell you didn't spend a lot and it makes for a beautiful centerpiece for your dining table or coffee table.
Also think about spreading holiday cheer by placing Christmas ornaments throughout the house.  Think Christmas trees and nutcrackers of all sizes and made of fun materials like feathers and glitter.  One trick I've found is that it doesn't have to be expensive to look good.  I try to stick with one theme or one color scheme and carry it through the space.  It looks cohesive and no one can tell that some of the decorations didn't come from a fancy department store!
Make an easy Christmas Floral Centerpiece
If you're like me and love the look and smell of fresh flowers then definitely create your own festive floral centerpiece.  Trust me it is so much cheaper than ordering one and I've been doing it every year for our Christmas day dining table.  Even if we aren't celebrating at our place, the hostess always knows to expect flowers from me!  A really easy centerpiece can come together with just a few things that you can get from a local flower market or your grocery store that carries florals.  Use a round or square vase and fill it with beautiful white hydrangeas, white and red roses, and some winterberries or holly.  That's all it takes and you've got a stunning centerpiece that you can make in under 15 minutes!  Check out this one I made!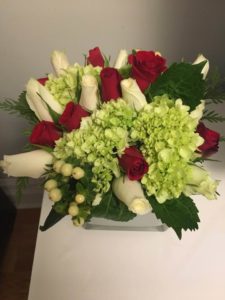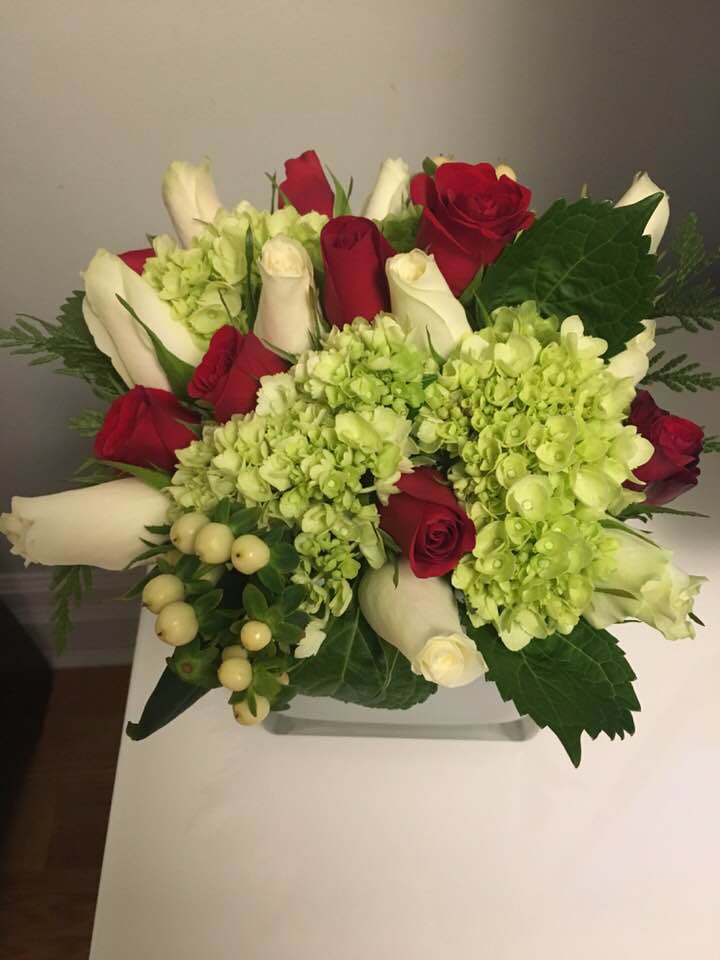 Add some holly jolly to your front hallway!
Like I said before, first impressions do count!  You can add a little holiday touch to your front entrance by adding a just a few festive things like a wreath, a banner or garland, a tabletop Christmas tree and a bowl filled with ornaments adds a super easy finishing touch!  I also like to add some twinkly lights to the entrance – look for the battery operated ones that can work anywhere!  And of course don't forget to hang the mistletoe!  I'm loving all the hugs and kisses my kids are giving me everyday!
Add some Fa-la-la-la-la to the Kitchen
Spread a little cheer in your kitchen.  We have an open concept home so we are always around the kitchen so it's always important to me that we decorate there too!  And I think for most the kitchen is the heart of the home and it should be festive.  Think about adding some easy festive elements like a little Christmas tree on the counter, piling up a cookie platter with sparkly ornaments and hanging a pretty banner over the window for all to see!  You can also add bows or wreaths to your cabinets and windows and how about setting aside an area of your kitchen for a Hot Chocolate Bar!  My kids are excited for this one!
Hang your Christmas Cards!
How many of you like me, love getting all those Christmas cards but then find the house looks so messy and cluttered with them?  A great idea is to make and hang a banner with all of the Christmas cards you receive.  It keeps them organized and also allows you to display all of them without the clutter.  It's so easy to do – get some twine or baker's twine and hang it pretty much anywhere!
So there you have it…my quick and easy tips to get your house ready for the Holidays this year!  I'd love to hear what you tried out and if you've got any tips you can share too!  See you next time – I think I need to plan on some holiday baking next!