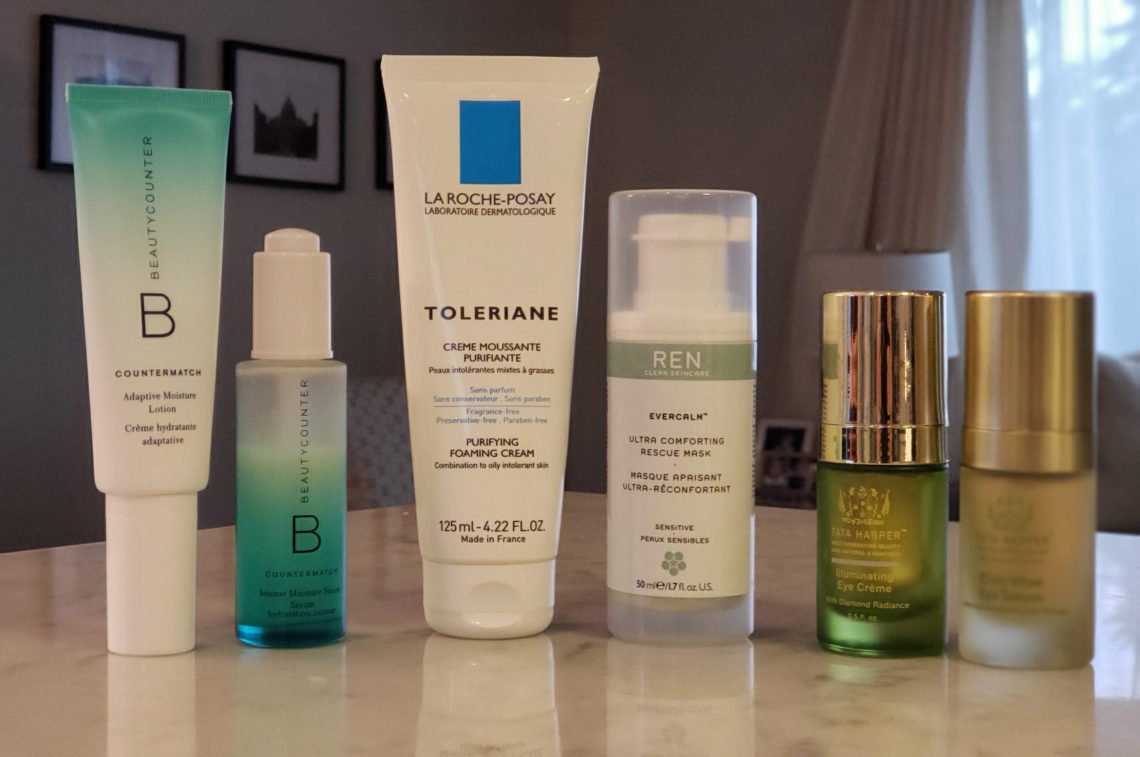 Clean Beauty Essentials to Help You Survive this Winter
It's no secret, I love beauty products.  While I like to try new things, like many of you I do have my favourites and my go-to's for my beauty regimen.  It's also no secret that I am not a fan of the winter.  It's just so cold and windy, – it's just freezing out there!  And once winter hits our skin care needs definitely change with the frigid weather.  This winter's cold dry air and wind outside coupled with the dry heat inside are wreaking havoc on my skin, in particular my face!  And I bet it's the same for a lot of you who live in a rather cold climate this time of year.  Our skin is dehydrated, tight, dry, chapped and red in areas like around our nose and mouth.  And when our skin is dealing with all of these harsh elements we also tend to break out more!  So unfortunately as much as I love all of my beauty products, I do need to switch it up with the seasons and especially for the winter.
I've got some tips below for how to protect your skin and survive this winter.  As well I've rounded up the winter essentials you need in your beauty arsenal.
Winter Survival Tips
Drink lots of water! We all know how important it is to hydrate from within first.  Aim to drink at least 8 glasses of water a day.
Take a look at your diet and try adding some healthy fats into it. Add things like avocados, salmon, nuts and seeds, eggs and healthy oils like olive oil. Not only is this great for your skin but also great for your overall health too!
Don't forget the sunscreen. Even though the temperatures have dipped you still need to protect yourself from the sun.
Continue to exfoliate to remove that dry dead skin. You want to remove it so your skin is prepped to absorb new moisture it's thirsty for.  Avoid using harsh exfoliators and opt for more gentle ones.
Remember to moisturize, moisturize, moisturize. Your dehydrated skin needs it! At a minimum do it in the morning and at night before bed.  And possibly add in a boost of hydration with a serum.
Place a humidifier in your bedroom or any area of your place (and even workplace) you spend a lot of time in to add some extra moisture into the air.
Instead of breaking the bank and buying full size products to test out, don't be afraid to ask for samples or invest in them to check out some sample packs to find the right winter switch for you.  I found this great Ren Clean Skincare Stop Being So Sensitive Kit at Sephora.  For $35 it came with travel sizes for four different products for me to try.
The Ultimate Winter Beauty Arsenal
While I could easily tell you my winter must-haves from my previous life, including that luxe coveted rich face cream we won't talk about anymore, I am committed to switching to cleaner, safer beauty alternatives.  And there's a lot to choose from!  That meant I got out there and did some research and tried a lot of new products out there.  Take a peek at all the great stuff I checked out.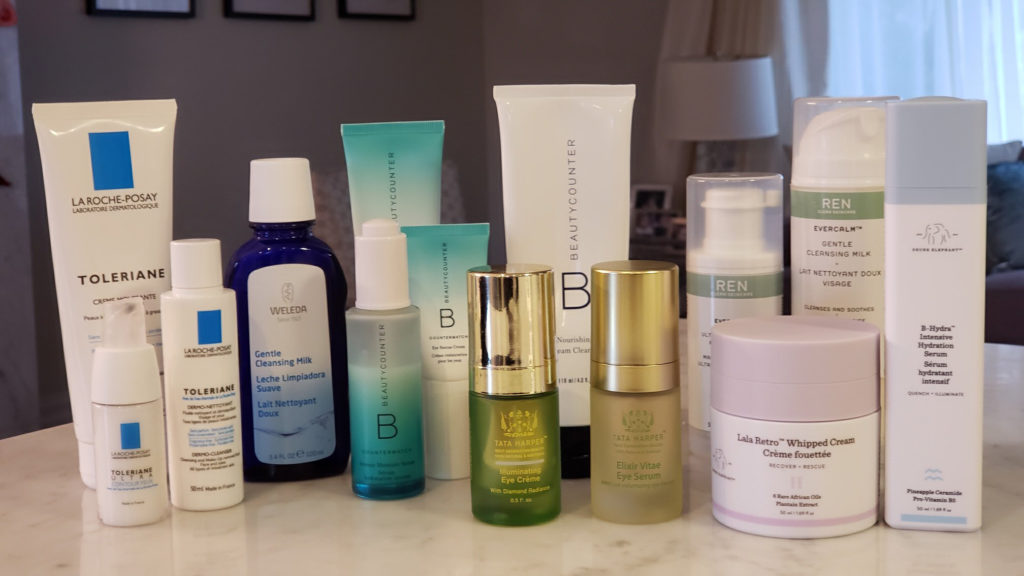 My criteria of course was that they would work well in the winter, wouldn't irritate my sensitive skin but instead soothe it, and that they were made from clean ingredients, according to the trustworthy Environmental Working Group Skin Deep database.  Here are some of my favourite and recommended beauty essentials for you this winter.
Cleanser
It all starts with a great cleanser!  While the rest of the year I swear by my Beautycounter Charcoal Bar, I find it too drying for the winter.  So I'm saying goodbye to it but only until the Spring!  Consider switching to a creamy cleanser or cleansing milk for the winter so that you're not stripping your skin of the oils it does need.  I tried a few to see which one I liked best and there really are some great clean and safe gentle cleansers out there.  Some of my favourites include Weleda Gentle Cleansing Milk (on sale for under $10), BeautyCounter Countermatch Pure Calm Cleansing Milk, La Roche Posay Toleriane Dermo-Cleanser, and Ren Clean Skincare Evercalm Gentle Cleansing Milk.  I really liked all of these but landed on the La Roche Posay Toleriane Dermo-Cleanser for my winter beauty routine.  I find it's gentle enough for my sensitive skin while also feeling like my skin is clean after I use it. Plus there isn't any heavy fragrance either.  What's really interesting is that while La Roche Posay doesn't market its products as clean beauty products, a lot of them actually are.  This cleanser actually had a very good rating on the EWG Skin Deep database.  I think it must be because they are made in France and European regulations are a lot stricter for the beauty industry on what they can and can't put in products.  Good to know!!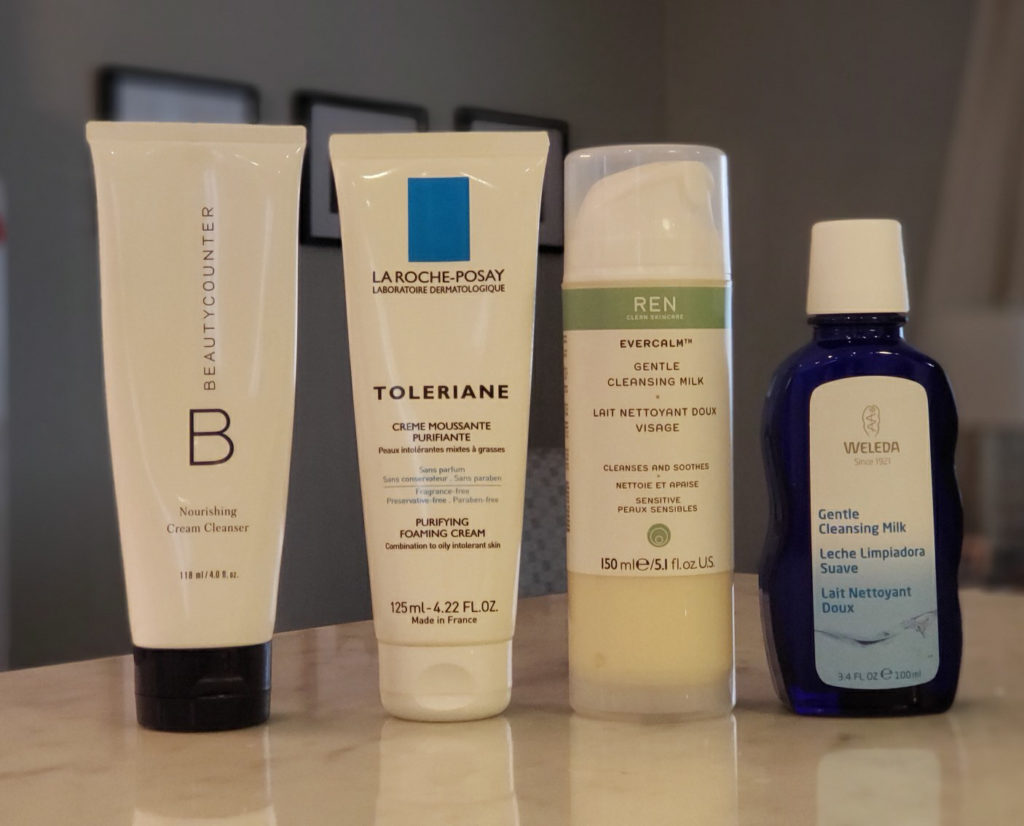 Moisturizer
While the lighter moisturizers are good for Spring and Summer where you don't want to look to shiny, you definitely need to switch to a great heavier moisturizer for the winter to give your skin the moisture it is so thirsty for.  Lucky for me I switched to the Beautycounter Countermatch Adaptive Moisture Lotion back at the end of the summer.  What I love about this moisturizer is that is adapts to your skin's needs and gives it as much moisture as it needs.  While I find that it works really well, I did need to switch to 2 pumps of this product in the winter, where I could get away with only 1 pump in the Summer and Fall.  I stuck with it because there's very little fragrance and I find it doesn't irritate my dry skin or make me break out the way some heavier creams do.  Some other great moisturizers I found out there that are clean and also great for winter distressed skin include Drunk Elephant Lala Retro Whipped Cream, Tata Harper Crème Riche Velvet Moisturizing Cream and the Ren Clean Skincare Evercalm Global Protection Day Cream.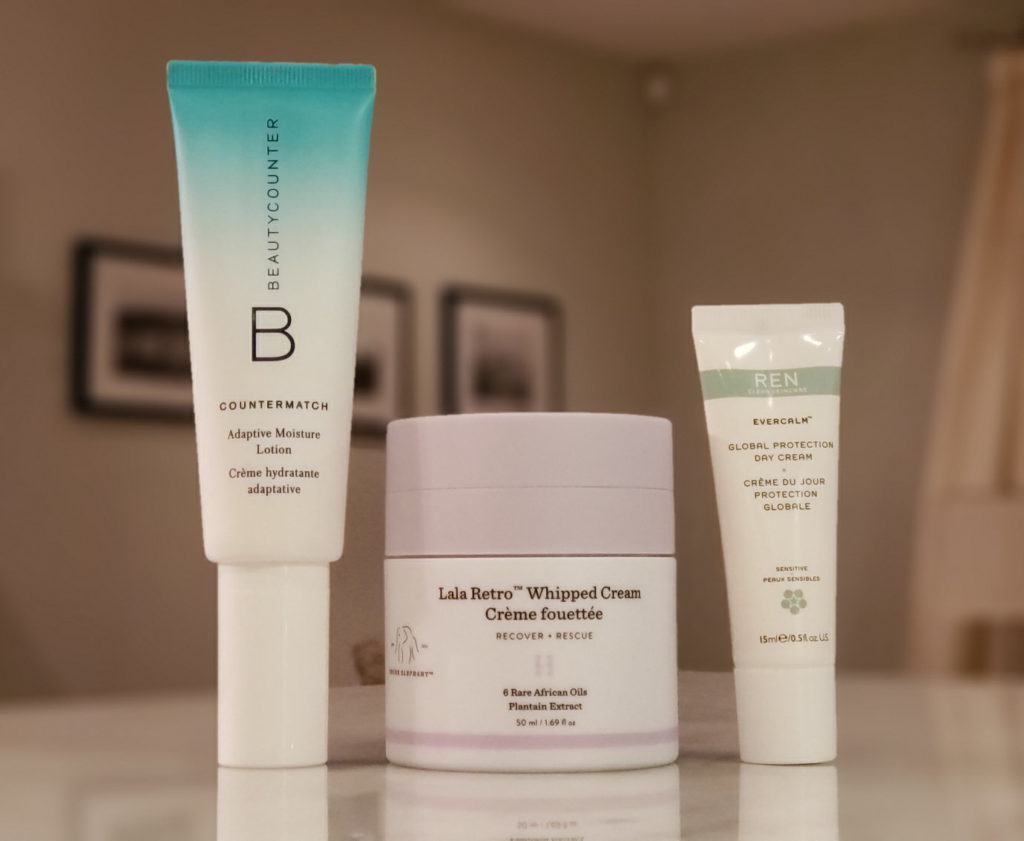 Hydrating Treatment & Mask
Winter leaves our skin feeling dry, sensitive and sometimes even a bit raw so you may also want to skip on the harsh peels and the clay and charcoal masks that may remove too much moisture or cause more sensitivity.  So once again, saying goodbye to a couple of my go-tos, the Beautycounter Balancing Facial Mask (charcoal) and the Overnight Resurfacing Peel.  I'll be back to you in the SPring for sure!  In the meantime, I'm swapping in a hydrating mask and a hydrating serum instead.  I tried a few that I liked including the Drunk Elephant B-Hydra Intensive Hydration Serum and the Ren Clean Skincare Evercalm Anti-Redness Serum but landed on the Beautycounter Countermatch Intense Moisture Serum.  With this serum I just use a couple drops on my skin before applying my moisturizer every night. And on days I feel I need a little more I use it as part of my daytime routine too.  Adding this serum to my regimen has made a huge difference, I wake up with my skin feeling hydrated, plump and rejuvenated.
For a mask, the Ren Clean Skincare Evercalm Ultra Comforting Rescue Mask really did come to my rescue, literally!  I used it after making the mistake of using my peel and charcoal mask this winter that left my skin so irritated, red and dry and this mask calmed everything right down.  It goes on like a thick cream that after 10 minutes get absorbed into your skin before you wipe it off.  It left my skin feeling soothed, calm, and moisturized.  If you have sensitive skin you need to try this one out!  I'm still looking to try a couple more – this seems to be the one area I couldn't find a lot of great products for sensitive skin.  I ordered the 100% Pure Green Tea Water Bomb Mask too and once it gets here I'll definitely tell you what I think of it too!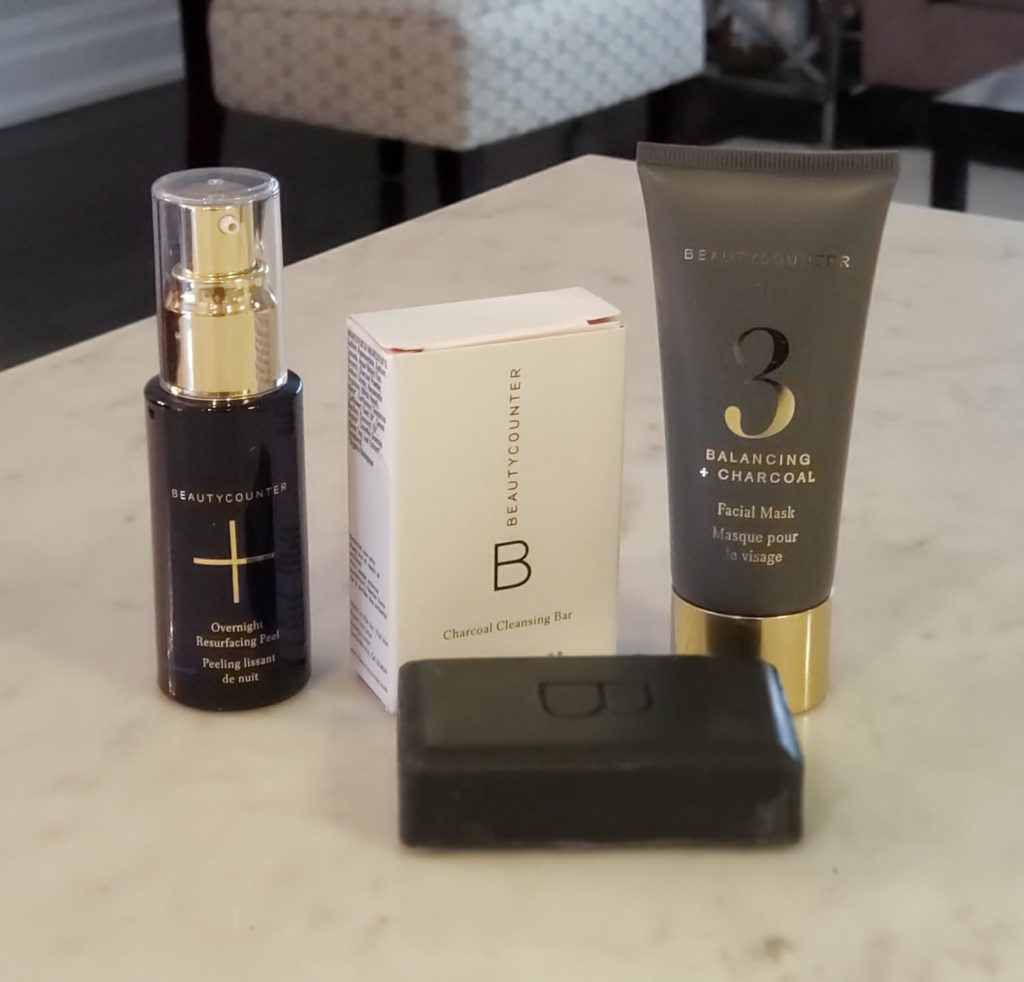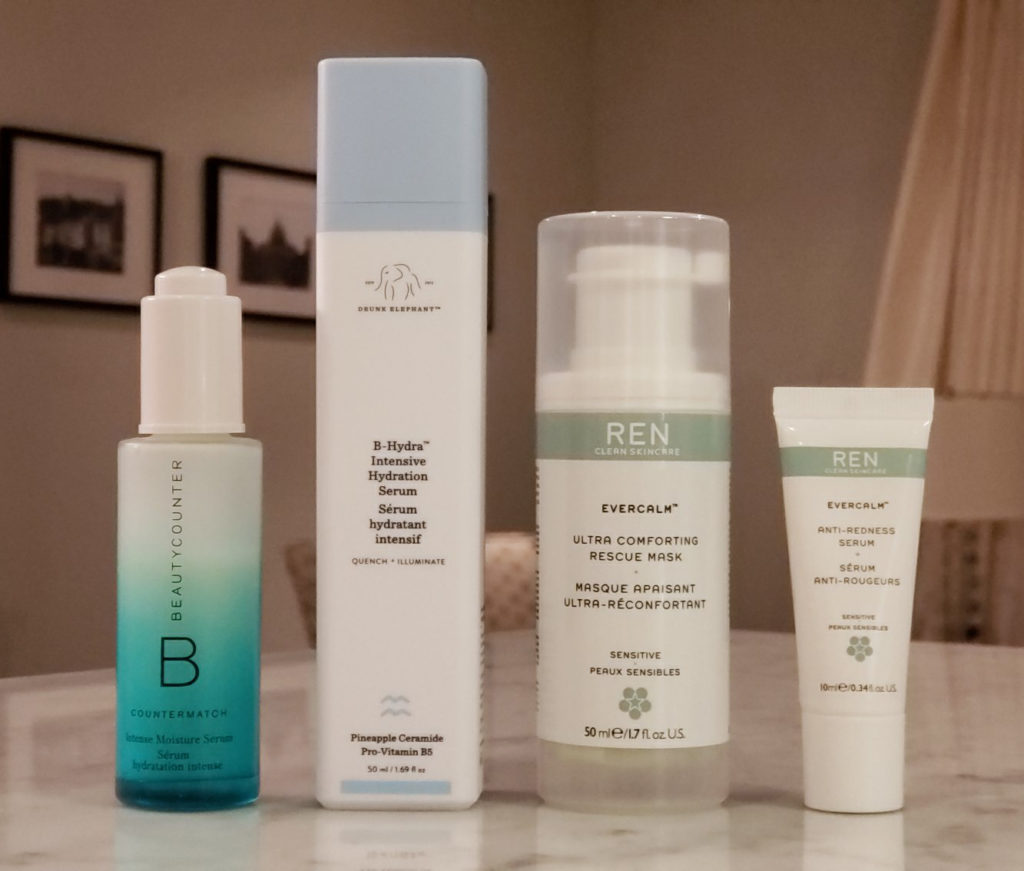 Eye Treatments
Even though you're being distracted by all of the other skin issues winter brings, don't forget to continue to use your eye treatments!  And I have tried them all!  I think I'm a bit obsessed with eye creams!  I'm currently using a couple from Tata Harper that I really like.  I use the Tata Harper Illuminating Eye Cream during the day.  It helps to brighten up the under eye area…and trust me with two kids who seem to wake me up all night long, I can use as much brightening as I can get!  This eye cream works wonders for dark circles!  At night I switch to the Tata Harper Elixir Vitae Eye Serum.  I really like this one.  It moisturizes the eye area really well and I am already seeing that some of the fine lines are starting to blur and not look so obvious!  This is my power couple for an eye treatment that seems to work best. My only complaint is it is really, really pricey – not sure I can justify it again.  My search continues to feed my eye cream obsession!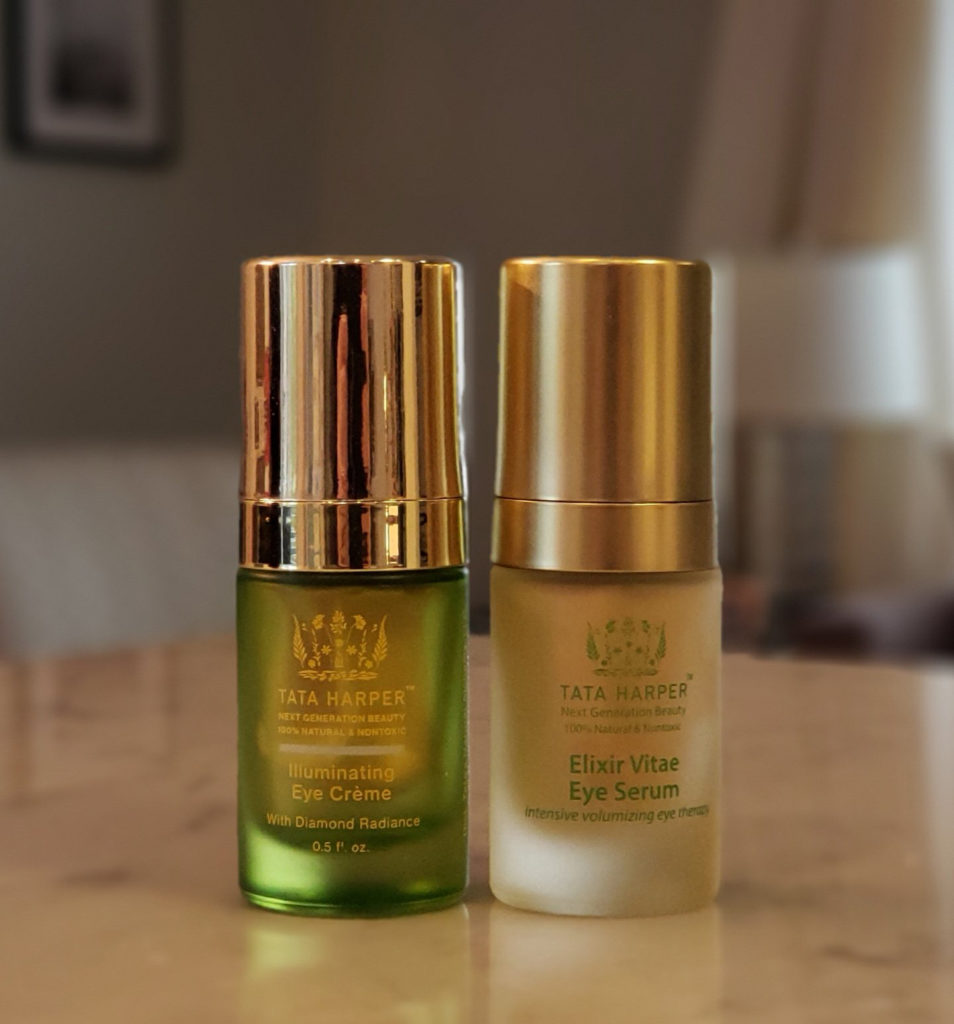 Don't forget these
A couple other items I won't go into a lot of detail on that you shouldn't forget are your sunscreen and a great lip balm and exfoliator.
Remember to use a sunscreen under your make-up or if you're like me, use a tinted moisturizer or BB Cream that has a sunscreen built right into it.  It's so much easier and I never forget it this way too!
For your lips you can make an easy homemade lip exfoliator by just mixing together some honey with brown sugar to form a paste.  For some extra hydration and nourishment you can also add in some coconut oil to the mix.  It will cost you virtually nothing compared to the fancy ones at the store that will run around $20 for a small jar.  Once you're done use a great lip balm like Burt's Bees 100 Percent Natural Moisturizing Lip Balm or Beautycounter's Lip Conditioner (ultra moisturizing and one jar has lasted me almost a year!).
There you have it and here's a pic of my winter beauty arsenal – winter I am ready for you!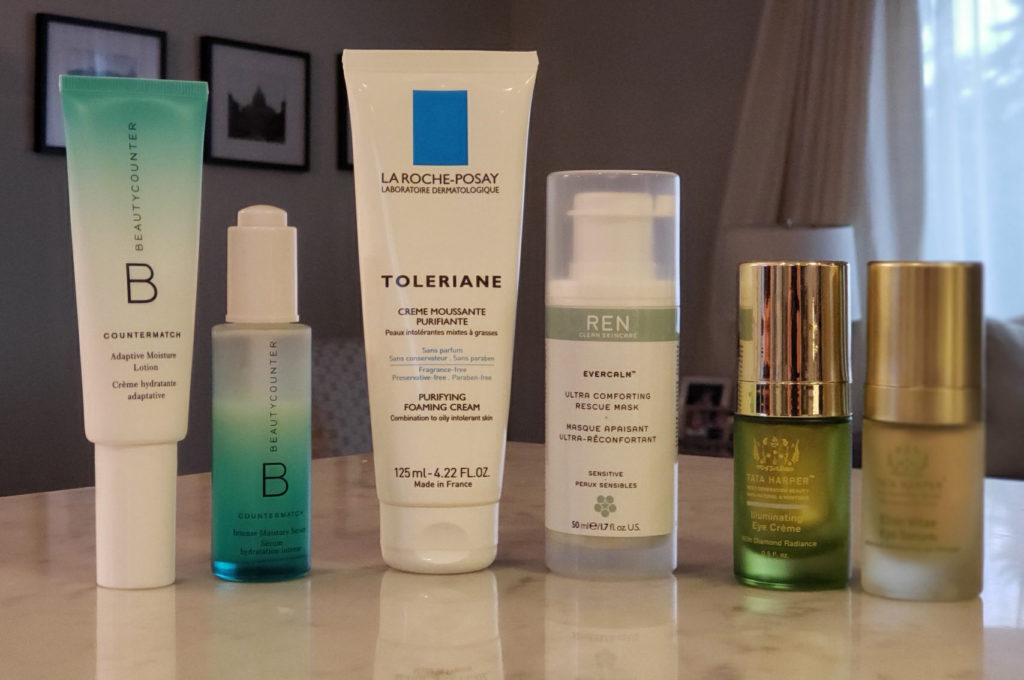 So while I hate winter, the good thing is it helped me discover some really great new products I had never tried before.  Hope these tips and simple beauty switches help you survive this winter too! Now fingers crossed for an early Spring!