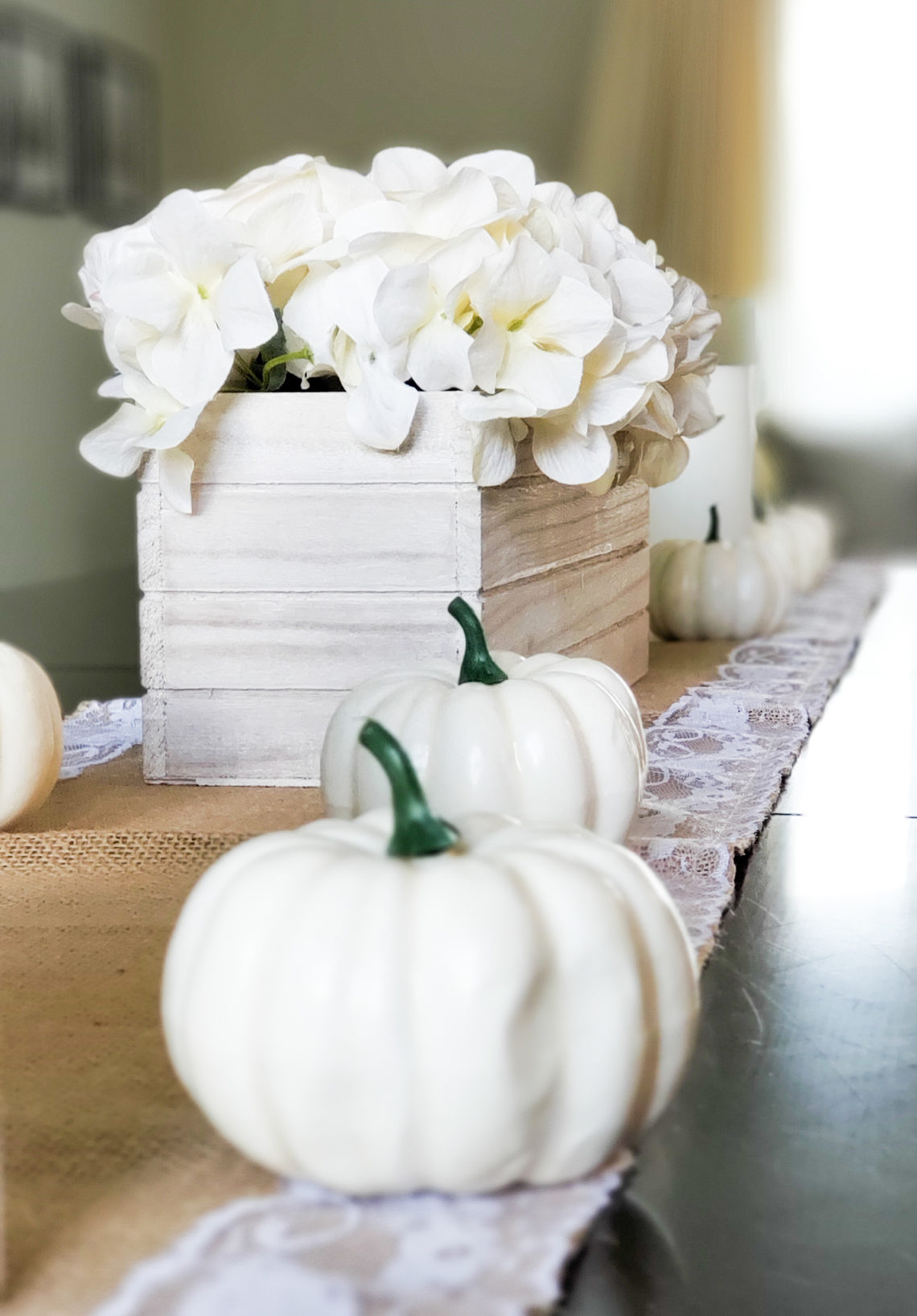 Easy & Beautiful Thanksgiving Table
Thanksgiving is just a few days away and if you're hosting you may be thinking or even stressing about how to decorate and set that Thanksgiving table.  Well stress no more!  It's actually pretty simple, doesn't cost a lot and won't take much time either!  Here are my top tips on how to decorate your Thanksgiving table and a few easy tablescapes I pulled together for some inspiration.  I promise it's super easy and festive too!
First off, check out some of the different looks I came up with this year and then scroll down for my tips to achieve similar looks!
Tablescape #1
Tablescape #2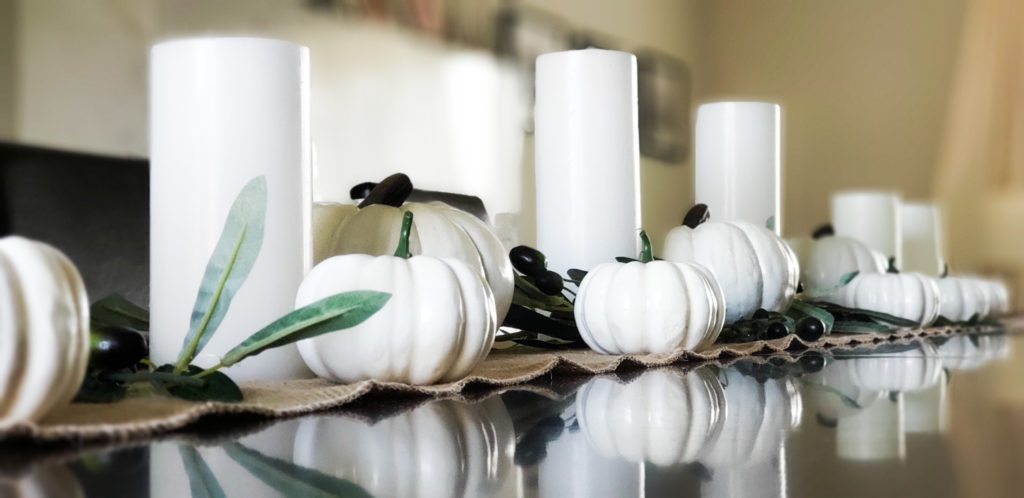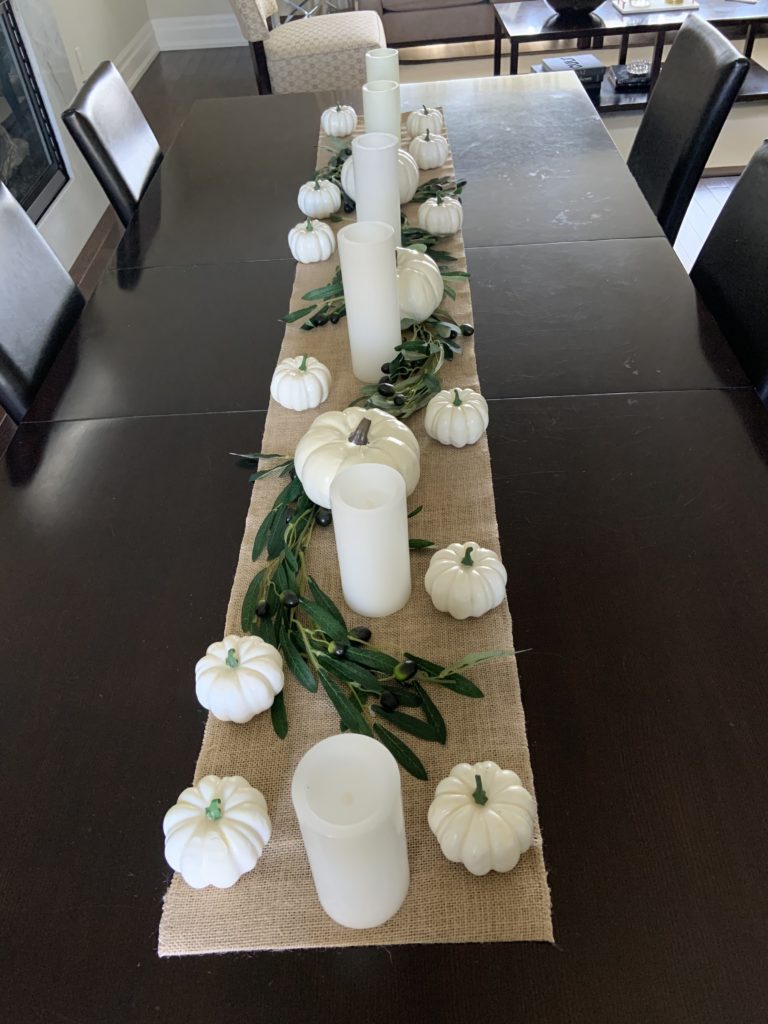 Tablescape #3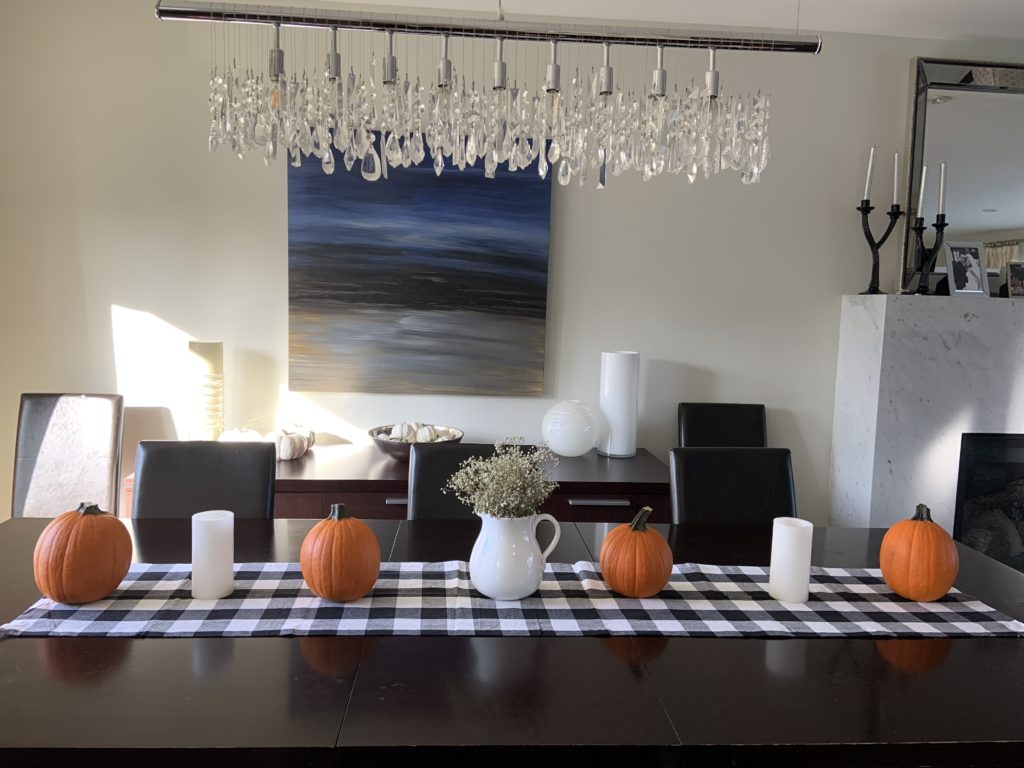 While I love shopping at Sheridan Nurseries and also Michael's, especially now that they have an online store here in Canada (yippee!!), since we only have a few days to go, your local flower markets, grocery stores and Amazon are your friends here!  Can I get a yessssss for Amazon Prime please!
Pick a theme and your linens
First off decide if your table will have any theme – kind of easy since we already know it's for Thanksgiving – and also if you have a colour scheme in mind.  I usually suggest starting off with neutral linens.  You can use a nice white tablecloth or I personally prefer a bit more of a casual look and opt for a table runner or placemats.  I really like this burlap runner as well as the lace trimmed burlap runner.  If you want to do something a bit different I also quite like this black and white buffalo check runner.  Again, all from Amazon!!
Get Seasonal
You can't have a Thanksgiving table without some pumpkins!  Whether you decide to go with big, ones, minis, orange or a more modern white is totally up to you.  I really like scattering small pumpkins throughout the center of the dining table on top of my runner.  And here's the thing, if you can't find real ones that's ok!  I wasn't able to find the mini pumpkins this year so I actually found faux mini pumpkins  and small pumpkins and even white pumpkins on Amazon.  And let me tell you they look like the real thing!  Another idea is to fill vases with mini pumpkins and it's the easiest centerpiece you'll ever make for Thanksgiving!  Also think about adding other harvest type items to your table like dried corn, bowls of apples and springs of wheat.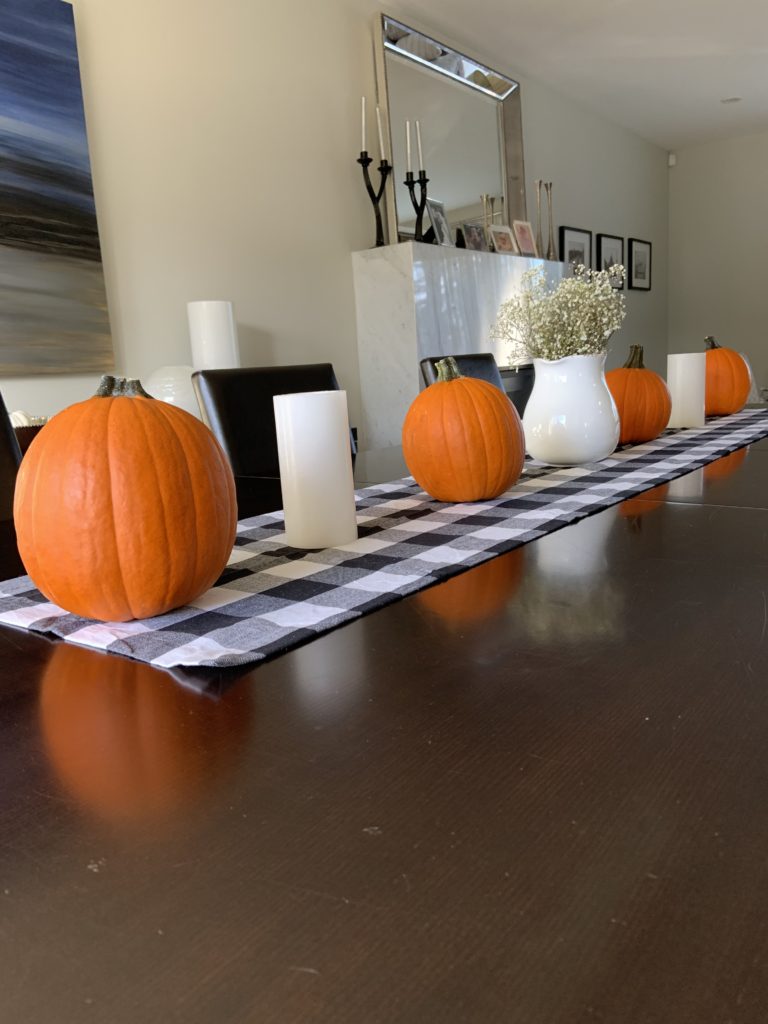 Add some Greenery
If you really want the easiest greenery solution and can't find any at your local store or Sheridan Nurseries, pick up some vines from Amazon and spread them throughout your table.  There are some very realistic looking options.  Given the time of year choose olive branch vines, eucalyptus or sprigs of lamb's ear for a pretty look.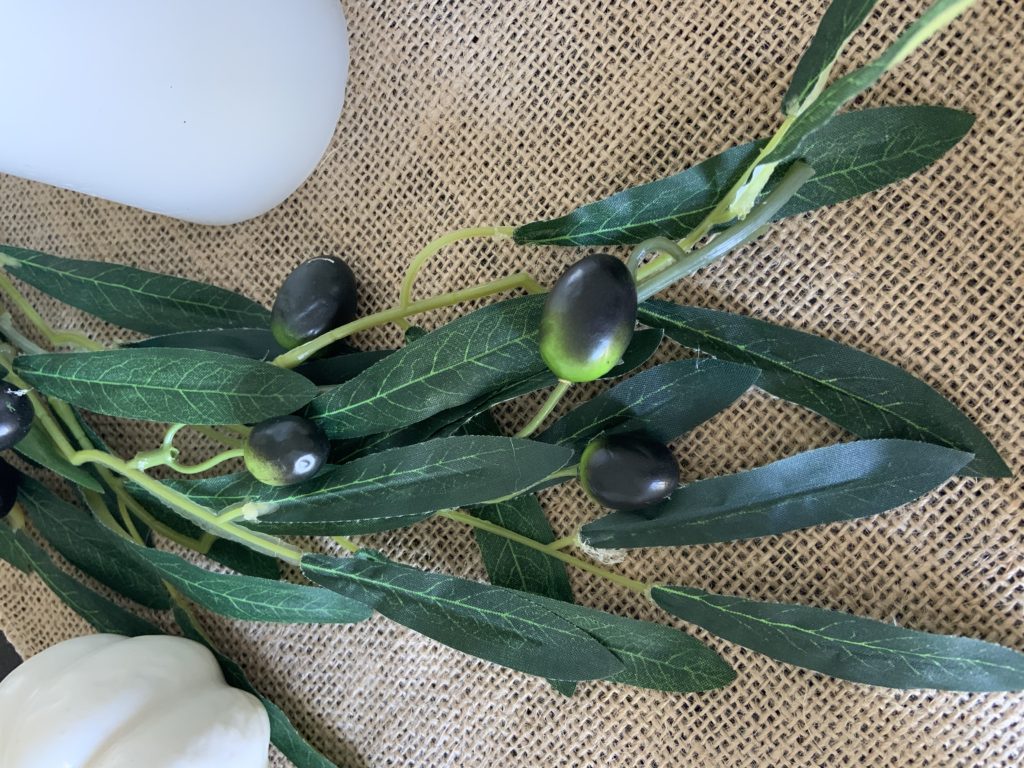 Add flowers
If you're like me and love the look and smell of fresh flowers then definitely create your own festive floral centerpiece.  Trust me it is so much cheaper than ordering one and I've been doing it every year for our Thanksgiving dining table.  Even if we aren't celebrating at our place, the hostess always knows to expect flowers from me!  A really easy centerpiece can come together with just a few things that you can get from a local flower market or your grocery store that carries florals.  Use a round vase or square vase and fill it with beautiful white and green hydrangeas, and other seasonal flowers and berries in oranges, purples, wines and burgundies. Maybe even add in some mini cabbages and touches of harvest with sprigs of wheat.   That's all it takes and you've got a stunning centerpiece that you can make in under 15 minutes!
Another favourite of mine these days is to fill a vase with a bunch of white baby's breath.  You can make it look modern or country depending on the vase you use.  And this option is under 5 minutes!!  So easy to make and simple looks so beautiful!    If you are using fresh flowers buy them 1-2 days in advance and if you can, put them in the refrigerator until you need to use them to keep them fresh!
Add candlelight
Candles add such a nice warmth and soft light to the table.  Especially with kids, a great option is the huge variety of flameless candles.  Add varying heights and types to add interest to the table.  Also consider using lanterns on the table instead.  The only advice here is to remember not to go too high with your heights as you want to make sure people can still see each other during dinner.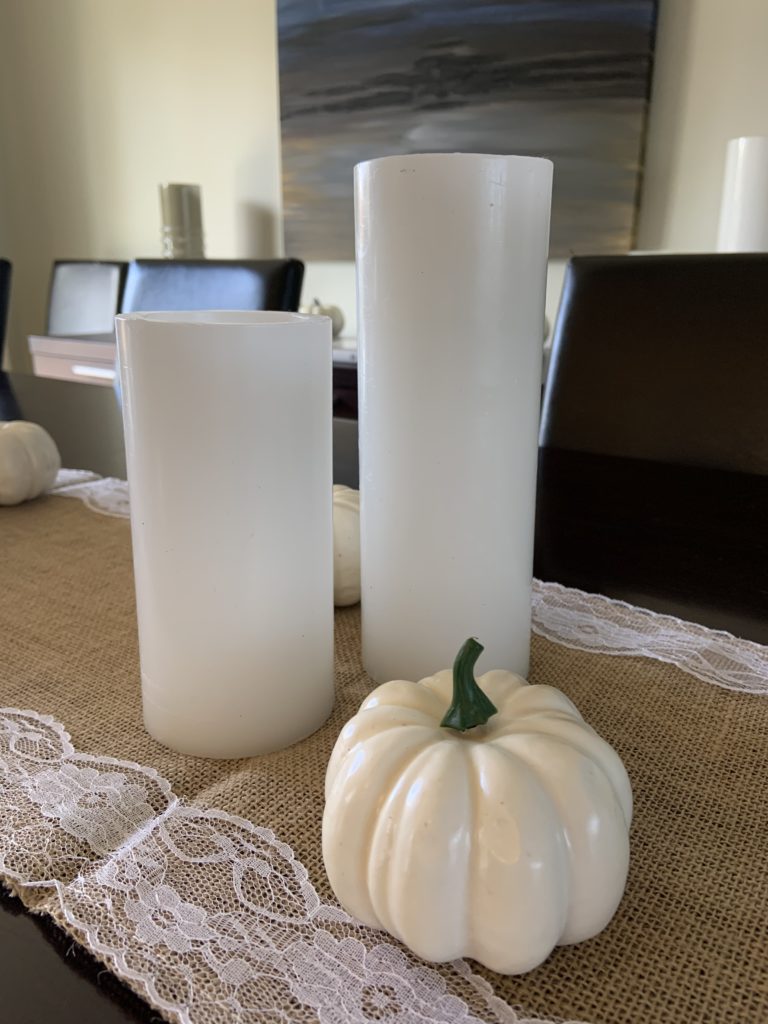 Fun and Pretty Place settings
If you have the time you can also create some pretty place settings by simply folding a napkin on top of the plate and adding something seasonal on top like a leaf, sprig of wheat or a mini pumpkin.  You can also add little handwritten place cards indicating you are "thankful" for that person!  Or to keep people busy while you are putting the finishing touches for dinner, maybe create a bit of a table activity asking each person to fill out a special note card talking about what they are thankful for. Keep it easy and keep it entertaining. If you have kids, get them to help you come up with something!
So there you have it, a few simple tips to help get your table ready for Thanksgiving.  And honestly it's not that hard! Whatever you decide it doesn't need to be fussy or complicated!  Pick all or a few of the elements above and it'll be super easy to set that table and it will look beautiful too!  Have fun with it and wishing everyone a Happy Thanksgiving!
Disclaimer: This post contains affiliate links.  If you make a purchase after clicking one of these links I may receive a small commission.