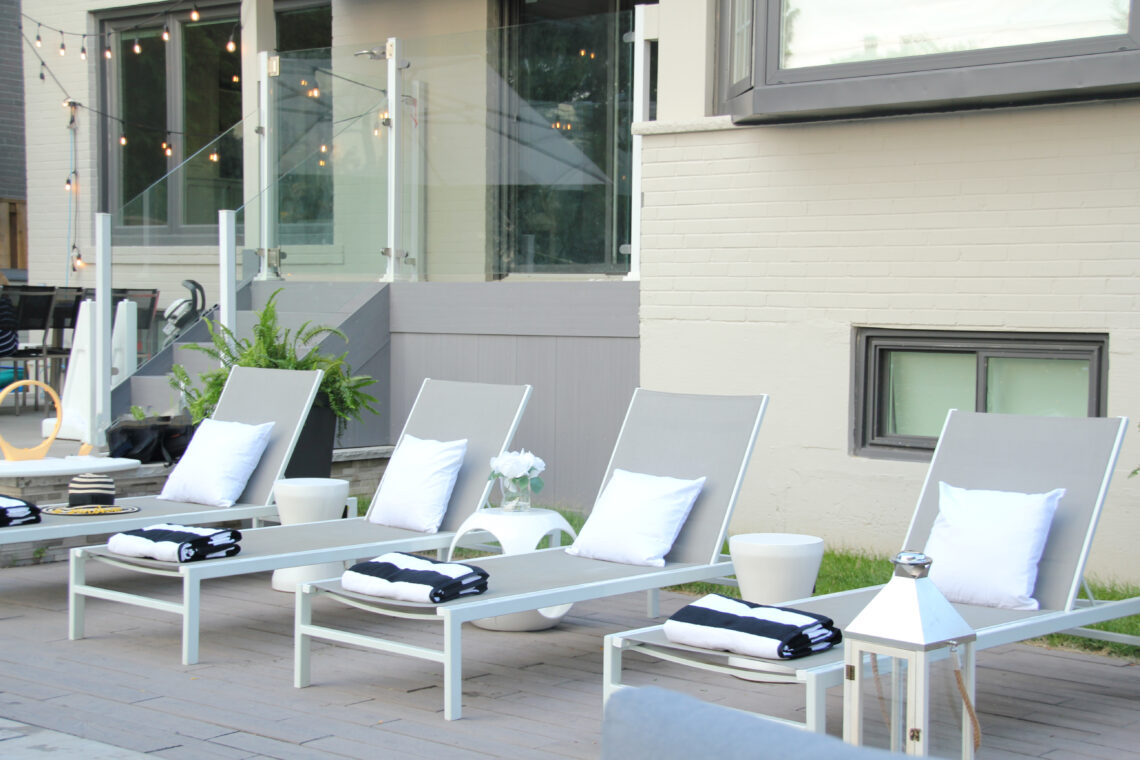 Easy Ways to Update Your Backyard for Summer!
Summer officially arrives at the end of the week but with the weather we've been having lately it feels like it's already here.  Is your backyard ready for summertime and outdoor living?
Over the last few years the backyard has become an extension of the inside of our home.  Many of us spend so much time out there, entertaining, dining, playing and just relaxing so it makes sense that we naturally want to make it as comfortable and beautiful as possible.  And especially this year where many of us are spending most or all of our time at home due to social distancing, the backyard has become even more important.  It's now our home, place of entertainment for us and the kids and possible even our staycation getaway!  Over at the Nikou Design blog we provided some easy updates on how to transform your outdoor space.  I thought I would share them here too…because with a little bit of help and DIY you can really transform your backyard into your very own backyard oasis and retreat.
And don't worry, updating your backyard doesn't have to break the bank!!  We've rounded up some easy tips and ideas to help you refresh your outdoor space without having to spend a lot!
What is Your Ideal Outdoor Space?
Before you make any changes, think about what your ideal backyard space should look like and what it needs to have so that you can really make it your own.  Consider how you use your backyard space today and how you would want to use it.  Think about how much space you have to work with, how you want to use your space and when you think you will be out there.  Think about who lives in your home with you (kids, pets etc.) and how they would use the space too.  Create distinct areas for outdoor dining, lounging and relaxing, cooking, a bar area, storage and even play areas for the kids if needed.  Also consider any hobbies you may have, like gardening or cooking, so that you create the ultimate outdoor retreat that's perfect just for you.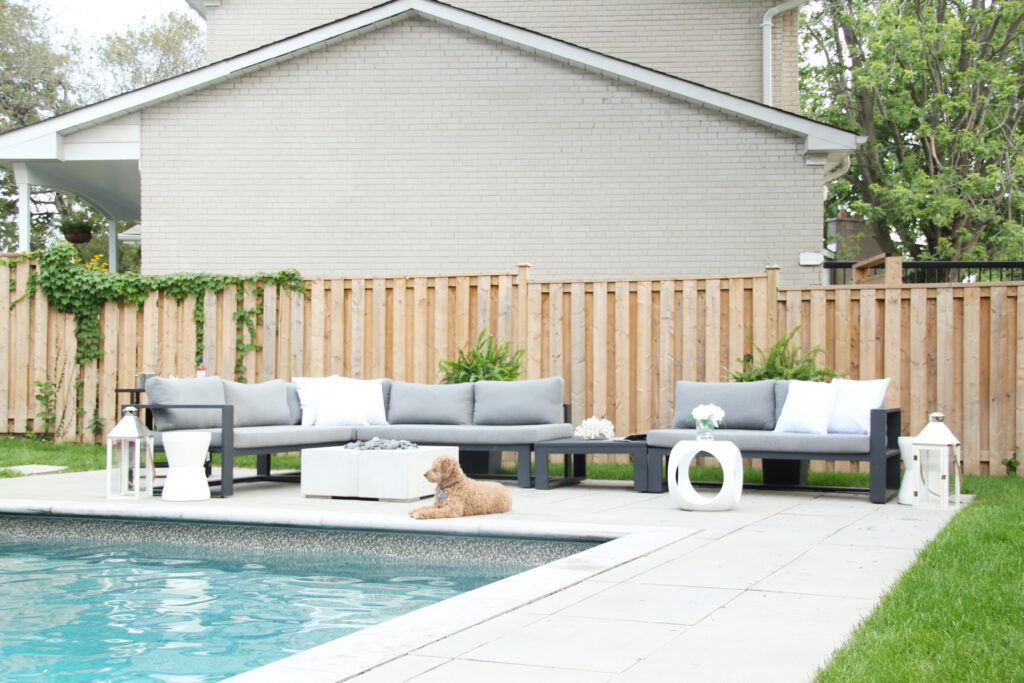 Refresh Your Flooring and Add a Rug
Start with your outdoor flooring.  A quick and easy update is to give your current deck or patio a good power wash.  Then consider adding a new outdoor rug to add some warmth and style to the space too.  You can make a big impact to your outdoor living area by just adding in that new outdoor rug.  The good news is that outdoor rugs are fairly inexpensive so it will feel like a really big change without having to spend a lot!
Update Your Patio Furniture
Let's start with furniture.  Take a look at your current patio furniture.  Do you have enough chairs for a cozy sitting area?  Do you have a dining table that fits the whole family? Is your patio furniture in good condition?  If the answer is no, consider investing in some new patio furniture like a nice outdoor sofa, sectional and even dining set if you plan to eat outdoors. And now is the time to buy!  Most stores including the big box stores have some amazing sales on patio furniture right now.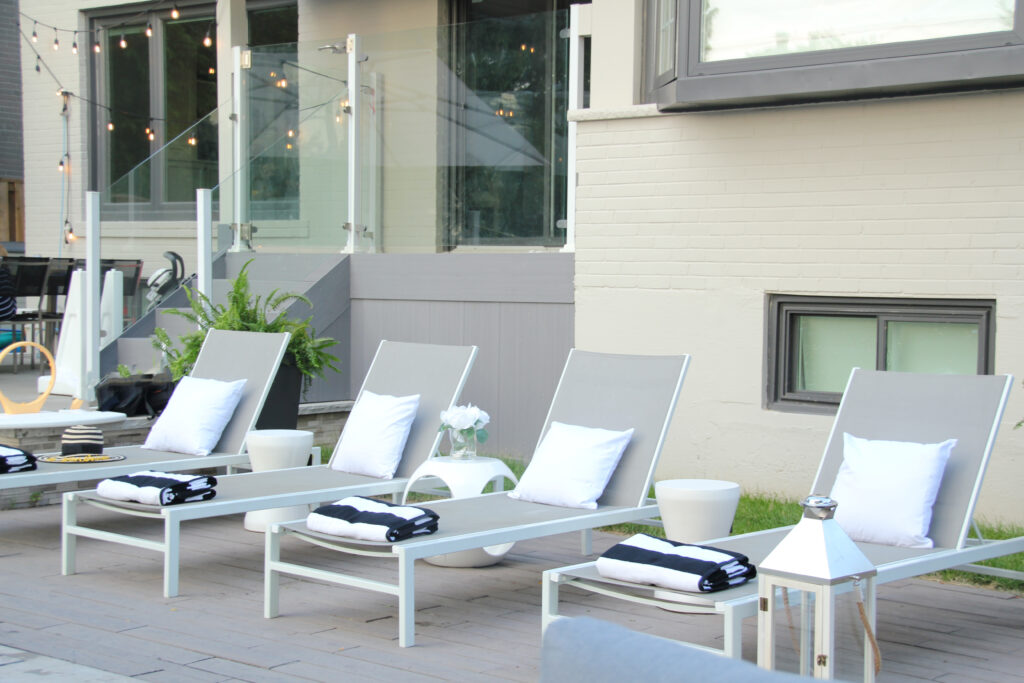 DIY Patio Furniture Update
Take on a DIY project and re-finish your existing furniture.  There's so much you can do with a can of spray paint!  I highly recommend painting old metal patio furniture with Rustoleum Metallic Paint and Primer In One.  It's such a great way to make your patio furniture look new again and even modernize it a bit with different colours.  For example you can take a dated set and paint it a nice charcoal grey or black for a modern update!  Here's a tip – you can even spray paint the mesh seats too on outdoor dining chairs and it won't change the feel at all!
Did you know you can even spray paint plastic outdoor furniture like patio chairs and tables!?  I recommend using a primer first – I like Rust-oleum Paint and Primer in Flat White.  Then pick your colour of choice in Rust-oleum Painter's Touch or Rust-oleum Multi-purpose.  Before you do anything though remember to give your old patio furniture a good wash and get into all those tiny crevices too!
Finally you can take a look at re-upholstering or updating your patio cushions.  If you know how to sew or know a seamstress this is your best bet.  I personally love the cabana stripe look and black and white patterns.  If you're not much of a seamstress you can always try and buy cushions off Etsy.  And as a creative last resort, yes you can even paint your cushions!  I must admit it sounds a little crazy but I've seen a lot of DIY cushion updates using spray paint and chalk paint on Pinterest.  If you do try this you need to let me know how it turns out!!
I'm in complete awe over the transformation they made over at Seeking Lavender Lane on their old patio set!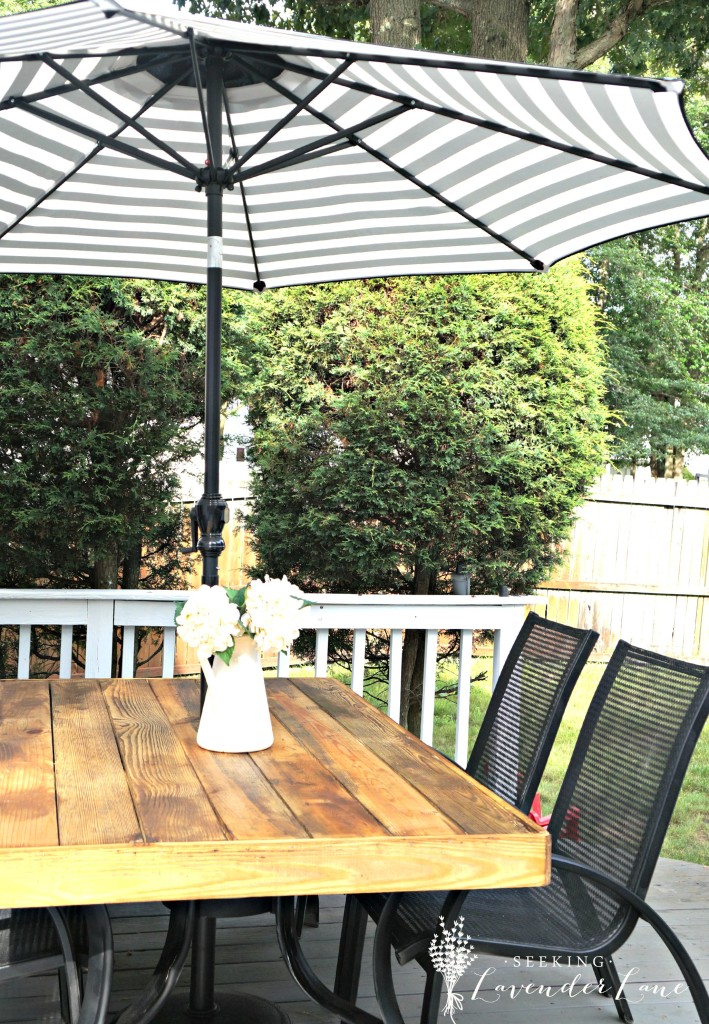 Add some new accessories and lighting
An easy way to refresh your outdoor space is by adding in some new accessories like cushions, pillows, lanterns and trays.  Before you go out and start buying things, think about the look and feeling you are after.  Do you want a coastal look? A modern lounge?  Maybe something more tropical?  Or even a Bohemian Getaway? Think of some new colours and patterns you can add in and carry it through your space to make it feel pulled together.
If your backyard is in full sun you will want to create some areas with shade so you can enjoy yourselves out there all summer long.  You can add shade to your space through a variety of ways including a new umbrella, pergola or a modern awning.
Another quick update – do you have enough light?  Aside from creating ambiance, lighting is a great way to extend your time in your outdoor space into the evenings.  You can add lighting through garden lighting, string lights, lanterns, and even a fire pit.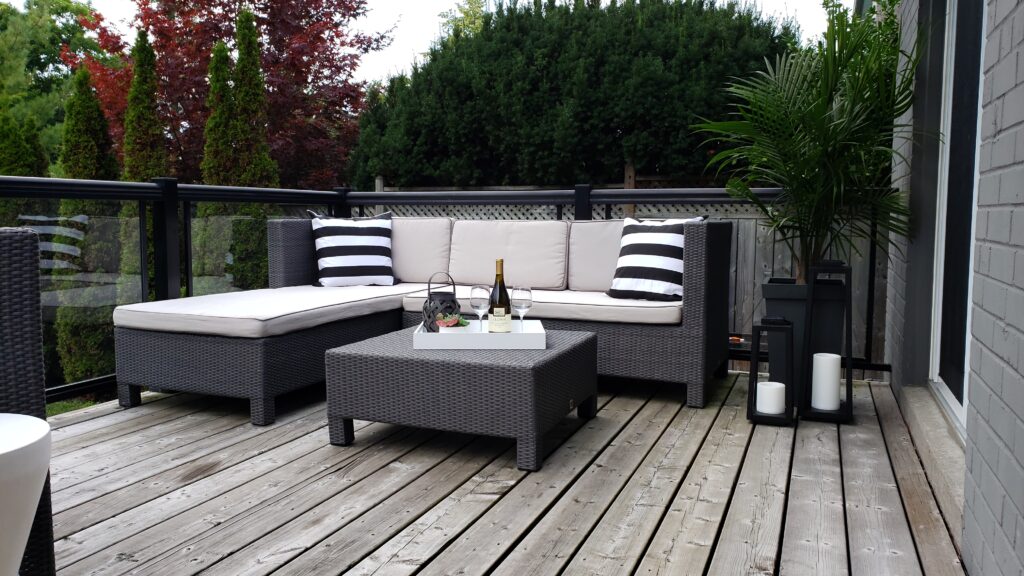 Get Creative with Your Landscaping and Planters
For an easy update, add in some new planters to your outdoor living space with some lush greenery and vibrant colours. If you don't have much of a green thumb, try using ferns, palm trees and other green plants that will last all summer long and are low maintenance.
If you're ready to roll up your sleeves, landscaping can make a huge impact to your outdoor space.  What's great about landscaping is that you don't need to do it all at once and if you have a plan you can add on every year.  Think about your privacy needs in the backyard, your fencing and how you could use landscaping to help with that too.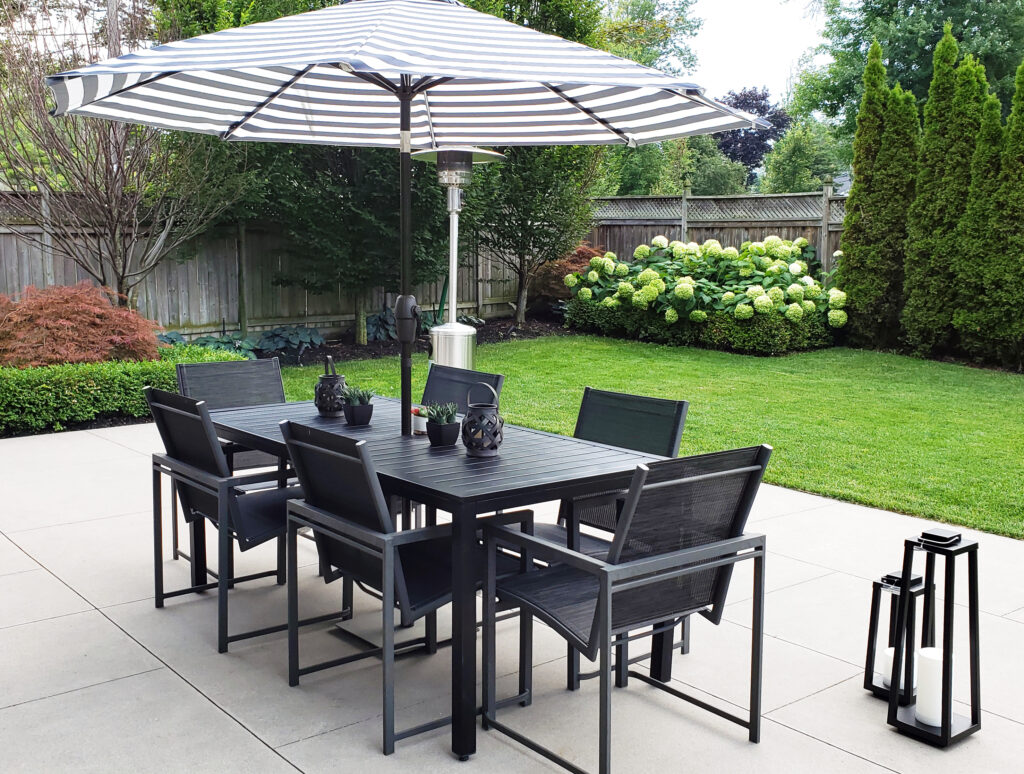 I hope this was helpful in giving you some tips and ideas to help your transform your backyard into your very own outdoor oasis you can enjoy all summer long!
Disclaimer – This post may contain affiliate links that I make a small commission from with no added cost to your purchase.