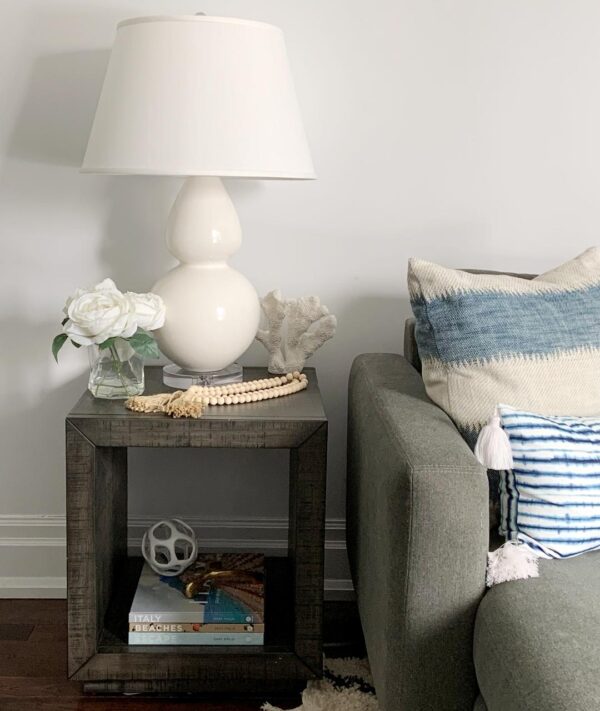 How to Update Your Living Room This Spring!
It finally feels like Spring is out there today!  The sun is shining, the birds are chirping and the flowers and trees are beginning to bloom!  With the current pandemic and cooler weather we've been having, it was a little hard to believe Spring was actually here. And with Spring, I tend to think of fresh starts, renewals and specifically giving the home a bit of a refresh!
With most of us now staying home and working from home, we're also spending a lot more time looking at our home and thinking about what we wish we could change and update. Plus with a lot more time on our hands this is definitely the time for all those home projects we couldn't get to before.  Trust me, coming from a neat freak and someone who just likes nice things, making your home a bit more comfortable and a bit more beautiful will also give you some calm, comfort and joy during these difficult and uncertain times.
And while yes, full blown renovations may not be in the cards right now, this is the time for some DIY quick updates that you can do yourself and that won't cost a lot.  Over on the Nikou Design blog, I recently shared some of the spaces in your home to think about sprucing up this Spring!
Since we're spending so much time at home these days, today I wanted to share some ideas on how you can update your living room and family room! You want to make sure that it is both comfortable and functional and that you enjoy living and being in the space.  This home update is more about some easy doable re-decorating and a lot of it you can actually DIY!
Declutter and Get Organized!
Life is hectic and often we push things aside to tackle later or shove things into cupboards and drawers so that we don't have to deal with them.  But what's that saying again – a tidy home is a happy home?  Could they have been onto something?  In fact there are actual scientific studies that indicate that mess and clutter are causes of stress and anxiety and that having a tidy and clean space to live in leads to greater calm, joy and relaxation.
Since you're spending a lot more time in your home now, what better time to tackle the clutter and get organized.  Trust me, it'll be cathartic.  And during a time when many of us feel we don't have much control over things, this is one thing that will give you back a sense of control.  It all starts with a list.
Make a list of every area in your living room or family room that needs some organizing.  For example if you are tackling the living room, list out any furniture like coffee tables, side tables and console tables that need decluttering. Depending on the room sort through things and decide what to keep, throw out or donate.  Then invest in some storage solutions like bins and dividers – whatever makes sense in your space to get things organized.  Once you've gone through that process, you should have a much clearer and less cluttered space to live in and enjoy.  Now the fun part – you can really start planning on how to update your living room or family room!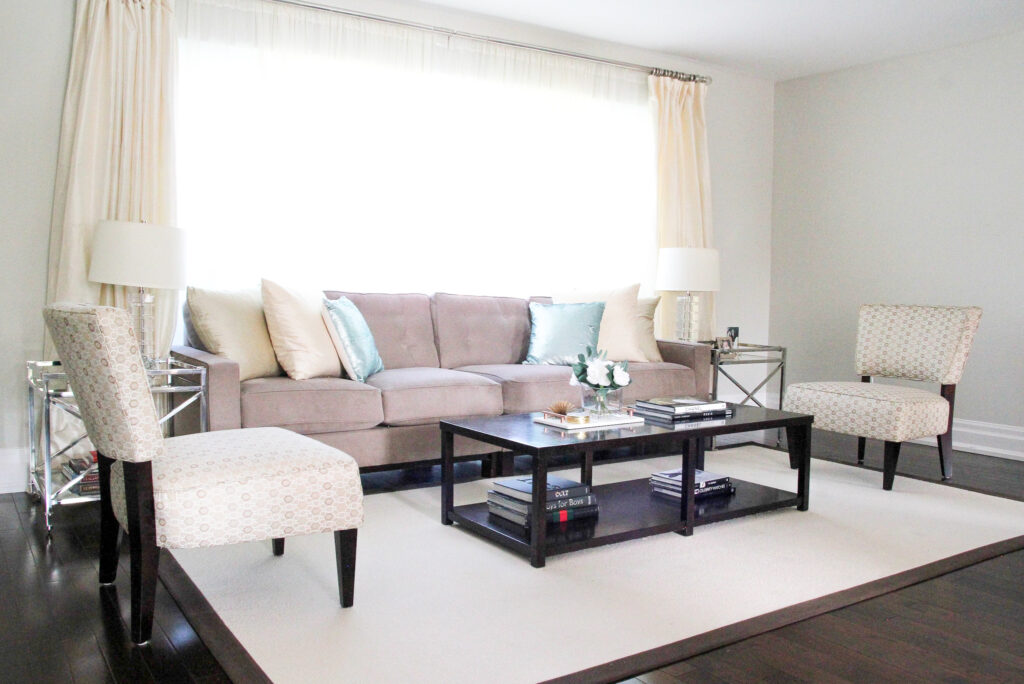 Give your Walls a Refresh!
A fresh coat of paint and some new colours in your space can inject some new life into your living room or family room! Painting is a fairly easy and inexpensive way to refresh your home.  Re-paint the whole room or maybe add an accent wall.  While bringing an expert into your home may not be doable, you can also DIY this one.  I recommend signing up for newsletters from Benjamin Moore and Sherwin Williams and you can score up to 40% off during some of their paint sales.  I also recommend testing paint on your walls to see how you like the colour in your space and lighting.  If you're having a hard time picking out colours, a virtual consultation with an expert can steer you in the right direction too!
Since we're on the topic of walls, you can also really change how a room looks by adding new wallpaper to the room or as an accent wall. There are some really great new wallpapers out there with beautiful and modern patterns.  If you don't want to commit, I'm really loving the peel and stick wallpapers that are easy to apply yourself and if you get sick of it in a few years you can easily remove.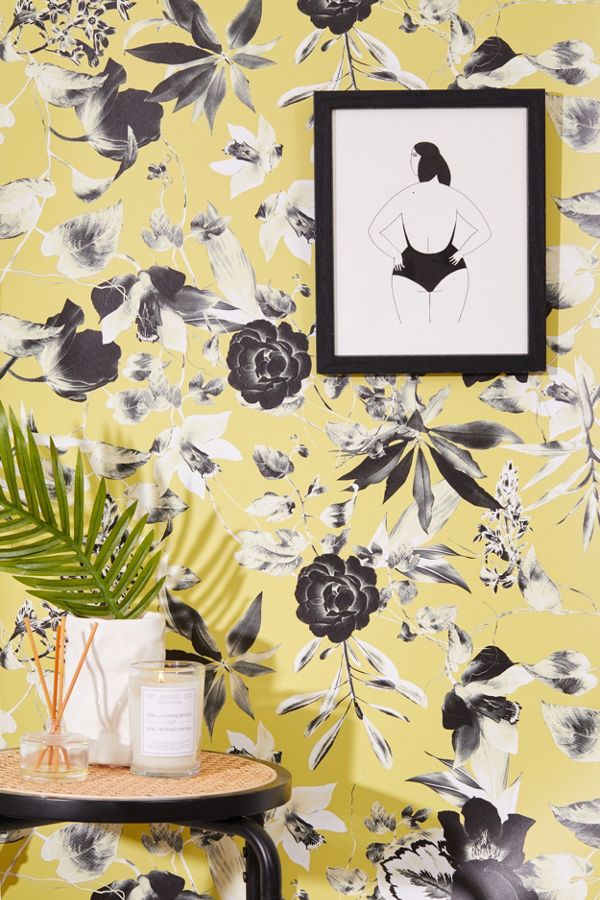 It all starts with a Great Rug!
When updating a room, another great update you can make is by adding a new rug to your space that will just anchor everything.  Do this before you buy any other furniture or pieces as this will really change the room and will likely affect your other choices.  Think about rolling away your heavy wool rugs and replacing with a lighter cotton rug in bright colours and fun patterns!  Or for a more natural and neutral look, try a jute rug or natural sisal rug.  Another great option is to scope out some of the more inexpensive outdoor rugs and use them indoors too!  Definitely scope out my go to for rugs – Wayfair, especially if there is a sale!  Also you would be surprised at some of the great finds at Target, Home Depot, Lowe's and even Wal-mart!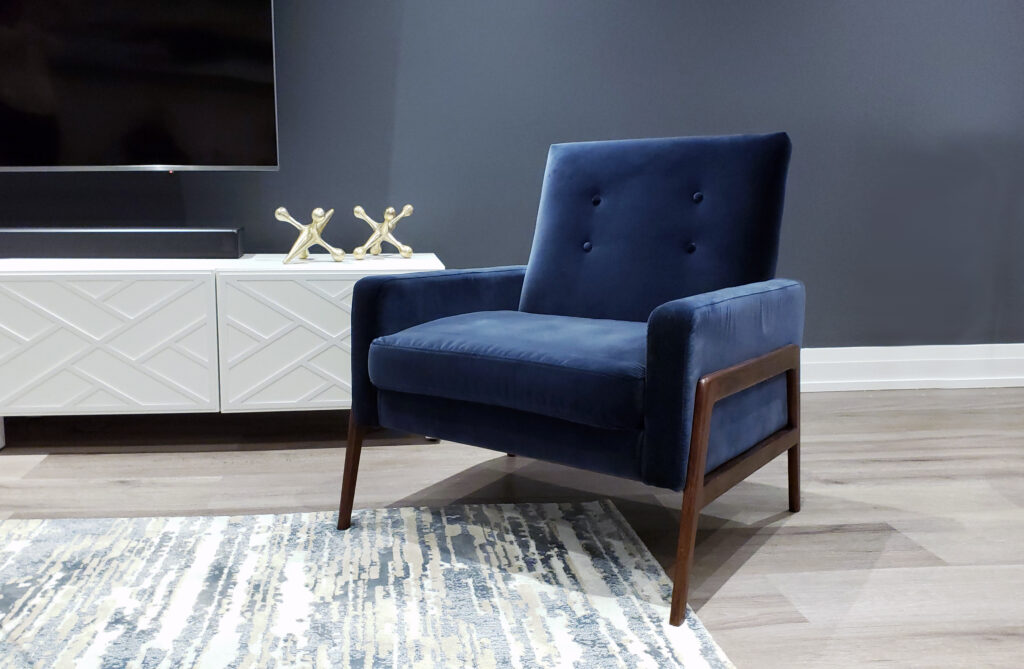 Pillows, and Throws, and Drapes oh my!
An easy and fairly inexpensive update you can make is to add new home décor like pillows, a throw, and even new drapes to your space.  Time to remove those heavy throw pillows and throws and replace them with some lighter ones!  This is such an easy way to update your space and also transition it into Spring and Summer. Try adding in lighter fabrics and textures like cotton and linen.  Also add in some lighter colours, pastels, patterns and maybe even pops of brighter colours too.  Maybe even try out this year's Pantone Colour of the Year, Classic Blue!
You can also consider changing the drapes and even the curtain rods to give the space more light and a refreshed and updated look.
My usual go to places for pillows and throws is of course Home Sense (oh how I miss it these days!), but I recently discovered some beautiful pillows at Tonic Living and even on Wayfair too!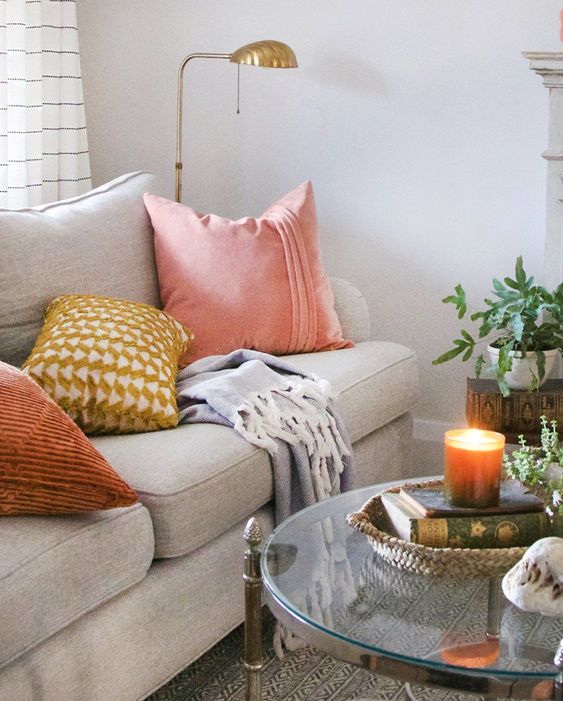 Add new Accessories
Accessories are a really easy way to update your home for summer.  Try switching the lampshades or lamps in your space to lighten things up.  Or add some fun new accessories and accent furniture to your space!  A new coffee table, a gorgeous chair, or set of lamps can easily transform your space.  Another great way is to add some new home décor pieces like vases, bowls, lanterns and decorative objects.  Don't forget to add in some new books to your coffee table and some personal pieces too!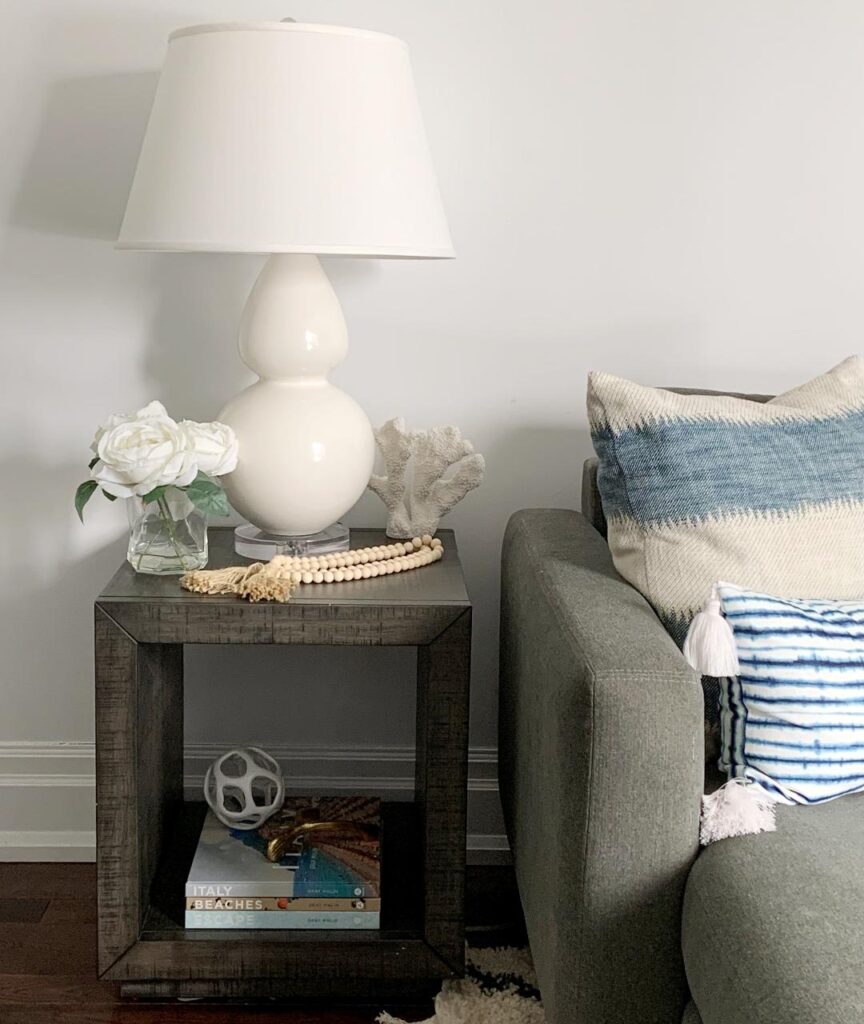 Transform with Art
And of course, art can make such a huge impact.  You can invest in a new piece of art work or try your hand at painting (this is on my list!!).  There are also some great options again at some of those fave stores of mine but you can also find some great artwork on Etsy!  You can find original pieces of art or you can also save some money by purchasing printable art.  Pick up some prints that you love, print them at home or your local Staples depending on the size you need, frame them and stick them on the wall.  It's that easy!  I personally love the Ribba frame at Ikea that you can get in different sizes and you can make a huge art statement without having to break the bank by going this route!
Art is personal and even adding your own photos to the space will be a huge update.  Think about how you can decorate your walls by adding those framed pictures you've been meaning to hang or finally creating that gallery wall.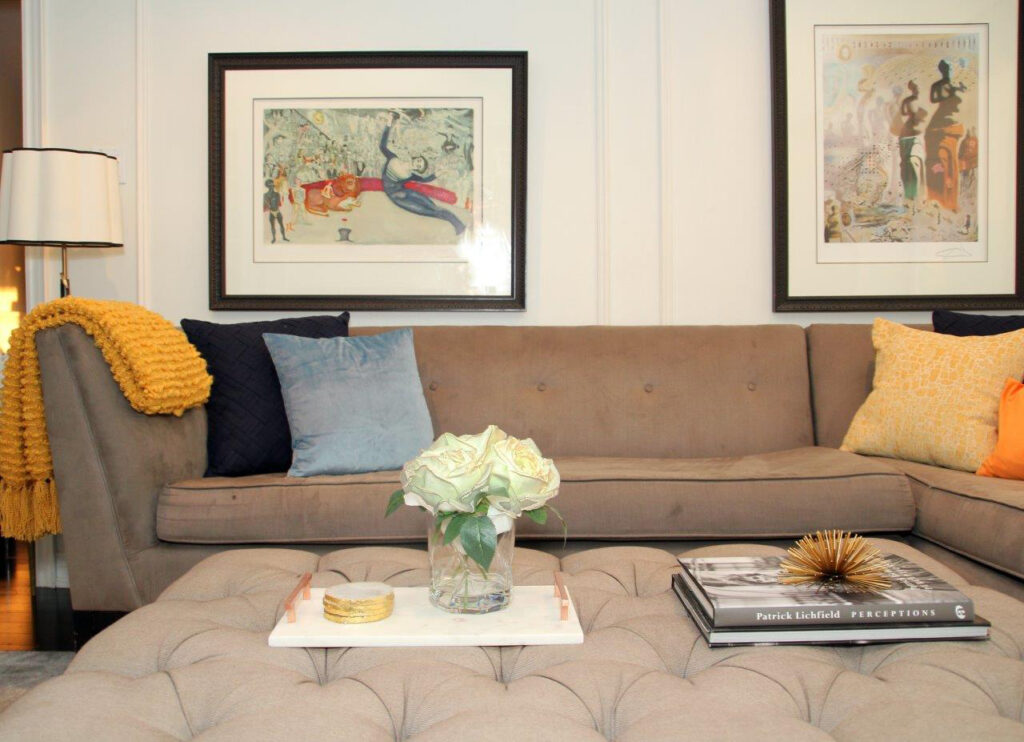 Flowers, flowers and more flowers!
Probably my most favourite and easiest way to update a room is with fresh flowers and even plants.  It literally is a matter of bringing the outdoors in!  Until the flowers are in full bloom in the garden you'll often find me at the local flower market picking up a few bunches of flowers that I can throw into a vase.  I'll put them on coffee tables, the dining table, in a jug in the kitchen and even in the bedroom and bathroom.  Once the garden is full I just pick some flowers like easy hydrangeas and we're done!  Flowers just make everything look prettier in an instant!  And don't forget the impact of a potted tree!  You can add in a faux fig tree or what's hot right now is an olive tree.  I'm going back to my roots and looking for a real olive tree to add to our Family Room this year!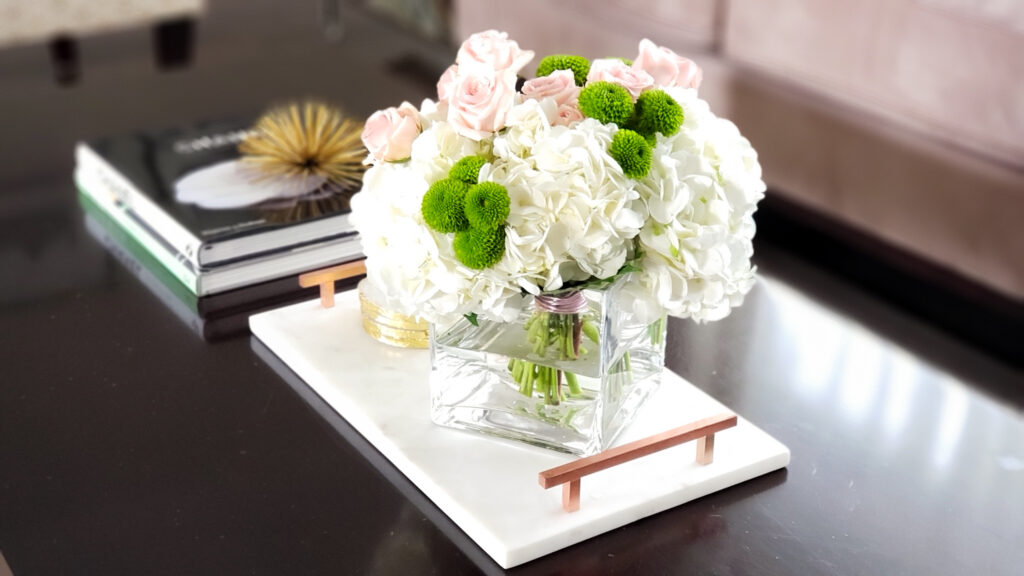 Where to shop?
So you're probably wondering, where do I shop if we're in quarantine?  I have to say again I'm really missing Home Sense these days but have been able to find some great deals and pieces online.  Some of my favourite home décor stores online are Wayfair, CB2, West Elm, H&M Home, Urban Outfitters and Anthropologie!  And don't forget Amazon and Indigo too – you can score some great home décor pieces on there too!
For even more inspiration for your Living Room and Family Room, check out Lulu & Georgia (another new fave of mine) and Serena and Lily. And of course my ultimate go-to for inspiration is always Pinterest.
Hope I was able to give you a few ideas and inspiration to help you in refreshing your living room or family room!  Remember, you don't need to make all of these changes all at once but by just picking a couple you can inject some new life into the main living space of your home and create your own "happy place"!