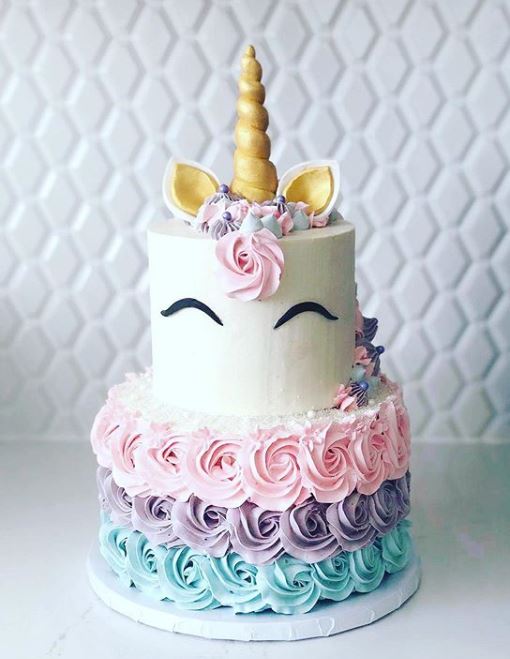 Do you believe in unicorns?  We sure do in our house!  This past weekend we threw an extra special Unicorn birthday for my little girl who just turned 6!
I love to throw parties and especially parties for my kids!  They usually get a party with their school friends and then a second one with their family & friends!  This year I was feeling a bit lazy and just wanted to have one but my little girl begged and pleaded to have two parties, so of course mom guilt hit and she got her special unicorn celebration!
It's hard keeping up with these kids and when you throw one great party they kind of expect it every year!   Surprisingly this party wasn't as much work as the others we've thrown in the past.  Today I thought I would share all the magical details of her unicorn party!  Plus there's some tips on how to throw your own unicorn party for your little one too!
The Invitation
Every great party needs a beautiful invitation to go with it.  Even though the right thing for the environment and to be with the times is to send an online invite, nothing beats a traditional invitation you get in the mail.  It gets people, especially kids so excited about what's to come!  My go to for invitations is always Etsy!  To save on both money and the time to handwrite a bunch of invites, you can purchase a printable invitation that you can personalize and then print yourself either at home or at our local Wal-mart, Staples or Costco!  Here's the one we picked out for this year featuring my little one in her Unicorn costume from Halloween!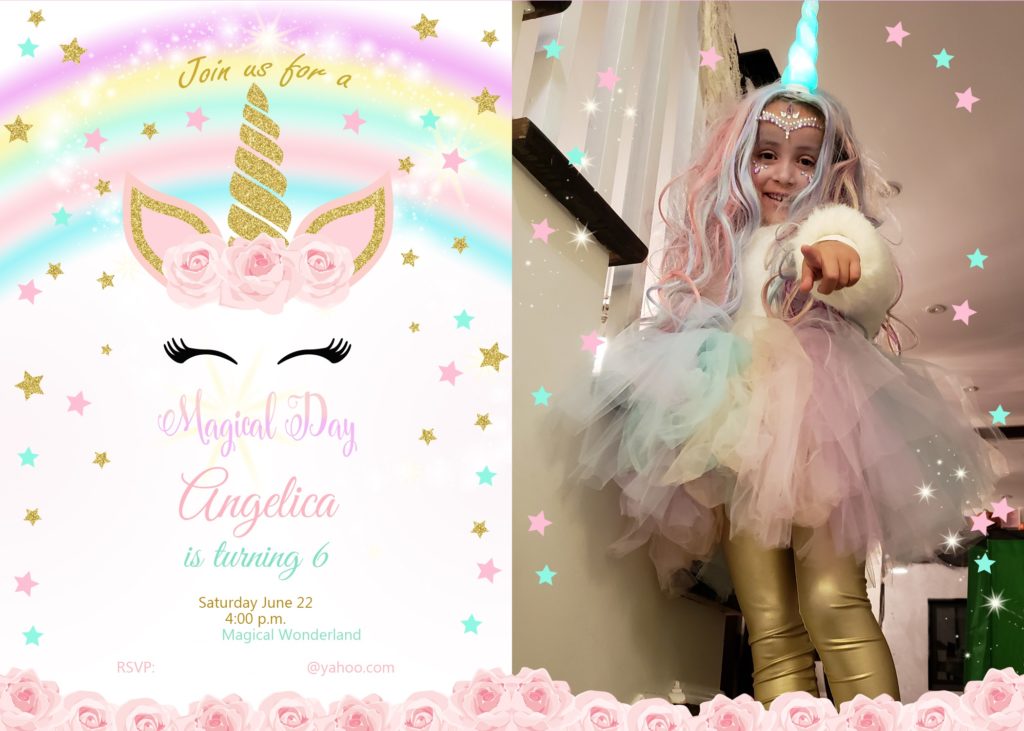 The Decorations
A unicorn party was so much fun to decorate, plus it was so pretty!  We went with a pastel rainbow colour scheme for the palette with a bit of white and also gold glitter and sparkle thrown in!   Because come on, what's a magical party without glitter!
We used pastel tablecloths, tutu table covers and even glittery sequin ones everywhere.  And balloons are also a great way to decorate and continue with your colour scheme.
My go to for unique decorations and banners is always Etsy.  I bought a couple custom banners from Banner Bakery and XXX on Etsy.  I also bought a Printable Party Package which is great because I can print everything myself and put together my own banners, decorations and signs.
Probably my favourite decoration of all was the unicorn floral centerpieces we made.  We used white vases that I had on hand from another party, and filled them with pretty pastel coloured blooms.  We added some black eyelash decals to the vase and a unicorn horn topper I bought on Etsy and we were set.
Another tip is to check out your local Dollar store, Wal-Mart, Winners and Home Sense.  Unicorns are so big now that you can find some great decorations at these places!  And don't forget Amazon and Indigo too!
Check out some pictures of the pretty decorations at our party.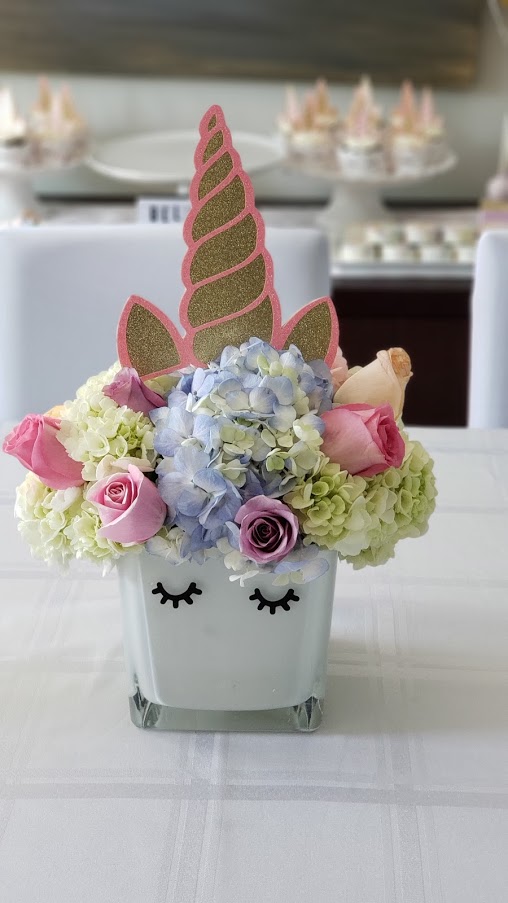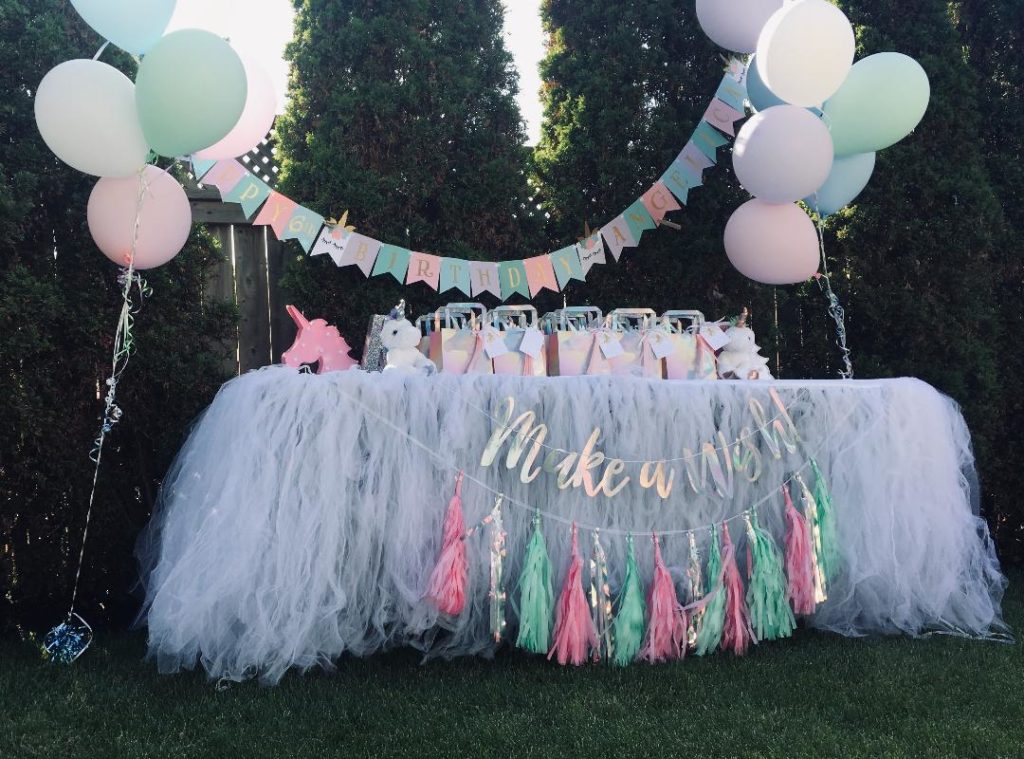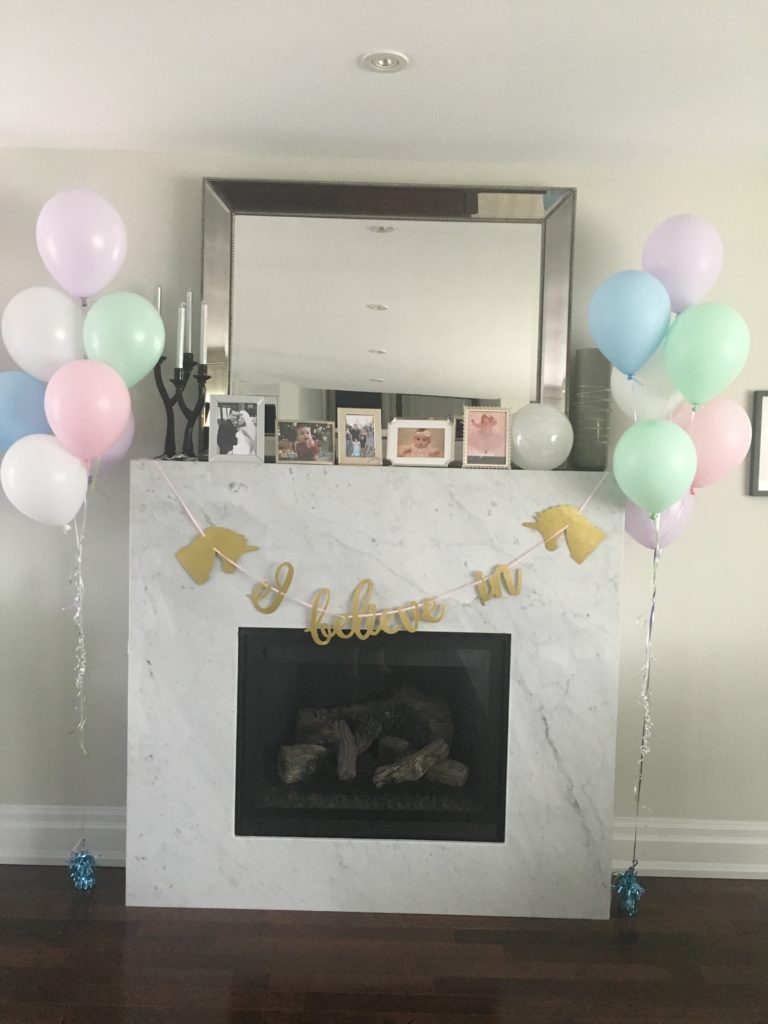 Unicorn Sweet Table
Let's be honest the best part for any kid is dessert!!  Setting up a Unicorn themed dessert table was a lot of fun.    We had unicorn cupcakes, macarons, cookies, pastel marble oreo cookies, cakepops, rainbow sprinkled pretzel rods and of course a beautiful cake fit for a Unicorn!
I'll let you in on a little secret, the cupcakes were from my local grocery store and I bought cupcake wrappers from Aliexpress and Unicorn toppers on Etsy.  Everyone thought they were super fancy, and they were but just not expensive fancy!  And of course no dessert table of mine  would be complete without a cool backdrop like the one I got from Etsy and printed with Vista Print.  Another tip here, be on the lookout for deals with Vista Print.  I usually wait for a 50% off sale to print my backdrop!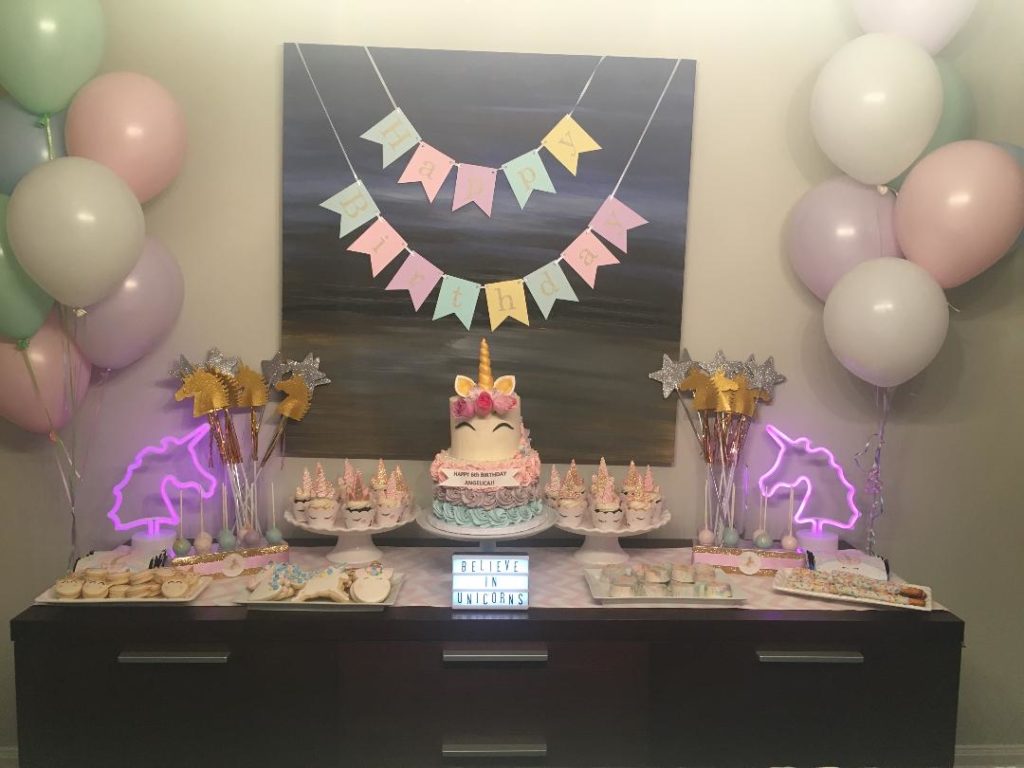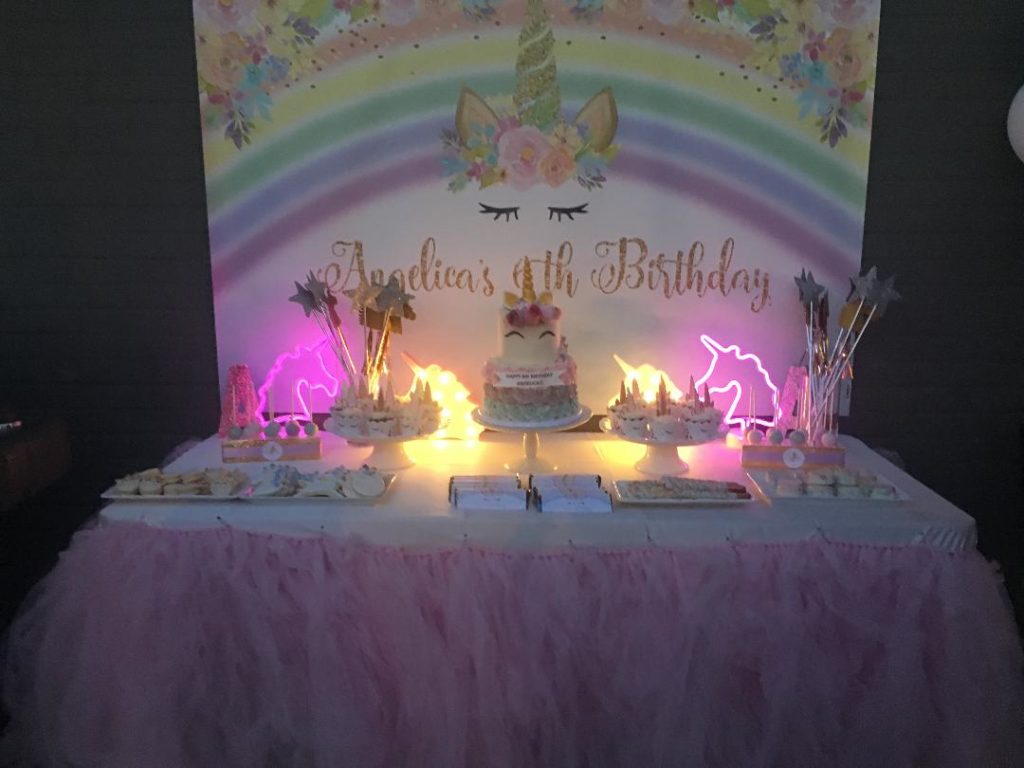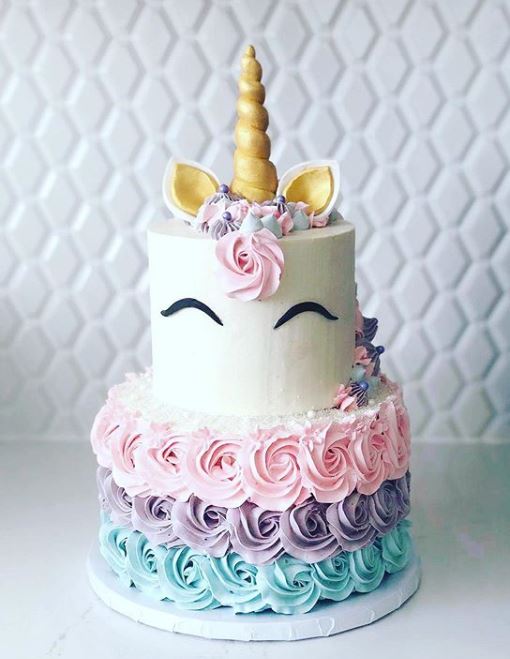 Unicorn Activities
Every party needs some super fun activities for your Unicorns!
This year I enlisted the help of some of the older kids to help me run a bit of a Unicorn boutique.  I bought them lots of kids makeup, glitter tattoo and hair chalk kits and bracelet making kits. It pretty much kept them busy the whole day!
They also had fun trying to figure out what their Unicorn names would be using the printable game sign I found on Etsy.
And of course we ended the night with a dance party and the Unicorn piñata! The boys seemed to really like attacking that piñata!  Oh boy!!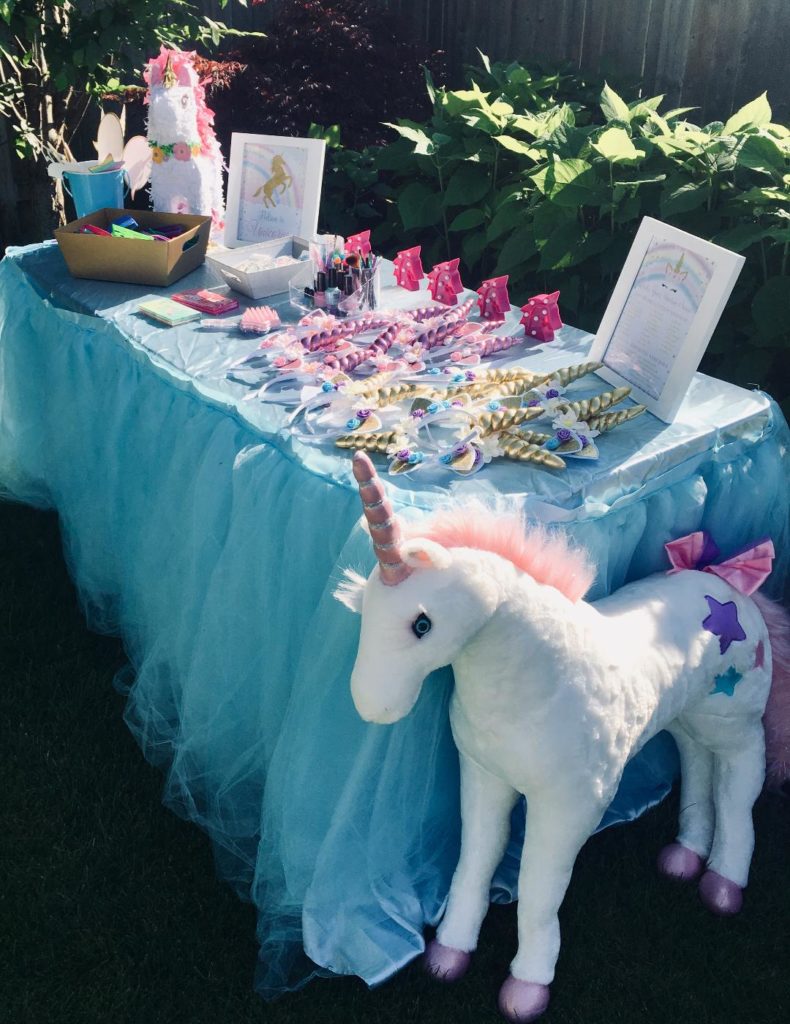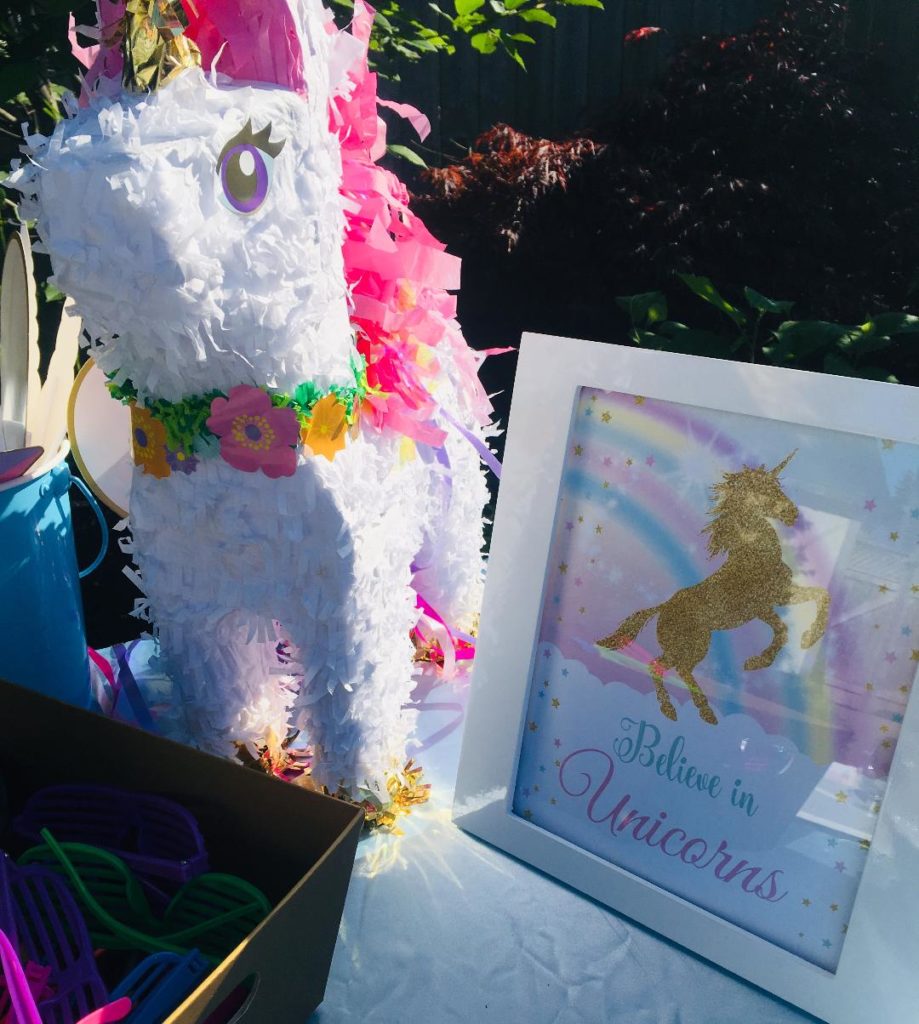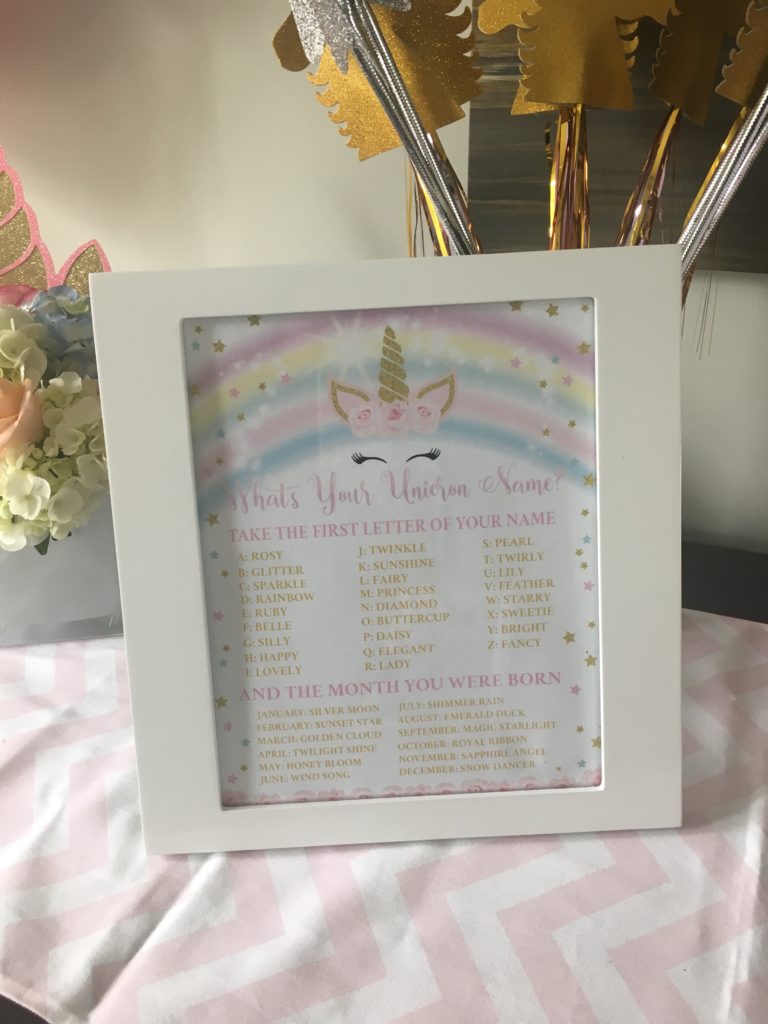 Loot Bags & Favours
I love to throw parties so I always love to set up a treat table for the kids that not only includes their loot bags but also a lot of fun treats to take home with them too like cotton candy, caramel popcorn and Hershey bars!  I bought the cotton candy and Hershey bars at my local Dollar store and the caramel corn form Kernels.  To personalize for the party I repackaged them using the party labels I had printed.  The kids loved them because they thought it was unicorn fluff and poop and the caramel corn resembled gold unicorn horns!
As for the favours, I found the cutest unicorn headbands, necklaces, bracelets and keychains on Aliexpress for super cheap!  And when I say cheap, I'm not kidding!  The headbands were around .50 and the keychains were only .14.  It was just ridiculous!  If you haven't checkout out Aliexpress, you really need to!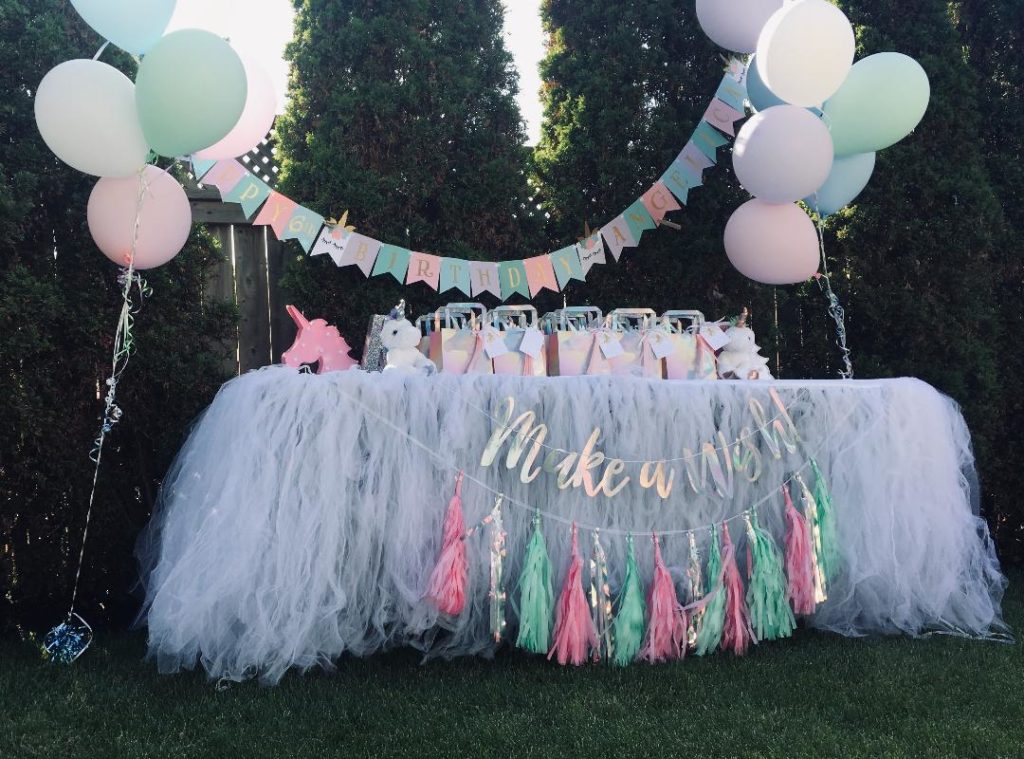 Hope you've enjoyed taking a peek at our Unicorn party and hope you got some tips and ideas for your own.  Happy party planning for those of you throwing a Unicorn party for your little one!  Remember to "Believe in Magic, Rainbows and Unicorns always!!"  And of course, Party like a Unicorn!