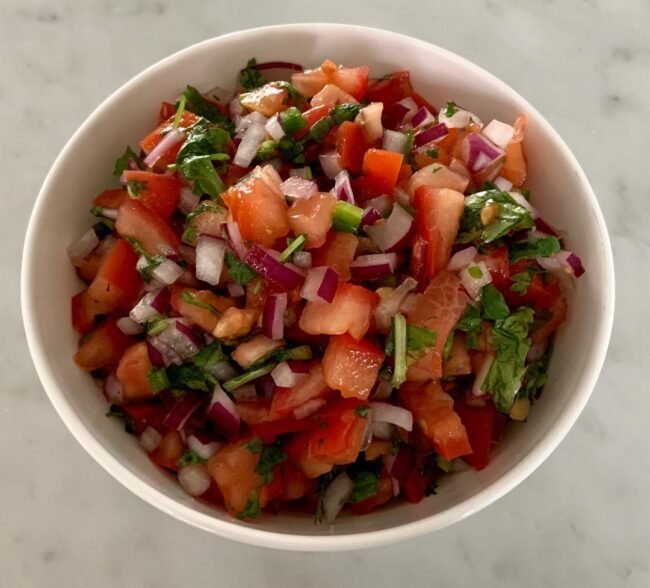 Happy Monday everyone!  Hope everyone had a great weekend!  We got together with a few friends for a little social distancing visit Friday night and also spent most of the weekend on the patio enjoying some of my famous Skinny Margaritas accompanied of course by some nachos and fresh Pico de Gallo, or fresh salsa!
This year we're growing our own vegetable garden for the first time, see what a pandemic will do to a city girl!  I must say though I'm really enjoying it and my mom would be so proud – brings me back to my Greek farmer roots!!  This year with the amazing tomato harvest we have, of course we needed to start making our very own fresh salsa, otherwise known as Pico de Gallo!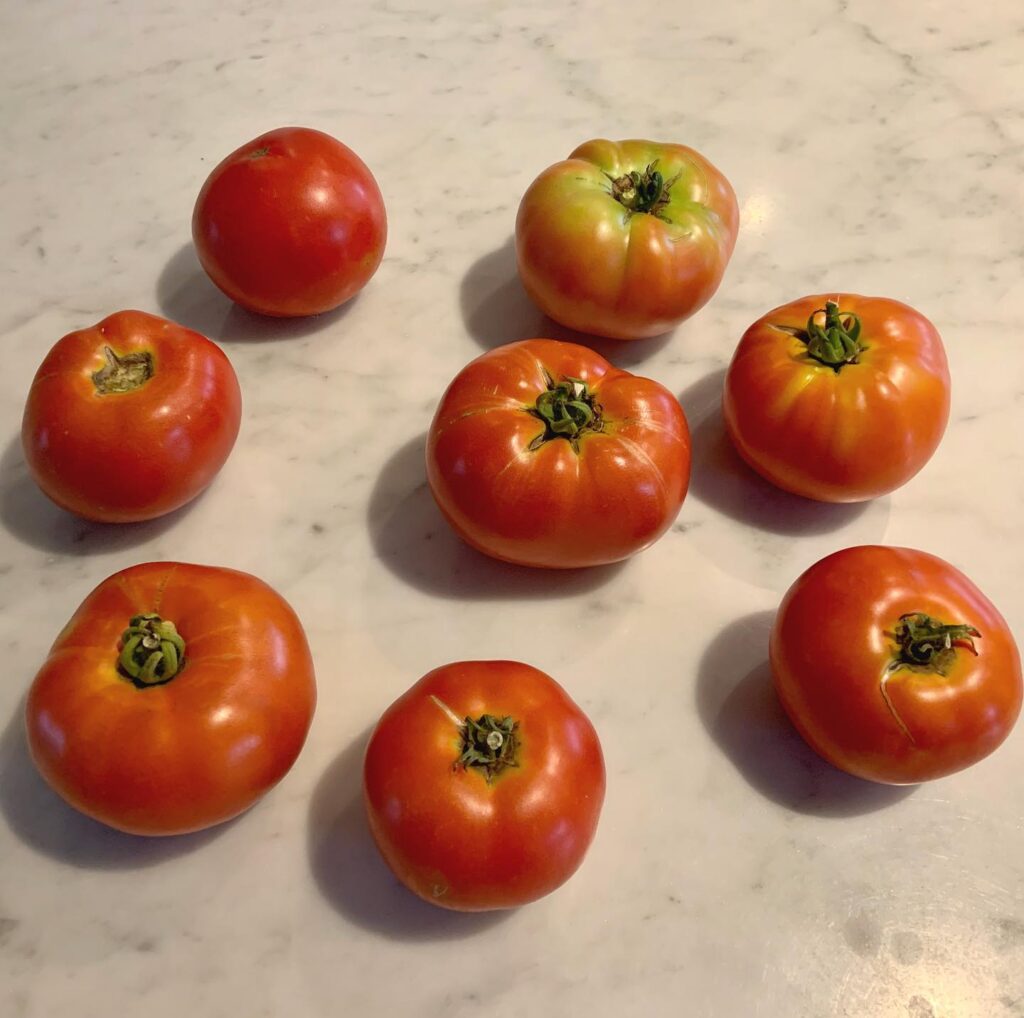 Other years when I've made it I would use Roma tomatoes because they have less seeds and water in them but come on when you have your very own fresh tomatoes from the garden that's what I'm using!  As my husband says, this pico de gallo is so fresh tasting and just refreshing even!  We use with nachos but it is also great on top of chicken, a salad or to top onto your tacos!  Here's my recipe for you to enjoy the rest of this summer and honestly all year long!
Pico de Gallo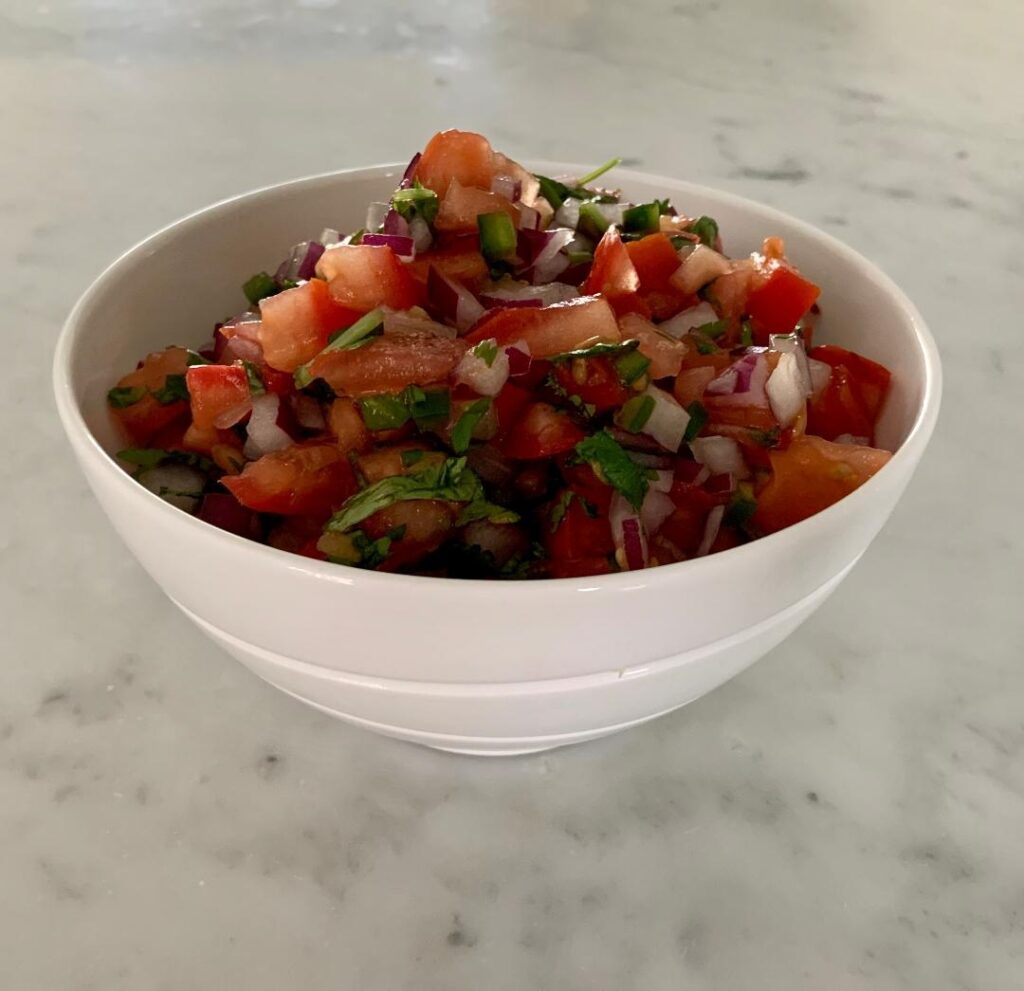 INGREDIENTS
(makes about 2 cups)
5 Roma tomatoes, diced (but you can use whatever tomatoes you have on hand)
½ cup red onion, chopped
1/3 cup  fresh cilantro, chopped
1 large jalapeño pepper, seeds removed and finely chopped (add more if you want it spicier – I do!)
2 limes, juiced (depends on your taste)
¾ tsp. kosher salt (more or less to taste)
INSTRUCTIONS
Dice the tomatoes and add to a bowl.
Add the remaining ingredients (onions, cilantro, jalapeno pepper, lime juice and salt) to the bowl.
Stir gently to combine everything.
Let rest for 15-30 minutes and enjoy!
Tip – The longer you let it sit the the better it will taste!  If you let it rest in the fridge for a few hours all the flavours will really come together and the taste is amazing!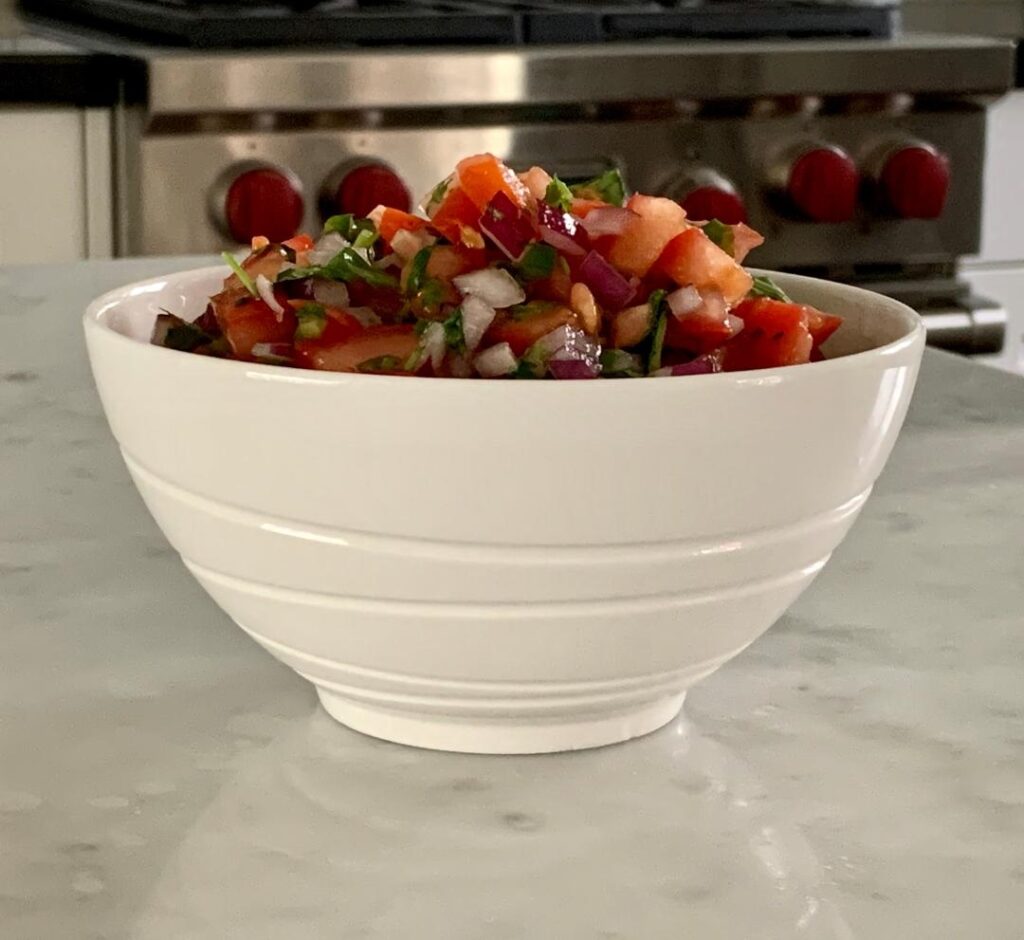 That's it!  Super easy, quick and so delicious!!  I may never buy store bought salsa ever again, and I bet you won't want to either after you try this!
Hope you love this recipe as much as I do!  I'm off to enjoy what's left of ours!