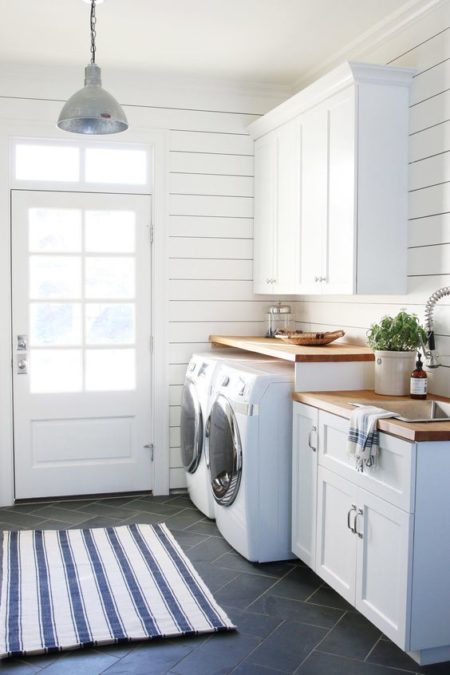 Bright & Pretty Modern Farmhouse Laundry Room
Hey everyone!  We have now finished five weeks of our basement renovation and I can say it feels like we are really in the home stretch!  And for real this time – woohoo!  All the tiling is now done in both the bathroom and the laundry room floor and all of the rooms have been primed and painted.  The bathroom fixtures are almost all in place and the new flooring for the family room section has been installed too!
To add to the bathroom drama (it seems to always be the bathroom!), turns out the vanity we bought from Wayfair had a huge crack in the bottom of it.  Good news is that Wayfair is amazing to deal with when it comes to stuff like this and they are shipping another one out to us right away!
So now that the bathroom drama is over, let's talk laundry room.  Ok, there's no drama, no turmoil and no reno wars over the laundry room.  And once it's finished we hopefully won't be fighting over who has to do the laundry either!  All I've got for you with our laundry room design is a clean, simple, pretty and functional space.
When we talked about a new laundry room to be honest my husband left the laundry room design pretty much all to me.  His only request was that we have lots of hamper space.  I knew we needed a space that was multi-functional.  It would need to act as a laundry room, a pantry and storage area for all my craft and DIY supplies!  We definitely needed lots storage, an area for folding and hanging clothes as well as a pantry space including room for an extra fridge.  I love to entertain and we always need lots of fridge space!  Here's a very basic floor plan of the layout of the new space.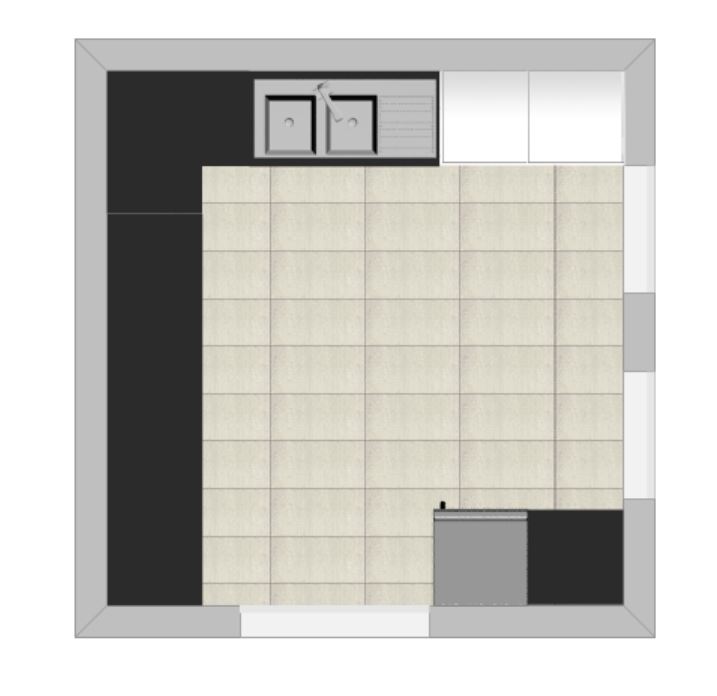 So now that the functional and practical aspects of the laundry room were taken care of in our planning, I could focus on making it bright and pretty and a space we'd actually want to be in!  Working with him on this one was easy!  So when I showed him the laundry room design, including the layout and all the finishes he was actually really surprised and happy with it.  Who knows, maybe once it's done we'll both love the laundry room so much we'll be fighting over who gets to do the laundry…ok I know that's a stretch!!  Just saying though!
So before I show you which design and style we landed on, here are a couple of the inspiration pictures of laundry room designs that I really liked and helped to inspire me!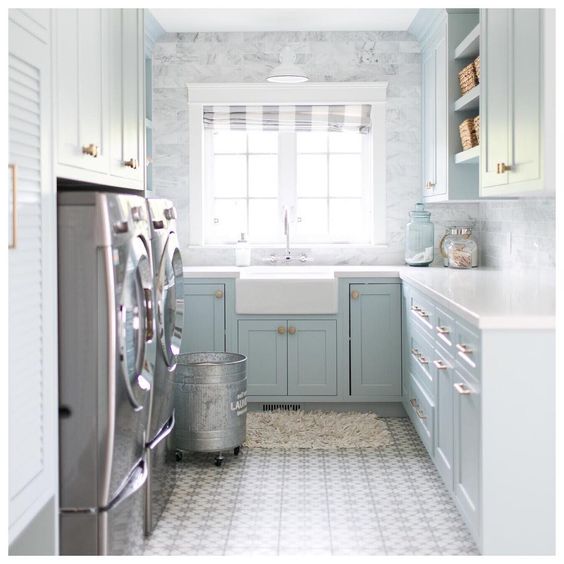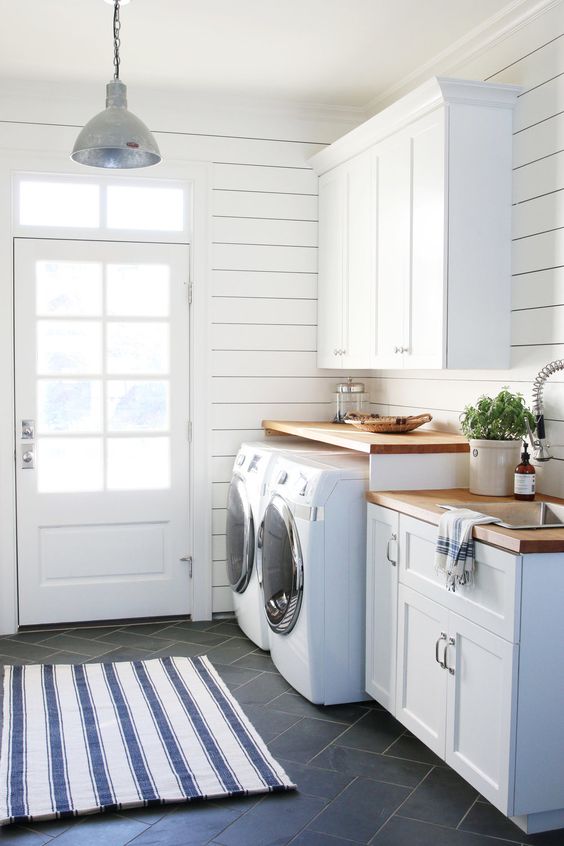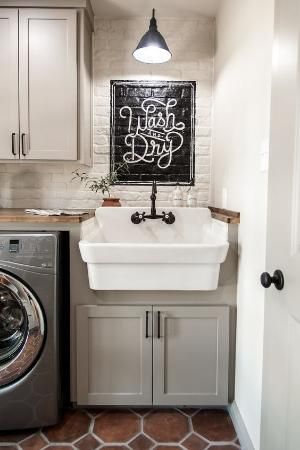 Since the laundry room is in the basement and there are no windows in the room I really wanted to make sure that we created a space that didn't feel cold, but rather was bright and warm. To achieve this I landed on a Modern Farmhouse Laundry room design.  When I went through a lot of my recent pins I realized that I was really drawn to the warmth of the Modern Farmhouse style.  The warmer neutral colours, shaker style cabinetry, simplicity of the design and iron fixtures together felt warm, cozy, clean, bright and calm – a lot of what we wanted in the space!  Check out the design board below of the elements we're using in our laundry room to complete our look.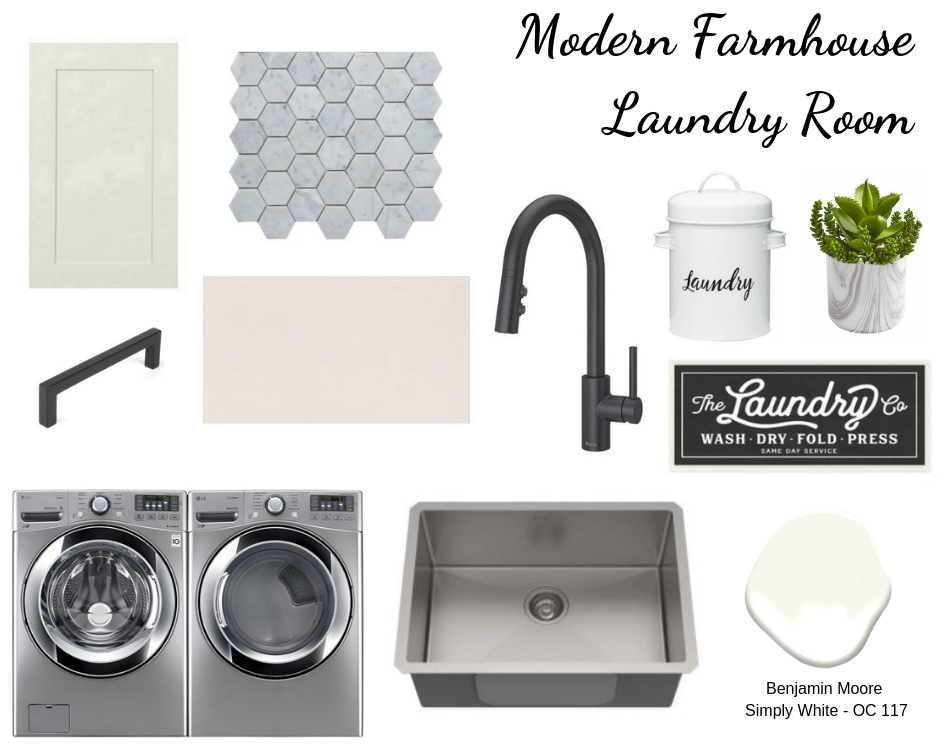 The first thing I picked out for the laundry room was a monochromatic colour palette.  I decided on a warm colour palette using Benjamin Moore paint.  I didn't look at too many choices because right from the start I was really drawn to Simply White – OC 117.  It is a nice soft warm white without much in terms of undertones and without being too creamy either.  To keep with the monochromatic look I decided to not only paint the walls this colour but to also use it for our cabinets.
For the cabinets we went to my usual go to for custom cabinetry.  I've used him for so many renovations that I've completed for family and friends, including their washrooms and kitchens, so I knew he would do a great job on my laundry room!  Right away I knew I wanted to go with a classic shaker style door and he will be painting those for me in the same Simply White.  I also decided to go with a Quartz countertop in Sail White, which is nice and crisp and goes well with the Simply White cabinetry without being too stark.
And for the floors I decided on a simple warm white matte ceramic tile in a 12×24 by Keope.  It's labelled white but really is a warmer white colour and goes really nicely with the soft white walls and the cabinets.
So now that I had my monochromatic base to start with, I was able to add a few pops with my fixtures, the appliances, backsplash and hardware.   We pretty easily decided on a dark grey (almost black) set of LG washer and dryer that we were able to find on sale – bonus!!  Then I took over again and decided on a matte black faucet, matte black hardware for the cabinets and then the showstopper – the backsplash! I originally thought about doing a simple white subway tile for the backsplash but decided to splurge a bit on 1.25" Carrera Marble Honed Hexagon tiles.  I know it's a bit pricier but I am just really loving the hexagon pattern!  And this will be my one splurge for this space! What can I say, it's going to be a luxe modern farmhouse laundry room!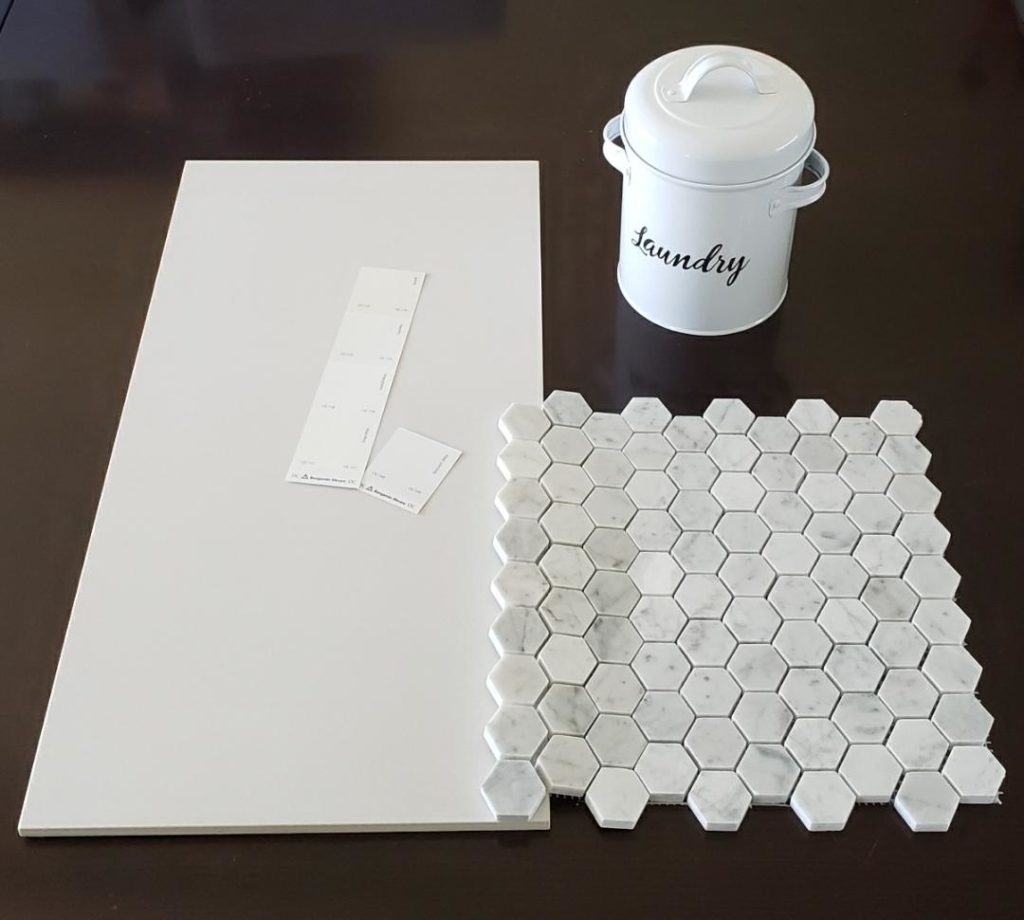 Last but not least, the sink.  Seems like a boring thing to end the post with but it's the one item we're still struggling with a bit!  We've decided on a nice large farmhouse style sink but are trying to figure out what material to go with.  I love the traditional white farmhouse sinks, but he's into the stainless steel!  Who knows we might need to do a bit more research on the pros and cons of both and you might get another post on it too!  If you have any thoughts on it I'd love to hear what you think!
Anyhow, that's the laundry room plan for a crisp, clean, bright and pretty space that's actually functional too!  I'm so excited to see it all come together over the next couple of weeks!!  Stay tuned for more updates on our basement reno! And I'd love to hear what you think!