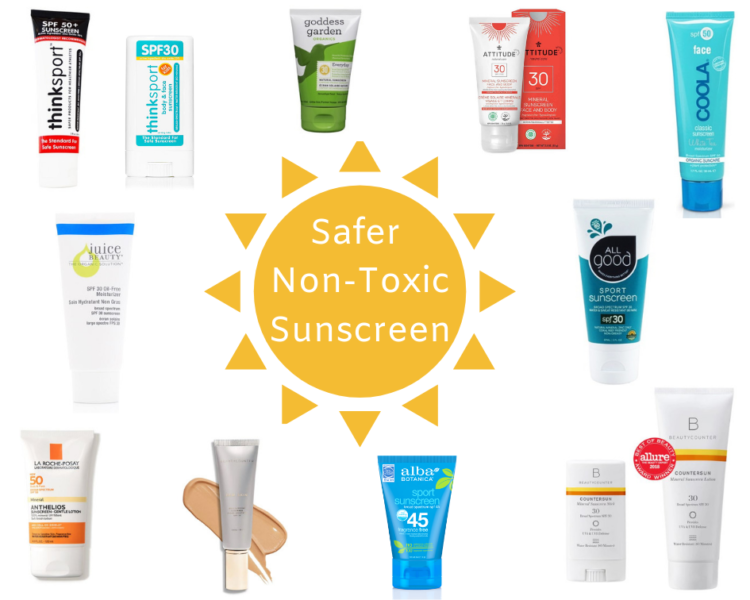 Make the Switch to Safer Non-Toxic Sunscreen
Today is another gorgeous sunny summer day here in Toronto!  Actually this whole week has been pretty awesome!  Yesterday we spent the majority of the day at a friend's pool for a fun kids summer dance party!  Thanks for having us over – you know who you are!
As I was applying sunscreen on the kids I realized I haven't actually shared my thoughts on safer sunscreen.  And it's funny because it's probably one of the first things we switched to non-toxic, especially for the kids, and also one of the items everyone seems to ask me for advice on.
We all know the sun is bad for us, causing premature aging and skin cancer.  While I'd love to tell you that the best thing to do to stay sun safe is to cover yourself completely with clothing and stay indoors during peak sun hours, it just isn't realistic or a whole lot of fun.  So I'm thinking today is the perfect day to share some information on why you should make the switch for you and the kids to a safer non-toxic sunscreen and also give you my recommendations on a few of my favourites!
Why Make the Switch to Non-Toxic Sunscreen
Let's start off with what actually happens to conventional chemical sunscreen when you apply it to your skin.  Traditionally we thought that sunscreen sits on top of your skin to protect it from the sun's harmful rays.  Well think again.  In fact recent studies have found that after you have rubbed it in, the ingredients very quickly get absorbed into your body and into your bloodstream.  So while you may think it's sitting on your skin it's actually now entered into your body.  And it doesn't stop there, the studies actually found that these harmful chemicals could still be detected in the body in people's blood, urine and breast milk even two days later.
Now that's pretty scary stuff to begin with.  What's even more troublesome with this is that these ingredients that have now found their way into your body aren't actually good for you.  The majority of conventional sunscreens on the market contain at least a couple of these harmful chemicals: oxybenzone, PABA, avobenzone, octisalate, octocrylene, homosalate and octinoxate.
These harmful chemicals wreak havoc on our bodies and have been found to cause not only allergies and skin irritations at a minimum but are linked to endocrine disruption, hormone imbalances causing endometriosis, ovarian cancer and breast cancer in in women and low sperm counts, infertility and prostate cancer in men.  They also cause "photosensitization" which changes your skin and DNA that may potentially lead to skin cancer.  And with children it's even worse because their bodies are changing and developing and these chemicals bring on early puberty and a slew of other issues.
The Environment Working Group's Study on Sunscreens also found that these sunscreens may not actually work all that well.  Nearly 50% of chemical sunscreens sold in the U.S. wouldn't pass the European standards because they don't filter enough UVA rays.  So despite all the additional harm we are putting our bodies through with these chemicals they may not actually even be helping all that much to block UVA rays.
Convinced to make the switch yet?  I sure hope so!
The Safer Sunscreen Alternative
The good news is there is a safer alternative. Mineral sunscreens on the flip side use zinc oxide and/or titanium dioxide.  These substances are very different from the ingredients in chemical sunscreens.  They actually sit on top of the skin and block out the UV rays.  The only thing with these mineral sunscreens is that often they don't blend in really well and you end up with a white thick film on your skin.  Not overly attractive!  And you also want to ensure that while their main ingredient is mineral based that they don't contain any other harmful toxic ingredients like parabens and phalates.
So let's get to the goods!  Last summer I started my mission to find safer sunscreen for the whole family.  It was important to me that the ingredients would be safe, high performing blocking UVA and UVB rays and I'll be honest that we didn't look like mimes with the sunscreen on us.
As a family we tested out some of the natural and safer sunscreens on the market and put them to the test of going to the pool, the splash pad, playing sports, the heat of our Florida vacation and just plain everyday life.  Our criteria was based around making sure it had safe ingredients and was rated well on the Environmental Working Group (EWG) Skin Deep database.  EWG ratings range from 1 – 10, with 1 being the best and 10 being the worst.  Also we looked at the texture, how it felt to apply and how it felt on, and of course how effective it was.  For me I also looked for a facial sunscreen that I could wear alone and under make-up too.  Plus we also considered cost because come on, who doesn't like to save a little money! Here are some of the sunscreens we tried out, what we thought of them and our top picks!
Alba Botanica
This was the first safer non-toxic mineral sunscreens that we tried.  Overall not too bad in terms of ingredients, with an EWG rating of 2.  You can find this at Costco, on Amazon and well.ca and at your local Heath and Wellness store so pretty accessible.  And pretty reasonably priced at only $9.99 for a tube if you buy the 3 pack from Costco.  What I didn't love about it though was that it really did go on thick and pasty and my poor son looked like a ghost at the splash pad.  Does it work, yes.  There was absolutely no tanning or sunburn with this product.  But I think there are probably some better options out there that go on better.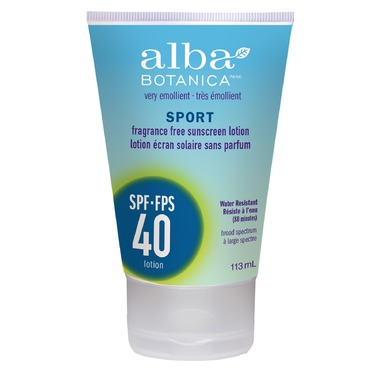 Goddess Garden Daily Mineral Sunscreen Lotion, SPF 30
After my incident with the pasty Alba, I thought if I spent a bit more I might get a better quality mineral sunscreen that applies better.  Well that wasn't necessarily the case with Goddess Garden.  It too was very thick and we had some trouble rubbing it in. Overall it has a 1 rating from EWG.  Works well but again you really need to try and rub it in to get rid of that chalky film which I found a bit impossible so not sure I would recommend as I feel there are better options. The spray version is a bit better for rubbing in but I'm just not a big fan of the sunscreen sprays.  I'm always afraid of what the kids could be inhaling and also that the coverage may not be as thorough.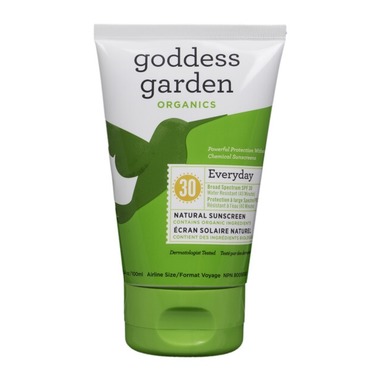 Badger Active Clear Zinc Sunscreen Cream, SPF 30
Last year I had tried one of the original Badger formulas and was not overly impressed.  We picked it up at our local Healthy Planet but you can also buy online on Amazon and well.ca for around $15-20.  I found this went on very heavy and felt very thick and cream like.   It's best selling point is that it is very natural with just only 5 simple ingredients and has an excellent 1 rating with EWG.  But given it was so difficult to apply and rub in I just don't feel it was worth using and wouldn't recommend it.
But then this year we tried the Badger Active Clear Zinc Sunscreen and what a difference.  While it is still made with the 5 simple natural ingredients and has an excellent 1 rating, it rubs in very nicely and does not leave much of a white residue, still a bit of a light haze.  This is definitely a pretty good option for kids if they need to apply on their own and you don't want waste.  My only couple things that I still don't like about Badger is that this option definitely feels thick, greasy and a bit sticky so I continued on with my mission to find one that worked and didn't leave me with any of these issues.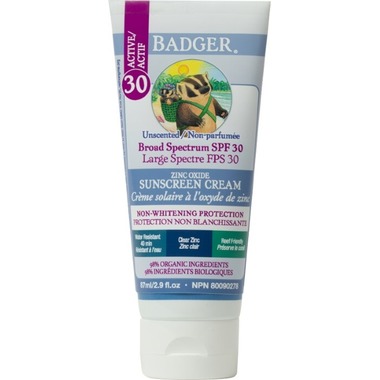 Coola
This is definitely a more luxury brand that you can find online at The Detox Market, at Nordstrom, Sephora and even on well.ca.  The EWG rating is very dependent on which Coola product you choose because some of them actually do contain some of the questionable ingredients.  Luckily the Coola Mineral Body Sunscreen Lotion and the Coola Mineral Face Sunscreen Lotion are both rated a 1 by EWG.  I find they go on really well, like I mean amazingly well!  For me this came down to the price of it.  I was lucky to have received this in a Fab Fit Fun box, but I have to be honest not sure I'm willing to pay the hefty price tag of $45-50 for a tube of sunscreen, although by far this has been the best face specific mineral sunscreen I've found.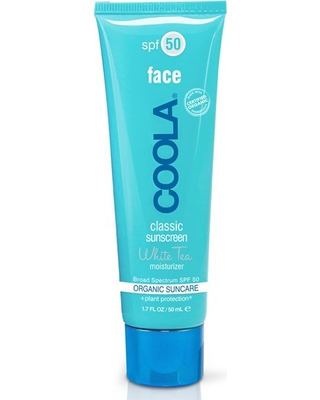 Juice Beauty Oil Free Sunscreen, SPF 30
While I do like a lot of the Juice Beauty products this was just ok for me.  Definitely this is more of an adult product line that you would likely use for your face not on your body so much.  You can buy online and even at Sephora.  It is rated a very good 1 by EWG with no issues at all with the ingredients. I found it was a bit hard to blend this one in compared to the Coola and it did leave a bit of a white cast on my face.  It also felt a bit too shiny and tacky on my face too.  It might be ok if you're hitting the beach or pool and don't plan on wearing any other make-up but otherwise not sure it would work well. And at the price of around $30 it didn't perform well enough for me to shell that out!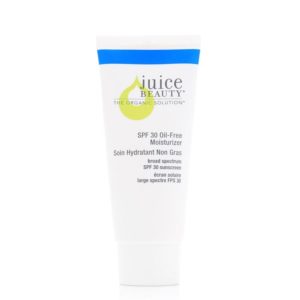 All Good Sport Sunscreen, SPF 30
This sunscreen has a great EWG rating of 1 and only costs under $20 which does seem to be on the mid-range end for a mineral sunscreen.  This is definitely one of the safest sunscreens out there in terms of ingredients. The only issue is again with application.  It doesn't go on well, is hard to spread and does leave a bit of a white cast.  I found that if you keep rubbing it in it eventually goes clear. Right after application I found that it dries nicely and matte with no greasy feel.  I also like that it is fragrance free. On my face I did notice that at first it dried a bit white, but this disappeared over the course of the day. I would recommend this one.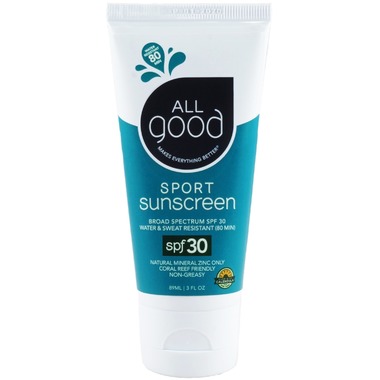 ATTITUDE 100% Mineral Sunscreen, Sensitive Skin, SPF 30
This sunscreen is EWG verified and recommended as a sunscreen that does not contain any harsh toxic ingredients.  This is a Mineral sunscreen made with 100% non-nano zinc oxide, the safest option according to EWG experts.  Given it has the highest EWG rating you would expect a lot from this sunscreen.  It goes on thick and tacky and takes some time to dry. It does leave a bit of that chalkiness like some of the others and I found this brand did actually make my darker clothes look dirty too.  On a positive it is great for sensitive skin and it definitely does the job – no sunburns at all!  I think this is a good option for kids especially because of the safe ingredients and it only costs about $15, just a bit more than your typical conventional chemical sunscreens.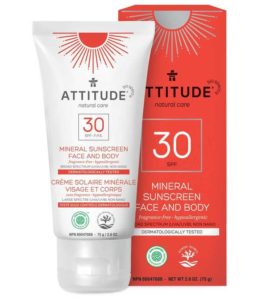 And drum roll please for my top picks!
La Roche-Posay Anthelios Mineral Sunscreen-Gentle Lotion, SPF 50
If you're looking for something safe that you can quickly pick up at the drugstore, this is the one.  It's EWG rating is a 1 so you know the ingredients are safe.  It goes on really well because it has more of a runny consistency and only leaves a slight white haze.  After 20 minutes though it has blended in and dried well to a nice matte finish!  I find this one is a bit on the pricier side but if you're on the go, out of sunscreen and need to find something safe fast, any of your local Shopper's Drug Mart stores will carry this one.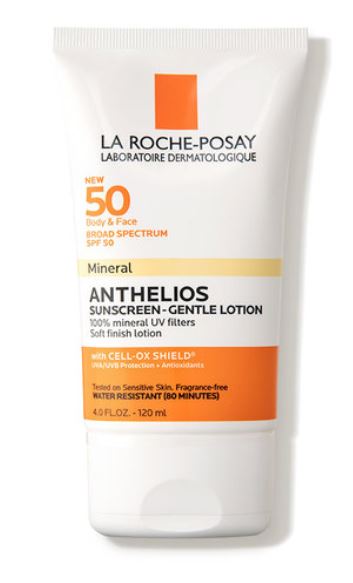 Beautycounter Dew Skin, SPF 20
This has turned out to be a good alternative to my usual tinted moisturizer and is quickly becoming a cult favourite in the clean beauty market receiving awards from even Allure's Best of Beauty.  If you're looking for very light coverage with your sunscreen this is it.  It just lets your natural skin shine through vs. masking it and is rated 1 by the EWG. It is $56 and you can buy it from a Beautycounter consultant or their site.  And yes, the price sounds steep but it actually lasts a long time and a little goes a long way!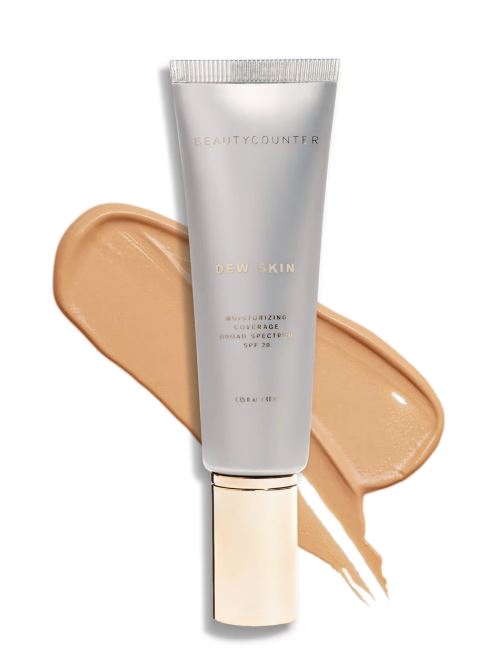 Beautycounter Countersun
Speaking of Beautycounter and high performing, I have to talk about this sunscreen line as it has to be my ultimate favourite of all of the mineral sunscreens.  The line includes a lotion, stick and spray mist as well so you can really pick which application method is right for you.  My personal favourites are the lotion and the stick which have been rated as a 1 and 2 respectively by EWG. While it is on the pricier side, you don't need to apply a lot for the right amount of coverage and it really does apply well.  I would have to say this is the best mineral sunscreen that doesn't leave that white chalky pasty residue and doesn't feel super thick and greasy on. I even tried using the lotion on my face for our last trip to Florida and I can report there were no breakouts.  While it is on the pricier side at first blush, you're actually getting over 6oz. for $49 so it's kind of like paying $25 since all the other brands are smaller 3-4 oz. tubes.  Plus since you can use on your face and body it is a bit of a 2 for 1.   Through all my trials and testing this is definitely my top pick and it's no surprise this too won an award from Allure's Best of Beauty.
Think Sport
I'd have to say that the Think Sport Sunscreen stick and sunscreen lotion have to be my second runner up to BeautyCounter's Countersun.  It almost goes on just as well (but not quite) and is a bit more of an economical alternative for the kids if they're going to be applying sunscreen themselves.  I had a bit of an incident with my daughter last year where she used up a whole tube of Beautycounter's Countersun in one day at school!  And while I love it, it's not the best when kids are still learning to apply and waste a lot of it.  Think Sport is more economical at just $15-$20 and you can now find it in Canada on Amazon, well.ca, at Wal-mart and even some Shopper's Drug Mart stores.  It's great to pack in their backpacks for camp and school!  And I really like the face stick alternative for the kids.
You'll see from my list that there's something for everyone.  I tried to just share my thoughts on 10, but there are 11 on the list. Mind you a couple of them I probably wouldn't recommend because there are better options, but did want to share the good and the bad!
There's picks for the beach and sport, for kids, and for the luxe beauty lover too!  Whichever sunscreen you choose, make sure it works for you and that it really is safe!  Do your homework, research them and read the ingredients!!  And use the EWG Skin Deep Database and Think Dirty app to look up products and their ingredients and safety ratings.  Good luck in making the swap!  Remember you and your family are worth it!  It's a short week and just one more day until the weekend!  Enjoy the sun, stay safe and have a sunny weekend ahead!