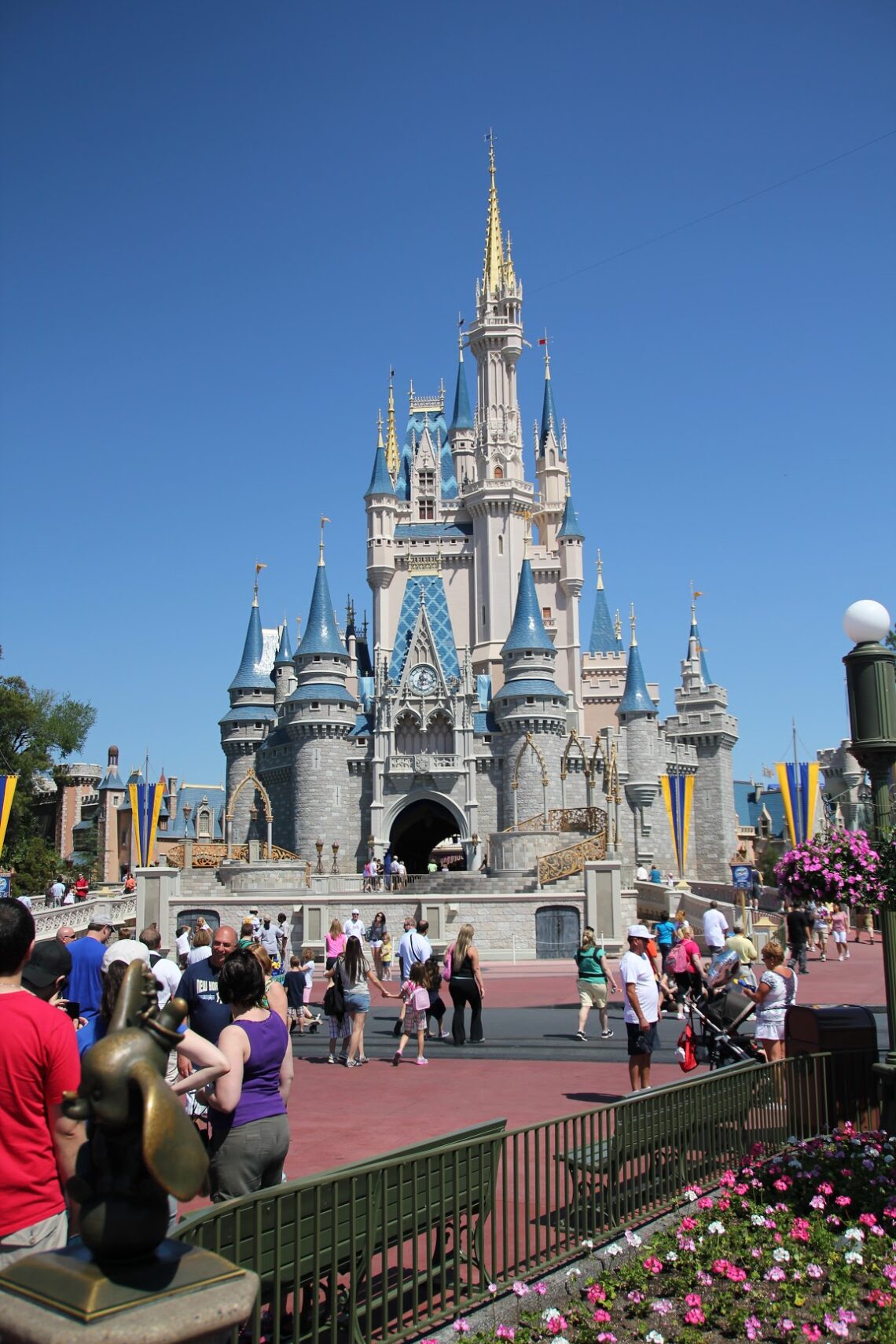 Ultimate Tips & Tricks for Your Best Disney World Vacation Ever!
It's about two months until Spring Break hits for us here in Toronto, also know here as March Break!  Plus we had a major snowfall this past weekend and it's been freezing outside!  All very good reasons why right now is the perfect time to start planning that Spring Break Getaway to Disney World of course!  Also from personal experience I just seem to find some of the best deals for Florida in mid-January so hoping this year is the same!  And to help you with all your Disney vacation planning this year, I'm going to share my top tips and tricks for the ultimate Disney World Vacation!
Ok, a bit about me and why I feel I'm qualified to provide Disney advice and why these tips are for you.  I'm a mom who had never been to Disney World as a kid so really had no idea what to expect when we finally went.  It's big, it's beautiful and it really is magical!  But it also can be a bit overwhelming!  At this point we have been to Disney eight times, and we are now planning our ninth visit for this Spring Break!!  I've tested and tried so many things and we just keep going back because it never gets old and is always amazing!  Plus we are huge Star Wars fans in our house so we definitely need to check out the new Galaxy's Edge now that it's open!  The truth though is I'm a bit Disney obsessed and love the place!  It's my happy place!!  My kids are still young enough to enjoy it, but I have to say I think we'll keep going even when they are older, even if it's just for me!  Once a Disney Mom, always a Disney Mom!  So here goes with my top tips and tricks that I've picked up over the years for your best Disney vacation ever!
Plan Ahead & Prioritize
Anyone who knows me knows I am a bit of a planner and when you go to Disney you need to be somewhat organized.  Plus there's so much to do that it's just really hard to fit it all in.  That's why before you even start planning your trip you really need to prioritize what's important to you and your family for this trip.  Think about your must-haves, nice to haves and the things you're just not all that interested in. This includes everything from rides, attractions, events and experiences. For example, if you are a huge Star Wars fan then you need to definitely plan around that.  That could mean everything from being part of the Jedi Training, visiting everything at the new Galaxy's Edge and even a meet and greet with Darth Vader and Chewie!  Same thing if you've got a little one who loves Disney Princesses – in which case a visit to the Bibbidi Boutique and dinner at Cinderella's Castle are a must.  These types of reservations can me made up to 180 days before your trip which is another reason why you should prioritize and then plan it out.  At a minimum I suggest planning on how many days you will go to the parks, which day you will go to each park and then that should also determine any fast pass selections you need to make and other reservations for both experiences and dining.
Get Your Tickets
Ok, now that you've determined what you want to see and how many days you want to hit the parks it's time to get your tickets on the Disney World site.  For a family I highly recommend at least a 4 day pass, where you can visit one park per day.  Yes you can do a park hopper but not sure I would really recommend for really young ones under the age of 6 – not sure they would have the stamina for two parks in one day.  Plus the way it works is the more days you add on, the cheaper it is per day.  For example 4 days for an adult would be approximately $454.60 USD plus tax while 5 days would be $467.83.  So for just an additional $13 you get a whole extra day.  Where I do recommend a Park Hopper is when you have limited time and days.  It's a great way when you have older kids to fit it in and get some variety on the day!  Right now  there's also a great deal for Canadians.  You can get 20% off when you buy a 4 day pass or longer if you buy by February 7th.  Even if you're not going until later this year it's a great way to save a little on your tickets plus from past history Disney usually raises their prices in February or March so you can avoid that too!
Download the My Disney Experience App
To ensure you have all your plans in one spot I highly suggest you create a My Disney Experience account online and then download the My Disney Experience app before your trip.  You can have everything on there including your tickets, fast pass selections for each day and your dining reservations too.  You can also book reservations directly on the app.  There's also a map of each park on there to help you navigate once you're there.  Plus I love that it also shows you real time what the wait times are for all the rides at each of the parks.  It's also a must have while at the Parks to be able to make new Fast Pass selections.
Pace Yourselves
Do not try to hit the parks every single day, back to back and don't try to do it from morning to night.  You don't want to be so exhausted that you are no longer enjoying yourself, the kids are having tantrums and you need a major vacation after your vacation!
Try and alternate park days with pool days if you can.  That way you have a bit of a rest day in between.  Also if there are things you really want to see in the morning and in the evening – try and hit that park twice.  For example my kids really like being part of the Jedi Academy and fighting Darth Vader over at Hollywood Studios, but to reserve a spot you need to be there at 8:30 a.m. We also love exploring Hollywood Studios at night (it's so cool with all of the lights) and checking out the Star Wars fireworks.  Could we do both in one day – no way!  So we usually will do one daytime visit from 8:30 – 3:00 and then get in a second evening from around 4:00 – 9:00.  This kind of schedule makes sure we don't get too tired and we get a different perspective and experience at the parks.  Same goes with Magic Kingdom.  There's so much to see and do, that if you can swing it I highly suggest doing it in two trips!  As for Epcot and Animal Kingdom from my experience you can definitely do these in one day each – just decide if you prefer a morning visit or afternoon to evening visit.  This is really more of a preference and depends on whether you want to catch their fireworks shows.  Plus take some time to enjoy the scenery and any festivals that are happening like the Flower and Garden Festival that happens every spring at Epcot!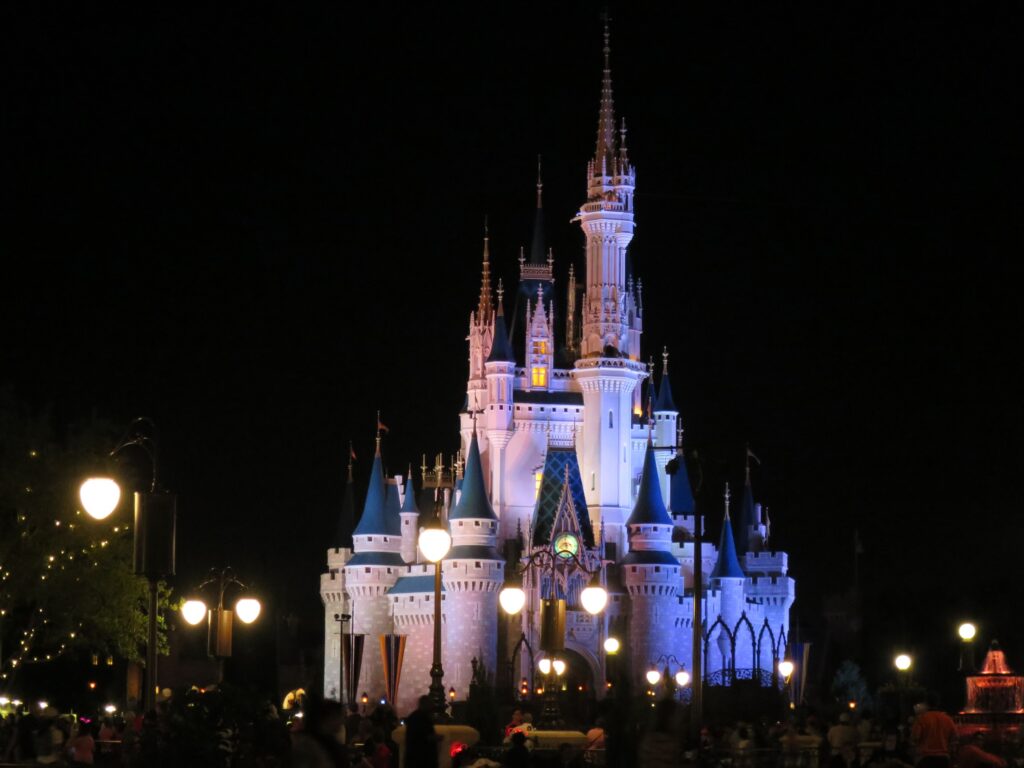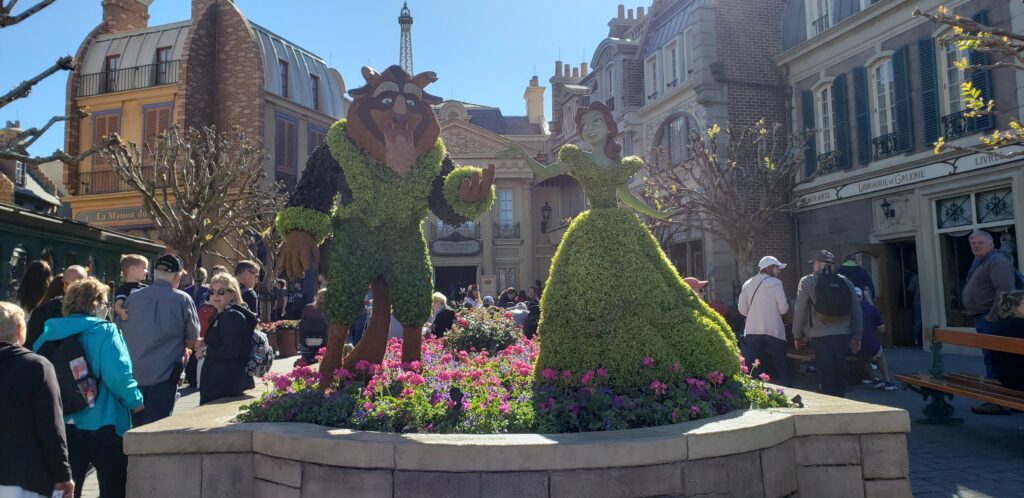 Book Your Fast Pass+
Now that you have prioritized what you want to do at Disney and you know how many days and which days you are going, it's time to book your Fast Pass+!  When you purchase your Disney World tickets, you are entitled to book 3 Fast Passes per day that you are visiting at a specific park.  Fast Passes are like a ride reservation that basically allow you to bypass the long lines and get into a much shorter line.  Booking these Fast Passes is a game changer for your trip because it really helps with managing your time and not wasting your entire time waiting in lines.  If you're not staying at a Disney resort you can book your Fast Passes up to 30 days before the day you will be going to that specific Park.  If you're staying onsite at a Disney Resort you can book them up to 60 days in advance and for your entire stay.  When you are at the Park, once you finish your third pre-booked Fast Pass you can either use the My Disney Experience app or go to a Kiosk to book another one and keep booking after each use until they are full for the day.
My tip here is to book your Fast Passes for late morning around 11:00 since the lines aren't horrible early in the morning.  You also want to be using them during peak hours which are usually 11:00-3:00.  Also don't waste them on rides that have a wait time of less than 30 minutes like the Prince Charming or the Tea Cups.  You can actually take a look on the My Disney Experience app before your trip to see what the wait times look like at that time.  The ones I highly recommend trying to get a Fast Pass for but I tell you it's hard, are Seven Dwarfs Mine Train at Magic Kingdom, Slinky Dog Dash at Hollywood Studios (and if you can't get that definitely try for Toy Story Mania) and at Animal Kingdom Flight of Passage.  Now if you have younger kids definitely get Fast Passes for any character meet and greets and for rides like the iconic Dumbo or Peter Pan's Flight!  Set your alarm (before 7:00 a.m.) on the day you can book your Fast Pass to snag these.  And if you can't don't worry, there's a lot of other great rides and attractions to see!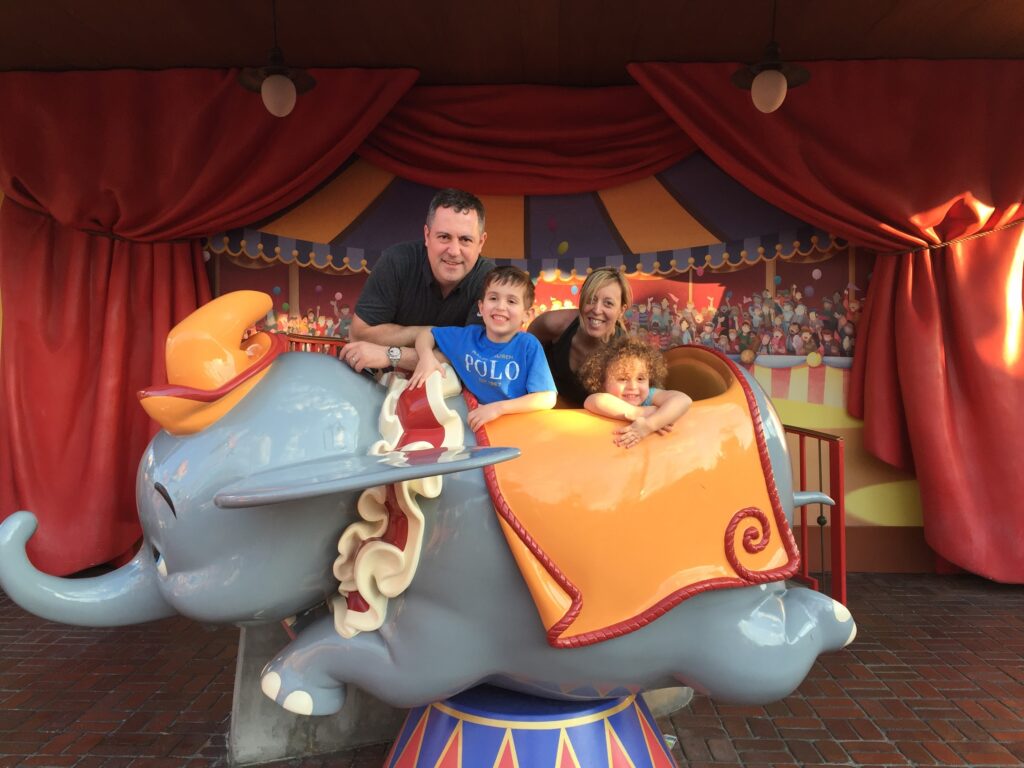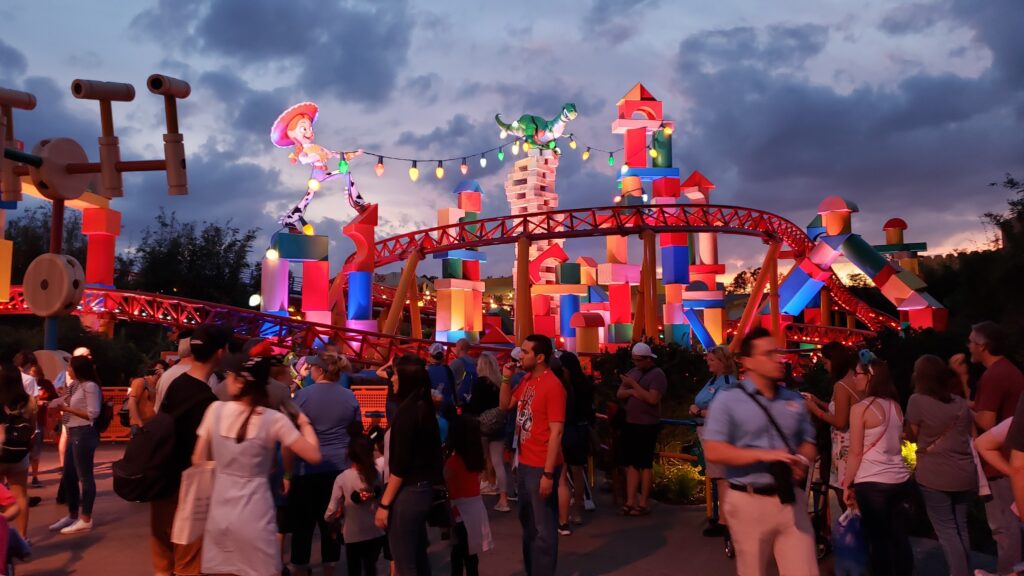 Where to Stay      
Ok we've talked a lot about planning, attractions and fast passes (the things that excite me!) but what about where to stay.  The big question is always do you stay on site at a Disney Resort or stay offsite.  I'll be completely honest, we have never stayed on site so I am a bit biased.  While I am a huge Disney fan I also like a good hotel stay.  I need a good bed, a nice washroom and a great pool area. Yup I'm spoiled that way.  That being said, I also find that if you're on a budget staying offsite makes a lot more sense than staying at a Disney Resort or hotel which can be super pricey.  I have been known to find some amazing deals for 4 and 5 star hotels on sites like expedia.com and booking.com.  I mean 5 star experience and luxury for less than what you would be paying for a 3 star Disney hotel.  And I'll be honest I'm not crazy about a themed hotel unless it is amazing, like the new Star Wars hotel.  So yes, once the new Star Wars hotel is open next year we will be going.  Yes that is the one time I will very happily be saying, "Disney take all my money please!"  If you are staying offsite, do your research and see if they offer shuttle service to the parks (most do) and also how much a rental car might be which would also give you a ton of flexibility!
Now if you really have to stay at a Disney Hotel, the biggest perk is definitely the Extra Magic Hours you get which is great if you're an early riser you and that you can book your Fast Passes up to 60 days in advance.  And if that's all you're looking for just recently they announced that a few non-Disney hotels are now "partners" and called official Disney Hotels and you get those exact same perks.  The Hilton Orlando Bonnet Creek and the Waldorf Astoria Orlando are two examples of that!
In my opinion it really is a matter of preference where you stay and also depends a lot on your budget too.
Make Reservations & Switch it up when Eating Out
You can find some delicious and even healthy Quick Service options, and you don't have to avoid table service because you think it's too expensive either.  Overall it's not going to be cheap for anything and you are paying Disney prices.  Once you have acknowledged that and reminded yourself you're on vacation, just get over it!  For Quick Service over at Magic Kingdom I actually like Cosmic Rays for burgers for the kids and a healthy chicken salad for us adults, and over at Pinocchio Village Haus the flatbreads aren't that bad either.  I was actually surprised at how good it was.  Epcot has to be my favourite for both Quick Service and Table Service so I highly recommend checking out what you might like there!
There are actually some really great table service restaurants where the food is really good and so are the prices too!  For table service my big tip is to do some research on the types of restaurants you might like and also to make reservations in advance!  It can get really busy especially during busy periods like Spring Break and if you don't have a reservation you are pretty much out of luck!  Dining at Disney also means that the experience is just as important as the food and to be honest that's what makes it memorable.  If you are looking to do a character meal I highly suggest Cinderella's Royal Table or Minnie's Dining Event at the Hollywood & Vine but you definitely need to book in advance.  You may also need to take a reservation time you weren't that crazy about. I recommend checking back on the site as people sometimes cancel, calling in and even going up to the front desk when you are at the park.  Most times they have been able to accommodate a change for us!
Another great spot is the Disney Boardwalk which I love on the weekends!  They usually have live entertainment along the Boardwalk which is a lot of fun and you can also get a pretty beautiful view.  Plus the food is great too.  We really like the Italian restaurant there Trattoria al Forno.  And then after dinner continue to watch a show or there's even movies under the stars.
Now if you're travelling with kids and not sure how they'll last until dinner or just like having a bit more flexibility – here's a special dining tip for you.  If you're planning on eating at Disney Springs make your reservations using Open Table.  The Disney restaurants are actually on there and there is no penalty if you need to cancel the same day or even an hour or two before.  If you make that same reservation directly on the My Disney App, you need to cancel 24 hours before or you will be charged a small amount per guest.  I personally really like Frontera Cocina for Mexican, and the Wolfgang Puck Bar & Grill.  And they were faves with the kids too!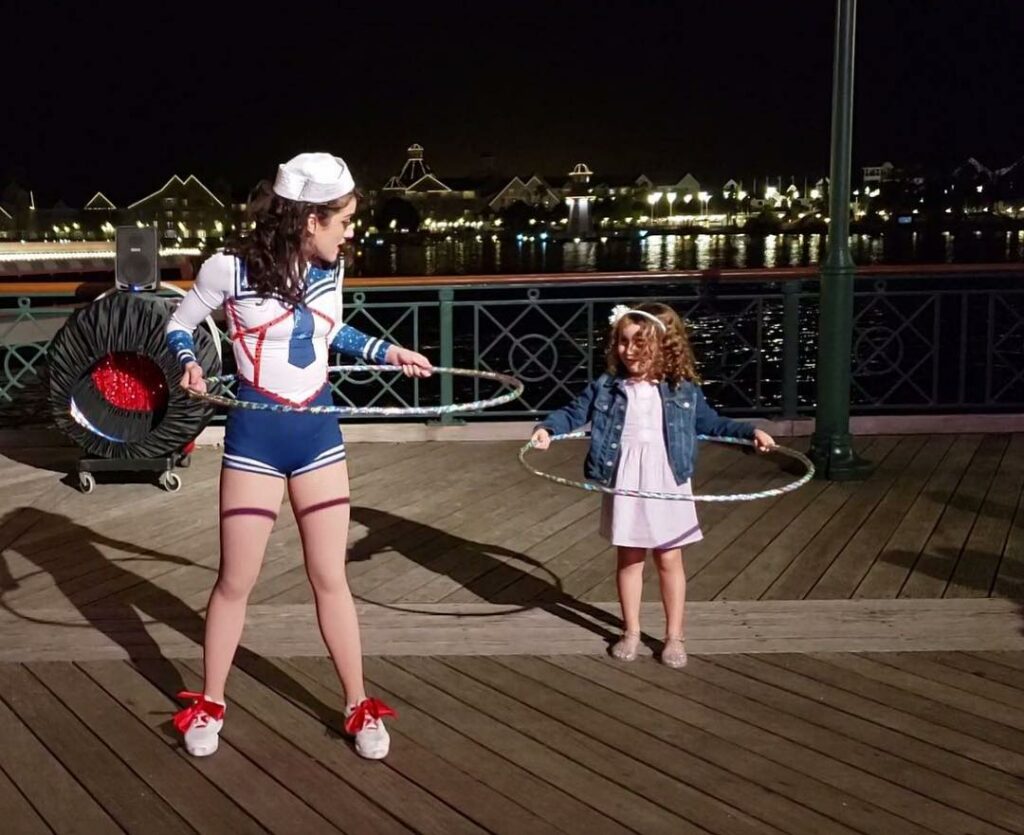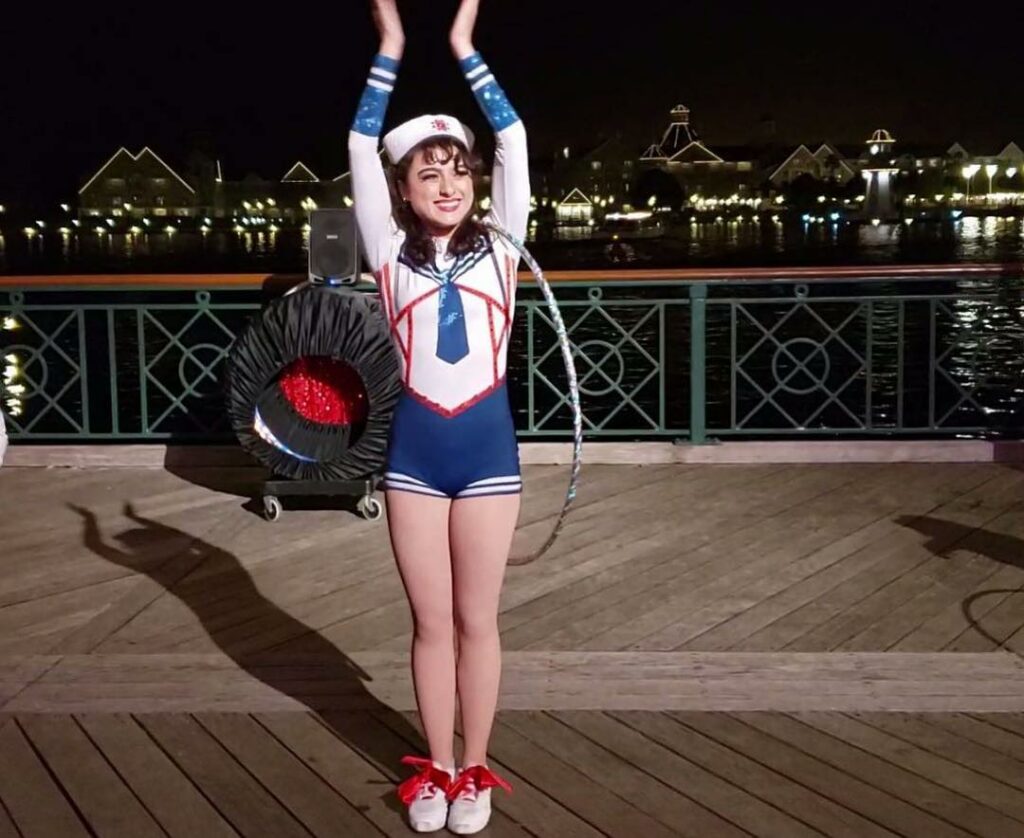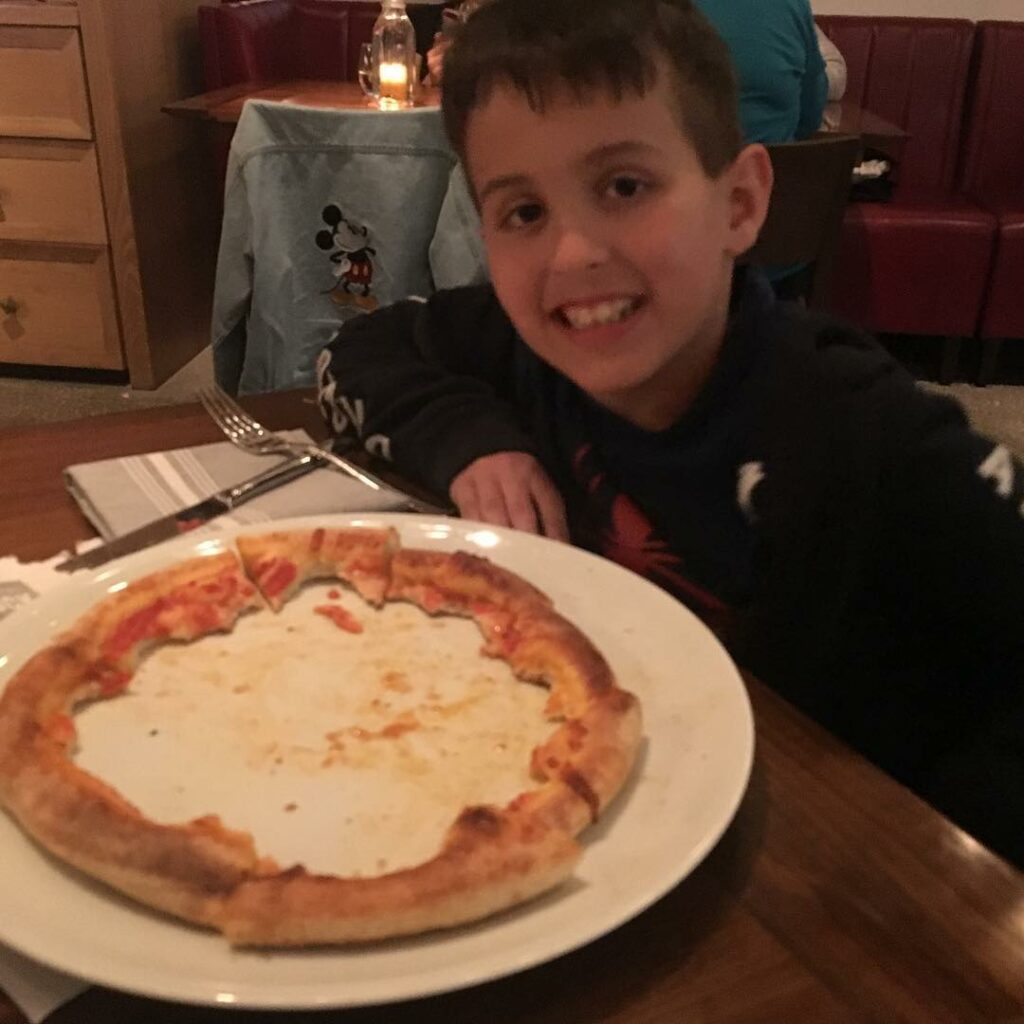 The Fireworks & The Parades
To wait or not to wait, that is the question!  In my personal opinion, you don't need to claim a spot 1 to 1.5 hours in advance of the fireworks show or the parades.  First off you are missing out on doing so many other things but also try doing that and just sitting there, waiting, and waiting some more as you try to entertain young kids.  Not fun!  In my experience you can usually snag a good spot in a decent location about 30 minutes before either the fireworks shows at pretty much any of the Parks or the Parade at Magic Kingdom.
As for the best spots, that really depends.  For the Festival of Fantasy Parade at Magic Kingdom, I actually really like being right on Main Street by the shops.  You have lots of performers all around, the backdrop of Cinderella's Castle behind and the ice cream shop is right around the corner which is a huge plus too! Only thing is it can get a little crowded.  My second option would have to be Main Street but right by Cinderella's Castle.  There's a lot more room there and once the parade is over we can usually rush off to our next ride.  For the Fireworks at Magic Kingdom, we have literally over 8 trips tried all the spots!  My favourite definitely is right in the middle of Main Street where you have a head on view of the castle.  My big tip is don't go too close or behind the castle because you don't get the full effect.  And if you're just not into the parades or fireworks but trust me you have to see it at least once, it's a great time to hit some rides you really want to get on but couldn't get a Fast Pass for.  While everyone is watching these attractions, the lines usually die down a bit!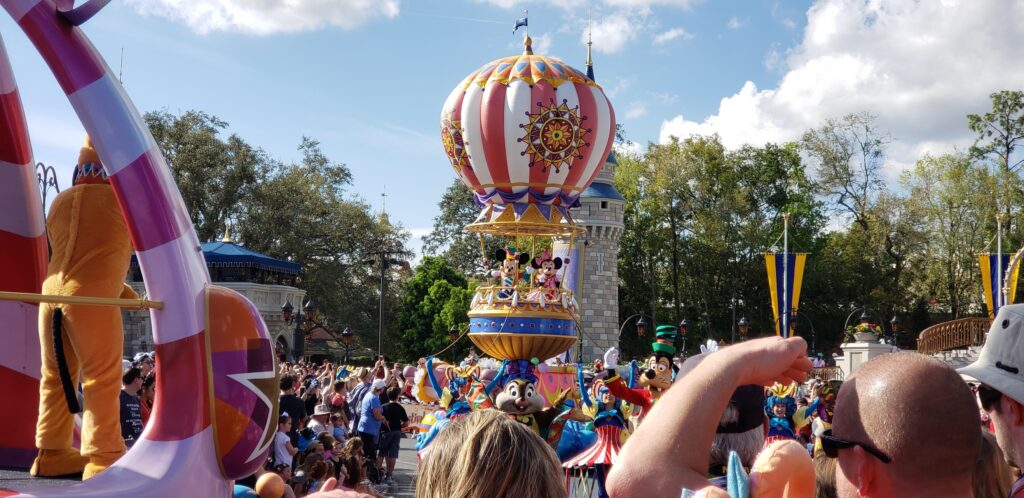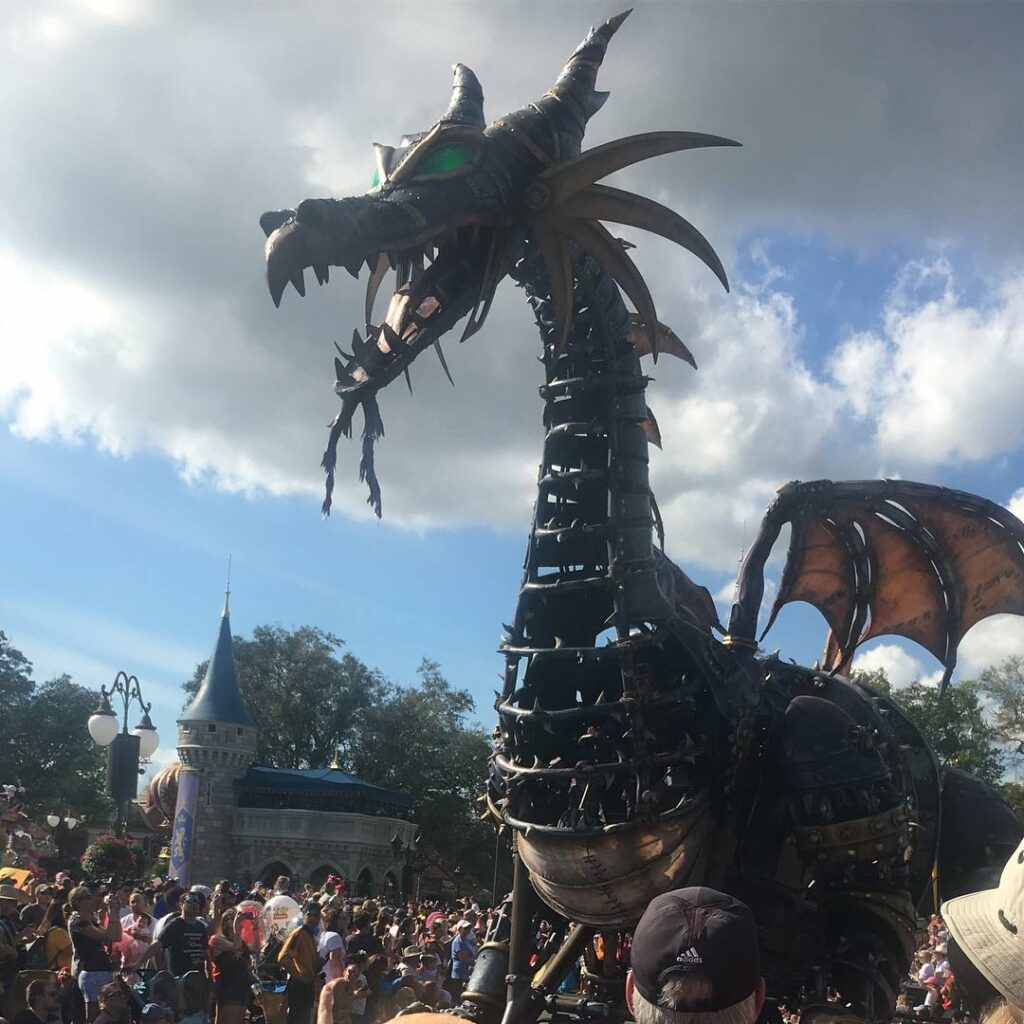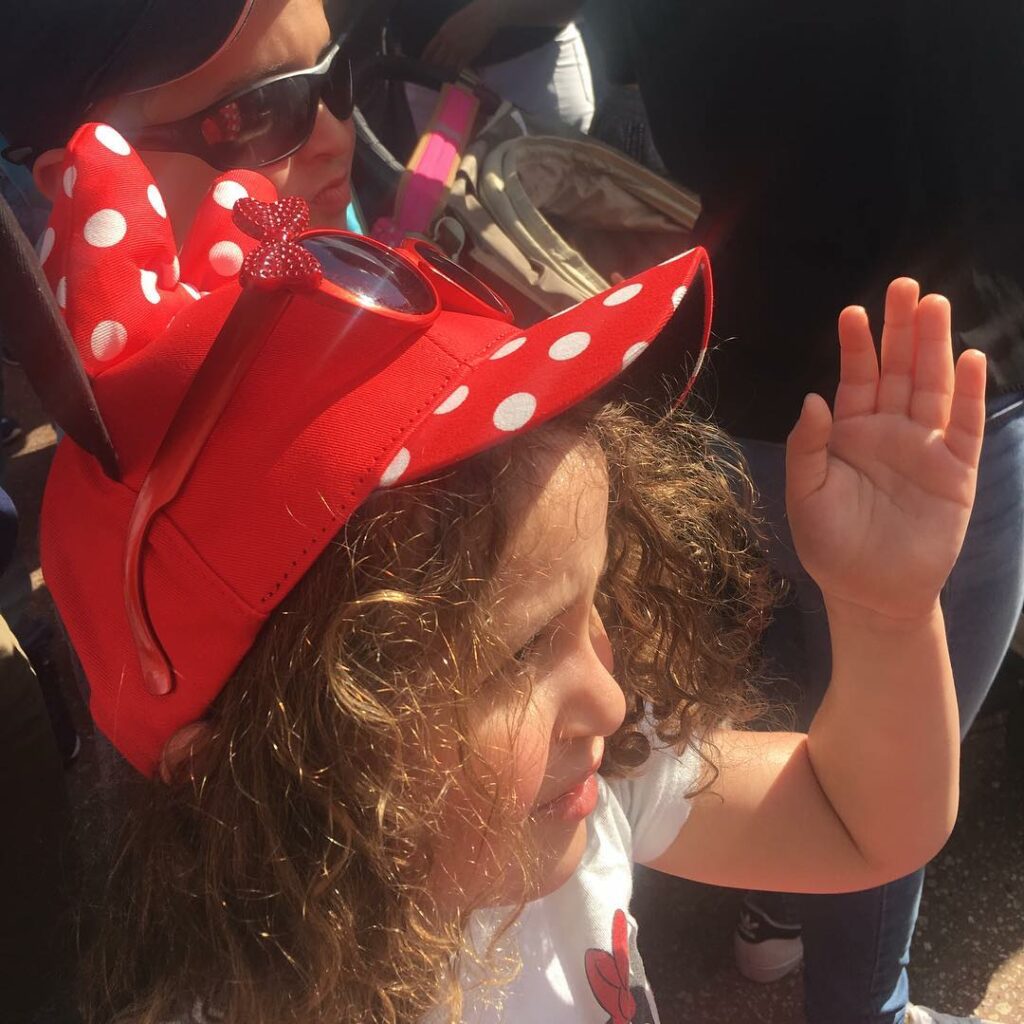 Be Flexible
Last of all you need to be flexible.  Ok so I am a planner, I admitted as much up above!  And I do feel that a good plan will typically result in a successful Disney trip but there's a big BUT here!  You need to also be flexible, be ok with changes and not over-plan too!  Things happen – your Fast Pass ride is out of order, or it starts to rain, or even worse it's a full day of rain on the day you are scheduled to be at one of the parks – and it may throw off your plan!  You need to be able to adjust and not stress about it and just go with the flow at that point. There's so much to do and see that it really shouldn't matter.  The other point here is that you don't want to plan so much and rush around trying to make all of those plans happen that you forget to slow down a bit, take it all in, and just enjoy being there! Stop looking at the App on your phone and the map in your hands and just enjoy where you are!  A little spontaneity is a good thing and you may be surprised that it's those moments that are the most memorable and the best!
Ok guys those are my top tips and tricks that I've picked up over the years that have given us some of the best Disney vacations we've ever had!  I'm so excited about our upcoming trip and to check out the new Star Wars Galaxy's Edge!  I'll be sure to pop on here once we're back with some more tips on our experience there!  Hope these tips help you out in planning your best Disney vacation ever!