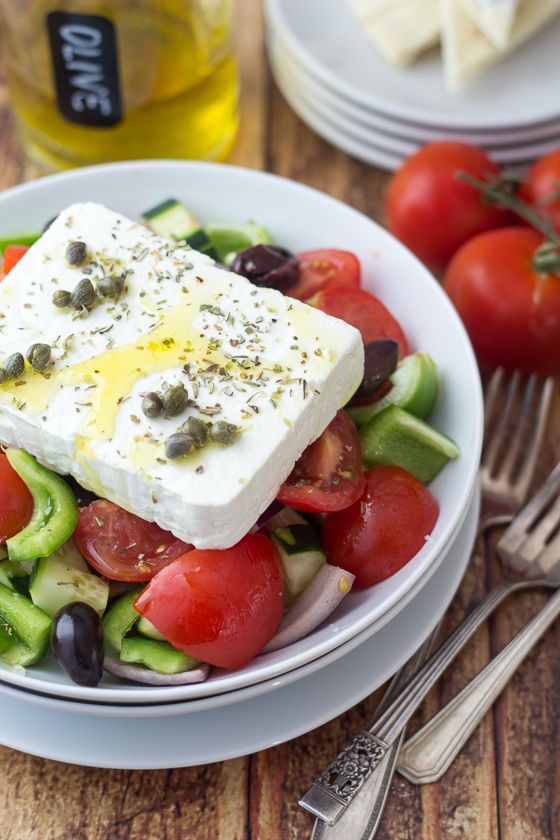 Our Favourite Summer Salads
Hey everyone!  How's your summer going?  It's hot and sunny and I am so not complaining!  I love it!  I have to be honest, in the summer I just don't want to be indoors or stuck in the kitchen for long making meals!  My definite go to meal in the summertime is an easy salad, on its own or paired with some kind of protein like grilled chicken, shrimp or fish. Do you need some dinner ideas tonight or maybe for tomorrow's lunch?  Here are a few of our favourite summer salads!
Classic Greek "Horiatiki" Salad
Given my parents are from Greece this definitely tops my list as I've been eating it since I was a kid!  I especially love this salad in the summer when we can use fresh tomatoes and cucumbers from the garden!  To give it a bit of a twist try adding some sliced yellow bell peppers and a new trick, some tangy capers!  Picked this trick up on a trip to Blue Mountain while we had dinner at the Tholos Restaurant!  Get some nice crusty bread and dip into the bowl and this will quickly become one of your faves too!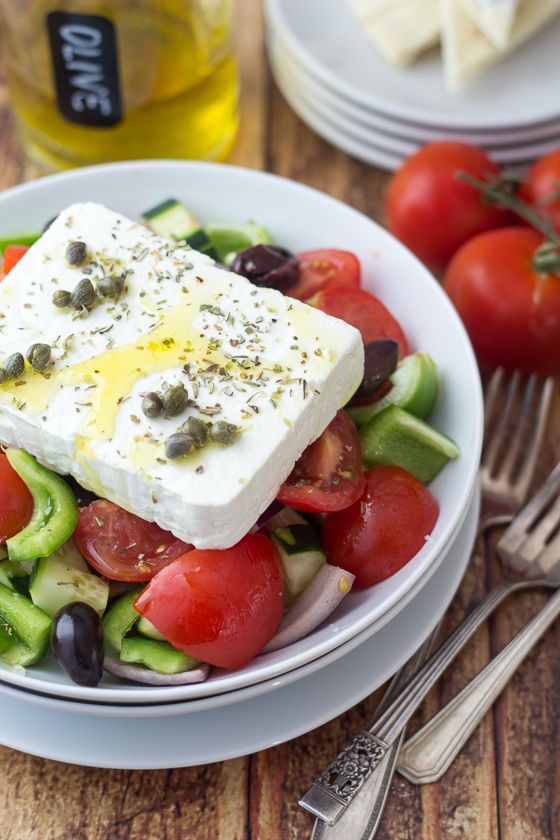 Beets, Arugula & Goat Cheese Salad
I love beets and this is such a great new way to have them mixed in with peppery arugula, creamy goat cheese and a sweet balsamic dressing!  If there's no allergies, walnuts are a nice addition too! Honestly this is just delicious and full of so many flavours!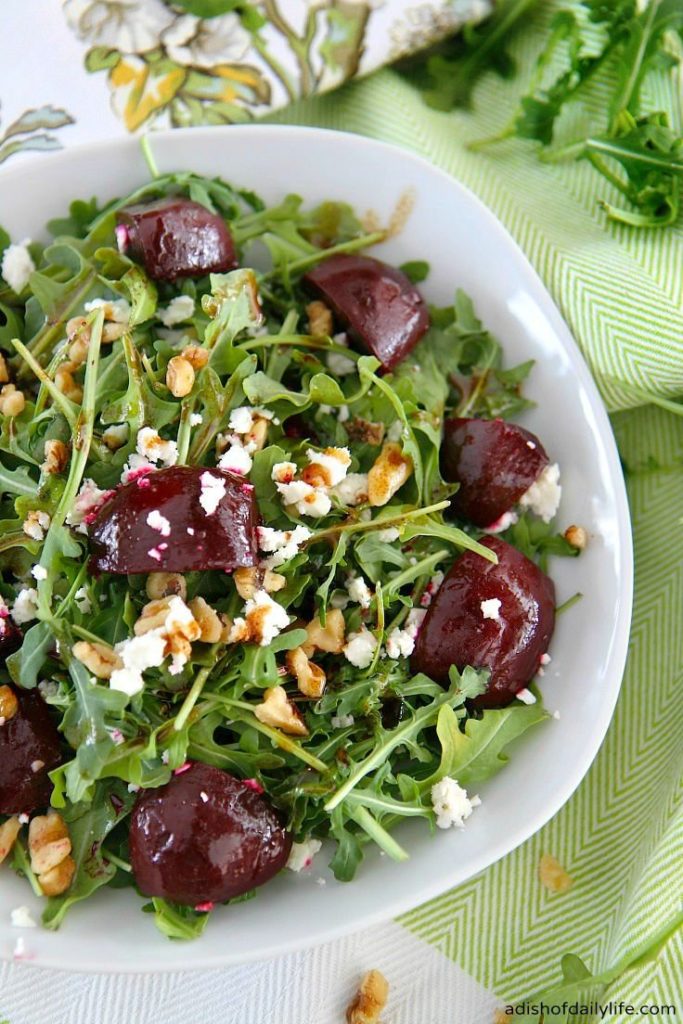 Strawberry Balsamic Spinach Salad
Spinach is a great green full of so many nutrients and chock full of iron.  On it's own spinach isn't that exciting, but toss it with some sliced strawberries, pecans and a sweet balsamic dressing and now we're talking!  Nothing like getting our nutrients and it's yummy too!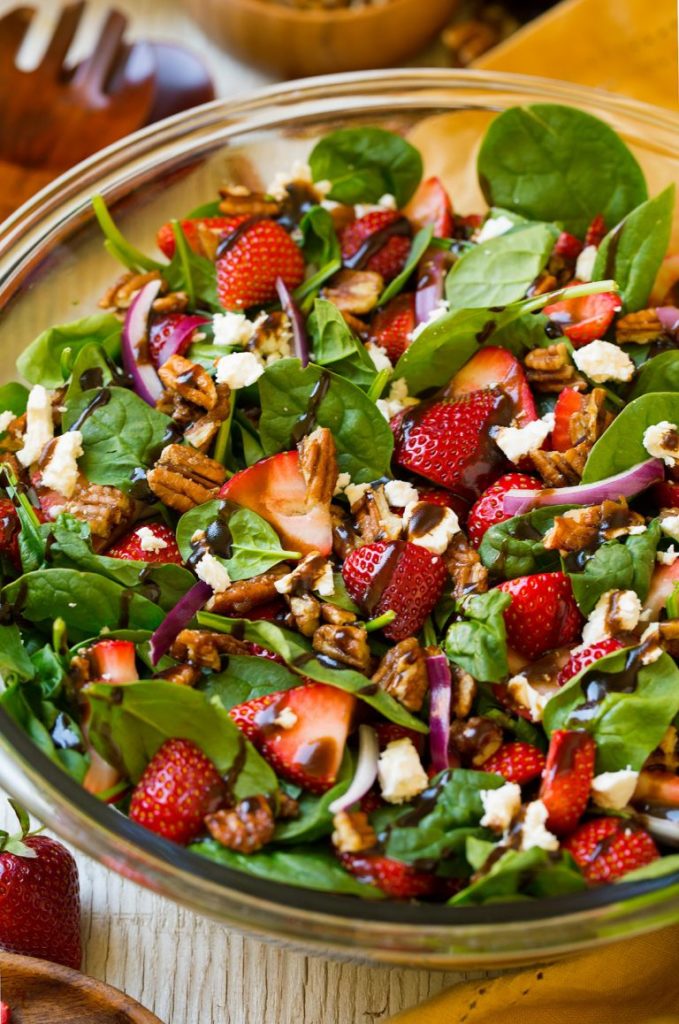 So when I say simple, this really has to be the easiest salad to make by just tossing the arugula with some olive oil, lemon juice and kosher salt.  But all the flavours together make it anything but basic!  I first had an arugula salad while on our honeymoon in Florence at a little pizza place called Yellow Bar.  Don't get me wrong the margarita pizza was amazing, but I think we went back every day because I needed to have this salad!  If you're ever in Florence this place (and salad) are a must!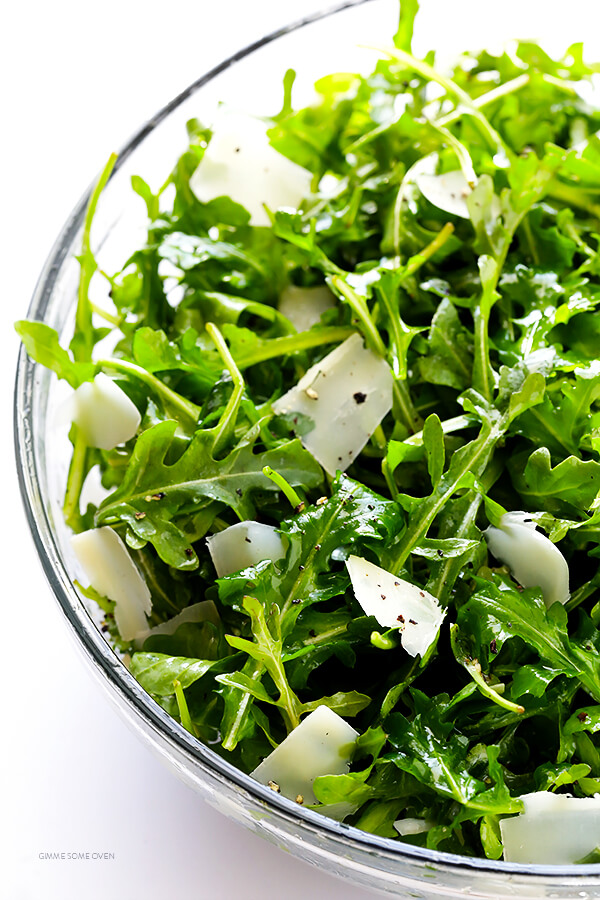 Quinoa is definitely one of the superfoods out there you need to try if you haven't already! And it's so delicious when you mix it with some chopped veggies and a vinaigrette.  Aside from being so delicious, the other bonuses include that it's super filling and a great source of nutrients  like protein, iron, and calcium.  It's also a great alternative for anyone who is gluten-free!  And to top it all off, it's good int he fridge for up to 1 week!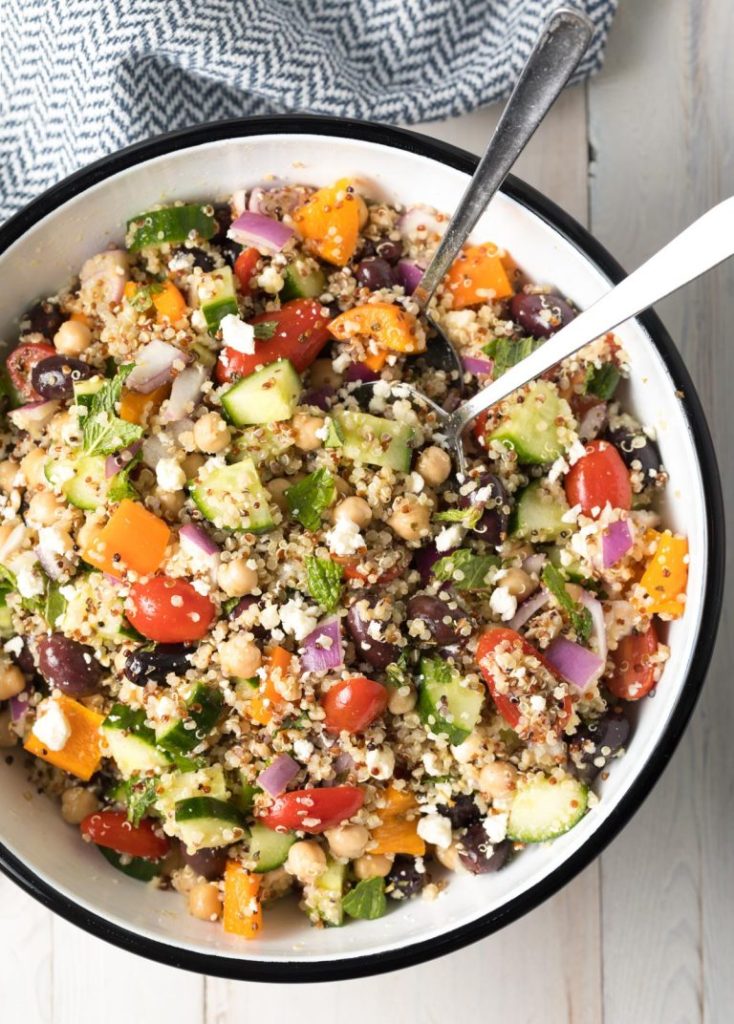 Loads of carbs here but who cares when it tastes so good!  This is a great salad to serve to a crowd and has become a staple on the big family BBQ menu.  It's super easy to make and usually the first thing to go!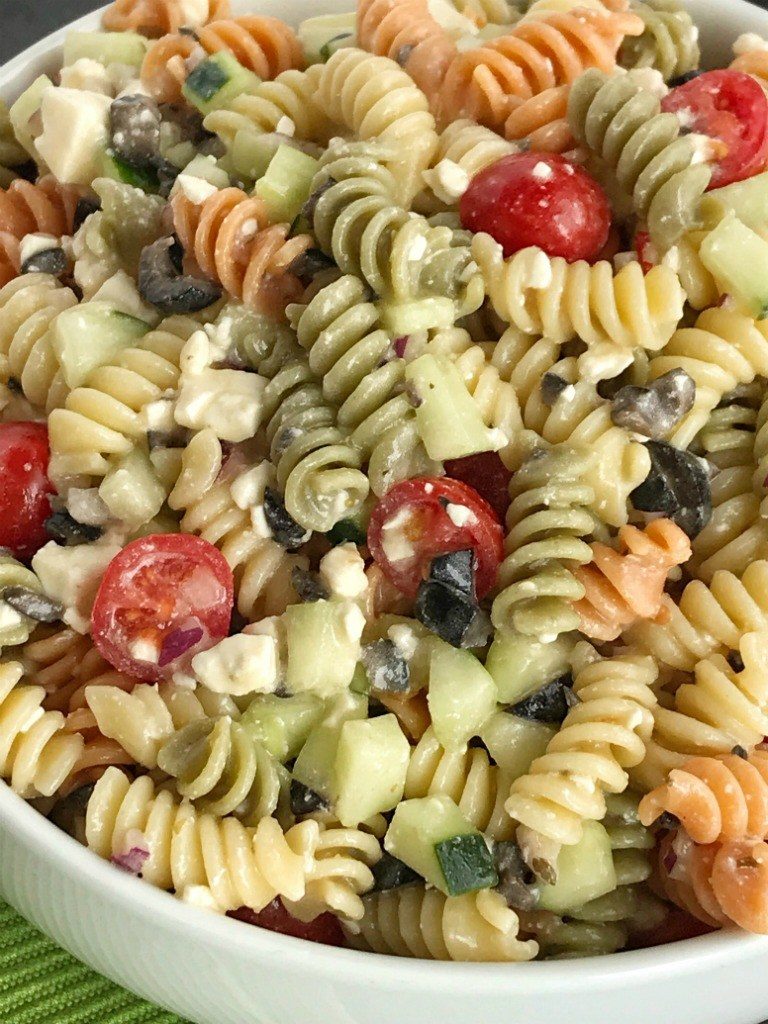 For years I loved the traditional creamy potato salad served at family cookouts!  That is until I discovered this lighter version, without the mayonnaise.  Filled with savoury herbs and slivered onions, many call is the French Potato Salad, but it's what I call the grown up potato salad!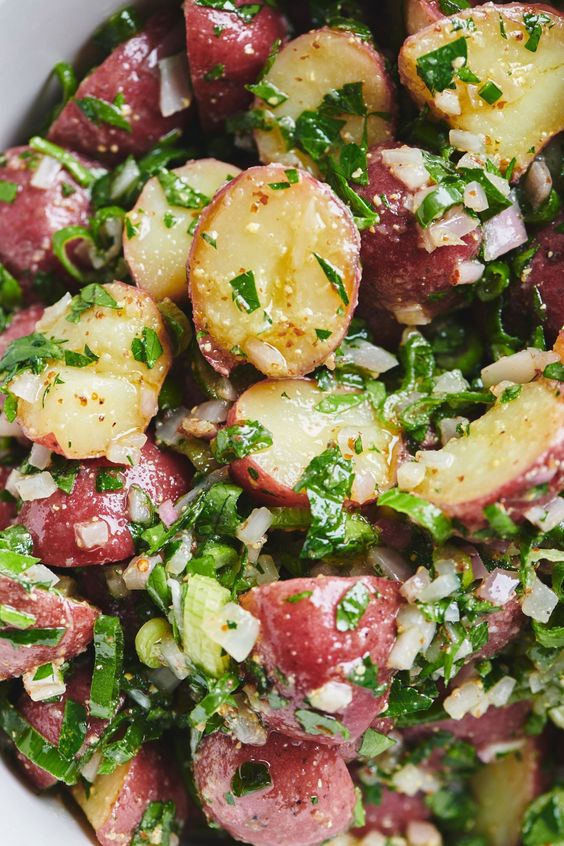 Another pasta-like salad, this time with lots of herbs and a tangy lemony dressing!  It's so easy to make and you can customize it too to whatever you like or have on hand!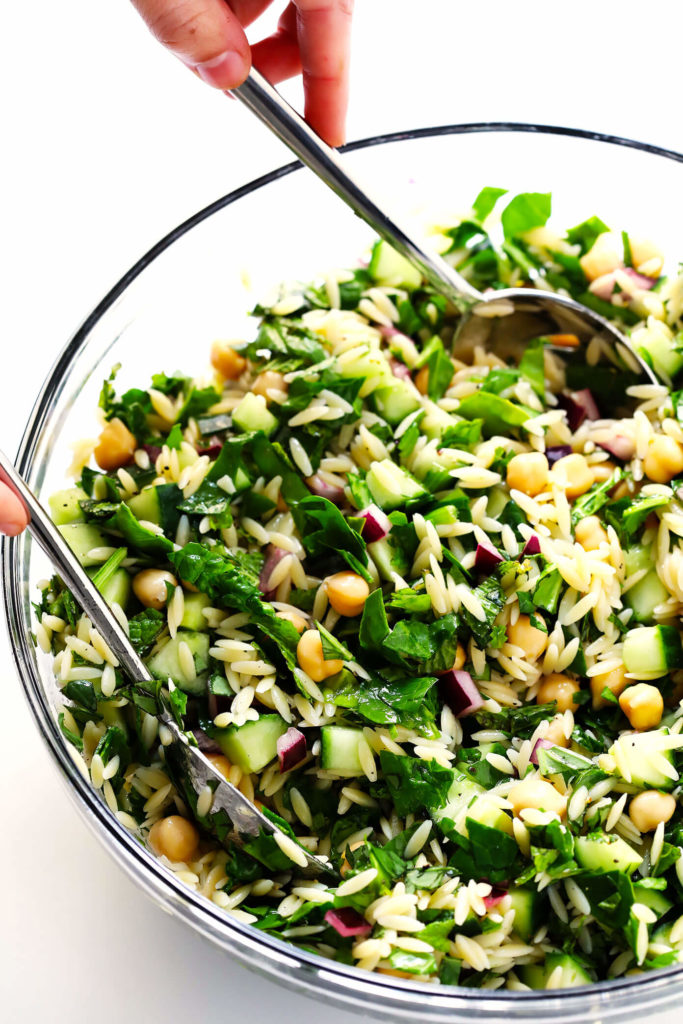 Yes, the first time I heard of this I was a little hesitant, ok a lot.  Feta and watermelon just seemed like an odd combination.  Lucky for me, my husband likes to try new foods and he convinced me to try this.  And wow, what a great combination.  You have the saltiness of the feta against the sweetness of the watermelon and it is so refreshing and delicious!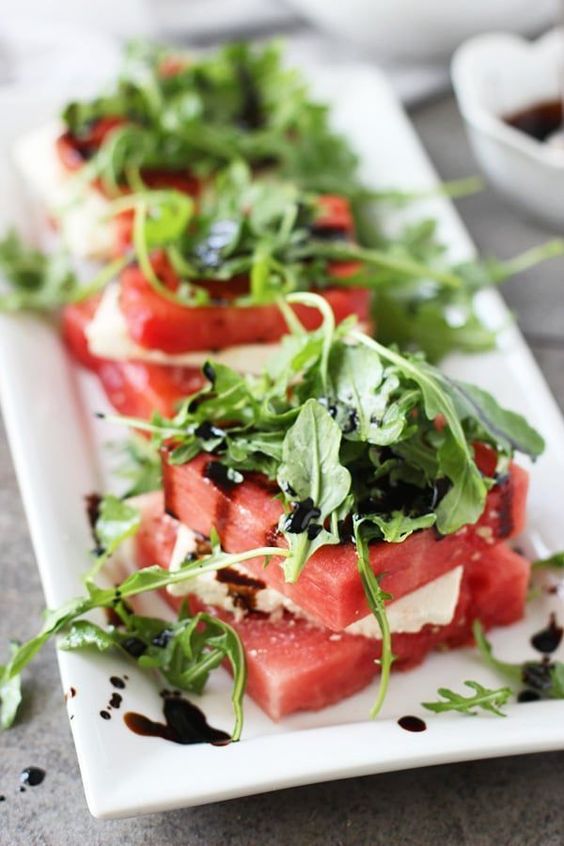 Another simple salad that could be straight out of the garden to your plate!  Sliced ripe tomoatos, topped with creamy bonconcini cheese and fresh basil.  And then all you do is drizzle balsamic and olive oil and you are done!  Try fresh buratta cheese instead too for a change.  It doesn't get better than this!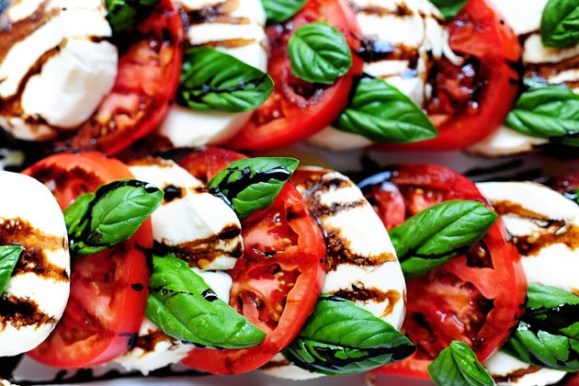 So what's for dinner tonight?  It's definitely a toss up between a few of these for us!  I hope you check these out because I'm sure you and your family will love these.  Some advice – it's ok to play around with these recipes and make them your own.  Sometimes we don't have all the ingredients or maybe even like one of the ingredients – feel free to change according to your needs and taste!
Let me know what you think! And bon appetit!