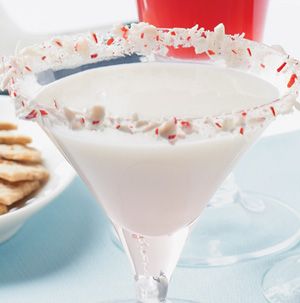 My Favorite Easy Holiday Cocktails & Appetizers
It's the last day of school for the kids and I've been running around trying to get everything ready for Christmas before they're home and snooping around for all their presents and goodies!  We have another Christmas party to go to tonight and I'm also getting ready for the Christmas party we're hosting tomorrow night!  With all this running around it needs to be simple and easy!  I'm planning a night of super easy appetizers, lots of delicious holiday themed cocktails, festive music and of course all those cookies we baked!
If you're hosting a party over the holidays I thought I would share a couple of my favorite go-to recipes!  For appetizers I try to keep things pretty easy.  A lot of cheese and crackers, veggies and dip and charcuterie.  But I like to add on 2-3 of my signature appetizers as well.  Here are my go-to recipes that are always a hit!
Mini Slider Burgers
This first recipe is one I discovered by Ina Garten, better known as the Barefoot Contessa and it is her recipe for Mini Sliders.  Since it's winter and most of us don't want to go out in the cold to BBQ, I actually pan fry them ahead of time and then heat them up in the oven and top them off with cheddar cheese or brie.  These are always a hit at our parties and are the first to go!
Ingredients
2 pounds premium ground beef 80 percent lean and 20 percent fat
1 tablespoons good Dijon mustard
3 tablespoons good olive oil
1 teaspoon chopped thyme leaves
3 teaspoons chopped garlic
1 teaspoon kosher salt
1 teaspoon freshly ground black pepper
6 ounces grated Gruyere (I like to use cheddar or brie)
12 small buns (recipe makes a dozen)
Condiments for serving (Ketchup, mustard, relish and mini pickles)
Instructions
Place the ground beef in a large bowl and add the mustard, olive oil, thyme, garlic, salt, and pepper. Mix gently with a fork to combine, taking care not to compress the ingredients. Shape the meat into 12 (2-inch) patties of equal size and thickness.
When the grill is medium-hot, brush the grill grate with oil to keep the sliders from sticking. Place the sliders on the grill and cook for 4 minutes. Turn the sliders over with a spatula and cook for another 4 to 6 minutes, until medium-rare, or cook longer if you prefer the sliders more well done. For the last 2 minutes of cooking time, place 1/2-ounce cheese on the top of each burger and close the grill lid. Remove the sliders to a platter and cover with foil.
Slice the buns in half crosswise and top each with a slider. Cover with the top of the bun and serve hot with condiments.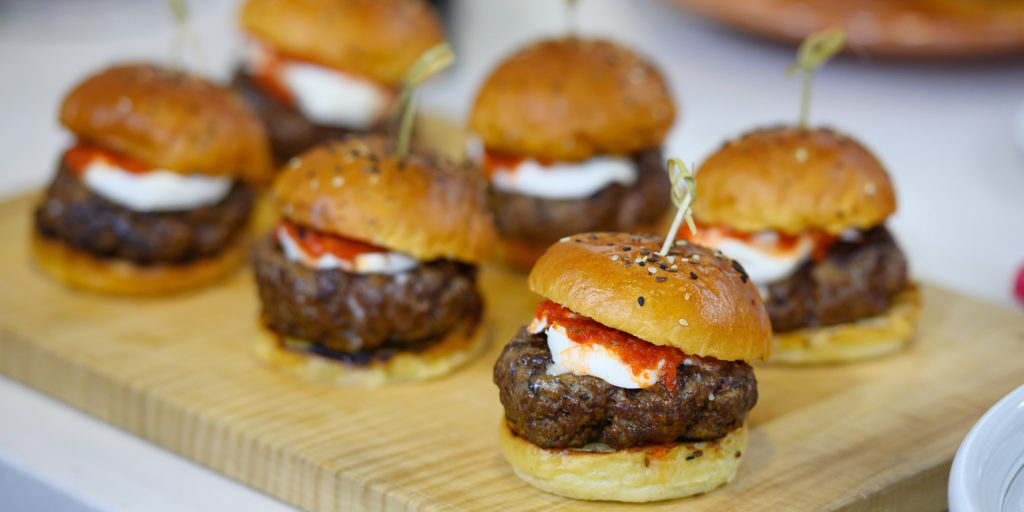 Cranberry Baked Brie Bites
The second one is a new recipe I've been trying out that I found on Pinterest by the Country Cook.  So far it seems to be a crowd pleaser as well.  It is a really easy make ahead recipe that you can just pop into the oven before your guests arrive.
Ingredients
flour, for dusting the dough and cutting board
1 8 oz tube crescent dough
1 8 oz wheel brie cheese
1 cup whole berry cranberry sauce, not jellied
fresh rosemary sprigs
Instructions
Preheat oven to 375°f degrees. Spray a mini muffin tin with cooking spray. Spread a little flour out onto your counter. Then roll out crescent roll dough and pinch seams together. Cut crescent roll dough into 24 equal-sized squares. Place squares into muffin tin slots.
Cut brie into small pieces and place inside the crescent dough squares. Top with a generous spoonful of cranberry sauce, and a little sprig of rosemary.
Bake until the crescent dough is a light golden brown (about 15 minutes). Then serve warm! Makes about 24.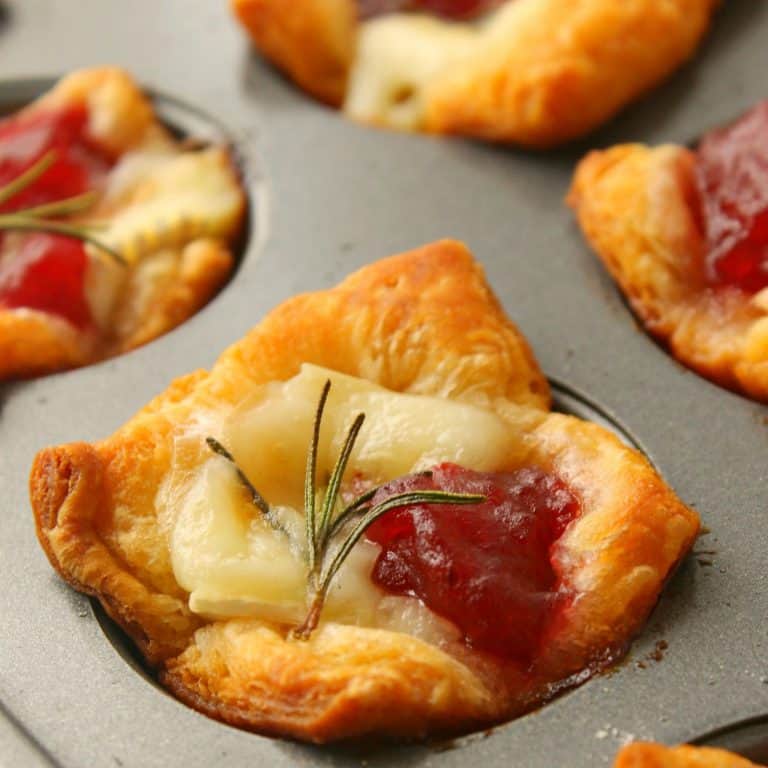 Sun-dried Tomato and Goat Cheese Spread
The last recipe is again a really easy one and delicious.  A good friend of mine made this for one of our party's a few years ago and I loved it so much it's now become a must have at our place.
Ingredients
1 package of dry sun-dried tomatoes, roughly chopped into strips
1 large goat cheese log
4-5 garlic cloves crushed
3 pinches of oregano or thyme
½ cup balsamic vinegar
½ cup olive oil
Instructions
Place sun-dried tomatoes in a jar.
In a separate bowl, mix balsamic vinegar and olive oil.  Add garlic and oregano or thyme.
Mix and pour over sun-dried tomatoes. Give mixture a good toss and let it sit at room temperature for 6-12 hours.  You can make this the day before and serve the following evening.
When ready to serve, place goat cheese log into a shallow bowl.  Pour sun-dried tomato mixture over goat cheese.
Slice up a baguette and enjoy!
Now that we've got food covered, here are a couple holiday cocktails I'm planning on making tomorrow night.
Eggnog Martini
Ingredients for 1 martini
1 Oz Vodka
1 Oz Ameretto
1 Oz Eggnog
Pour all ingredients into a shaker with ice.  Shake and serve.  Garnish with nutmeg and a cinnamon stick.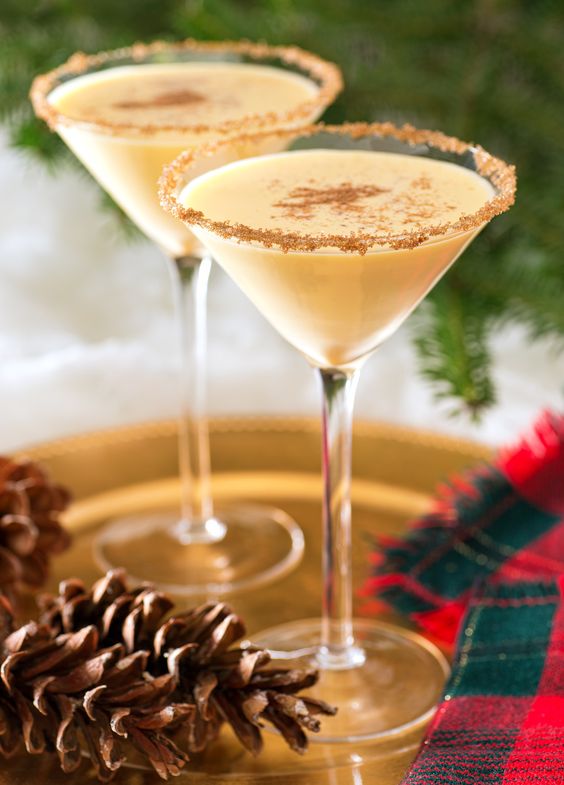 Candy cane Martini
Ingredients for 1 martini
1 ½ ounces vanilla vodka
1 ½ ounces white Crème de Cacao
½ ounces Peppermint Schnapps
1 peppermint candy, for garnish
Fill a martini shaker with ice. Measure 1.5 oz of vanilla vodka, 1.5 oz Peppermint Schnapps and 0.5 oz of peppermint schnapps into the martini shaker. Shake well and serve.  Garnish with a candy cane.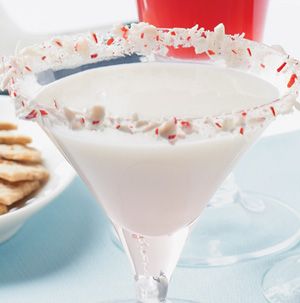 And I think we are good to go, and I need to get ready to go to that party tonight!  I'm so looking forward to having our friends over to toast the holidays and for you to try these recipes!  Let me know what you think!  Happy Hosting!