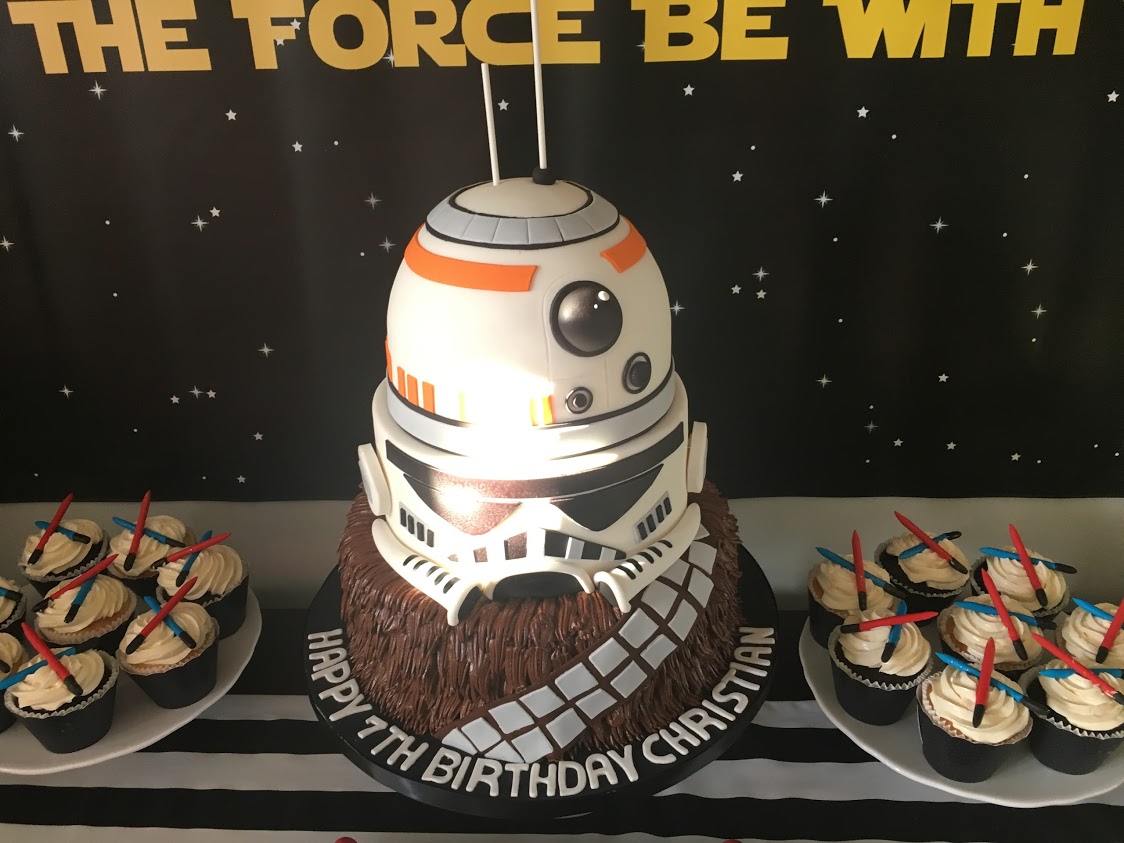 Ultimate Star Wars Birthday Party
9 years ago in a galaxy not so far away a little boy was born, and the force was very strong with him!  It's so hard to believe my little Jedi who changed my life forever isn't so little anymore!  And I can't believe he's 9 already!
My little guy has been a crazy Star Wars fan for what seems like forever and we have honestly thrown not one, not two but literally six Star Wars birthday parties!  I'm a bit obsessed with throwing parties for the kids, it's just so much fun and I love getting right into the theme!  I guess you can say I'm a praty momma lol!  A lot of it is DIY and bargain hunting and I'm all about the details…and my kids kind of expect it now!
In honour of his big day today, I'm doing a bit of a Throwback Thursday and sharing some of the great Star Wars parties we've thrown over the years for him and some tips on how to throw the Ultimate Star Wars party too!
The Invitation
Every great party needs a fanstatic invitation to get people excited about what's to come!  My go to is always Etsy! We have found some really great invitations we could personalize and then print at our local Wal-mart or Costco!  Here are some of the ones we've done in the past.
The Decorations
There are so many great ways to set the mood for your Star Wars party by decorating for it.  I've been able to find some great wall decals on Etsy and Aliexpress of the Star Wars logo, the Death Star and Millenium Falcon.  And if you look around you can even find some deals on other great décor like movie posters, toys and lifesize standups of the characters.
My go to for unique decorations and banners is always Etsy.  I often buy the digital files, print them myself and put together my own banner.  Balloons are also a great way to decorate.  You can go galactic with blue and black, classic star wars black and gold, or stick to the lightsaber colours!
One of the ways I like to set the Star Wars mood is to use places from the movies in our home – like a Tatooine area, and even a Cantina.  I print signs and put them everywhere.  One party package that I bought for the first party and use every year now I got on Etsy by Simone Made It.  It has everything and you can personalize too!
Check out some pictures of the decorations at some of our parties.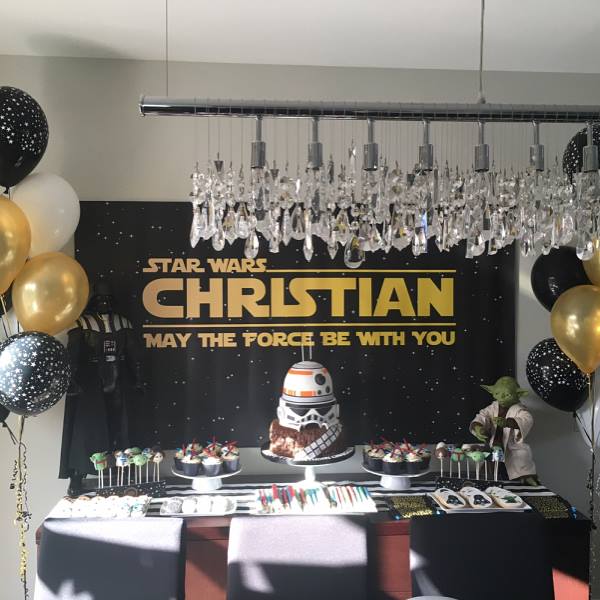 Jedi Food & Desserts
All your little Padawans need to fuel up if they are going to become Jedis!  Some of the Star Wars themed food and drinks to include are Padawan Pizza, Bow-Ba Fett Pasta Salad, Blue Bantha Milk, Obi-Wan Kebab-ies and Han Solo in Carbonite Jello!
But let's be honest the best part is dessert!!  Setting up a Star Wars themed dessert table is always fun and the kids (and adults) are always wowed!  Over the years, we've included things like cupcakes, character cakepops, death star oreos, character cookies, lightsaber pretzel rods and of course an out of this world cake!  I've usually bought cupcake wrappers from Etsy or Amazon and of course no dessert table would be complete without a cool backdrop like the one I got from Etsy and printed with Vista Print and use every year!
And don't forget to keep the Star Wars mood going with cute food labels, signs that say "Use the Forks" and of course some lightsaber napkins that you can make with a free printable.  I bought this party package on Etsy and have used it year over year!  And you can get the DIY and free lightsaber napkin printable here!
Jedi Activities
Every party needs some super fun galactic activities for your little Jedis.
One of the activities that we run at every party that the kids look forward to every year is the Jedi Training Academy.  The first few parties I made Jedi Robes for all the kids and provided them with their own lightsabers too as their party favour.  As the kids got older and Star Wars became even more popular with the Force Awakens, a lot of the kids came dressed for the part!
In the Academy, the kids need to complete all of the tasks in order to become a Jedi and receive their Jedi Certificate.  Here are some examples of what they need to do:
Build a droid (lego)
Build a lightsaber (arts and crafts or with the mini Uncle Milton toys – I found these on sale and they were perfect!)
Millenium Space Walk (Bouncy Castle)
Mustafar Lava Walk
Yoda's Dagobah Training Camp – set up like a mini obstacle course that the kids needed to complete while carrying a Yoda backpack on their back!
At the end we've also had Darth Vader or Kylo Ren show up (could be your hubby dressed up, hint hint!) for the kids to practice their new lightsaber skills on!  And of course no birthday is complete without a nerf gun Stormtrooper shootout or defeating the Death Star piñata!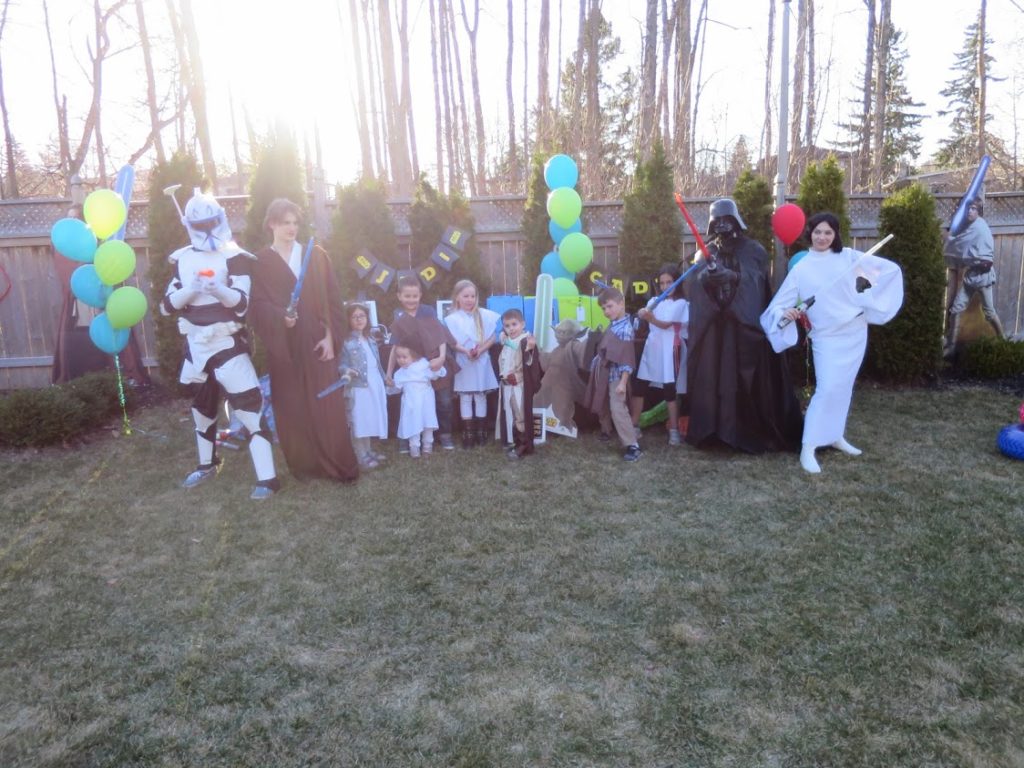 Loot Bags & Favours
I love to throw parties so I always love to set up treat table for the kids that not only includes their loot bags but also a lot of fun treats to take home with them too like cotton candy, lightsaber sweet tarts, popcorn and Hershey bars!
Hope you've enjoyed going down our Star Wars memory lane as much as I did!  Happy party planning for those of you throwing a Star Wars party and of course, May the Force Be With You!