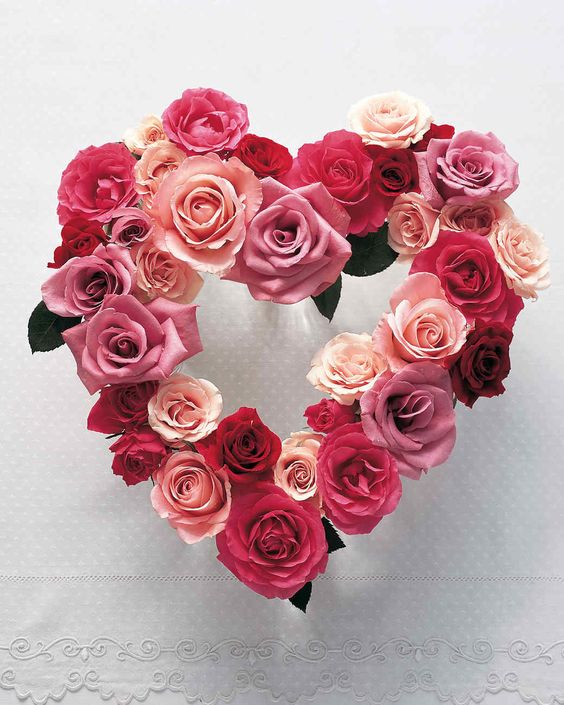 5 Easy Tips to Decorate your Home for Valentine's Day
It's February and I've got Valentine's Day on the brain!  I'm constantly thinking about fun parties and pretty clothes to wear and about getting together with everyone I love to celebrate with – my husband, kids, family and friends!  I love all holidays and love to decorate our home for each and every one of them, including Valentine's Day! Valentine's Day is such a fun holiday to decorate the house for.  You can stick to the traditional colours like red, pink and white or incorporate some fun new ones like gold, rose gold and black and white into your decor too!  And it doesn't have to be cheesy or corny, it can look sophisticated and fun at the same time.  Although with kids it's kind of cute to get a little corny with the decorations!  It's what makes it fun!
This year the kids and I had a blast digging up our old decorations and picking up some new ones together.  Mini fashionista likes to shop just as much as her mama!  And we had so much fun decorating every last inch of the house for Valentine's Day this past weekend!  They do say, "Home is where the Heart is" so let's get to it!
First off here's a roundup of my Valentine's Day Home Decor Essentials and some of my best finds this year to give you some inspiration and help you decorate your home for Valentine's Day!  And guess what?  There's still time for it to ship in time for the big day!!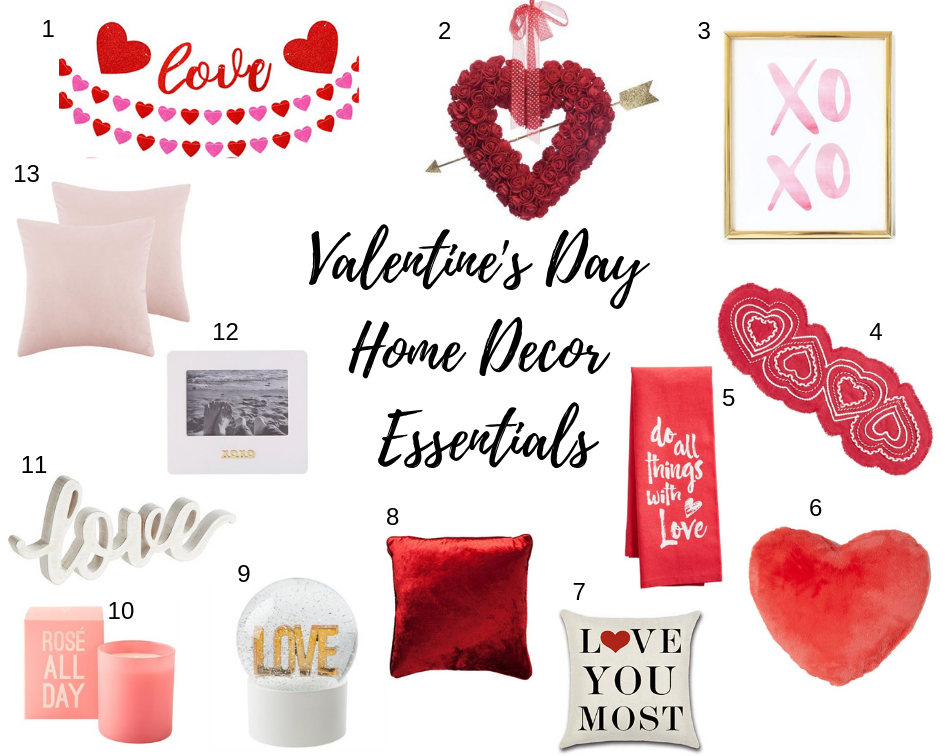 And here are my 5 easy and simple tips to help you style these pieces and decorate for Valentine's Day in your home!  Whether you try one of these ideas or all, it will make decorating a breeze for you this year!
Pillows & Linens
This is probably one of the easiest ways to add a little Valentine flair into your home.  Swap out your usual throw pillows for some red and pink ones or some cute heart shaped pillows.  You can easily find them at your local Home Sense, Winners or Marshalls.  I even found some great ones at H&M, and on Amazon this year!  Also, add some Valentine's Day themed linens into your home.  This could be a table runner, tablecloth, tea towels – whatever you like.  I found some great ones this year at Home Sense, Pier 1 and Amazon that I added on to my current collection.  My favourite still has to be a red and white cabana stripe runner I got on Etsy years ago.  I just noticed that Amazon has a similar one.  And what's great are these are things you can keep and use year after year!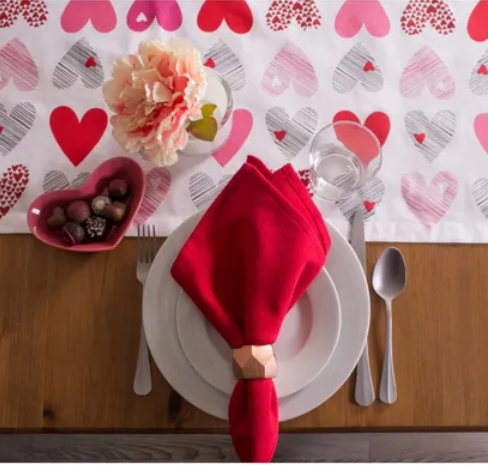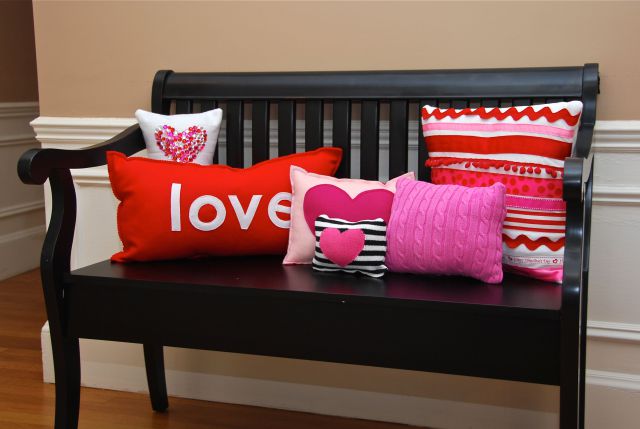 Flowers
I often say the way to my heart is flowers (and chocolate of course)!  Adding some pretty flowers into your space will immediately make the room a bit prettier, a bit more romantic and it will smell amazing too!  I always prefer fresh flowers but you can also find some great and very realistic looking silk arrangements at Home Sense and on Wayfair.  My only tip with fresh flowers is that prices do go up a day or two before Valentine's Day, so see if you can buy yours a bit earlier!  A couple tips to keep them looking fresh – change the water every day and put them in the fridge at night!  It works, trust me!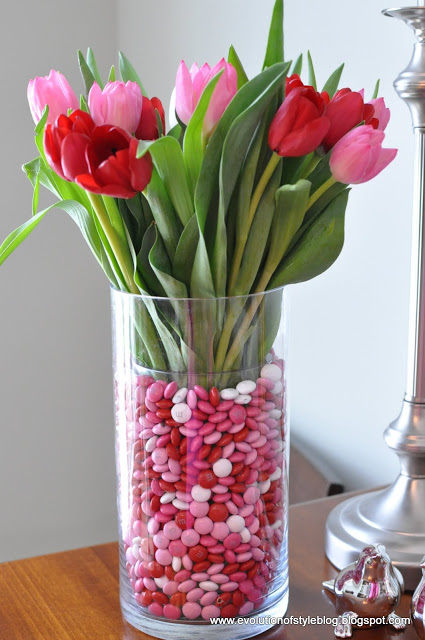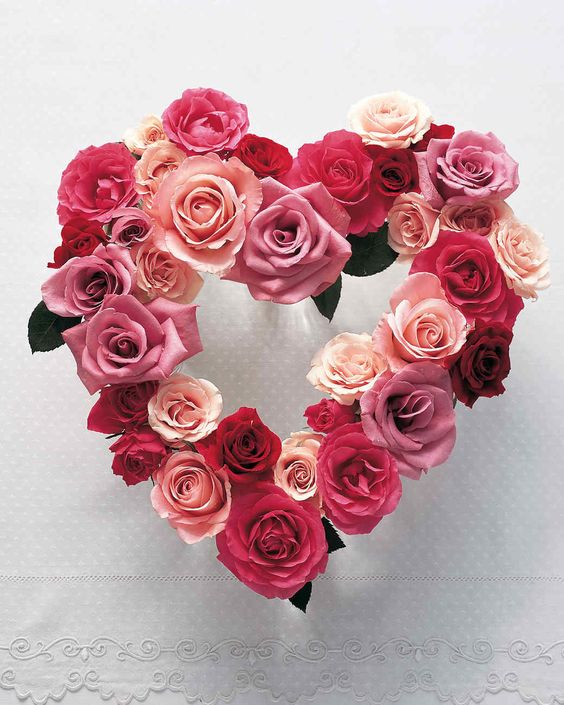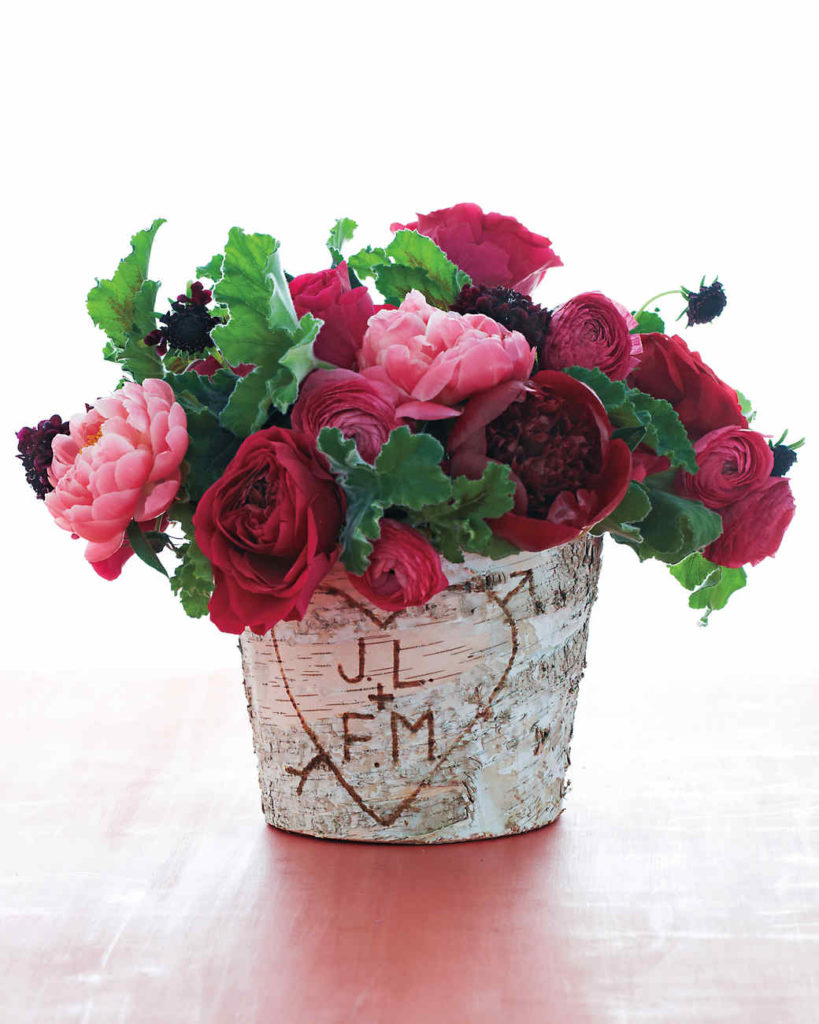 Candles & Trinkets
Add lots of candles and some cute love themed trinkets to your décor!  Try adding onto your coffee table, bookcases and side tables.  The key is not to clutter your space but layer these in where it makes sense.  If you have one, I love to decorate the fireplace mantle and really make that the focal point.  And maybe remove some of your other stuff for a bit – it's just for a month!  Another great idea is to put up some frames with the people in your life that you love!  My go to places for cute trinkets are Indigo, Home Sense and Pier 1.  I also found the cutest letter candy dishes this year on Amazon.  I picked up a few to spell out LOVE and XO and I even found a cute heart dish as well! This year I was also able to find great cinema light boxes to leave sweet messages on and love themed Marquee letters.  When you're in love spell it out and shout it loud!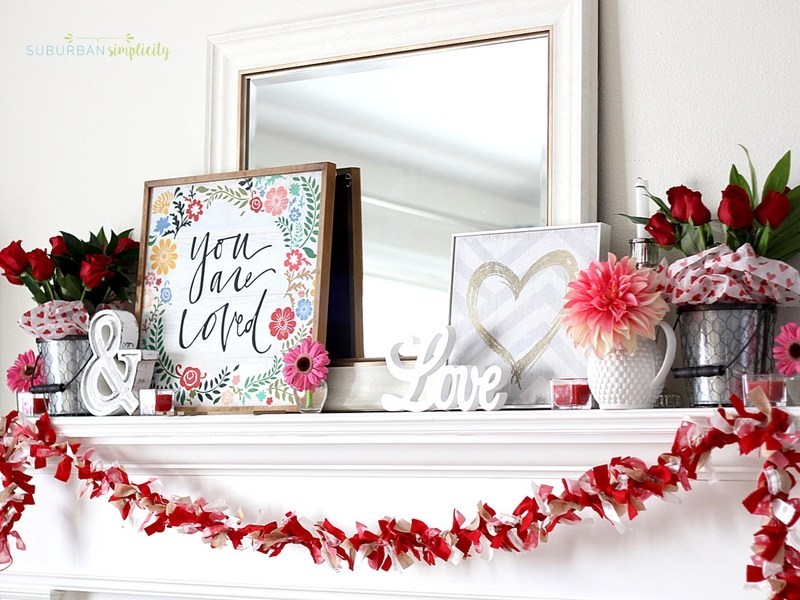 Artwork
Another great way to add a little Valentine's flair to your space is through artwork.  Try adding some heart themed and love themed artwork into your space.  You can find some really great prints and canvases out there and there's some beautiful stuff on Etsy too which I love.  I love to buy the printable versions and then print and frame them myself.  It's a bit cheaper and I don't have to worry about it getting here on time!  I also found some great Heart artwork on Wayfair this year and splurged on a big canvas that I love!  My daughter seems to love it too and has claimed dibs on my latest find for her room!  And here I was hoping we could use it in our new office!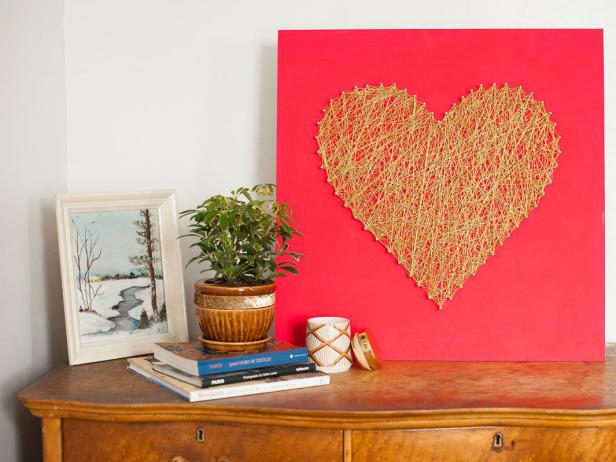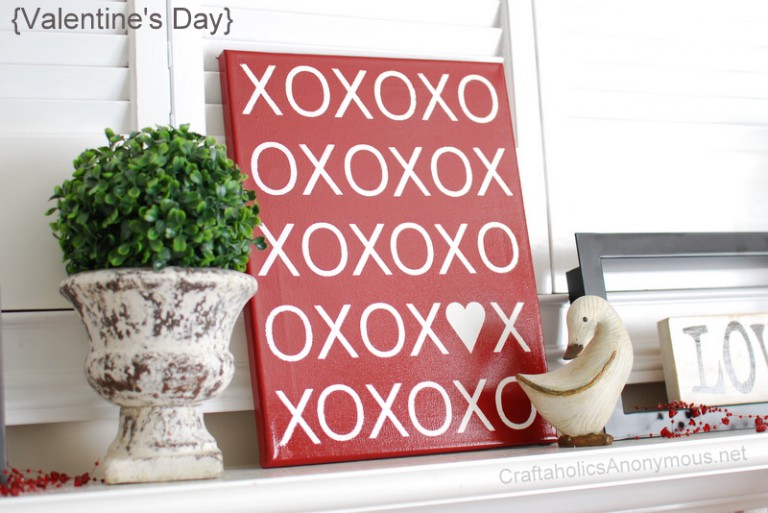 A Banner
My last tip is another pretty simple one.  Nothing screams celebration like a cute banner.  Hang a banner (or two) around the house.  I always like to put one up across the fireplace mantle because it's a bit of a focal point in our living room and also one in our front entrance to welcome people.  It let's them know we are ready to celebrate the big day of love.  You can find them at Home Sense if you look, on Amazon and my personal favourites are always on Etsy.  You can buy them pre-made or if you have some time and patience buy a DIY printable version and make it yourself!  Or even better find a free one like the one below by Sandy Toes & Popsicles!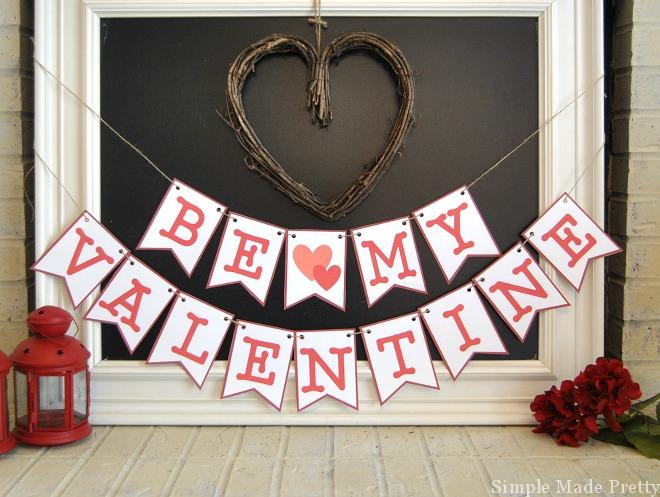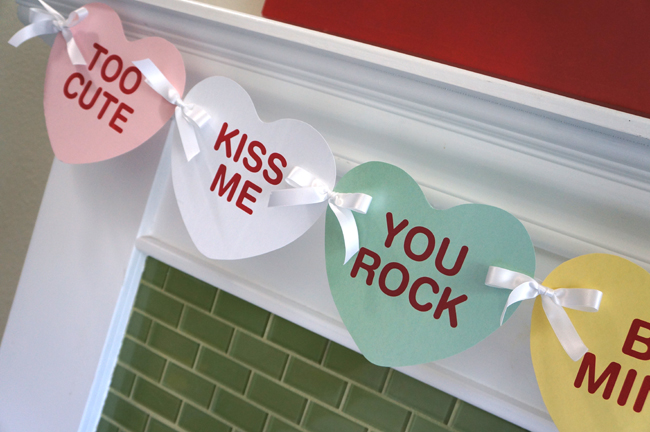 I had so much fun decorating with the kids this year.  I just love that they really get into it just as much as I do!  I hope my 5 simple and easy tips will help you spread a little Valentine's love into your home too!  I'd love to hear what you think!