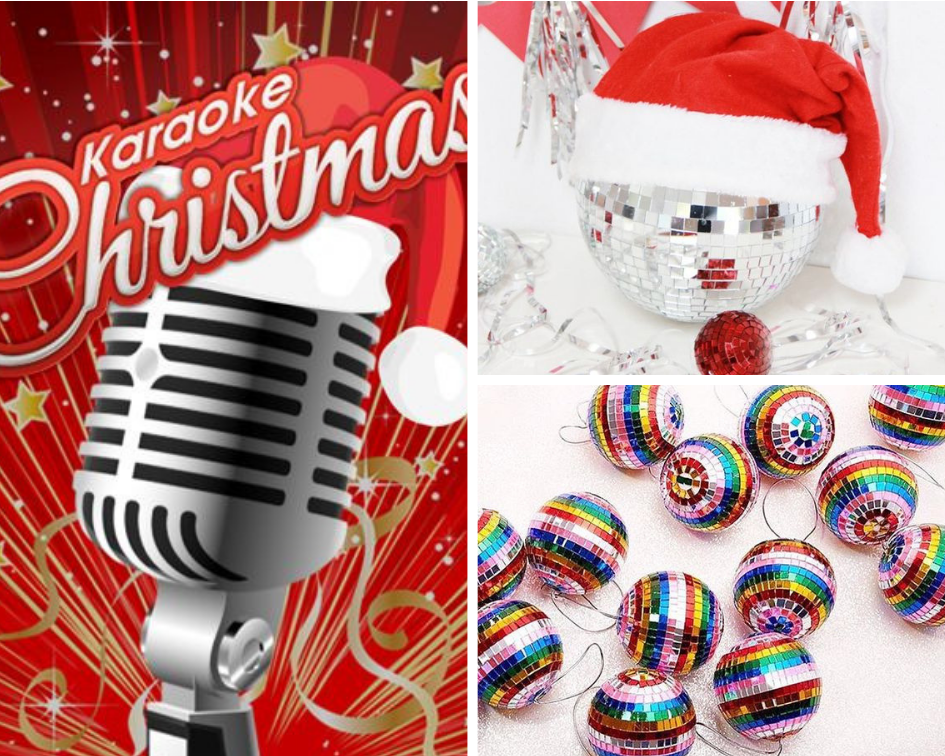 5 Fun & Amazing Christmas Party Themes that will Wow your Friends
Ok, the Holiday parties seem to be in full swing and the next two weeks are going to be a little crazy!  We have 5 parties and I'm hosting one of them!  But I'm not complaining I love a good party, especially at Christmas time.  A fun idea is to pick a theme for your party and have your menu, decorations, drinks and maybe even activities and clothing match it!
Here are my top 5 themes this year for an amazing Christmas party your friends and family will be raving about!
Ugly Sweater Party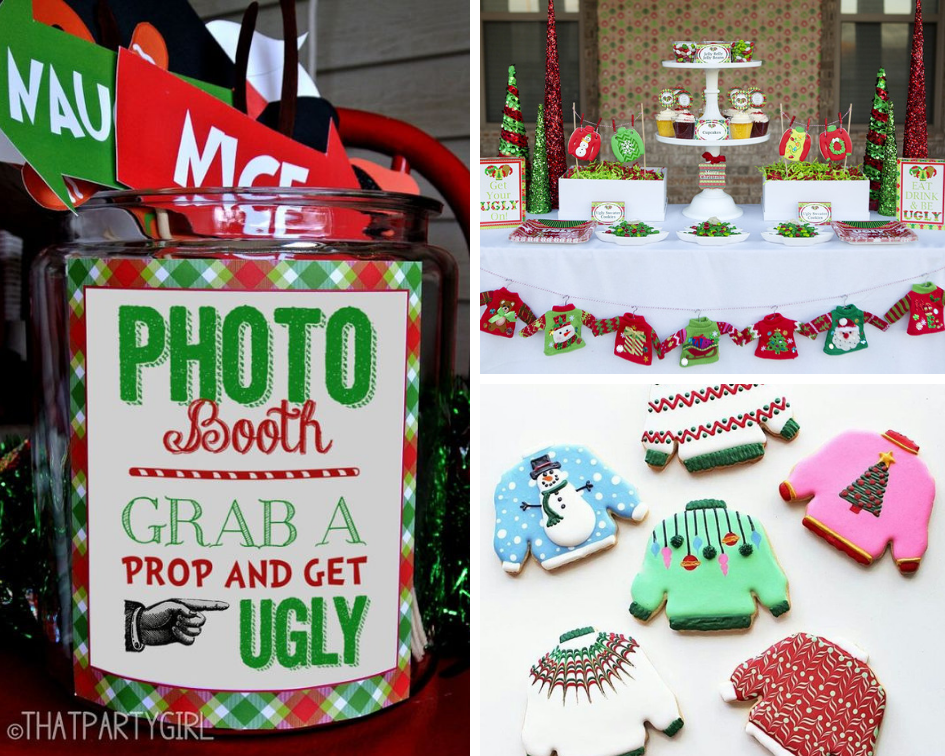 I know this one has been around for the last few years but honestly you can have so much fun with it.  You can really go all out with this theme!  Start off by sending out some tacky themed invites or evites to set the tone for your guests.  The original ugly sweater began back in the 80's, think National Lampoon's Christmas, so when you start planning your menu and decorations why not go very 80's with both. Deck the halls with tinsel garland and multi-colored lights and get a playlist ready with some great 80's Christmas music to set the mood!  For food and drink why not get a little nostalgic and serve things like sloppy joe sliders, bread bowl dips, mini meatloafs and pasta salad.  And who wouldn't love a wintery koolaid punch and ugly sweater cookies.  Top it all off with a tacky ugly sweater photo booth and a prize for ugliest sweater!  We're headed to one this weekend and I can't wait to see what everyone is going to wear!
Holiday Movie Party
So I love pretty much all Christmas movies!  You could do a Marathon Christmas Movie Party.  This one is pretty easy!  Make sure you have a few great movies on hand to play throughout the night that will work for all your guests and ages.  For food think movie theater fare – lots of pizza, nachos and hot dogs.  And don't forget the popcorn and the candy bar!  Another option is to center your party theme around one specific movie.  Some great ones are a Grinch Party, Elf, and the Polar Express.  And with the Grinch out in theaters this year how fun would it be to watch it and then come home to a Grinch party!
Winter Wonderland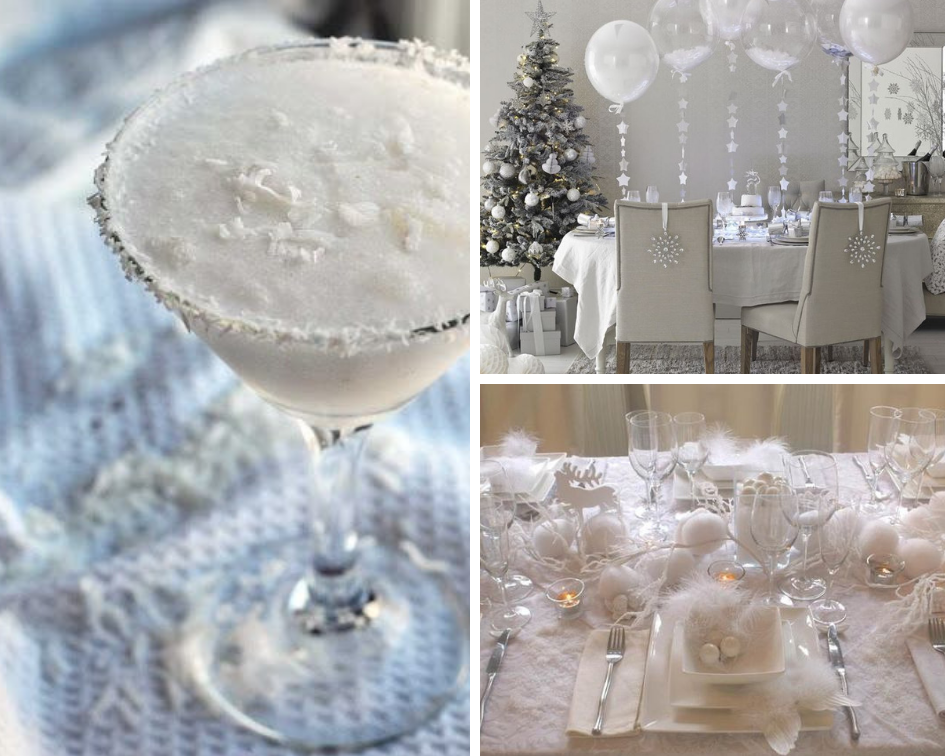 This is really more of an elegant and pretty Christmas party theme.  We've done it a couple times and it really is beautiful.  To set the tone all you decorations are in white with some hints of silver, with snowflakes and sparkly bling everywhere.  Carry your theme into your dessert table and your table setting too.  For your menu plan for a nice sit-down dinner or appetizers, with a cool signature white cockatail of course.  I'd like to think of it as a classy winter wonderland cocktail party that includes a lot of classic Christmas music including Dean Martin, Frank Sinatra and Michael Buble on the playlist and some great signature cocktails that of course fit the white wonderland theme.  You can also really create a beautiful dessert display with some simple white cupcakes and of course snowflake sugar cookies and shortbread cookies.
Christmas Disco Karaoke Night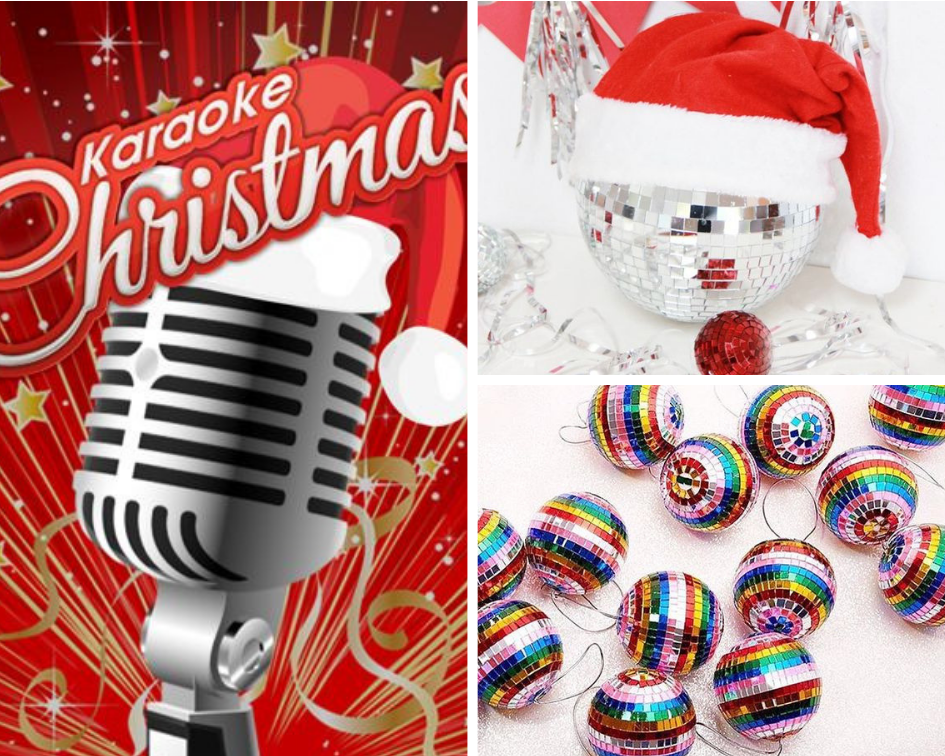 This one is really for the true party animals out there and can get a little wild!  Send out a fun music/disco themed invitation to get people excited about the party.  Then set the tone for your party with disco ball ornaments and lights throughout the space – on tables, in vases, everywhere.  Look into a karaoke machine with disco lights, get a playlist with both classic and new Christmas , add some jingle bells and a flashy microphone prop and you're ready to roll!  Make sure you have some great festive cocktails on hand too, sometimes it takes a little bit of courage to get up there!  All you need now is to figure out who get's to belt out Wham's "Last Christmas" or Mariah Carey's "All I want for Christmas" first!
Gingerbread House Decorating Party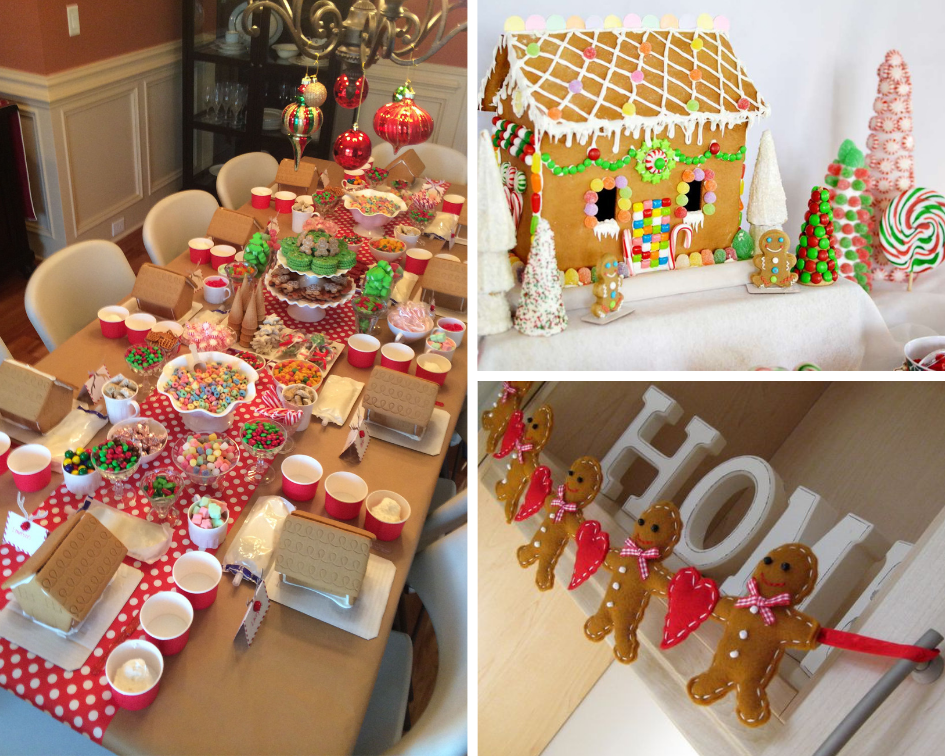 I'm really looking forward to doing this one this year!  A gingerbread house party can be fun for both adults and kids!  To start off send out a cute gingerbread house invitation to match your theme.  There are some really cute and great ones on etsy, which by the way I love!  When you're thinking of decorations to set the mood, think about hanging candy and gingerbread men decorations.  Set your table in red and white and reserve a place setting for each of your guests, where they will find their very own gingerbread house and all the fixings for them to use to decorate it.  I was able to find some great decorations including a gingerbread man banner and santa's apron for both kids and adults on Aliexpress.  They are so cute and I can't wait to hang them on the back of each of the chairs.  For a little extra fun you can also have pre-baked gingerbread man and girl cookies for your guests to decorate.
So there you have it, my top 5 awesome Christmas party themes for this year!  I'm positive you'll have a blast planning these and your guests will love it!  We're heading to a bunch of parties this weekend and hosting our own next week where I actually hope to incorporate a couple of these themes together!  I'll make sure to tell you how it goes!  I'd love to hear how you're celebrating this year too!