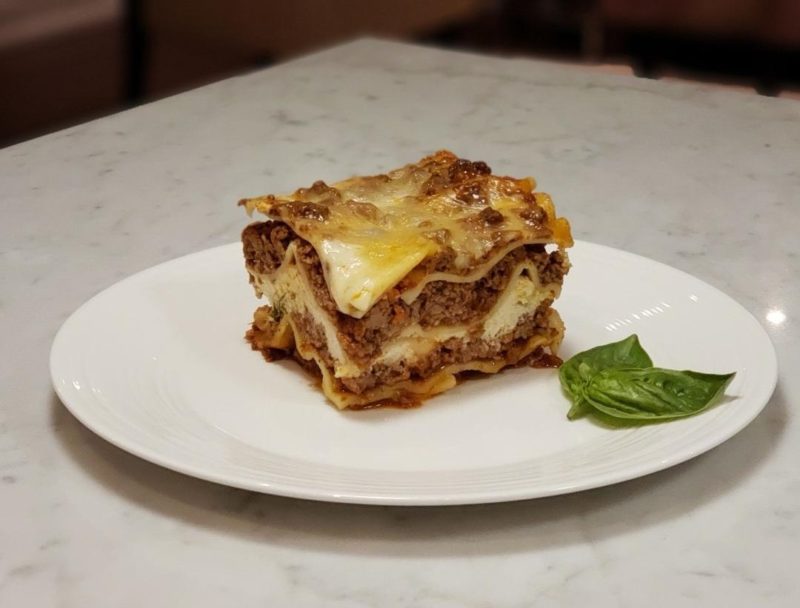 Best Ever Three Cheese Lasagna
Hey guys!  It's the last day of February, the month I also call the month of Love, because come on, Valentine's Day!  It seriously just flew by!  And we had a blast having a Galentine's Day party and our Kids Valentine's Day party!  Plus we made some really delicious stuff like our easy Dark Chocolate Molten Lava Cake – nothing screams Valentine's Day more than loads of chocolate!!  Except maybe for this!
So for my last post for the month of love, I feel it's only fitting that I treat all of you to the best ever lasagna recipe.  Now this one is a bit special, it's no regular lasagna.  I call it the "Marry Me" Lasagna for a reason.  You see, it's the first meal I made for my husband while we were dating.  And I swear once he ate it he decided he had to marry me – for the lasagna!  They do say the best way to a man's heart is through his stomach right?  Not a lie, within a few weeks of this dinner, we decided to get married.  Now the funny story behind the proposal, I'll save that for another day!  Let's get back to this amazing lasagna.
I had found this recipe in Bon Appetit for a Three Cheese Lasagna with Italian Sausage that I modified slightly.  It is a bit of a labour of love kind of recipe, but so worth it!  I've modified it to make it a bit easier and accessible in terms of the ingredients and also have a couple kid friendly changes in there too!  The original recipe is just as amazing too so definitely check that out too.  This is not only my husband's favourite recipe for lasagna but also the kids fave too!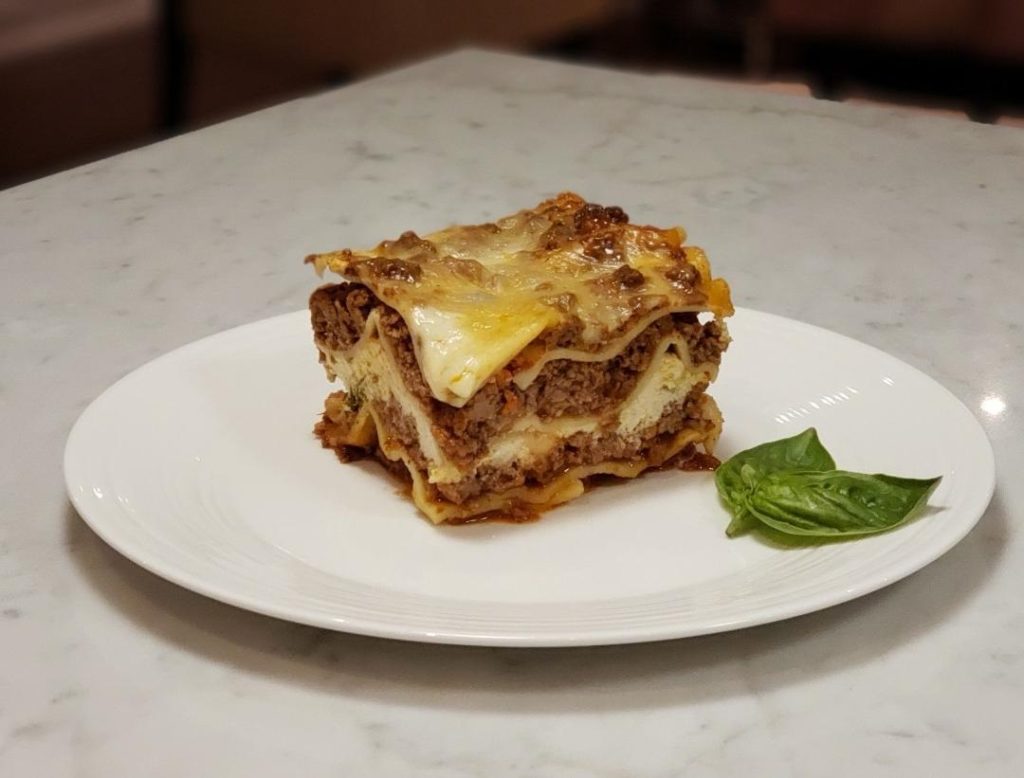 Best Ever Three Cheese Lasagna
Prep Time: 30 minutes
Total Time: 2 hours, 30 minutes
Yield: 8 Servings
INGREDIENTS
Sauce Ingredients
1 tablespoon olive oil
1 cup chopped onion
2 tablespoons minced garlic
8 ounces lean ground beef
8 ounces ground pork
1 28-ounce can crushed tomatoes (San Marzano are the best)
1/4 cup tomato paste
1/4 cup chopped fresh basil
1 tablespoon golden brown sugar (optional)
2 tablespoons dried oregano
1 tablespoon dried basil (or ¼ cup chopped fresh basil)
1 bay leaf
1/2 teaspoon dried crushed red pepper (optional – I omit because of the kids)
Lasagna Ingredients
15 lasagna noodles
2 15-ounce containers part-skim ricotta cheese
1 cup grated Parmesan cheese
2 large eggs
½ cup chopped fresh basil (add up to 1/2 cup more depending on how much you like basil)
6 3/4 cups grated mozzarella cheese
INSTRUCTIONS
For Sauce:
Heat oil in heavy large saucepan over medium heat. Add onion and garlic; sauté until softened, about 12 minutes.
Add ground beef and pork to pan; sauté until cooked through, breaking up meat with back of spoon, about 5 minutes.
Add remaining ingredients. Cover and simmer until flavors blend and sauce measures about 5 cups, stirring occasionally, about 15 minutes. Discard bay leaf. Cool.
For Lasagna:
Preheat oven to 350°F.
Cook noodles in large pot of boiling salted water until almost tender, about 7 minutes. Drain; cover with cold water.
Combine ricotta and 3/4 cup Parmesan cheese in medium bowl.  Add 2 cups of mozzarella cheese to mixture and stir. Mix in chopped basil. Season to taste with salt and pepper. Mix in eggs.
Drain pasta and pat dry.
Spread 1/2 cup sauce over bottom of 13×9-inch glass baking dish. Place 5 noodles over sauce, overlapping to fit. Spread half of ricotta-basil mixture evenly over noodles. Sprinkle 2 cups mozzarella cheese evenly over ricotta-basil mixture. Spoon 1 1/2 cups sauce over cheese, spreading with spatula to cover (sauce will be thick). Repeat layering with 5 noodles, remaining ricotta-basil mixture, 2 cups mozzarella and 1 1/2 cups sauce. Arrange remaining 5 noodles over sauce. Spread remaining sauce over noodles. Sprinkle remaining 3/4 cup mozzarella cheese and 1/4 cup Parmesan cheese evenly over lasagna.
Cover baking dish with aluminum foil. Bake lasagna 40 minutes; uncover and bake until hot and bubbly, about 40 minutes. Let lasagna stand 15 minutes before serving.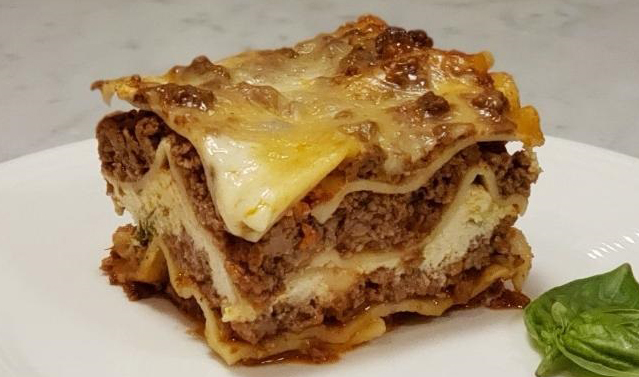 So there you have it.  The ultimate best lasagna ever!  Yes, it does take some time to prepare but it is so worth it!  It is rich, hearty, flavorful, cheesy and delicious! What's great is that you can also prepare it up to one day in advance, refrigerate and bake the next day.  Just cover tightly with plastic wrap and refrigerate overnight.  Definitely give this one a shot and treat your loved ones to the best lasagna ever.  Your significant other and family will love you for it!  Heck, this lasagna convinced my hubby to marry me! LOL!
Bon appetit and let me know what you think!