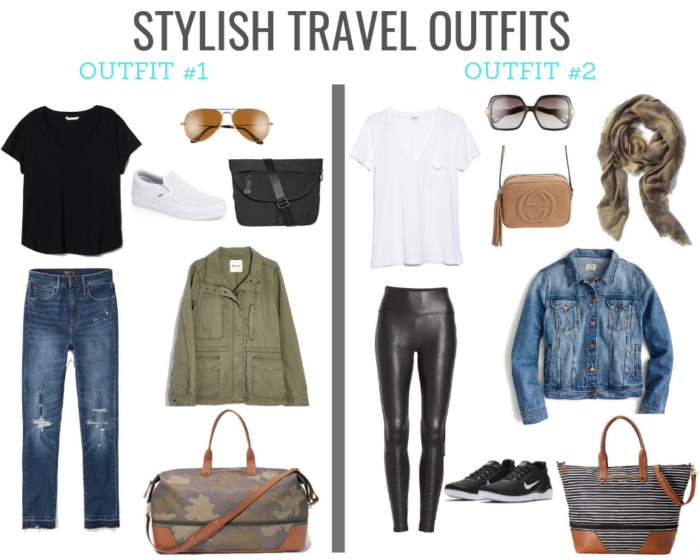 The Perfect Comfy & Stylish Travel Outfit
Are you heading out on vacation soon?  If yes, so exciting but the lead up can be a little stressful too.  What will the weather be like?  What should I pack?  And one of the things I always struggled with was what to wear to the airport?  The dilemma is you want to be comfortable but still stylish at the same time and not look sloppy when you arrive!
Guess what it is possible!  You don't have to sacrifice style for comfort!  Layering is key!  Especially if you are travelling from somewhere cold to somewhere warm and hot!  Wear a lightweight sweater or sweatshirt over a t-shirt or tank top.  That way once you arrive you can easily take it off, wrap around your waist or throw into your carry on bag.  If you're in a really cold climate layer on a poncho or a lightweight jacket as well.  I personally love utility jackets and jean jackets because they are versatile and you can also wear them on cooler nights or days on your vacay!  Another great option that's so on trend right now is the cozy Teddy jacket.
And as always accessories do make the outfit!  Throw on a great pair of sunglasses, the perfect crossbody bag or tote, a cozy scarf and a super roomy and stylish carry on and you are set!  Need a little travel outfit inspiration? Check out two of my favourites below!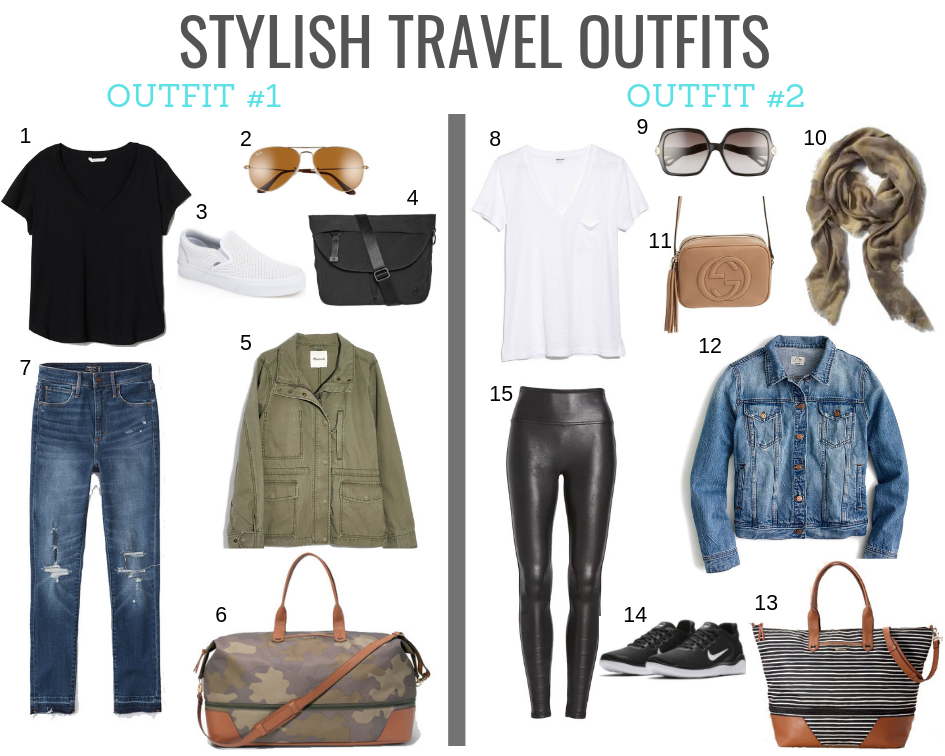 Outfit #1
Outfit #2
These outfits include everything you need for the perfect comfy and chic outfit that will have you traveling in style!
Chic and comfy jacket that you can layer on
Comfy bottoms like Boyfriend jeans, skinny jeans, leggings or jogger pants
Comfy shoes like loafers, ballet flats, sneakers and running shoes (anything slip on is the best for getting through airport security fast too!)
T-shirt or tank top
Great bag
Sunglasses
Roomy Carry-on bag
I know, the Spanx faux leather leggings look a bit intimidating.  But trust me, best purchase ever.  They are so comfortable and look great on!  If you can't bring yourself to do it, another great option with outfit #2 is a pair of stylish but comfortable joggers.  My personal favourites are the Community Cebu Joggers at Aritzia!  Plus add on a cozy sweater or sweatshirt for layering.  I personally love cardigans that you can easily take off when you arrive and just wrap around your waist or throw into your bag!
Hope this helped take the stress out of getting ready for the airport! Have fun pulling together your travel outfit!  And wherever you're headed, safe and happy travels!
Disclaimer: This post contains affiliate links.  If you make a purchase after clicking one of these links I may receive a small commission.