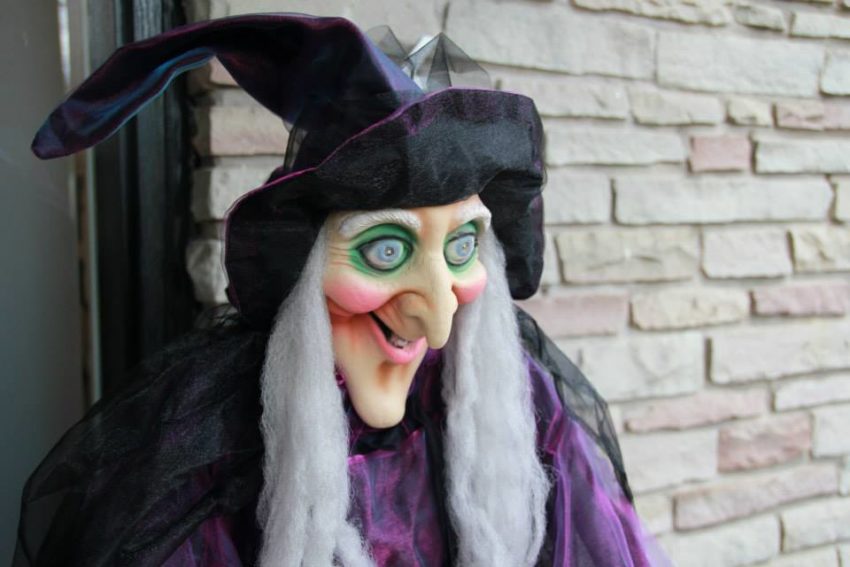 Easy Halloween Decorations to Spook Up Your Home
I can't believe we are less than a couple weeks away from Halloween and I have to be honest I am so behind this year!  We usually get geared up to throw our annual spooktacular Halloween party – we are going on year 7 now!  And of course no Halloween party or trick or treating for that matter is complete without a haunted house to go with it!  We go all out decorating every nook and cranny of our house, inside and out!  And of course we all do it together – even the hubby who hates Halloween (I know, how wrong is that!) has to help out and climb on the roof for us!
After the mad frenzy weekend of decorating inside and out, today I thought I'd share a few quick and easy ways to decorate your own home for Halloween.  Everything you need for getting your home spooked up for Halloween you can find at your local Dollar store, Amazon and Party City.  And for my friends down south of the border, Target is the best for Halloween!  Oh how I miss it!!  Plus I found some great stuff on Ebay, Oriental Trading, Aliexpress and at Canadian Tire this year too!  Looks like everyone is getting into the Halloween spirit this year!   Some of it's creepy, some of it is kid friendly cute and some of it is gothic glam – but any way you'll take you're Halloween, I've got you covered and have some tips and ideas to get you all set and ready for October 31st!
Haunting begins outside
For many of us most of our Halloween decorating efforts are for outside since that's what trick or treaters and passerbys will see the most!  There are so many themes to choose from!  You can pick a theme like a witches lair, a house infected by giant spiders, an asylum, graveyard, the spooky list could go on!  Or just go with a standard creepy haunted house and graveyard that works like a charm every year or us with our trick or treaters!  To create a spooky outdoor haunted house you will need:
Jack o lanterns…you can carve your own or buy a plastic one to use every year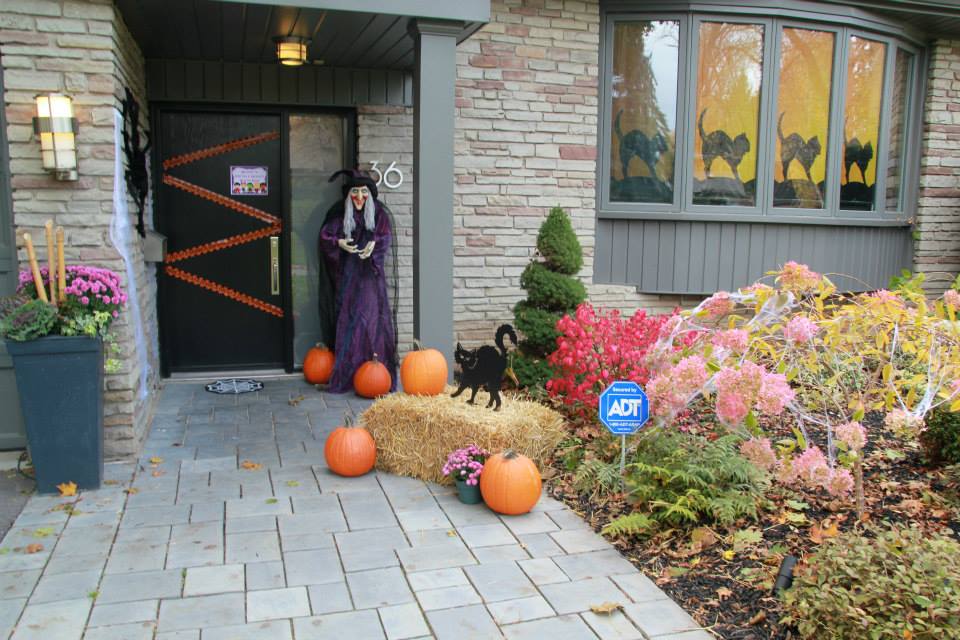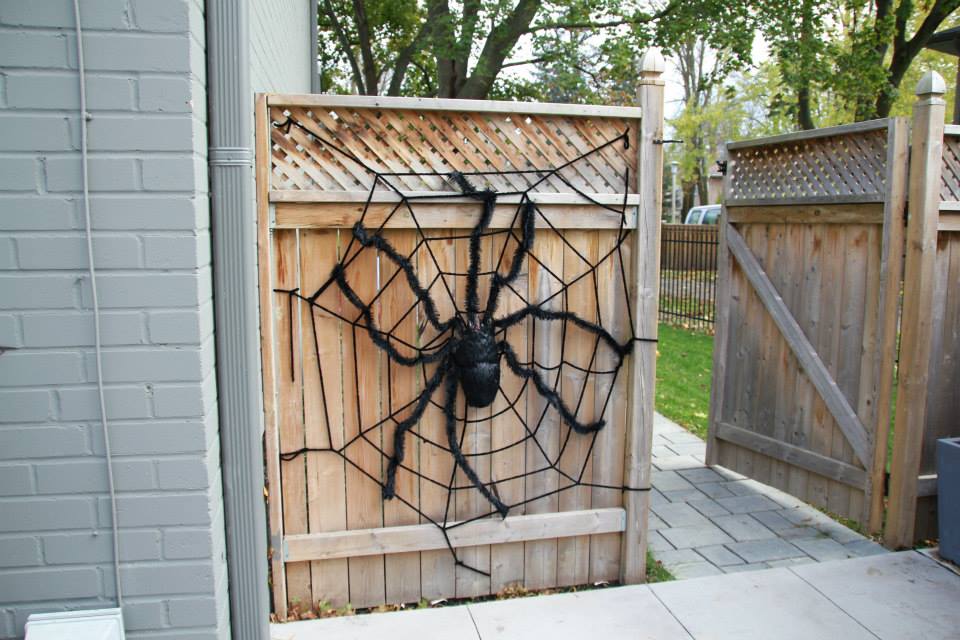 Make a Spooky First Impression
When people enter your home you want them to feel that it's spooky and haunted right away.  You can achieve that with lots of spider webs throughout your front entrance and of course park your witch broom at the door too! Also don't underestimate using other senses as well to create an eerie effect.  Play some creepy gothic music in the background and maybe even invest in one of those spooky screaming doormats that is motion activated.  As soon as someone steps on it a spooky voice starts talking and creepy noises can be heard!  Add in a mini fog machine and some black lights to add to the spooky effect too!  And if you have little ones and that might be too much, there's nothing wrong with just some cute bats, a fun banner like this one (here's a similar kid friendly decorating set) and some spider webs too!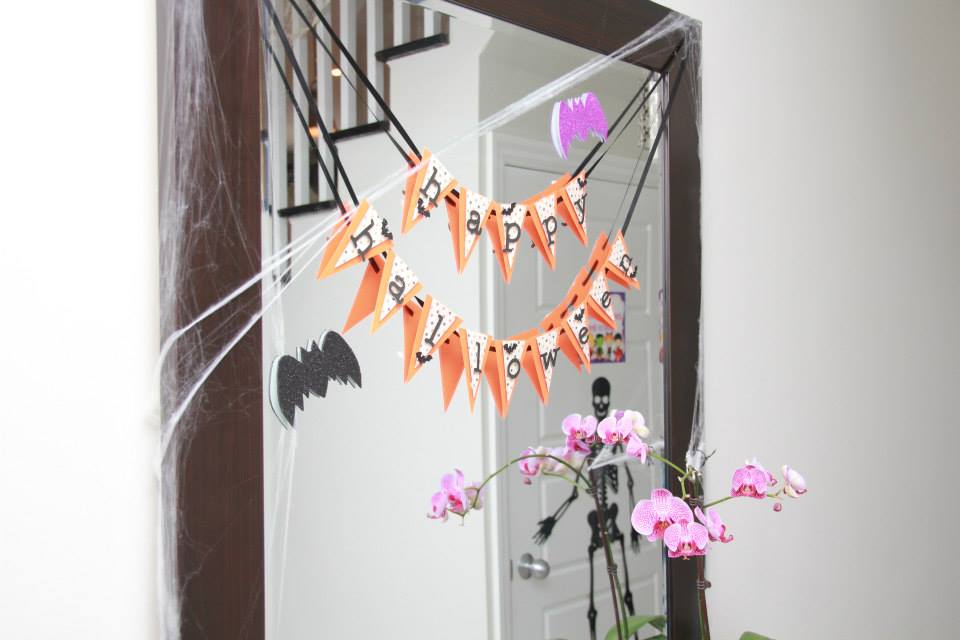 Pick a Spooky focal point
If you have a fireplace in your home, the fireplace mantel is such a great focal point for your Halloween decorating!  Drape it with black creepy cloth, and add older vintage items like books, candelabras, and candles before you add in the creepy items like crows, spiders and skulls!
If you don't have a mantle, you can achieve the same kind of look with a console table, front entry table and sideboard too!  The key is layering on the spooky stuff!  I personally love using wall decals and cutouts to create a spooky wall mural around my focal point!  You can find these on Amazon, Target and even the local Dollarama.  Just make sure to test them out because not all of them can be removed easily – trust me I've learned the hard way!
Creep up your staircase
Cover your staircase with creepy cloth, spider webs and spiders to give the feel of a haunted house!  To add a bit more effect you can even buy cutouts and wall decals of mice scurrying about that you can stick to your stairs!  I've done this a few years now and I can tell you I fool at least one person every year, if not more!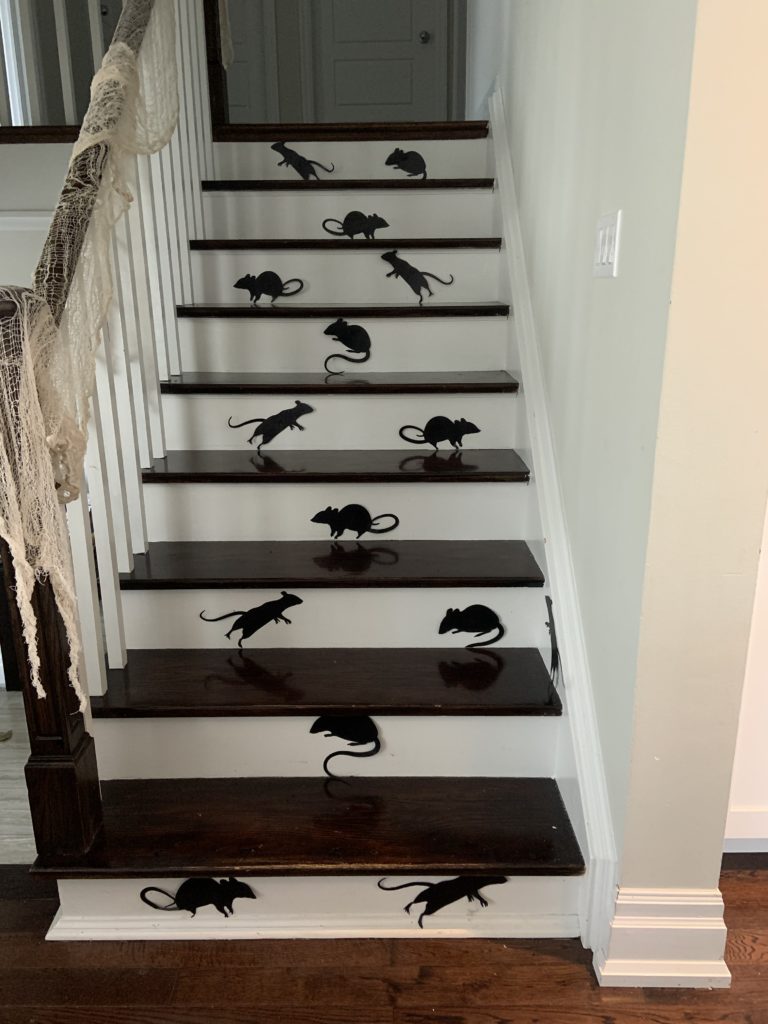 Invite some "old" friends over
To add to our décor we usually create some spooky vignettes throughout the house and even outdoors.  It may be a scarecrow scene at the graveyard, a not so welcoming witch or our pal Mr. Bones the skeleton.  While you'll often find a skeleton hanging from our roof or hanging out in the backyard ready for a photo op, we thought we'd do some new things this year!  We've got a new skeleton looking all dapper and ready for his cocktail lounging in the family room this year and soon enough I think there might even be one ready to man this year's candy bar!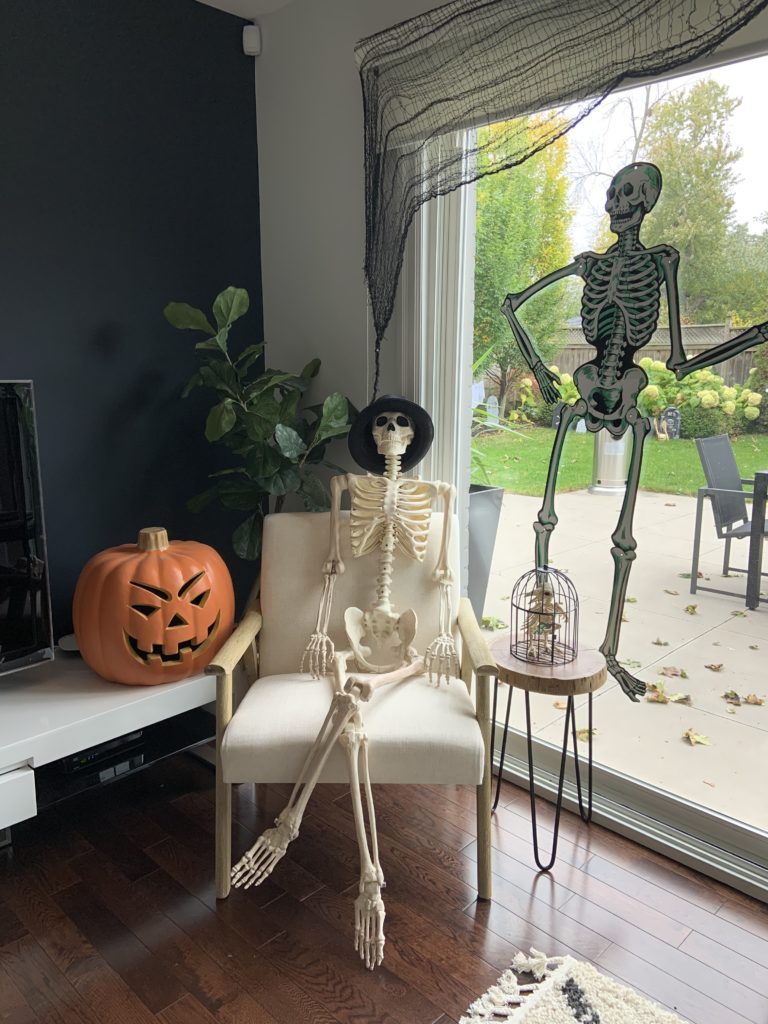 Add some glitter and glam to your BOO!
While the kids have been all about creating scary scenes this year, I do still love a dark gothic look with a bit of glam!  You can find glittery pumpkins, glitzy skulls and banners that you can add to your décor at Target, Amazon, Party City and even the Dollarama.  Add in some new black and white and orange pillow covers to add a Halloween touch to your living and room and use a black lace tablecloth or black and white table runner in your dining room for this glam look.  It still feels like Halloween but maybe a bit more of an adult refined Halloween!
Regardless of the Halloween look or theme you are going for this year, hope some of these ideas help you get your spook on just in time for Halloween next week!