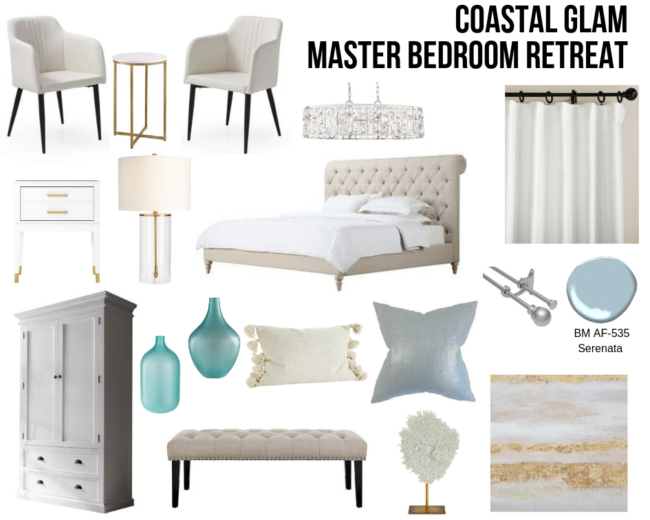 Escape to this Coastal Glam Master Bedroom Retreat!
Hey everyone! It's a rainy day here in Toronto and it's so hard to get motivated or inspired when it's so blah out there.  So I'm going to keep thinking about the sunnier days we just had and keep thinking that summer must be around the corner, it's just hiding!
Speaking of summer, I've been a bit obsessed lately with all things beachy and coastal.  So when my good friend asked me to help her design a new master bedroom retreat for their place, I jumped at the chance to help her out!
It's a bustling house with three busy kids and she and her husband were always looking for a bit of space for themselves.  A place where they could escape, relax, watch TV, read or just enjoy a coffee together.  They decided to take the plunge and add an extension to their home to give them the space they needed to make their retreat a reality!  And I came in to help them out!
Having met this great couple a few years ago we spend a lot of time together and have got to know each other really well.  They're great parents and do so much for the family, that they definitely needed a little something for them too!   So I knew we needed to give them a Master Bedroom Retreat they deserved.  And knowing that their happy place is the Beach and Greece, I decided to go with a serene and luxe Coastal Glam theme for their room.
With this fairly large space of about 500 SF, we aimed to create a room where they could escape and get away from it all.  The overall look and feel of the room was inspired by the beach, the Greek Islands which they love, and the luxury of a five star hotel.  This room would evoke feelings of coziness, calm and serenity while also helping them feel pampered too. Almost like they're on vacation, every day!  The mood board below shows all the elements we'd be working with to make this dream a reality.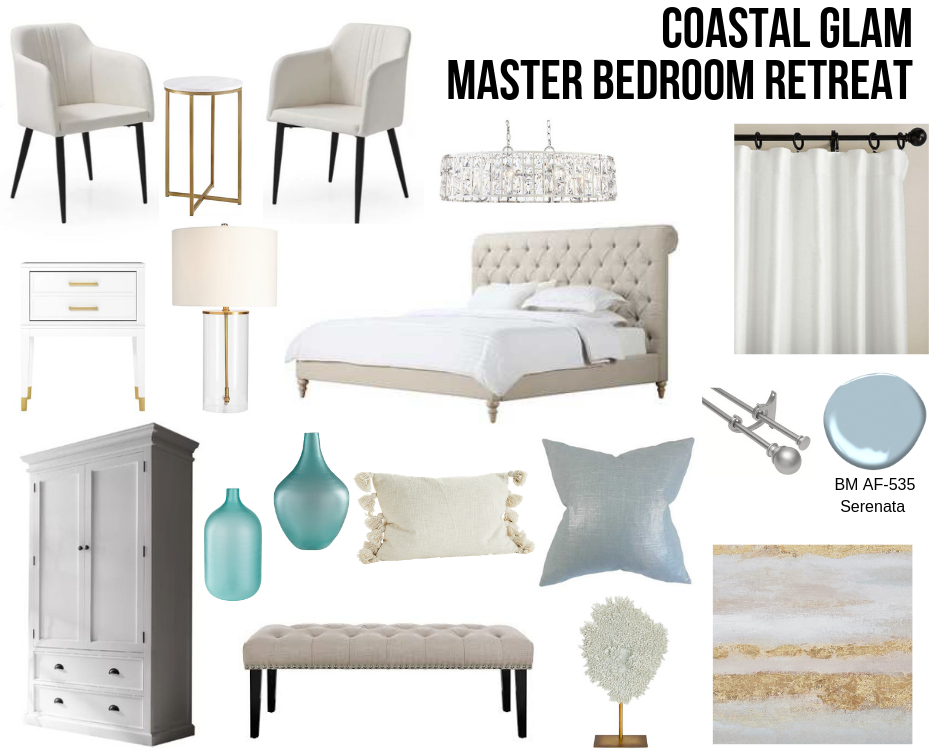 To start with we needed a calming colour palette.  We decided on blues, whites and creams, with hints of silver and gold sprinkled throughout.  We landed on Serenata from Benjamin Moore (AF-535) for the bedroom walls since blue is considered a very serene and tranquil colour, exactly what you need to relax and get a great night's sleep.  Plus it reminded us of the sea and a bright sky above.
We also decided on a plush and stately headboard for the bed which would be on top of a cozy and luxurious rug.   Simple white furniture including a dresser, armoire, night stand and desk throughout the room allow the other elements in the room to pop.
Crisp white bedding, with lots of pillows and throws  add coziness to the room and that hotel feeling.  As does the seating area where they can relax and enjoy a cup of coffee in peace and quiet and catch up on the week.
To add that touch of glam you'll find luxurious and airy silk drapes (you can almost feel the beach breeze floating through them), glamorous lighting with the chandelier over the bed and glitzy table lamps, and hints of sparkle with the mirrors and artwork throughout the room.
And of course no coastal bedroom would be complete if we didn't style up the nightstands and dressers with beachy vases, decorative coral and coastal trinkets and candles of course!
We're almost done this room and can't wait to share it with you when we're finished!  I really hope they love it!  What do you think?  Are you feeling the beach vibes too?  I could totally escape and hide out here!  See you next time and I'd love to hear what you think!