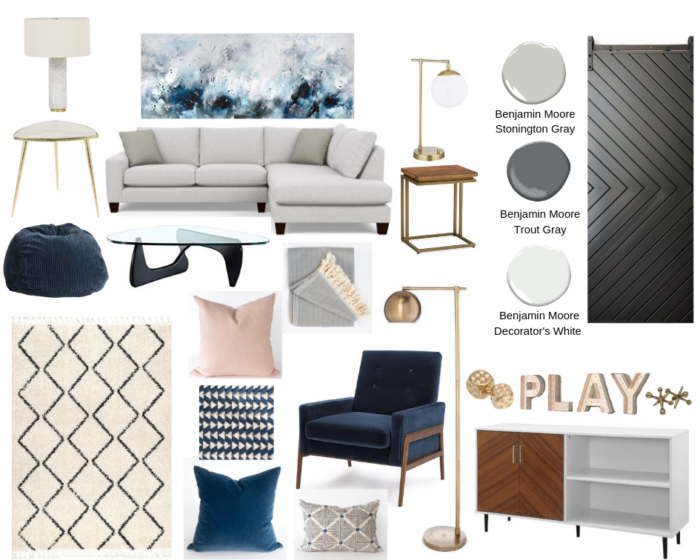 Reno Progress & Our Basement Family Room
New week, new opportunities! Had a great weekend with the family which I can say I really needed.  Last week ended up being a bit of a gong show with our basement renovations.  The one thing I have learned after years of renovating is that you should always expect the unexpected. SH@# happens…and honestly don't sweat the small stuff and stress.  It'll all get done and be beautiful in the end!
At the beginning of the week, I was so excited because our countertops were coming and were going to be installed!  As soon as that would be done my gorgeous backsplash and faucet would be installed and I would have that beautiful laundry room of my dreams!  I was with the kids at baseball and my husband called me to break the news – they brought the wrong colour!  We had ordered a pure white quartz and they delivered (and almost installed!) a dark grey.  It actually didn't look half bad but it wasn't what we wanted and it was no way going to coordinate well with the sink and faucet I had bought.  So instead of it all being done last week we had to push everything out by a couple more weeks to have the new counters cut and installed.  And then everything else will hopefully fall into place.
Then we were having our new sectional delivered on the weekend.  I had carefully taken measurements of the extra large sectional and of the space we were putting it into.  I also measured the doorways, the hallways and the stairs.  I even called the owner of the furniture store before placing the order and he assured me it would fit after I gave him all my measurements.  I should have trusted my gut on this one.  The sectional arrived and there was no way it was going to fit through the stair way.  We tried everything and it wasn't happening.  We even allowed the delivery people to make a huge dent into our front hallway wall and it still wasn't budging.  It's now in our garage just waiting to go into it's home in the basement.  We did find a solution though – we've got a retired upholster coming over to work his magic!  He's going to to take it apart, cut it in half, we'll move it down and then put it back together again!  Sounds crazy right?  It kind of is but when there's a will there's a way!!
So after all that, I realized I haven't actually shared much about the basement family room design, aside that it's going to be a lot of things for the family: a media room, a family room, a kids gaming room and family play space and an office.  That's a lot to ask for from just over 200 SF don't you think?  It's all about utilizing the space you have to the max, picking the right furnishings and fixtures and making sure you pick out things you love!  Here's a peek at how we're making it happen, starting with where we started with the design mood board and where we've evolved to now!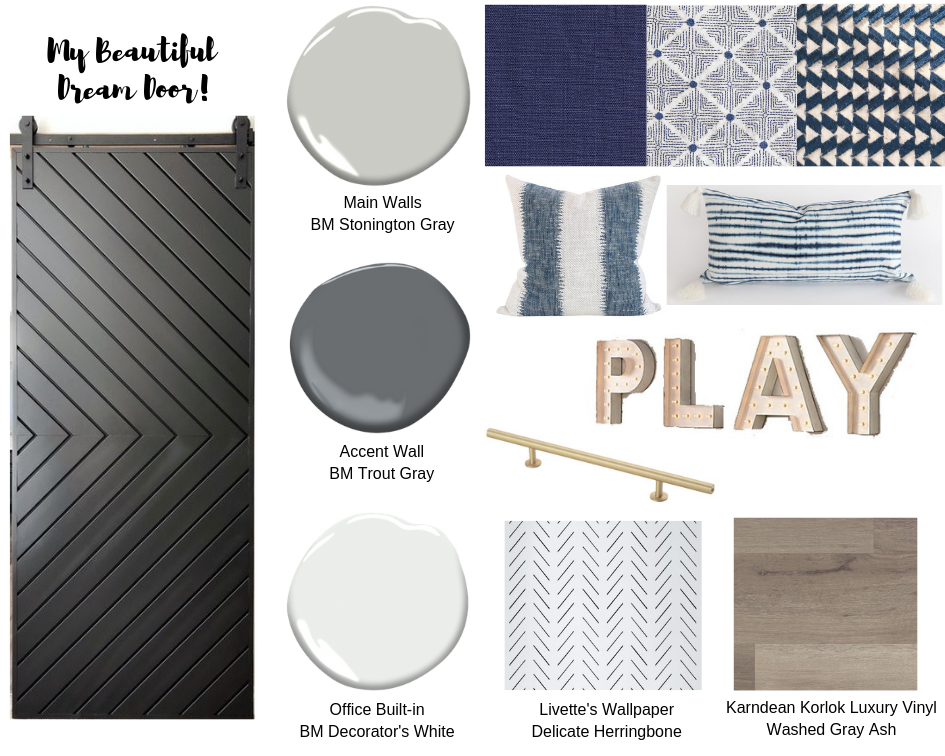 And getting a lot closer to the finished product with this one!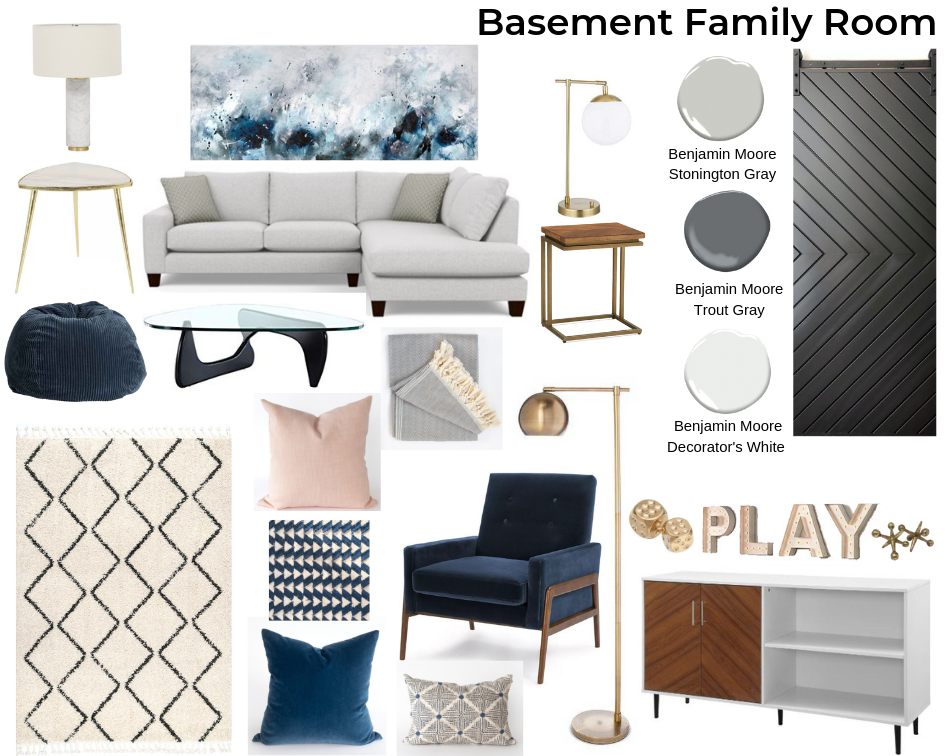 This basement family room is all about being cozy, chic, modern, playful and fun with just a touch of luxe thrown in!
The colour palette we decided on includes shades of gray, navy, and white with splashes of pink and mauve.  What I love about this colour palette is that it's neutral enough that I can easily switch things up by injecting a new accent colour into the mix.  To cater to both the boys and gals I'm mixing navy with pink and mauve for now, and really how pretty is that!  But I can easily swap in a pop of mustard or teal in the future to completely change the look and make it a bit more mid-century mod!
We're keeping the space cozy by using an extra large sectional that the whole family can lounge on as we watch a movie together or maybe even a basketball game!  Let's go Raptors!  Come on I had to throw that in there!  Plus with lots of pillows, a soft rug underneath and warm throws you can't help but feel cozy and comfortable!
For the luxe factor, I've added in elements like marble, gold and brass in the lamps we picked, the side tables and even the hardware on the built-in office unit.  I think we're striking the right balance of luxe without being too over the top.  And I really love the globe lamps, they give the room a fun mid-century mod vibe!
And for our modern and playful factor, it's all about keeping it fun with geometric patterns like the chevron and herringbone that's carried through, the large gamer chairs for the kids, the fun accents throughout and some personalized art that we're not quite ready to share just yet!  Another future post also includes some of the other personalized items in this space like the big chevron door we're building (well really, my other half is building) and the super long super luxe TV stand we're putting together that's actually an Ikea hack!
Now back to art, I'm still not sure about the artwork over this extra large sectional – did I mention it's almost 11' long!  I need something big and I also want it to be fun!  I had this great idea but I was quoted around $6,000 so we definitely threw that idea out the window!  Why is it my brilliant ideas have to cost too much!  I'm sure I'll think of something else but if you have any ideas I'd love to hear what you think!
That's it for now!  I'll keep you posted on the new counters.  They're now being installed next week.  Fingers crossed they're the right colour!  And I'll let you know about our little experiment with the sectional!  I'm staying positive and I'm sure it'll all work out!  I'd love to hear what you think!  Talk soon!