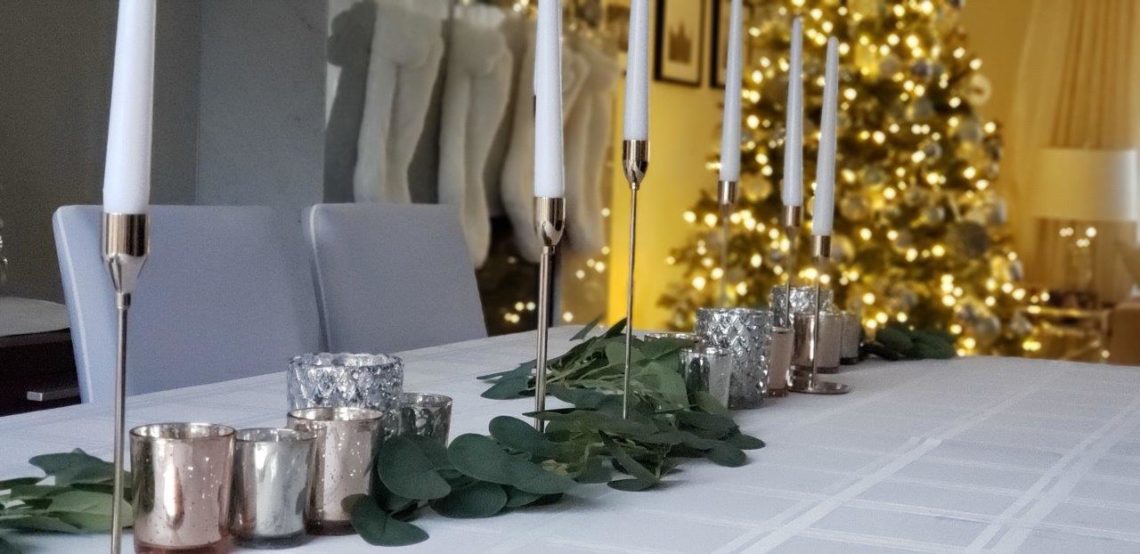 How to Create an Easy & Beautiful Christmas Tablescape
Christmas is less than a week away and if you're hosting like me, you're probably already thinking about how to decorate and set the Christmas table.  Amongst all the other things you might need to do to get ready this task does not need to be stressful.  In fact it's pretty easy, it doesn't have to cost a lot and you can do it in no time!  I've been playing around with a few different looks for the table this year – we'll be seating about 20!!  Here are my top tips on how to decorate your Christmas table and a few peeks into this year's tablescape at our place that I pulled together for some inspiration.  It's super easy and festive too – I promise!
So this is what our table will look like.  We're going silver and gold and elegant!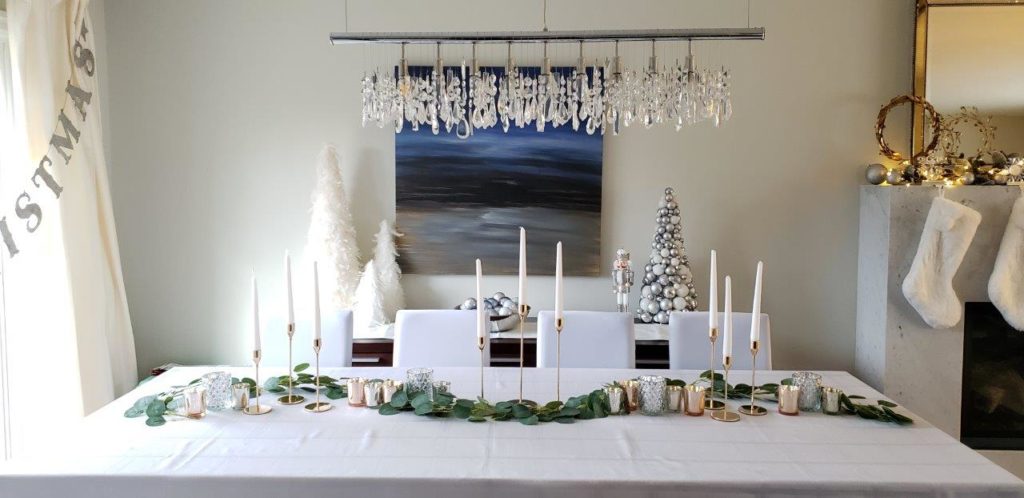 And here's how you can do it too!  Or something similarly beautiful!
Pick a theme and your linens
First off I always start with a theme or colour scheme.  Take some time to decide if your table will have any theme.  For example will it be modern, elegant, natural or rustic.  Trust me the list could go on! Also do you have a colour scheme that you will be working with?   Also remember to take cues from the Holiday décor you already have up.  For example if you have a very opulent and elegant looking tree, it would make sense that your tablescape mirrors that. I usually suggest starting off with neutral linens and go from there.  Start with a crisp white tablecloth like this one.  Or for a more casual look you can go with a table runner or place mats.  For a more natural or rustic look I really like this burlap runner as well as this burlap lace trimmed runner.  If you want to do something to evoke that Cabin feel,  I love the look of this red and black buffalo check runner – and it's reversible!  Again, all from Amazon!!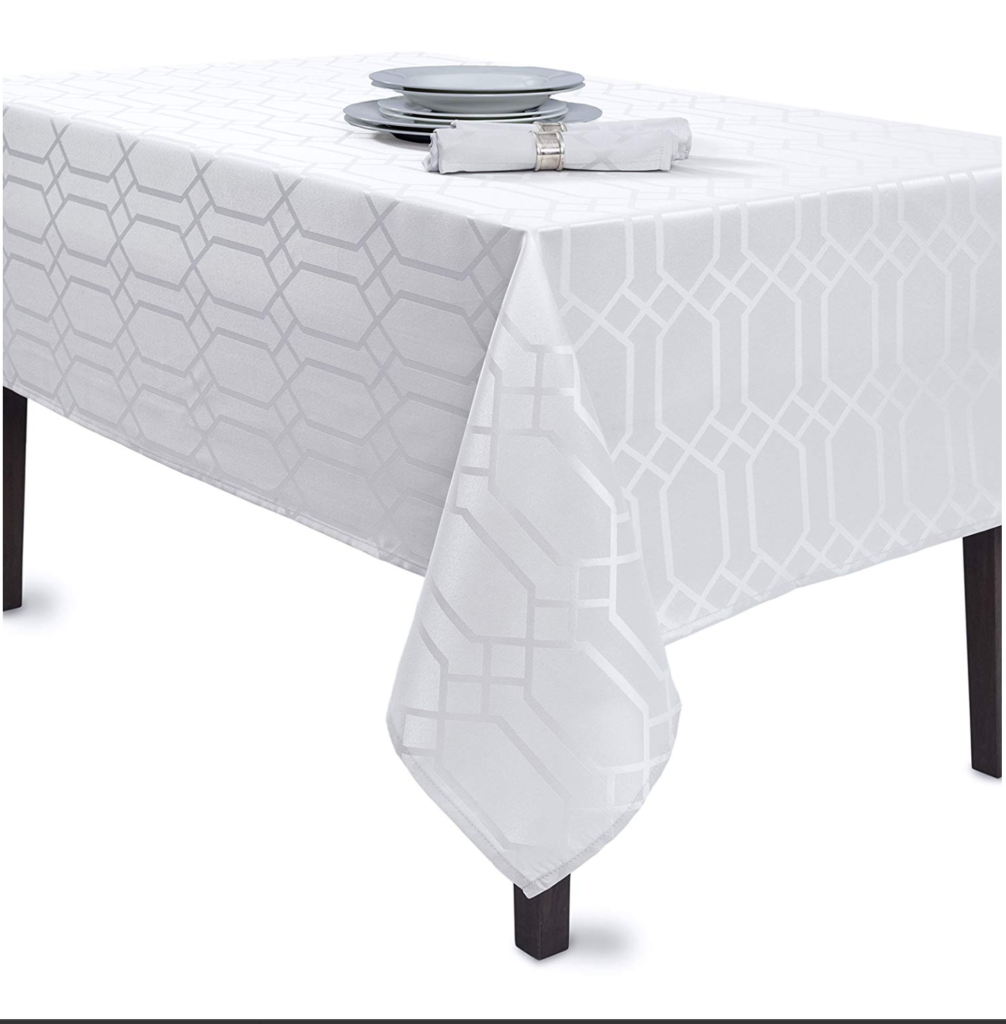 Add candlelight
Glimmering candles add warmth and soft light to the table.  Especially with kids, a great option is the huge variety of flameless candles.  I love to add varying heights and types to add interest to the table.  The only advice here is to remember not to go too high with your heights as you want to make sure people can still see each other during dinner – or just make sure to leave lots of space between.
I'm so excited to have found this tall candle holder set in a beautiful gold tone that look just like ones I had found at some of the more expensive boutique home décor stores.  And I honestly can't get over the Mercury glass votive holders that I found in silver, gold, and this gorgeous patterned version.  They really remind me of ones at Pottery Barn and Anthropologie but at a fraction of the price!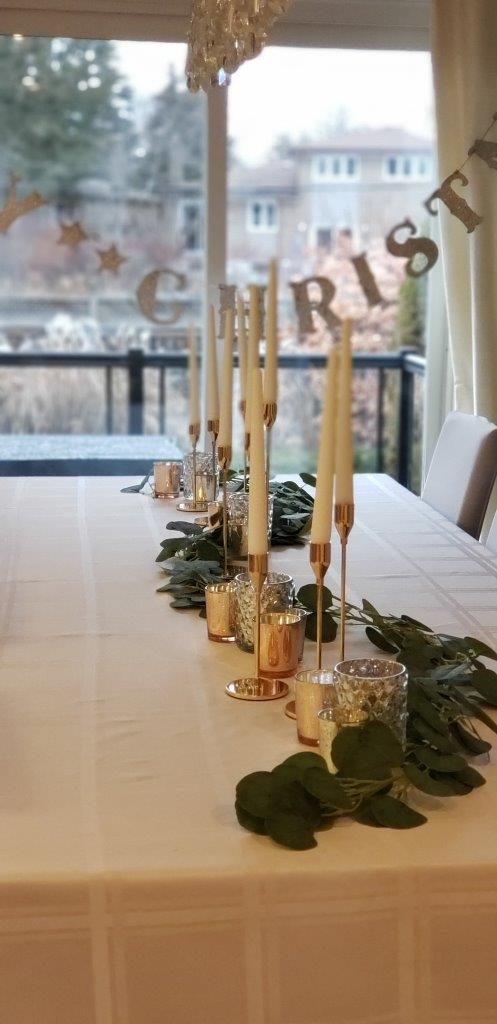 Add some Greenery or Foliage
Given the time of year you can choose to go with some natural greenery like cedar, pine and boxwood for a festive and pretty look.If you really want the easiest greenery solution and can't find any at your local store, pick up some eucalyptus or magnolia garlands from Amazon and spread them down the length of your table.  These are some very realistic looking options that will work once you incorporate with everything else on your table like this one I picked up!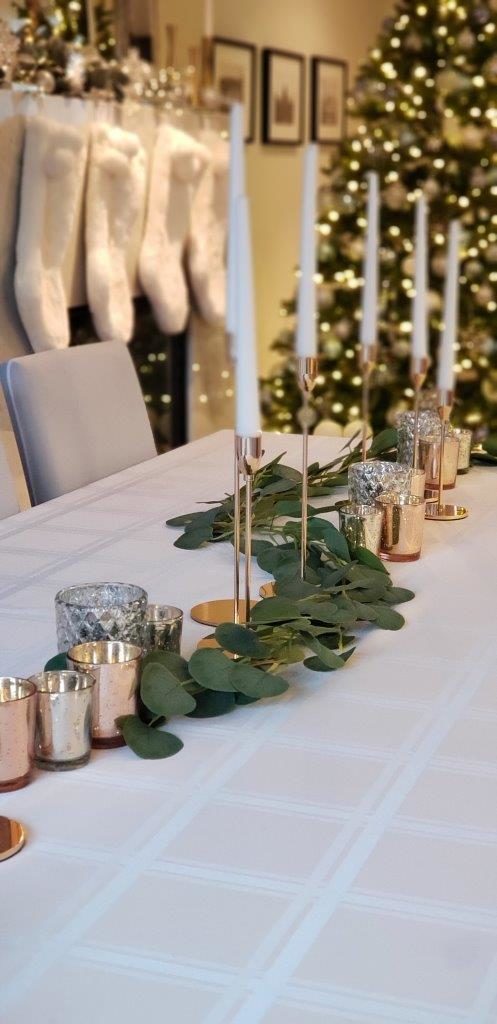 Add flowers
If you're like me and love the look and smell of fresh flowers then definitely create your own festive floral centerpiece.  My sister and I love flowers so every year one of us will take on the task of making floral arrangements for the Christmas dining table.
A really easy centerpiece can come together with just a few things that you can get from a local flower market or your grocery store that carries flowers.  Use a round or square vase and fill it with beautiful white and green hydrangeas.  Then add in some roses and other pretty blooms like ranunculus, as well as some fresh winter berries, holly and some evergreen greenery. That's all it takes and you've got a stunning centerpiece that you can make in under 15 minutes!
If you are using fresh flowers buy them 1-2 days in advance to make sure you get what you need.  Don't make the mistake I made a few years ago of thinking you'll find all the flowers you need on Christmas Eve!  And make sure to put them in the refrigerator until you need to use them to keep them fresh!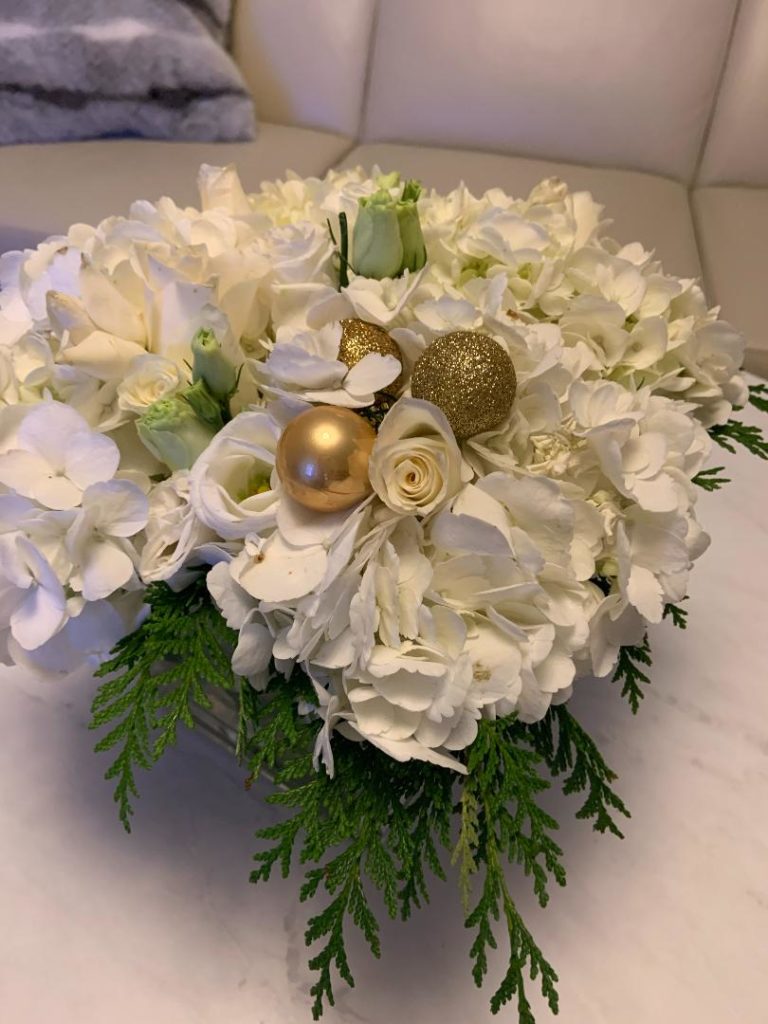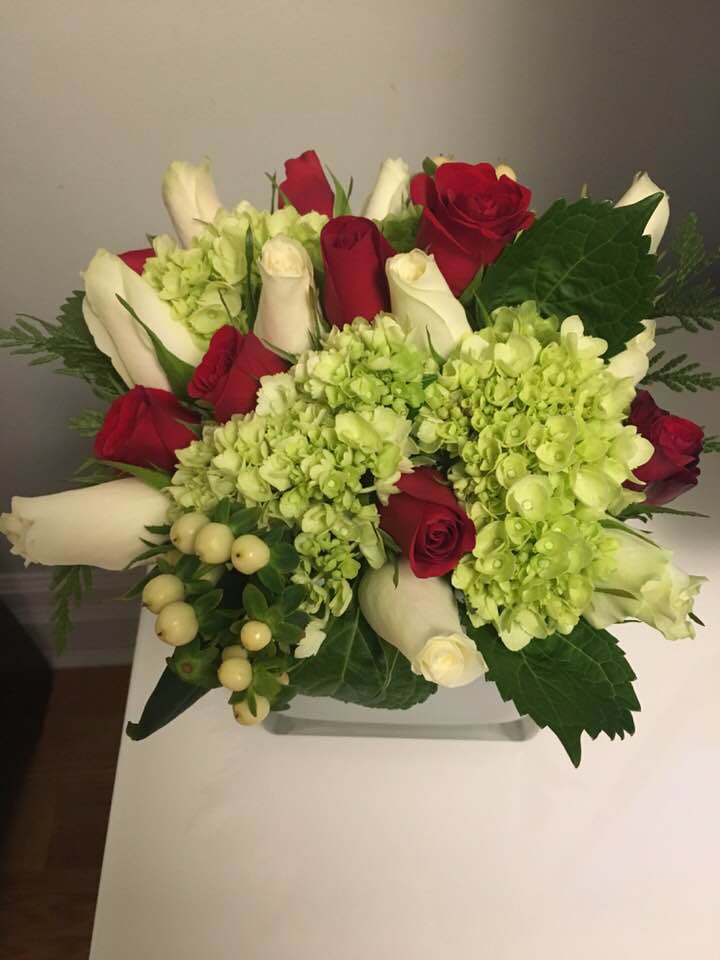 Pretty Place Settings
Create some pretty place settings by simply folding a napkin on top of the plate and adding something seasonal on top like a sprig of cedar greenery, a little present, bells or a tiny Christmas ornament.  You can also add little handwritten notes wishing them a Merry Christmas!  Whatever you decide it doesn't need to be fussy or complicated!  Some of the supplies I have used in the past include include this Baker's Twine, Ribbon, Jingle Bells, Ornament Placeholders, and Gift Tags.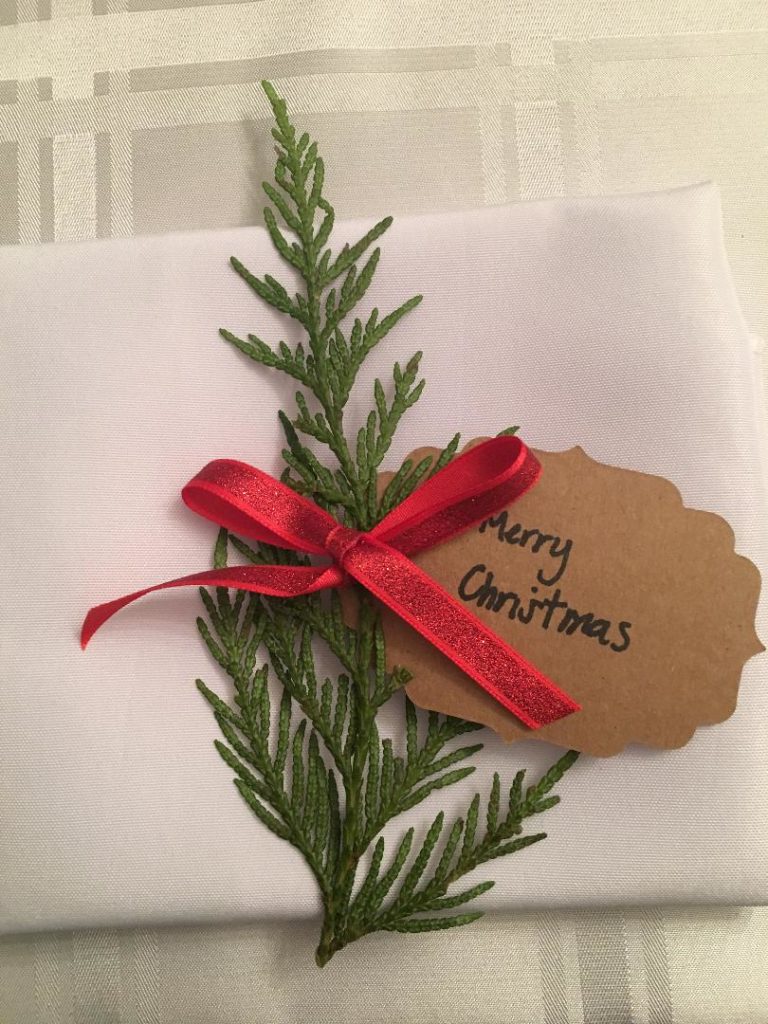 And voila our final Christmas tablescape for this year!  I may also add some fresh flowers and of course our individual place settings but I think you get the idea of the modern yet elegant theme I was going for!
You can get most of your supplies at your local Michael's or local nursery or flower markets.  I have to say for my table this year Amazon has saved me!!  Aside from the flowers I got everything from Amazon.  And with less than a week away, Amazon Prime is your best friend here!
So there you have it, a few simple tips to help get your table ready for Christmas Have fun creating your tablescape, I'd love to see what you come up with!
Disclaimer – This is not a sponsored post however there are affiliate links in this post.  If you do make a purchase I may receive a small commission.