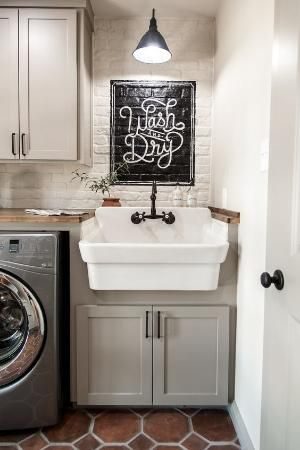 How to Pick the Perfect Farmhouse Sink
Hey everyone!  I think it's been a couple weeks since I posted about our basement renovation project!  Well happy to say that the washroom is really almost done – just some finishing touches and we're there!  And the storage room is done too!  We got this great closet system from Closetmaid and some shelving and the hubby installed it all himself!  I just love when I give him projects to do…just wait and I'll tell you soon about a pretty exciting and spectacular one he's agreed to tackle!
For the rest of the basement we're in a bit of a holding pattern.  I'm still figuring out furniture and all the finishing touches for the family room design and we're also waiting for the new laundry room cabinets and counters to be installed.   One of the decisions we're still trying to make about the laundry room is kind of a boring one, but I'll tell you about it anyways!
What style sink should we get?  And in what material?  Yeah, I know, not super exciting of a topic but it actually does matter!  You'll notice on my Laundry Room Design Board I had chosen a simple yet large stainless steel sink.  But something inside me keeps pulling me towards a classic white farmhouse sink!  So here's where we are torn and the true Libra in me comes out!  Of course I had to weigh all the options, the pros and cons and also do my research on materials so that we could make the right decision!
So today for those of you renovating your laundry room, your kitchen or just have an interest in sinks (hey, maybe it's a thing), here's my rundown of the pros and cons of the classic farmhouse sink in different materials!
First off let me start by saying I love everything about the farmhouse sink!  Not only do I love the look and that it makes a statement but also that it is so functional.  We have a large Blanco stainless steel sink in our kitchen and it was the best decision we had made when we designed our kitchen!  It fits so much (even when those dishes pile up!)!  So I know that the extra wide size and depth of a farmhouse sink will be great for our laundry room!  And it was an easy sell to my husband.  What my modern hubby wouldn't buy into was a traditional apron front sink…but at least I got him to agree to a single bowl extra large sink that's super deep…the key was not calling it "farmhouse"!
Now onto the materials because I think that is probably the bigger question – which one do we buy and install?  Check out the pros and cons below of the main farmhouse sink materials to help you pick the best sink for your kitchen or laundry room!
Fireclay Sink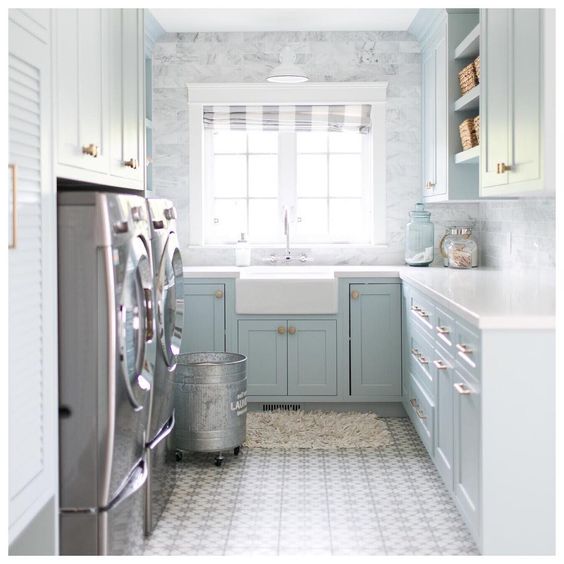 The Fireclay sink is your most traditional farmhouse sink.  It's the most traditional looking and it's also the most expensive.
PROS:
Looks beautiful and is definitely a showstopper in any kitchen or laundry room – aside from the super glossy shine this sink is classic and timeless
Very durable
Chip, scratch and stain resistant
Also resistant to staining, fading or discoloration
Very easy to clean – just wipe it
Rust proof
CONS:
Very expensive – probably the most expensive of all of the options!
Although very durable, if something very heavy were to drop in the sink it could crack
Heavy material will need extra reinforcement and will be a bit more difficult to install
Stainless Steel Sink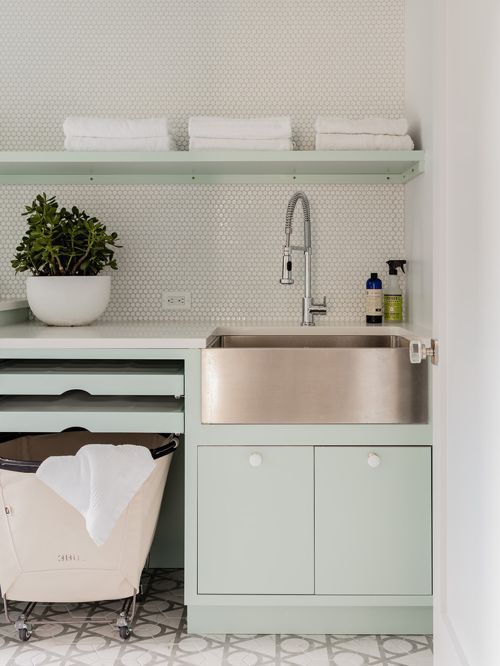 This is probably the most popular and accessible and affordable sink material there is.
PROS:
Fits well with both traditional and more modern kitchens and laundry rooms
Highly affordable – probably the cheapest option of all materials (also depends on the gauge)
Matches most appliances since stainless steel appliances tends to be the norm these days
Very resistant to high heat and stains and will not chip or rust
Easy to install because it is light
CONS:
May not blend in as well in a more monochromatic look or a rustic look
Tends to scratch and dent – easily shows scratches and water marks
Noisier option than others
Copper Sink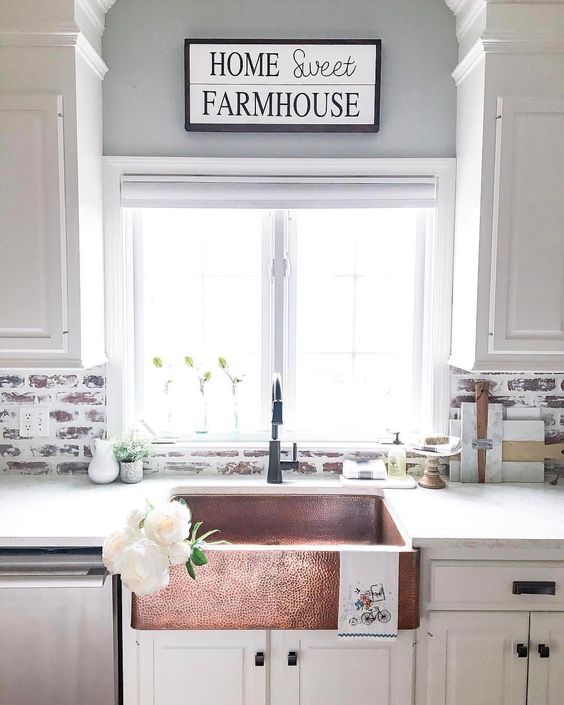 The Copper sink is a very unique and rustic look.
PROS:
Stunning focal point in a traditional kitchen or laundry room
Very durable – Copper is naturally stain and scratch resistant
Also copper is naturally anti-microbial (perfect for a germ free kitchen)
Rust proof
CONS:
More expensive than other materials (aside from Fireclay)
Extra TLC is needed for maintenance and everyday use
Harsh cleaning chemicals could ruin the sink
Everyday exposure to heat, or acidic foods and liquids could damage it (even lemon juice or orange juice!)
Will darken over time
Natural Stone Sink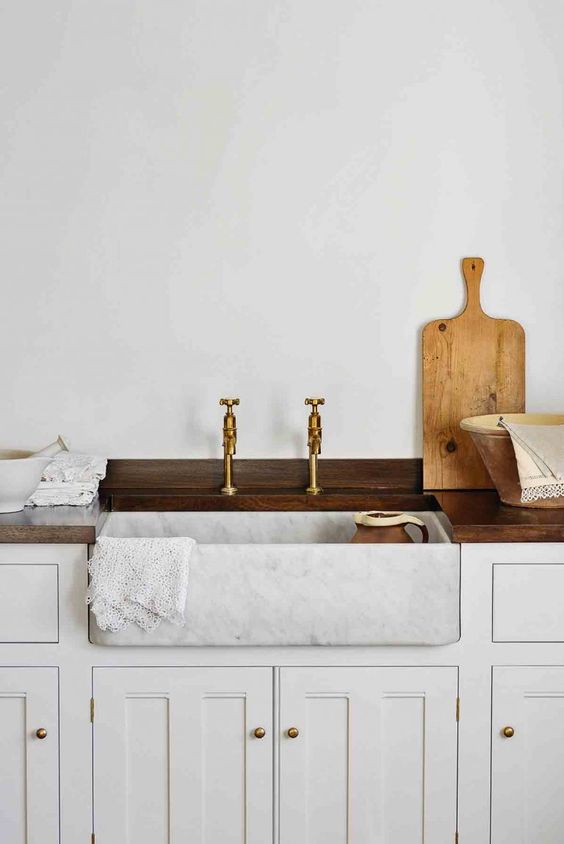 Natural Stone sinks are probably the most unique looking of the bunch.
PROS:
Very unique looking as every natural stone sink is cut from a single block of stone
Highly durable and heat resistant
Easy to clean
CONS:
Will need to be re-sealed every few years to prevent damage
Expensive
Heavy and will need extra reinforcement and care in installation
Acidic foods and liquids could damage it and alter the finish
Can't use harsh chemicals or abrasives in cleaning as it will damage the stone
Cast Iron Sink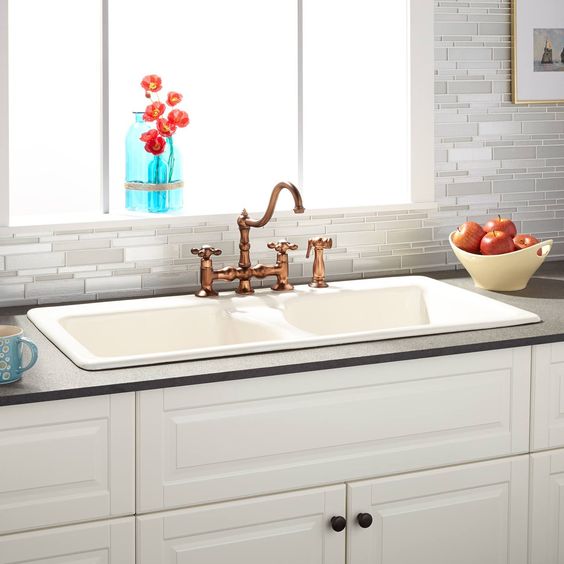 The Cast Iron sink has been around for ages.  It's timeless and very traditional.
PROS:
CONS:
Very heavy and will need extra reinforcement and will be a challenge to install
Can chip and discolour
Easily stains – even food left in the sink for a long period of time could stain the surface
Need extra precautions when cleaning – can't use abrasive materials as it will scratch
Porcelain Sink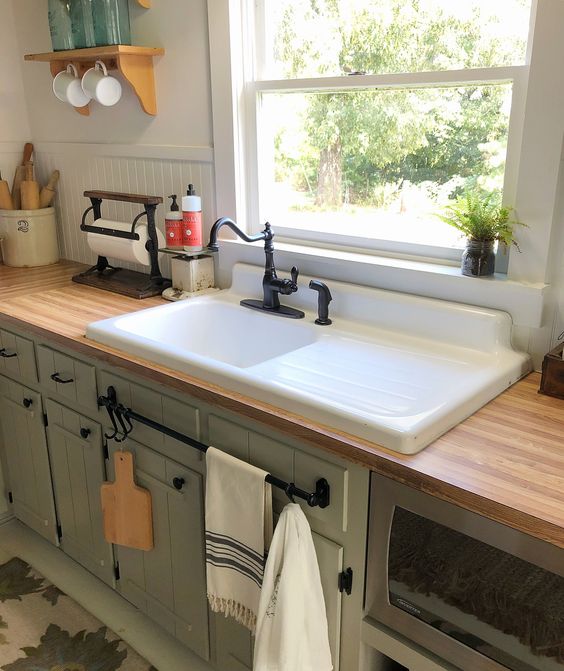 While not often used in kitchens anymore, you can find them in lots of colours and finishes.
PROS:
Very affordable
Comes in a lot of colours and finishes
Very heat resistant
CONS:
Not very durable
Very fragile compared to other materials
May chip or crack
Harsh cleaners and chemicals may damage or ruin finish
Probably better used in a bathroom
Granite Composite Sinks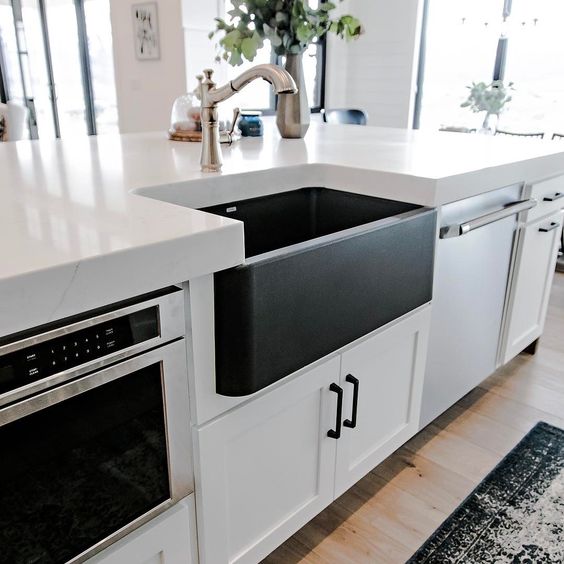 The Granite Composite Sink is probably the most durable of the bunch due to it's being made of a combination of granite and resin.
PROS:
Very durable – probably one of the most durable materials as it is a combination of granite and resin
Scratch and stain resistant and does not fade
Affordable – while more than stainless steel it's a lot less expensive compared to fireclay
Very easy to clean and doesn't require harsh chemical cleaners
Comes in lots of colours
CONS:
Only comes in a matte finish so you won't have that glossy/shiny look
Very hard material so if used in a kitchen glass any glass that drops in there could break easily
Possibly not as heat resistant as other materials
So there you have all of our research in a nutshell!  SO which one is the best one?  It really all depends on where you plan on using the sink and also some other factors that include design, functionality, maintenance and of course budget too!
Which one did we pick?  Well that's going to be a surprise – for both you and me at this point.  Being the undecisive Libra that I am I ended up buying the Stainless Steel one and also a white Granite Composite Sink.   Don't worry I can return both!!  The laundry room cabinets are being installed next week, so let's just say it's going to be a game time decision!
Who knew shopping for a laundry sink could be such an ordeal!  I hope this post will help you pick out the right sink for you home project!  I'm pretty sure it did for me!  Until next time – ciao for now!