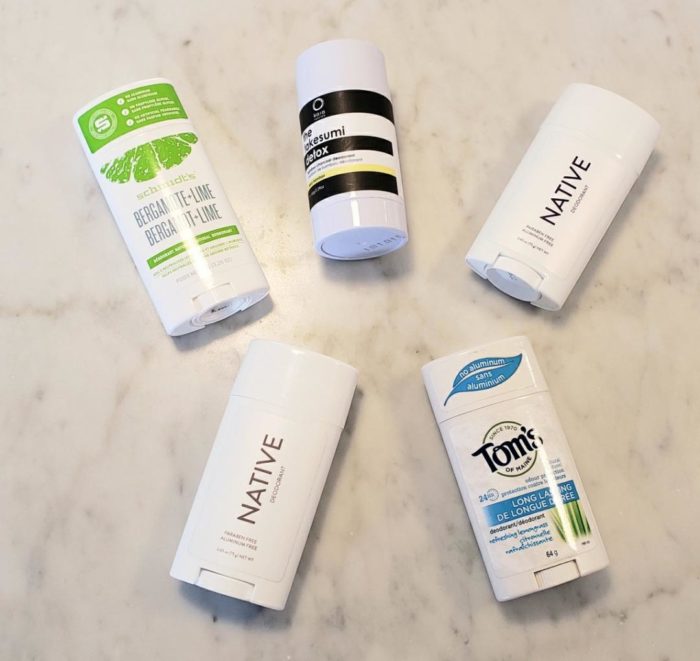 Make the Switch to Safer Non-Toxic Deodorant!
As many of you know for the last year and half I've been really focused on looking for safer personal care products for me and the family!  It's been my mission since I had an accident and started learning more about the health effects from the things we eat and the things we put on our bodies.  We only have one body, so we have to protect it.
I haven't posted on here in a while about my quest for safer health and beauty products for me and the family, so shame on me!  No seriously, we've been a bit busy but also wanted to make sure we're really testing things out and only recommending high quality products! Plus with all this Spring cleaning going on, what better time than now to focus on cleaning up your beauty routine, and your personal care routine.
One of the first things I highly recommend everyone swap out to something cleaner and safer is something most of us use every day – your deodorant!

Aside from the fact that most conventional deodorants also act as antiperspirants clogging our pores and preventing us from sweating (our body's natural way of detoxifying), did you know that many of them are also loaded with  toxic chemicals that are absorbed into our bodies and are harmful to our health?
Most conventional deodorants have aluminum, parabens, triclosan, steareths, triethanolamine (TEA), diethanolamine (DEA) propylene glycol, artificial colours and fragrance, which while it may sound like nothing could really mean anything and everything under the sun.  These harmful chemicals wreak havoc on our bodies and have been found to cause not only allergies and skin irritations at a minimum but are linked to hormone imbalances, higher rates of breast and prostate cancer amongst other cancers, Alzheimers, neurotoxicity and can lead to damage to your central nervous system, heart and liver.  Convinced to make the switch yet?  I sure hope so!
Over the last 6 months I was on a mission to find the best safer deodorant. And I brought my hubby along for the ride. Together we tested out some of the natural and safer deodorants on the market and put them to the test of going to the gym, the heat of our Florida vacation and just plain everyday life.  Our criteria was based around making sure it had safe ingredients, was rated well on the Environmental Working Group (EWG) Skin Deep database or the Think Dirty app, the texture, how it felt to apply and how it felt on, the smell and of course how effective it was and for how long.  Plus we also considered cost because come on, who doesn't like to save a little money! Here are some of the deodorants the hubby and I tried out, what we thought of them and our top picks!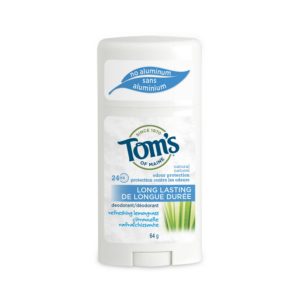 This brand is a natural deodorant and retails in Canada for about 6.99.  You can find it online at well.ca and Amazon.ca but can also find it at your health store and even Wal-mart.  It has no aluminum, no parabens or petrochemicals and no artificial fragrances or preservatives. So from a safety perspective this is great! Until you dig a bit deeper.  It does have naturally derived propylene glycol, so is it really safe?  The EWG gives it a 1 rating so we decided to give it a shot. When you first put it on it's a little too wet, and almost slimy in my opinion.  It does dry but still feels sticky.  It smells ok though so that was good.  From a lasting perspective, it doesn't last 24 hours like it says it would.  I'd say probably closer to 6 hours or so.  But what really bothered me about this one is I felt my underarms were itchy and were burning a bit.  I also was a bit red, almost like a light rash.  My husband on the other hand had no reaction but he found it did not last at all for him. Overall if you're sensitive I probably wouldn't recommend this one and I also didn't find it lasted long.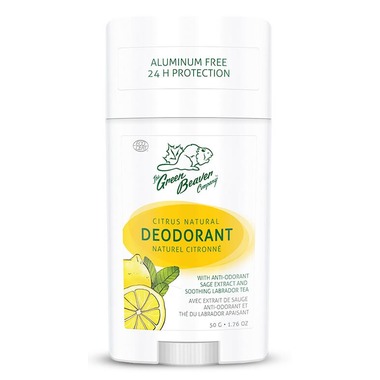 I was really excited to try this one because it's made in Canada.  From the ingredients list it looks like it's pretty clean and safe and Think Dirty gives it a 1 rating so that was great!  And on a huge plus side it was only $7.99 here in Canada compared to much pricier ones I had tried.  Like I said, saving some money is always a good thing!  I tried the Citrus scent and found that in the packaging it smells nice, but I did not really like the smell on me.  From a consistency standpoint, it goes on clear and not overly wet or sticky.  And I didn't have any skin irritation with this one, maybe just a little tingling after shaving but nothing major.  My issue with this deodorant is I just don't feel that it works very well – it only lasted a few hours, like maybe 2-3 hours tops and then I had to reapply.  And come on, that's not long enough and defeats the whole purpose!  Plus another thing to beware!  It may stain your clothes.  It didn't for me but it did for a friend of mine.  It actually ruined one of her blouses with stains that looked like oil stains.  I have heard of this potentially happening because many natural deodorants are made with coconut oil.  Anyhow the stains didn't come out.  I don't care how cheap it is, I'm just not willing to take that kind of a risk with my clothes!  So I just can't recommend based on those few reasons.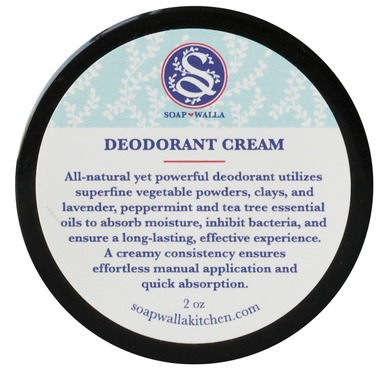 Soapwalla has a bit of a cult following so I had to try this.  It too has safe ingredients that are natural and non-toxic and actually has a zero rating on the Think Dirty app.  This is the lowest of all the deodorants we tried.  I couldn't find in stores but was able to find online but at a heftier price at $22.00 Canadian.  But since I had heard so much about it we gave it a shot.  This deodorant is a cream deodorant in a jar format and you take some with your fingertips and rub it into your armpits.  We tried the Citrus scent which was fresh and light and almost lemon-grassy.  It is made with baking soda which may cause some irritation for people with sensitive skin like me. And unfortunately it did bother me a bit.  It did tingle and even sting a bit after shaving and I did get a light rash.  It went away pretty quickly though.  From an application standpoint I found it a bit goopy and messy and actually a bit gritty.  And I really didn't like getting the cream stuck in my fingernails.  It dried on well once on.  And it actually did work well.  It lasted all day even through the workouts.  Aside from the irritation and rash though, what this taught me was that I'm just not into the jar format.  I did not like having to rub it in.  I don't know, I just like a standard stick deodorant.  Also the price just seemed too much for me for a product that I didn't find convenient or met all my needs.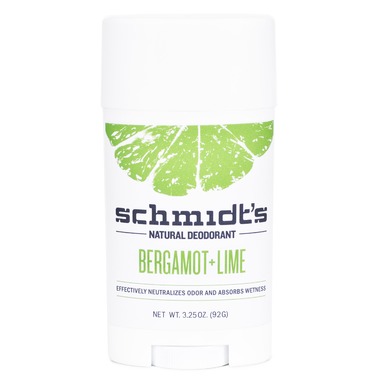 I had heard really good things about Schmidt's so I knew this was one I needed to try out for myself and I had such high hopes for.  It has clean ingredients and is rated as 1 by the EWG and has a huge selection of scents to pick from.  Schmidt's is also reasonably priced at 7.99 and is now finally available in Canada so as soon as I saw it I grabbed one.  I picked it up at my local Healthy Planet but have noticed that it's available at well.ca and Wal-mart sells it online in Canada too and even Amazon now too.  I haven't seen it in the actual store.  I tried this in the Bergamot and Lime which I liked but it was almost a little too over-powering on.  I smelled like a key lime pie if that makes sense!  My husband was not a fan of the scent at all, even when he tried it.  But they have such a huge range there must be something else we'd like.  This is made with baking soda again which may cause some irritation for people with sensitive skin, like me.  It has a rough, gritty texture and it feels like you are scratching your under arms.  The packaging explains you need to warm it on your skin for a bit to soften it and then apply.  But honestly who has time in the mornings for that when you're rushing.  So that was a bit of a pet peeve for me.  I also found that I did have a really burning sensation and irritation when I applied it after shaving.  They do have a sensitive skin line which could be helpful and maybe this wouldn't happen.  From a performance standpoint, it works really well and lasts all day.  My husband claimed the same for performance and it lasted him again through his rough gym workouts and did well in the Florida heat.  I would recommend Schmidt's except for the texture and the sensitivity part.  If you're ok with shaving the night before or aren't sensitive this may be right for you and this would definitely be my number 2 pick!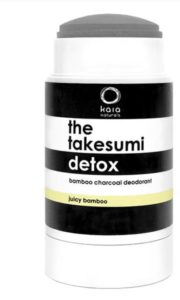 I heard about Kaia Naturals through a friend who uses it and also had seen someone on Intagram recently mention it so I thought this might be a good one to try.  The ingredients are natural and vegan.  I couldn't find a rating on either of the sites but when I checked out the ingredients they all look to be safe.  I was able to order my $22.00 bar from The Detox Market but you can also buy it directly on the Kaia Naturals site.  We tried the Juicy Bamboo scent which they claim is their citrus scent.  I'm not sure how to describe it but it just kind of smells a bit more musky than I would like.  It's not a horrible smell and I don't mind it but I don't love it.  When you apply this deodorant it goes on a bit more wet than I would like, almost to the point of feeling slimy.  But once it dries (which felt like forever to happen) there are no stains or marks.  Another plus is that it didn't sting at all or cause any irritation.  It also works well all day long, through heat and workouts. So overall, aside from the wetness and a just ok scent this is a pretty good natural deodorant that is safe.  That being said, I probably wouldn't buy this one again because I just didn't love it enough to spend $22.00 on deodorant.  I just can't justify it when there are other cheaper and better options.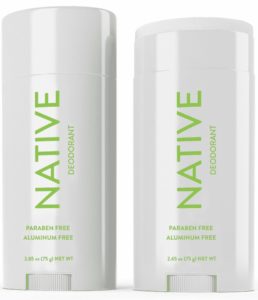 I saw an ad for Native on Pinterest and it piqued my interest but didn't decide to give it a shot until one of the mom's from my kids school recommended it.  In Canada you can only order it online from their website though in the U.S. you can find it at Wal-mart, Target and other places.  It is a bit more at $11.99 USD but if you subscribe it's only $9.99…in Canadian that's about $13 per stick and it's free shipping.  Overall the ingredients are clean and safe and Think Dirty gives it a 1 rating.  Since it's made with shea butter, it goes on really smoothly.  It just glides on and feels like it goes on like a regular deodorant.  It even leaves a few white marks if I'm wearing black just like conventional deodorants. That's probably my only pet peeve but not huge.  Overall it works really well and lasts all day. Even my husband claims that he feels it works for him even after a tough gym workout and it lasted all day for us even walking around all day in the heat in Florida.  I don't have any irritation with the Native deodorant, especially after shaving.  Native comes in a variety of scents.  I've tried the Coconut Vanilla, the unscented and the Cotton and Lilly and that one is my favourite. But they really are all nice and pleasant. Although the scented sticks do have fragrance listed in their ingredients, the company does explain on their site that they use essential oils and actually wrote the same back to me personally when I inquired about it.  Overall this is definitely my favourite safe and natural deodorant and I highly recommend it!  I've got a subscription and find that a stick will last me at least 3 months,maybe even a bit longer.  I'm really hoping we start seeing it in stores in Canada soon too!
Whichever deodorant you choose, make sure it works for you and that it really is safe!  Do your homework, research them and read the ingredients!!  And use the EWG Skin Deep Database and Think Dirty app to look up products and their ingredients and safety ratings.  Good luck in making the swap!  Remember you're worth it, and it's ok to sweat, at least a little!!
Disclaimer – This post may contain affiliate links so if you make a purchase I will receive a small commission.  All opinions are my own!