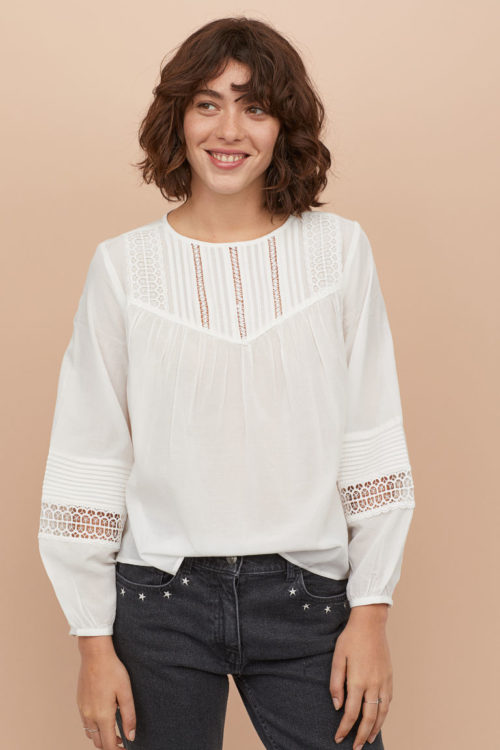 Spring Wardrobe Essentials You Need!
It's the first full week of Spring and it's actually starting to feel like Spring out there in Toronto.  Yay!  It's sunny and bright, and I can already feel that the warmer weather will be here soon too – I'm sure of it!
So today was day three of our big basement reno.  I stuck around the house to make sure everything was ok and in case the contractor needed anything.  With all that time on my hands, you guessed it I had to do some online shopping and browsing!  I have to be honest, especially after being somewhere warm for vacation recently, I'm just sick of wearing boots, big sweaters and big puffy parkas!  I need a change and I just want to wear some lighter Spring clothes!  So taking a little inspiration from the warmer weather, well at least sunnier, I thought I'd kill some time doing some Spring shopping.  It was either that or fold the 4 baskets of laundry that's laying around – and that just wasn't happening!  So here are some of my finds and picks for this Spring's must have wardrobe essentials!
Outerwear
I am so ready to shed the big winter coat that's been weighing me down all winter.  Spring is great because it's an opportunity to try out new outerwear.  The key outerwear pieces I recommend everyone have in their Spring wardrobe are the following – you may not need all but they are so versatile that most women find they have at least a couple of these.
A Utility Jacket or Anorak is a Spring essential in my books!  I personally love this type of jacket.  It's casual and looks great with jean and I wear it all the time through the Spring.  It's my go to Spring uniform!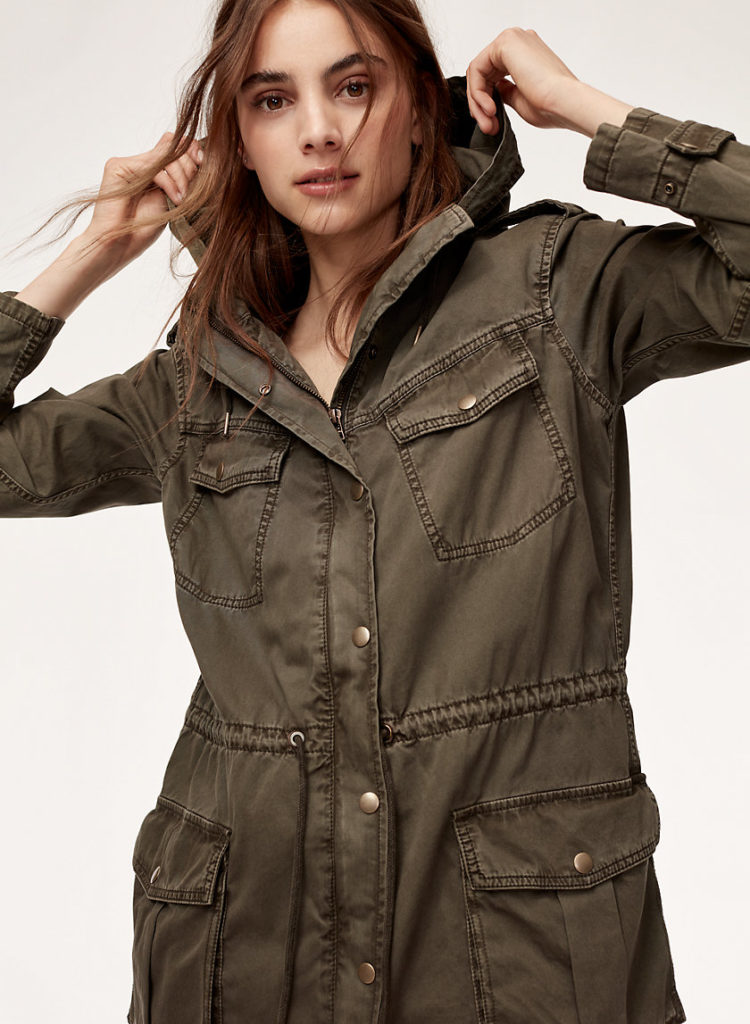 A Jean Jacket is such a key basic to have in your wardrobe.  It's great for running errands and being super casual but also great as a jacket on top of a dress when you don't want to be too dressy and want to make it look a bit more casual.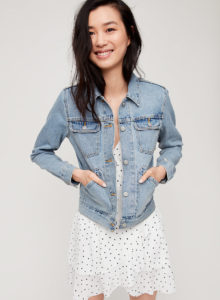 The Trench Coat is a classic staple in any wardrobe.  It's perfect for when you need something a bit dressier but is also great if you want to look a bit more put together even with your casual everyday jeans look.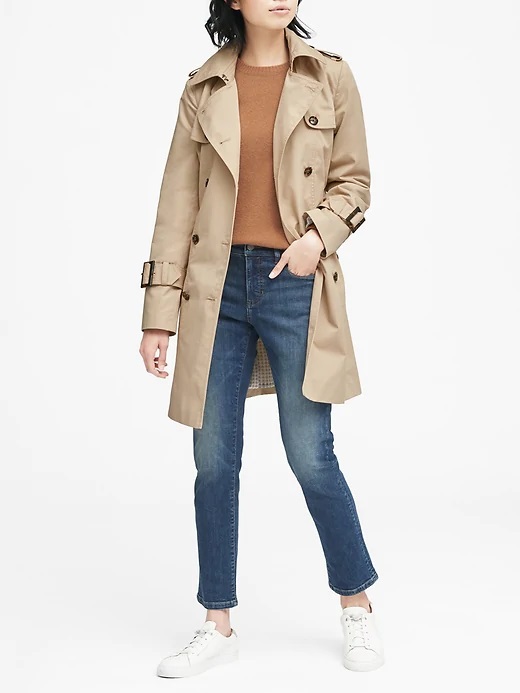 A Moto Jacket in a lighter fabric or in suede, looks so cool and is so fun looking but not everyone needs it.  It is a great jacket though that can be very versatile but this one really depends on your style.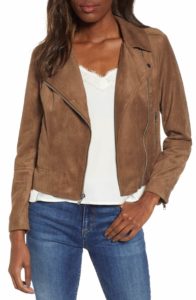 Tops
Spring weather can be a bit unpredictable so layering is key!  Wear a lightweight sweater or sweatshirt over a t-shirt or tank top.  That way if the weather changes through the day or warms up, you can wrap it around your waist or just take it off.
Layering Tees and Tank tops are a must have essential for me throughout the year and especially in the Spring!  You definitely need to have a few of these in white that you can layer under your sweaters and jackets.  H&M is great for these – you can find white tees for as low as just 4.99!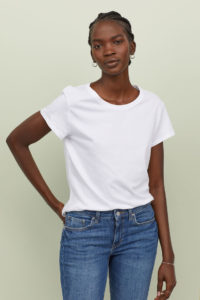 A camisole is another must have for layering!  I highly recommend having at least one in white/cream and one in black.  Lately I've been a bit obsessed with the ones from Abercrombie.  They are so pretty and you can find some great sales on them so you can stock up!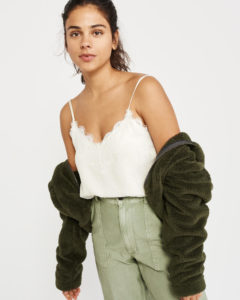 A Light sweater or Poncho is essential for layering too. My current obsession is ponchos, but in particular ponchos by Stella & Dot.  They are so versatile and you can wear them like a poncho sweater or as a cardigan sweater.  I think I have them in all the colours and they have really become my weekend wardrobe!!  Like I said, I love these!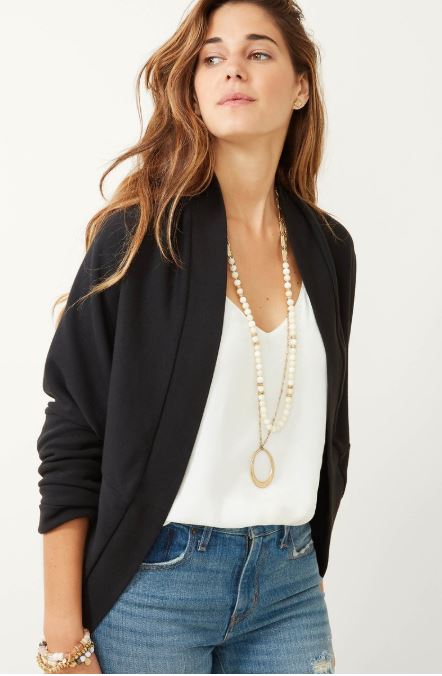 A pretty blouse is a must for this Spring.  I love anything in a pastel colour or even a pretty patterned or print blouse.  This year the big trend is the puffy sleeved blouse.  It's very pretty and very feminine.  You can wear it with a skirt or pants or use it dress up a casual jeans outfit.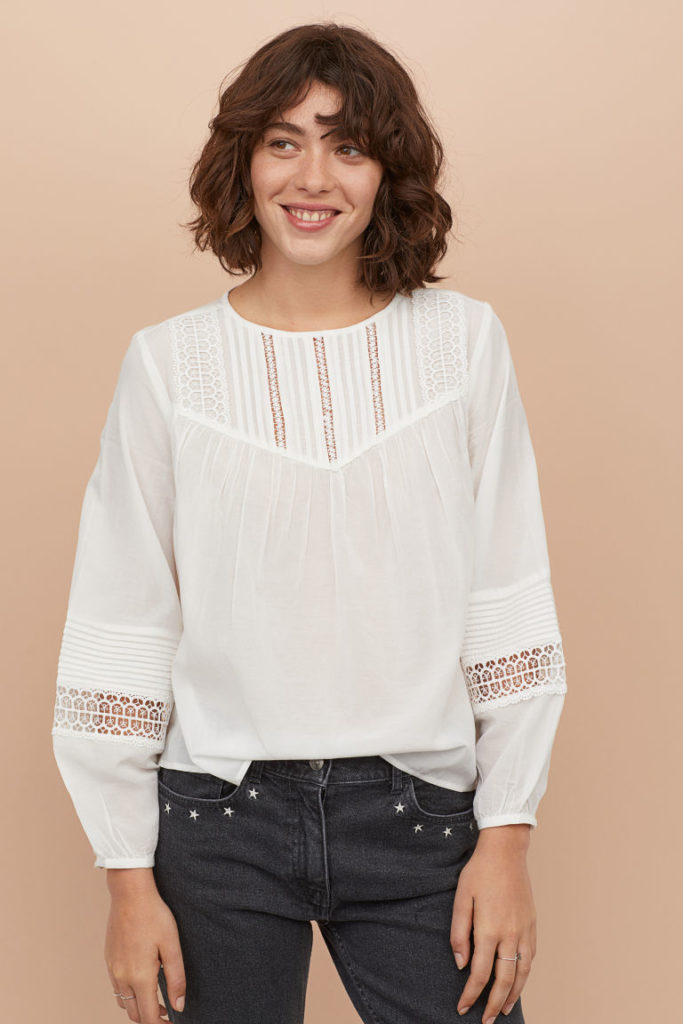 Another hot trend for this Spring is the denim shirt! Looks great with a pair of black tights, black jeans and even white jeans. Or if you want to go all out pair with your perfect pair of jeans for the "Canadian uniform", eh?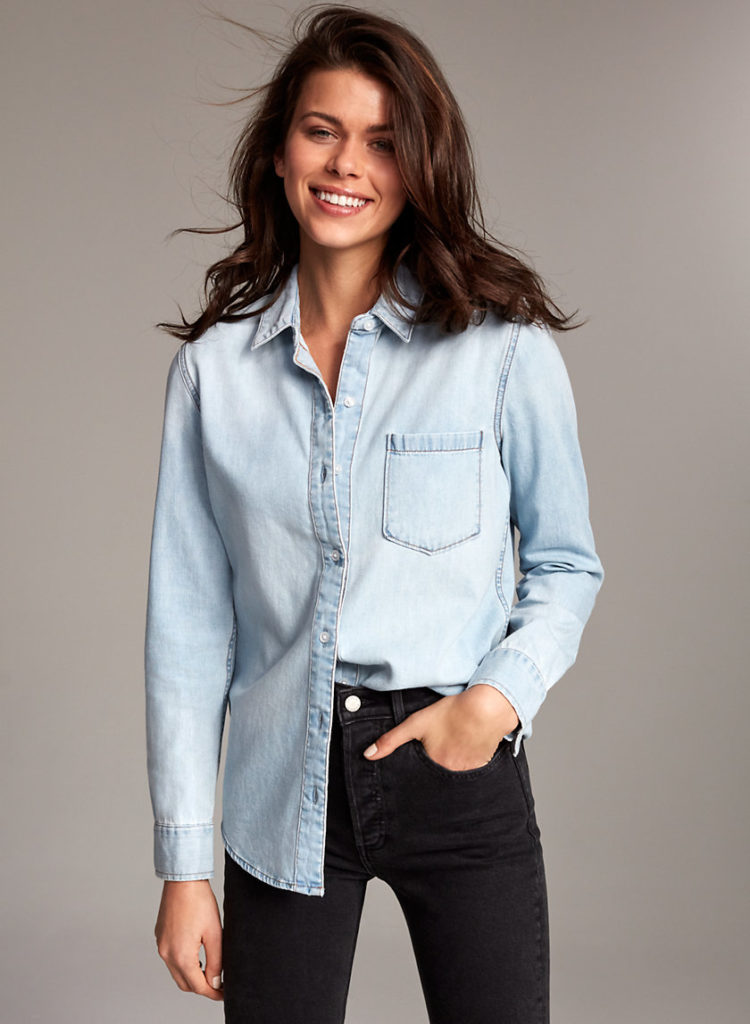 Shoes, shoes and more shoes!
I love shoes and there are so many great styles you need to have in your wardrobe for Spring.
Mules are such a fresh new way to add something a bit more trendy to your outfit without pulling out the sandals yet.  Loafers are a classic but are also such a huge trend this year as with most flats.  I personally love them in some of the great colours out there or even in my favourite, Leopard print or a classic tan. For a bit more of a casual look, don't forget a pair of comfy white sneakers.  I love my Adidas but this year I'm thinking I not only need comfort but also something that's stylish and super easy to take on or off, like a slip on sneaker.  My faves this year are by Vans (of course!) and Keds has some really cute ones!  Nude Heels are a basic must have in any wardrobe.  They work well with just about anything and can be used with a dressy outfit or casual.  They look great with jeans or pants and with a dress or skirt can help to elongate your legs – and seriously who doesn't love that!  Especially if you're a petite like me!  And finally Booties are another classic Spring must have.  For Spring I like to wear booties in a lighter neutral colour and usually look for ones that will work well with a pair of jeans or even with a dress.
Accessories to finish off your Spring look!
As always accessories do make the outfit!  Throw on a great pair of sunglasses, the perfect light coloured or even pastel crossbody bag or a straw tote and you are set!
Need a little spring outfit inspiration? Check out some of my favourites below!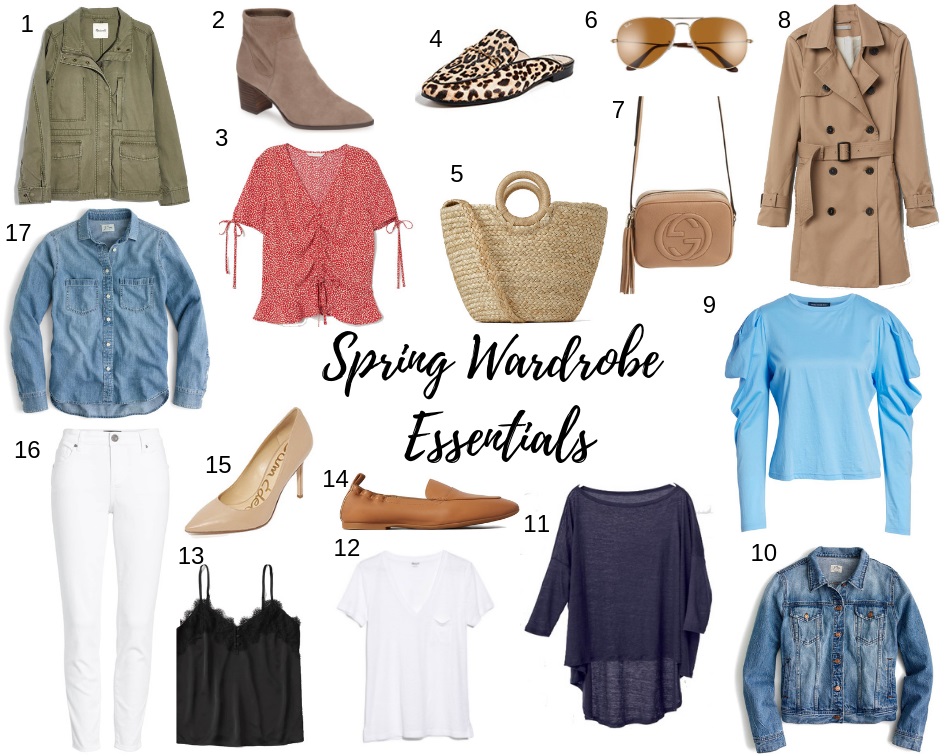 Happy Spring shopping everyone!  Trust me, with these pieces in your wardrobe this Spring you are set!  And just put them on repeat and mix and match!  See you soon with some more Spring styles and of course some reno updates!
Disclaimer: This post contains affiliate links.  If you make a purchase after clicking one of these links I may receive a small commission.