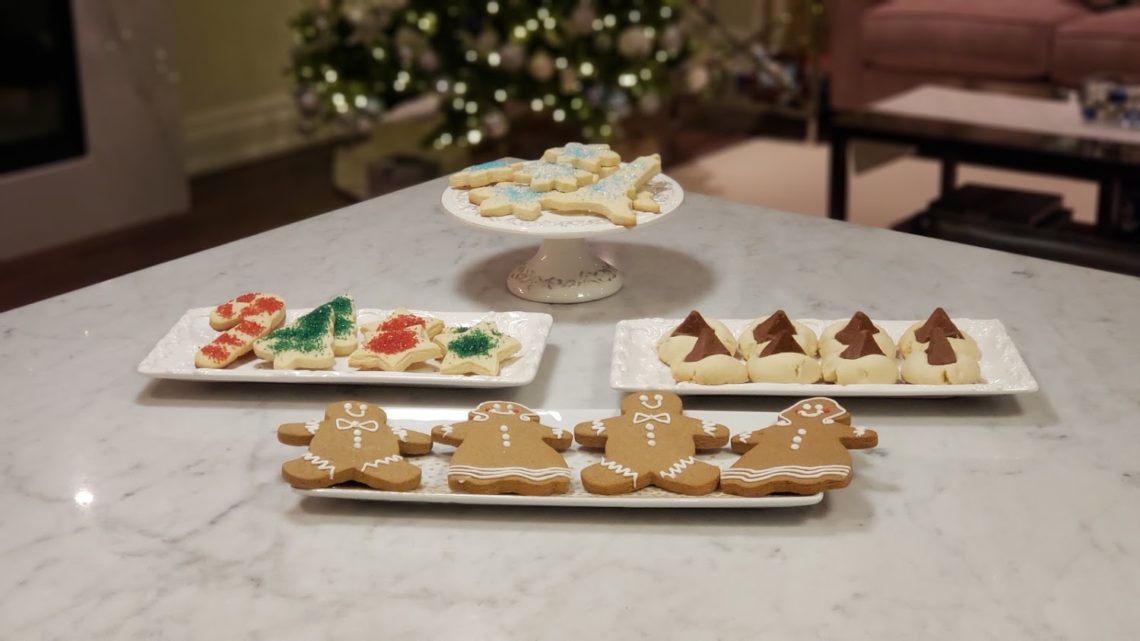 Best Christmas Cookies – Ever!!
Hi everyone!  We had such a busy weekend with quite a few Christmas parties – I must say we're all a bit exhausted! But we still found time to keep up with one of our Christmas traditions, our annual family holiday baking!
I love to bake and I've been doing it since I was a little girl.  Growing up in a greek family, from an early age I was in the kitchen, flour all over me, baking traditional greek pastries and desserts with my mom and grandmother.  Then when I was 12 I was determined to make shortbread cookies and sugar cookies, and we've been doing it together ever since.  It's actually become our new family tradition.  Now my kids help to make the cookies and my 93 year old grandmother comes to watch.  And since she's a bit of a bossy pants, she directs us on how to make them too!
Today I'd like to share a few of my favorite recipes that I've been using for years!  The first two you can decorate any way you'd like.  You can make homemade royal icing, use store bought or what I do to make it super easy is sprinkle the cookies with different colored sprinkles and they bake right on in the oven.  Cookies come out of the oven decorated and ready to go – just cool and enjoy!
Shortbread Cookies
(makes about 6 dozen)
Ingredients
1 pound salted butter
1 cup icing sugar
½ cup corn starch
3 ¼ cups all-purpose white flour (plus more for sprinkling to roll out)
1 tsp. vanilla
Preparation
Preheat oven to 350ºF.
Whip butter with electric mixer until creamy.
Sift together all dry ingredients – icing sugar, corn starch and flour.
Slowly add the dry ingredients and vanilla to the creamed butter in the mixing bowl and mix with mixer.
Beat together until well mixed and creamy.
Create balls and chill in fridge for up to 1 hour to firm.
Flatten ball and begin to roll out with rolling pin. Add more flour to top and bottom as needed for rolling out.
Cut cookie out with cookie cutters.
Sprinkle with candy sprinkles or leave plain if you plan to ice.
Bake in oven at 350 for 12-14 minutes.
Let cool and store in a seal-tight container for freshness.
Alpine Toblerone Chocolate Shortbread Cookies
(makes about 3 dozen)
Ingredients
1 cup butter, softened
½ cup granulated sugar
2 cups all purpose flour
2 tbsp. corn starch
4 Toblerone Chocolate bars (broken into individual pieces)
Preparation
Preheat oven to 325ºF (160ºC).
Line baking sheets with parchment paper.
Freeze Toblerone chocolate bar chunks for about 1 hour before baking.
Cream butter and sugar in a mixing bowl until light.
Stir in flour and cornstarch. Mix well then knead dough with hands to blend in the last of the flour thoroughly and form a smooth dough.
Roll about a tablespoonful (15 mL) of dough into a ball and place onto baking sheet. Leave some room between cookies as they will spread.
Press chunk of reserved chocolate in centre of each cookie.
Bake in preheated oven for 20 to 25 minutes or until just starting to brown around edges.
Cool 5 minutes on sheet, then transfer to wire rack and cool completely.
Sugar Cookies
(makes about 4 dozen)
Ingredients
2 3/4 cups all-purpose flour
1 teaspoon baking soda
1/2 teaspoon baking powder
1 cup butter, softened
1 1/2 cups white sugar
1 egg
1 teaspoon vanilla extract
Preparation
Preheat oven to 375ºF.
In a bowl, stir together dry ingredients – flour, baking soda, and baking powder.
In a large mixing bowl, cream together the butter and sugar until smooth.
Beat in egg and vanilla.
Gradually blend in the dry ingredients until smooth.
Chill dough for up to 1 hour.
Roll out dough and cut out shapes with cookie cutters.
Sprinkle with candy sprinkles as desired.
Bake for 8 -10 minutes or until golden.
Let stand on cookie sheet two minutes before removing to cool on wire racks.
And here's a few pics of the end result and all of our cookies ready to be served!
I'm off to hide our cookies!  There's a week until Christmas and if I leave them out there definitely won't be any left for Santa on Christmas Eve!  I'd love to hear how these recipes work out for you.  I hope you and your family and friends enjoy them as much as we do!